How a French guitarist got 2 million views on his YouTube videos - Tanguy Kerleroux
Tanguy Kerleroux is a French guitarist and a YouTuber. In 2010, when he set up his YouTube account he barely had any videos to upload, and the video platform was still a fledgling one.
But, Tanguy knew that his destiny was music. He had watched other musicians closely, their body language and the passion that they brought to their art. Eventually, he chose to express himself through the French guitar.
"When I started playing the guitar, I didn't have the equipment needed to make it big. Slowly, I began focussing on audio quality, because audio is the most important thing in music.
Even then, for years, I didn't have many subscribers. In 2017, I made a cover of a song by one of my favorite musicians, Johnny Hallyday, and since then, I've never looked back.
Today, it is an honour that I have had more than 2 million views on my YouTube channel: Tanguy Kerleroux," says the unassuming 28-year-old Tanguy.
Here's a quick video of how he scaled the 2-million views peak and his stirring advice to aspiring musicians.
Q. Tell us about yourself
Okay, so, well, first of all, thank you very much for interviewing me. It's a great honor for me to speak to friends from India. So, yeah, my name is Tanguy Kerleroux. I'm 28 years old, and I'm a French guitarist and YouTuber.
I'm mostly active on Instagram, YouTube, and Facebook. I play instrumental guitar covers of popular songs. But not the usual guitar covers.
I play the vocal part of popular songs, especially because it's a challenge to catch the message. The message that people are going to share while singing the song, and I'm trying to catch it as well - but, my with my guitar.
It's a good challenge for me. And, I, well, today I have more than 2 million visits on my YouTube channel. So, it's a good honor for me, and I have almost 10,000 subscribers.
I know that there are a lot of more incredibly talented guitarists, who have much more subscribers than me. But, well, it's good for them, because it's a passion for us. I'm trying to do my best with every video.
Q. Tell us about your YouTube journey
I created my YouTube channel in early 2010. At that time, YouTube was starting to grow, it was not as big as today. But, my channel was really sleepy. I didn't have any video on it, I was just a simple viewer.
But I started to put my first covers online, and I have to confess, that I didn't have good recording equipment early on. So, they were poor-quality videos. Today, while I keep them on my YouTube channel, but, I don't like to view them anymore. When I recorded them, I was quite young, and my audio quality was poor.
I started that way, and my videos started to grow in early 2014-15, when I decided to work very hard on them. I bought some good recording equipment along with a good camera. And, I started to focus on quality.
Not video quality, but audio quality, because it was the most important aspect. So, I started to work, and as you said, Senorita reached more than 100,000 views.
I am a fan of a very famous, French singer called Johnny Hallyday, who is an international artist. He's no more now, but I did a cover of his song in 2017 or 2018, I don't remember.
For that video, I didn't have any different strategy than my other videos. But, that video did very well, and as a result, my subscribers started to grow.
I have always focused on quality. There are a lot of great guitarists, and these videos work very well when you have good audio and video quality.
Q. Your 'Senorita' cover has more than 100k views. What's the secret behind it?
For this particular video, I worked really hard to maintain the balance between the instruments and my guitar. And, I started to, to make harmonies, you know.
I added some guitars to match the vocals in the song. I remember that this video particularly was really well-balanced. So, maybe the audio had a role to play in this song.
I remember that when I was checking my YouTube analytics, I saw that it was doing really well in India. I don't know why, but it worked in India. I don't know the YouTube algorithm works. It's really strange because it's changing every year, every minute, every second.
In that video, I was trying to share my good vibes, because Senorita was a song that talks to me, it hits my head you know. I was trying to share that message, and well, I guess it has been caught by other people.
The YouTube algorithm is strange - it keeps changing every year, every minute, every second.
Q. How do you communicate with your fans?
I remember when I started to work as a guitarist, I used to watch a lot of good videos of so many great guitarists. And, I wanted to talk to them, and communicate with them, because I was learning guitar.
I was, so much in love with their style, their vibes, and I wanted to the same to my YouTube channel. Today, I know, that there are so many young guitarists who are watching my videos, and I want to communicate with them.
I want to make my channel as human as possible. So, I'm trying to reply to every comment to make a very good team. I think that if people are subscribing to my channel, I have to deserve it. I have to give them back my love. And, when I communicate with them, I get some great feedback. So, I want to make it as human as possible.
I want to keep my YouTube channel as human as possible.
Q. What is most critical to grow your YouTube channel?
You know, there are so many musicians, so many people sharing their talent on YouTube. So, you have to make something different. You have to make something to stand out from the other people.
I think that you have fewer chances of success if you don't focus on quality audio and video. We are all impassioned and, when we watch a video that bothers us, we immediately quit watching it. So, our work is to keep people watching our videos. So, we have to do something different.
For me, the other critical thing is passion, because, if you're passionate about what you're doing, I think people are gonna watch it. They're gonna absorb it too. You must share good vibes, which is a very important ingredient in the recipe.
So, keep the passion going as much as you can, and focus on quality, and both ingredients will give you success recipe.
Be passionate about your YouTube videos
Related:
DETAILED GUIDE: How to design a 2560 x 1440 YouTube banner with a ready made template?
Check out our extended list of the top YouTube channels across categories like cooking, education, technology, fitness & more.
Here's an updated guide to help you understand the best graphic design tips for non-designers in 2021
Q. How do you record your videos?
I use USB equipment to record them. I link everything to my computer, and it has worked very well for me. But, I'm recording with my, phone, and then I upload the video to my computer and do the editing.
But, I always play live, and never in playback. I always go live, because, when you're playing playback, your fans will know it. It's not as real as you want it to be. That's why I want to play live.
Recently, I added another camera, because I think a different point of view was really important. Some fans love to see the neck, some want a more cinematic way of my video.
I don't have team professional team to help me, but it's my wife who records the video with the second camera. She's a good advisor, a good manager, and a good camera girl too :) She helps me very well.
I always prefer live music because it is real!
Q. What is your message to aspiring musicians?
It's a great pleasure to interact with my fans, especially on Instagram and also on YouTube. I receive many comments from 18-year-old fans, or 15-year-old fans, who are probably practicing guitar.
To those fans, I will say that your dream is really important. We have to keep dreaming. We have to dream in this world, especially with this strange pandemic. We are all cooped up at home, and to keep something burning, we have to dream. I want to advise youngsters to keep learning, and it's an honor for me to have so many comments and so much love.
My advice to youngsters, "keep dreaming!"
---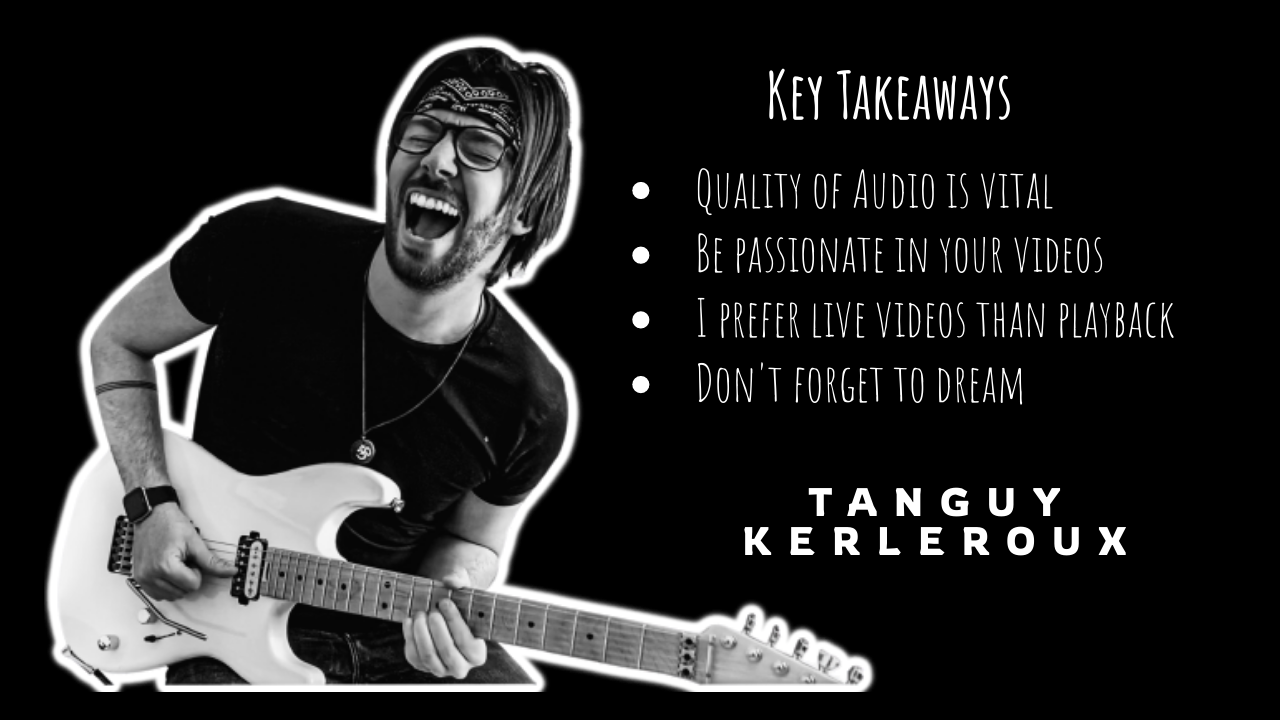 ---
If you haven't watched Tanguy's rendition of Senorita by Shawn Mendes, Camila Cabello, then drop whatever you're doing and watch it now. Here's the video below.
---
And, if you'd like to know about inspirational YouTubers who've grown their subscriber base from zero, here's a list of all the fabulous conversations we've had in our "Grow Your YouTube" series:
---
Loved this interview? Awesome! If you're looking to start your Youtube journey, remember that it begins with the perfect YouTube banner. Here're the best YouTube banner ideas for your channel. And here are YouTube banner examples for some added inspiration.
Besides, here's a detailed guide to creating awesome YouTube thumbnails that attract tons subscribers.
Moreover, don't forget to check out this blog if you're looking to design your custom 2048 x 1152 YouTube banner from scratch.
Finally, here's how a good 2560 x 1440 YouTube banner can take your channel from 'OKAY' to 'WOW'.