The story of how a celebrity interviewer-YouTuber discovered his "Aha!" moment three years ago - Chris Van Vliet
"I'm an octopus," declares Chris Van Vliet. Chris is a TV/radio show host, a podcaster, celebrity interviewer, film critic, a YouTuber, an entrepreneur - all of it rolled into one.
Once, while interviewing Anne Hathaway, he almost had her jump out of her chair by asking her about how much weight she lost to fit into the Catwoman costume in "The Dark Night Rises." Scroll to the bottom of this blog to see Anne's reaction. :)
But, more importantly, he is a self-made man. He started his YouTube channel almost by accident. While he was a TV host, he realized that once his TV shows with celebrities aired, viewers would not be able to watch them again.
So, he began inserting small clips onto his YouTube channel, which later exploded, as people began embedding those clips on their websites.
Today, Chris has 283K subscribers and over 85 million views on his YouTube channel: Chris Van Vliet. Listen to our conversation about how he grew his channel and his suggestion to first-time YouTubers.
Q. Tell us about yourself
Chris: "I'm originally from Toronto, and I've worked as a television host for the last 15 years and man, it's been so exciting to wake up in the morning, and be excited for what I'm gonna do that day.
At the end of the day, I'm proud and excited for what I've accomplished. I've been able to travel the world, interviewing some of the biggest celebrities in the world, Dwayne Johnson, Leonardo DiCaprio, Oprah Winfrey, Morgan Freeman, you know, the list goes on and on and on.
It's just been so cool, I've kind of translated what I learned in broadcasting, the traditional world of television and radio, into what I'm doing now with YouTube and my podcast, and it's been exciting watching this grow.
I've interviewed the biggest celebrities in the world - Dwayne Johnson, Leonardo DiCaprio, Oprah Winfrey, Morgan Freeman.
---
Related:
How to design a 2560 x 1440 YouTube channel art with a ready made template?
We created a list of the best YouTube channels across categories like cooking, education, technology, fitness & more.
Here's an updated guide to help you understand the best graphic design tips for beginners in 2021
---
Q. Tell us about your YouTube channel
Chris: "It started off by accident. My YouTube channel was launched 10 years ago. I used to take the interview clips that I was doing with these big celebrities, like Benedict Cumberbatch, which has almost a million views and putting them on YouTube.
I was doing that because after they aired on our TV channel, I knew that no one would ever see them again. I thought "Well, you know, fans of these people, fans of these movies, of these TV shows would love to be able to experience this as well."
So, I took those clips, put them online, and not really thinking anything of it. Some of those videos were getting hundreds of thousands, millions of views.
Then, something clicked in my brain, and I went, "Huh, what if I started to be intentional about this? What if I started like go out of my way to get these interviews, and then put them on my YouTube channel?"
That was three years ago when I started to go. So, instead of just getting these interviews, that I'm getting as my part of my television job, "What if I like drove myself to a comic convention, or to an event, or to a show, and asked if I could you know, borrow five or ten minutes of someone's time."
And, that's really where this thing started. Today, my YouTube channel has almost 100 million views, and with all these subscribers, your audience will be reached through that. So, that's a really big thing to look at. It is like what's in it for them.
Today, my YouTube channel has almost 300k subscribers and 100 million views.
Q. How important is a YouTube thumbnail?
Chris: I think, perception is reality. So, if people can perceive your channel to be important and well-run, I think that that changes everything.
Think of how many times you've watched a video that has half a million views, a million views. You noticed that their thumbnail is like an egg, or their thumbnail is just like a letter. And you're like, "What's going on here?" I think that it's important to put that time into the branding and making a YouTube thumbnail.
Q. How important is a title on a YouTube video?
Chris: I think, the really big thing that I keyed in early on, was realizing that the video titles are not video titles, they're headlines!
If I did an interview with Anne Hathaway, and if it just said 'Anne Hathaway interview,' nobody knows what it is about. It doesn't stand out at all. You know you're looking for the needle in the haystack. Right? That's what the internet is all about. People are going to be sifting through all this hay looking for your needle.
So, when I realized that these were not video titles, they were headlines, that's when things really started changing for me. I think on the back of that, people started finding these videos, and embedding them on Twitter or embedding them in Reddit.
I really gained a lot of traction off the Twilight movies, remember the Twilight movies, or the Hunger Games movies, or the Marvel movies. So, Marvel fans, Twilight fans, Hunger game fans would find these videos, go, "Oh my gosh! I can't believe so and so talked about this," and they would embed it in their websites.
And, that really really helps so trying to make your videos as relevant, and as shareable as possible, and I think that that really helped me.
YouTube video titles are not titles, they are headlines
Q. What are your future plans?
Chris: I just want to keep moving forward, I want more from every situation. I want more from every relationship, every person that I run into, and YouTube's just one of many things that I do.
I have a podcast, I'm on television, I also run a fishing company, I'm supremely passionate about bass fishing. I'm kind of like an octopus, and YouTube is just one of the arms out there. I want to continue to grow all these arms out, as you know as big as we can.
As my good friend Tyler Perry, the actor and director, and prolific mogul always tells me, "Dream Bigger." I think that's a really big thing. It is like have a goal so big, that you're constantly chasing after it. So, that's what I'm doing.
I'm an octopus, and YouTube is just one of my arms
Q. What will you suggest to first-time YouTubers
Chris: Let me give two pieces of advice here. Number one: if you haven't started your channel yet, and you're thinking about it, 'Just start!'
So, number one start. And, it doesn't matter, if you have the right titles, or the right banners, or the right anything. Just get started. We all walk around with this supercomputer in our pocket, that has a pretty awesome camera on it. So, just start.
Too many people are like, "I don't have the right microphone, I don't have the right lighting, I don't have the right camera." I'd tell them," Just Start!"
Once you do start, be consistent. Don't post one video once a month, or one video every three weeks. Get into a routine of posting one video a week. What day is that video gonna is posted on? Is that every Monday, is that every Wednesday?
If it's gonna be two videos, figure out what days you're gonna do it. Be consistent, because if you start showing up, your audience will start showing up as well.
If you're passionate about something, there's a good chance that there are millions of people on this planet who are also passionate about it. And, you just need to speak directly to them.
If you're passionate about something, there'll be millions of people who'll be passionate about it too!
Q. Any final thoughts, Chris?
Chris: Thank you so much for having me on this, it has been great. The other thing is like if you enjoy doing it, other people are going to enjoy it as well. Don't worry about the numbers, just enjoy doing it, and the rest will come. So, I think that that's it, have fun, have fun with it.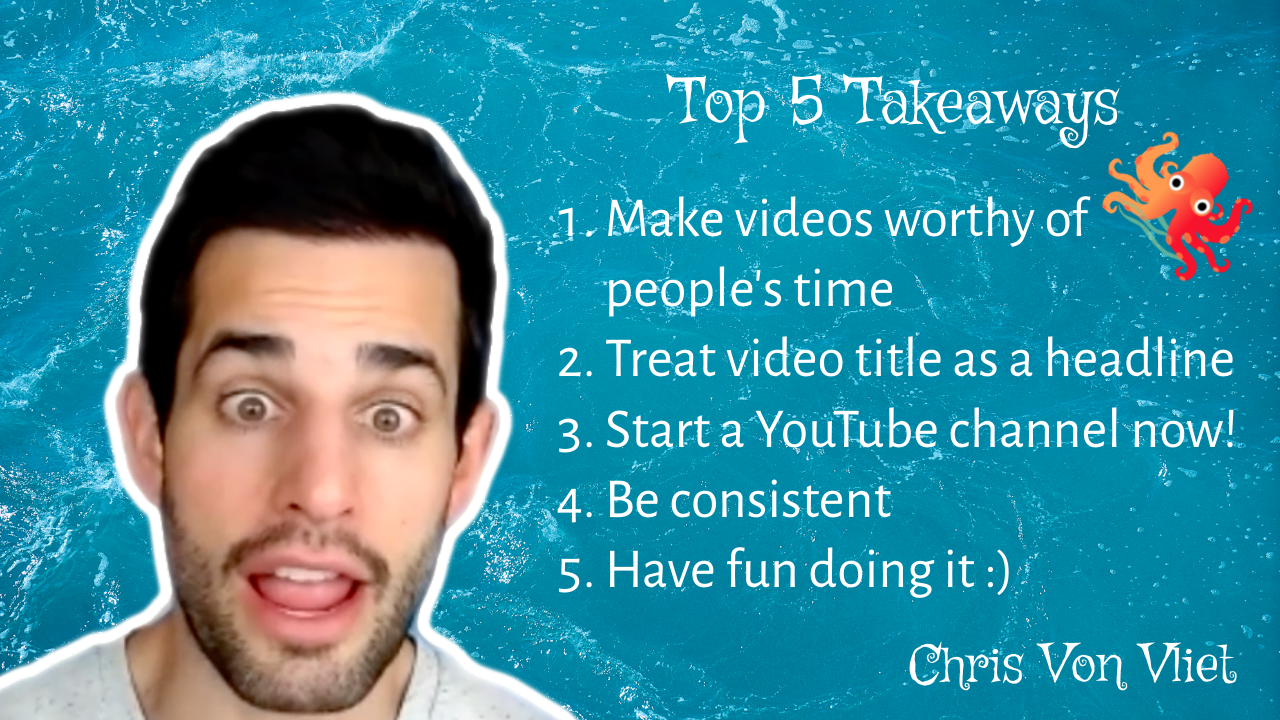 ---
Once, Chris took Anne Hathaway by surprise by asking her how much weight she lost to get into the Catwoman costume for 'The Dark Night Rises.' Don't miss Anne's reaction at 0:33!
---
And, if you'd like to know about inspirational YouTubers who've grown their subscriber base from zero, here's a list of all the fabulous conversations we've had in our "Grow Your YouTube" series:
---
Loved this interview? Awesome! If you're looking to start your Youtube journey, remember that it begins with the perfect YouTube banner. Here're the best YouTube banner ideas for your channel. And here are 7 YouTube banner examples for some added inspiration.
Besides, here's a detailed guide to creating awesome YouTube thumbnails that attract tons of subscribers.
Moreover, don't forget to check out this blog if you're looking to design your custom 2048 x 1152 YouTube banner from scratch.
Finally, here's how a good 2560 x 1440 YouTube banner can take your channel from 'OKAY' to 'WOW'.