A step-by-step guide to design your 2048x1152 pixels YouTube banner/ channel art!
"Do not judge a book by its cover," they said.
But, we still do it on a subconscious level (thanks to millions of years of human evolution).
The adage is true for YouTube banners of 2048x1152 pixels too - we shouldn't judge a YouTube channel by its banner.
But, the fact is we are still humans. We still do judge a YouTube channel by it's banner and subscribers.
So, in this blog post, we will help you create a stunning YouTube banner of 2048x1152 pixels.
We will also explain the best practices with some practical examples.
1
What is a YouTube banner of 2048x1152 pixels?
If you already understand the basics of a YouTube banner, feel free to skip this section. But if you're new to this concept, then read along.
A 2048 x 1152 size YouTube banner is displayed on the top of your YouTube channel. For example, consider our own channel - Picmaker.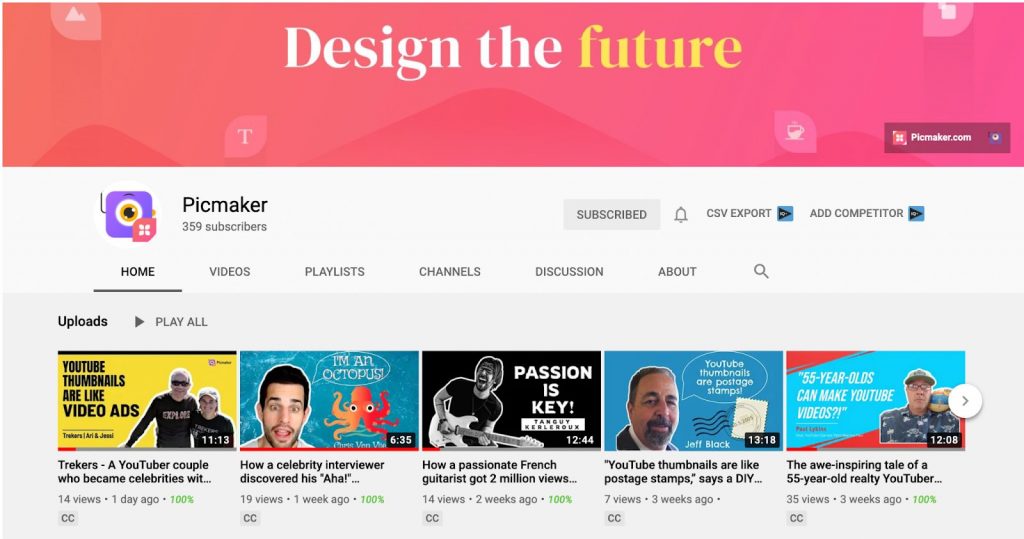 Do you see the graphic that is displayed above our YouTube channel's name?
Yup, the one with the words, "Design the Future". That's your YouTube banner of 2048x1152 pixels. It helps provide a professional look to your channel. Without that banner, any channel would look dull.
Removing a YouTube banner could be detrimental to the channel in a number of ways.
For starters, a new visitor might come to a channel and decide to not subscribe because he/she does not know what our YouTube channel is all about. Like a well-written website copy, a clean banner gives a good first impression and pushes people to subscribe to your channel.
Related reading:
Take a look at this free guide if you want to create your YouTube banner in 2560 x 1440 pixels.
2
What's the average size of a YouTube banner?
With all that said, you might be doubtful about the right size for your YouTube banner. There are a ton of recommendations out there.
Frankly, it can get a bit confusing. But, we want to make life simple for you. Here are the 4 details you'll ever need to know.
The recommended size for YouTube banner image: 2560 x 1140 pixels
Minimum dimensions for YouTube banner: 2048 x 1152 pixels
Safe area to display your texts and logos: 1546 x 423 pixels
Maximum File size of YouTube banner: 6MB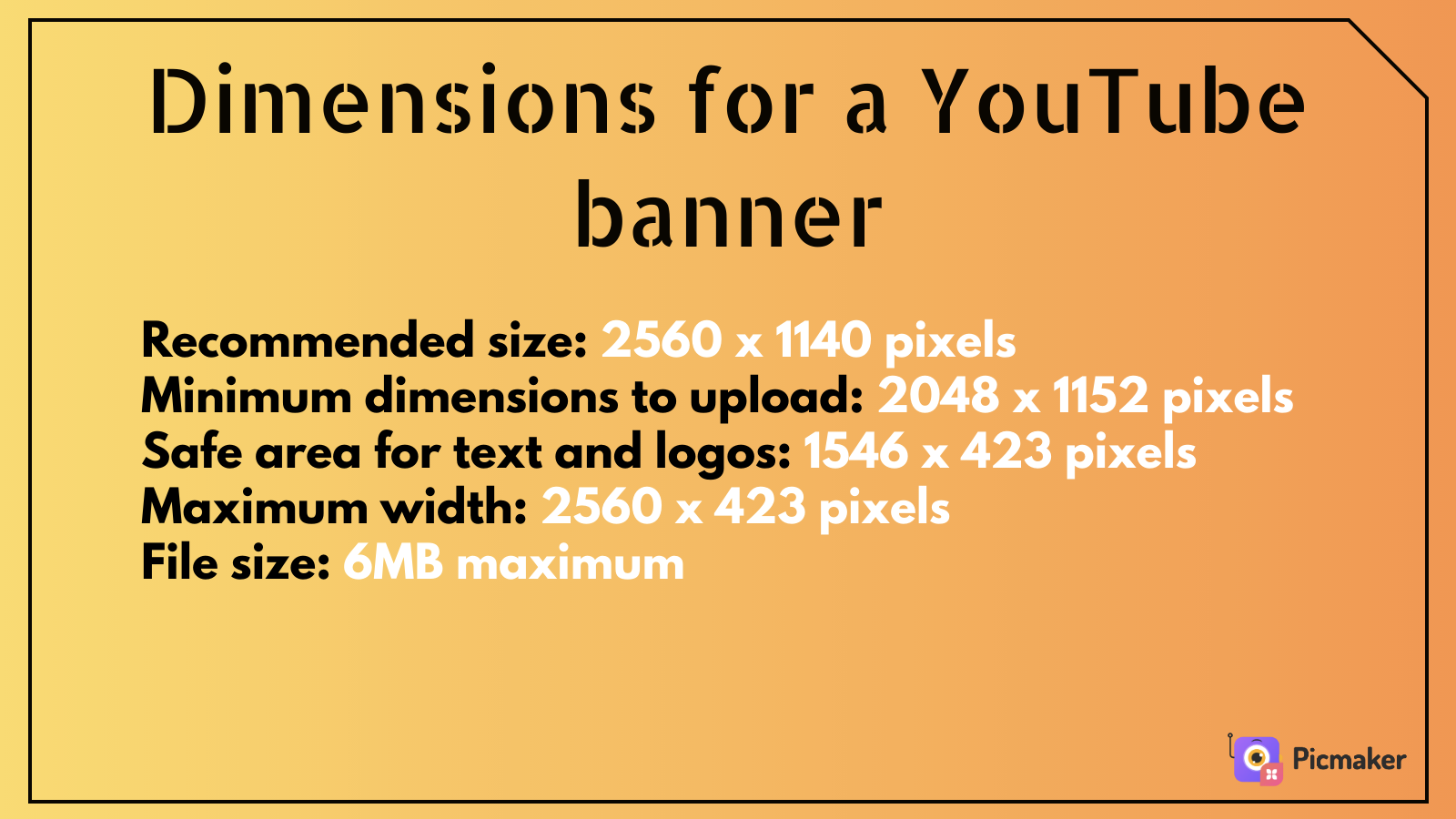 These are the only dimensions and sizes you need to consider while creating your YouTube banner.
In this blog post, we'll take a look at how we can create a YouTube banner of 2048 x 1152 pixels for FREE.
3
Why is a YouTube banner of 2048x1152 pixels important?
A YouTube banner is important for a number of reasons. But, we'll cover the top 5 most important reasons to create your custom YouTube banner.
1. Give your visitors a solid first impression
Let's say that you are reading one of our blog posts and click on a link to one of our YouTube videos. Let's also assume that you love our YouTube videos and want to learn more about us.
So you click on our YouTube channel logo and go to our channel dashboard. Let's assume that our channel looks like this now.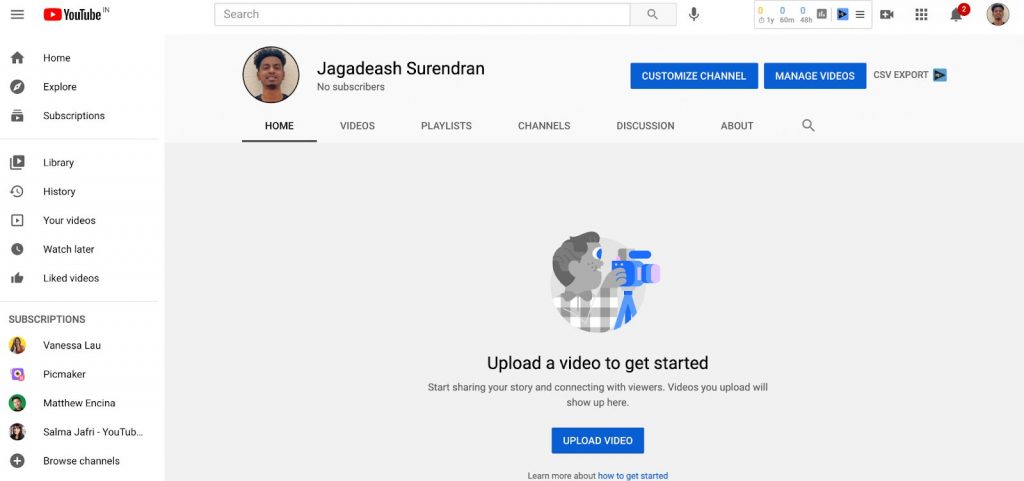 Would you subscribe to it?
On a scale of 1 to 10, how sure are you to subscribe to our channel?
Make a note of your answer and please be honest with it.
Now let's assume in the same scenario, where you click our logo, and jump onto our channel dashboard. This is what you see right now.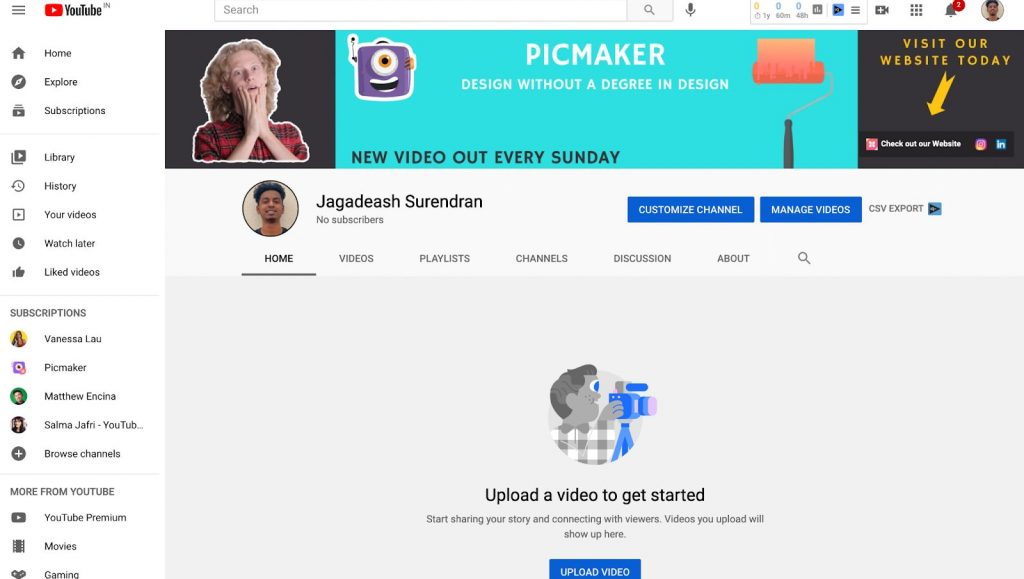 On a scale of 1 to 10, how sure are you to subscribe to this version of our channel?
If you're like us, you would subscribe to the second version of our channel. That's because this channel looks much better than the other.
The custom 2048 x 1152 YouTube banner made our channel look professional.
It gave you a solid first impression and pushed you to subscribe to our channel.
2. Tell a story
If done right, your YouTube channel can tell a story about who you are and what you do. You can leave subtle clues as to what your channel is all about.
Take a look at Vanessa Lau's YouTube channel.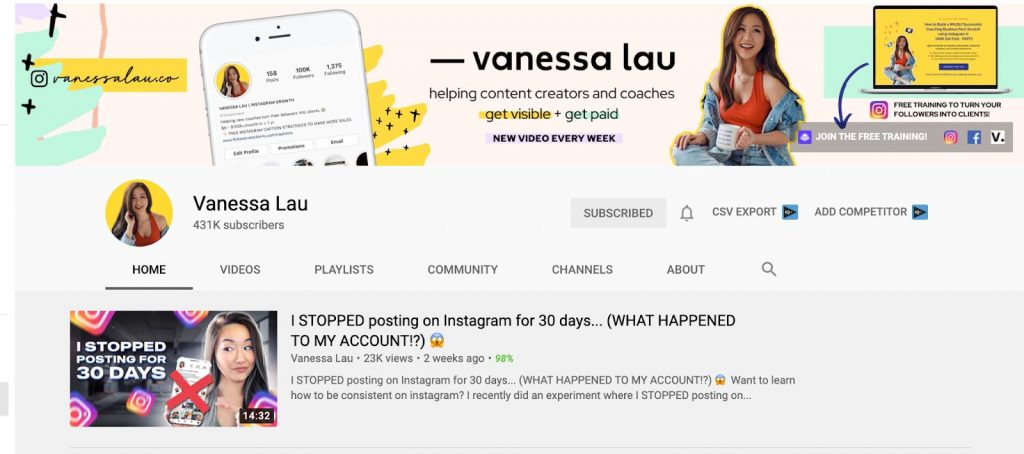 She gets a number of things right on her custom YouTube banner.
She explains what she does in a simple manner

One look at her banner and you can understand that she helps creators and coaches with their business.
She also shows valid proof of how many followers she has on Instagram.

This shows that Vanessa knows her stuff. This may be a very small factor, but subconsciously, our human brain tunes into that and recognizes it.
It's a small nudge that will compel you to hit the 'Subscribe' button and become her follower.
3. Explain your posting schedule

Once we are done with intros, you can also use the custom YouTube banner to show your posting schedule. Vanessa states that she puts out a "new video every week." So, if you're consistent with your YouTube game, be specific with your posting schedule.
Something like "New video every Sunday noon Eastern Time" or "New videos on every weekday" or even "New videos every single day".
(BTW, If you're someone who puts out new videos every day, we have one question for you - How do you do it?!)
Tag @picmakerhq on Twitter and tell us all about your YouTube video secrets. We'll share them with everybody in a special blog post and credit you for it.
4. Point people to lead magnets or any other CTA (Call to Action)

Finally, you can use your 2048 x 1152 YouTube channel art to lead people out of your YouTube channel. If you take a look at Vanessa's custom YouTube banner, she points visitors to free training.
When you click on that, you land on Vanessa's website.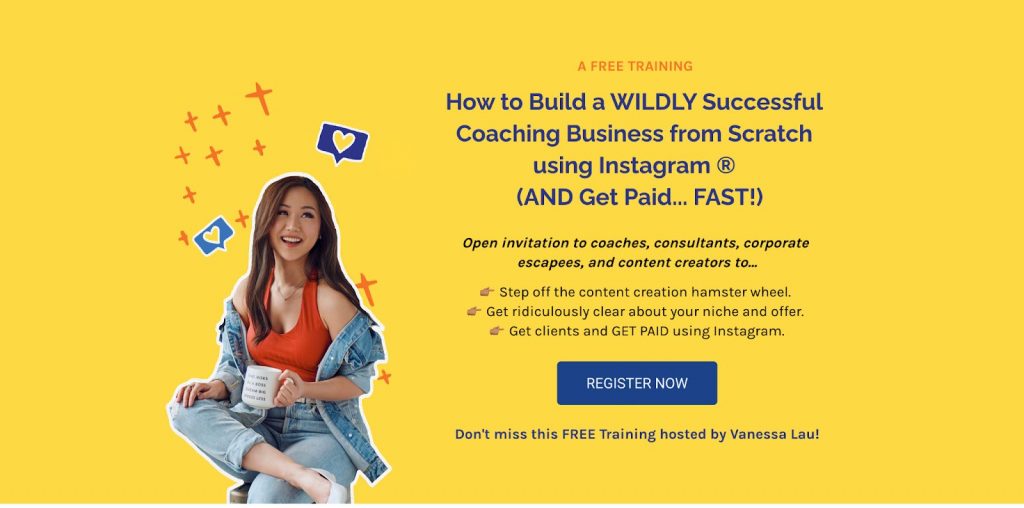 This is an example of how you can use custom links to take your subscribers off YouTube into your website.
You can also use the same button to guide people to a free Ebook. Ahrefs uses this chance to push people to subscribe to their channel.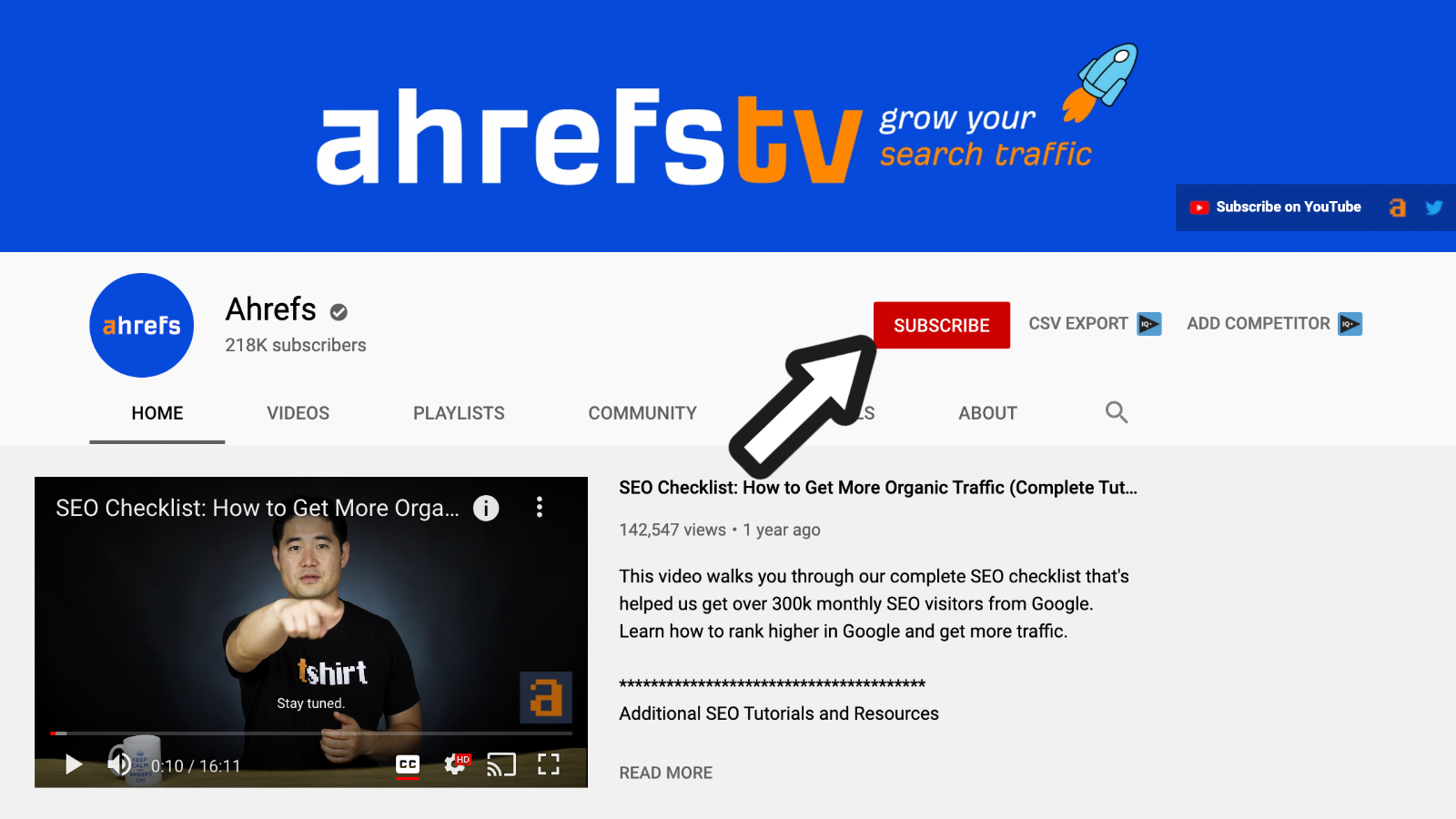 Click on this and you will get an option to subscribe to their YouTube channel (if you're not subscribed already). Just like Vanessa, they could have used this chance to ask people to hit that button, just by leaving a small Call To Action there.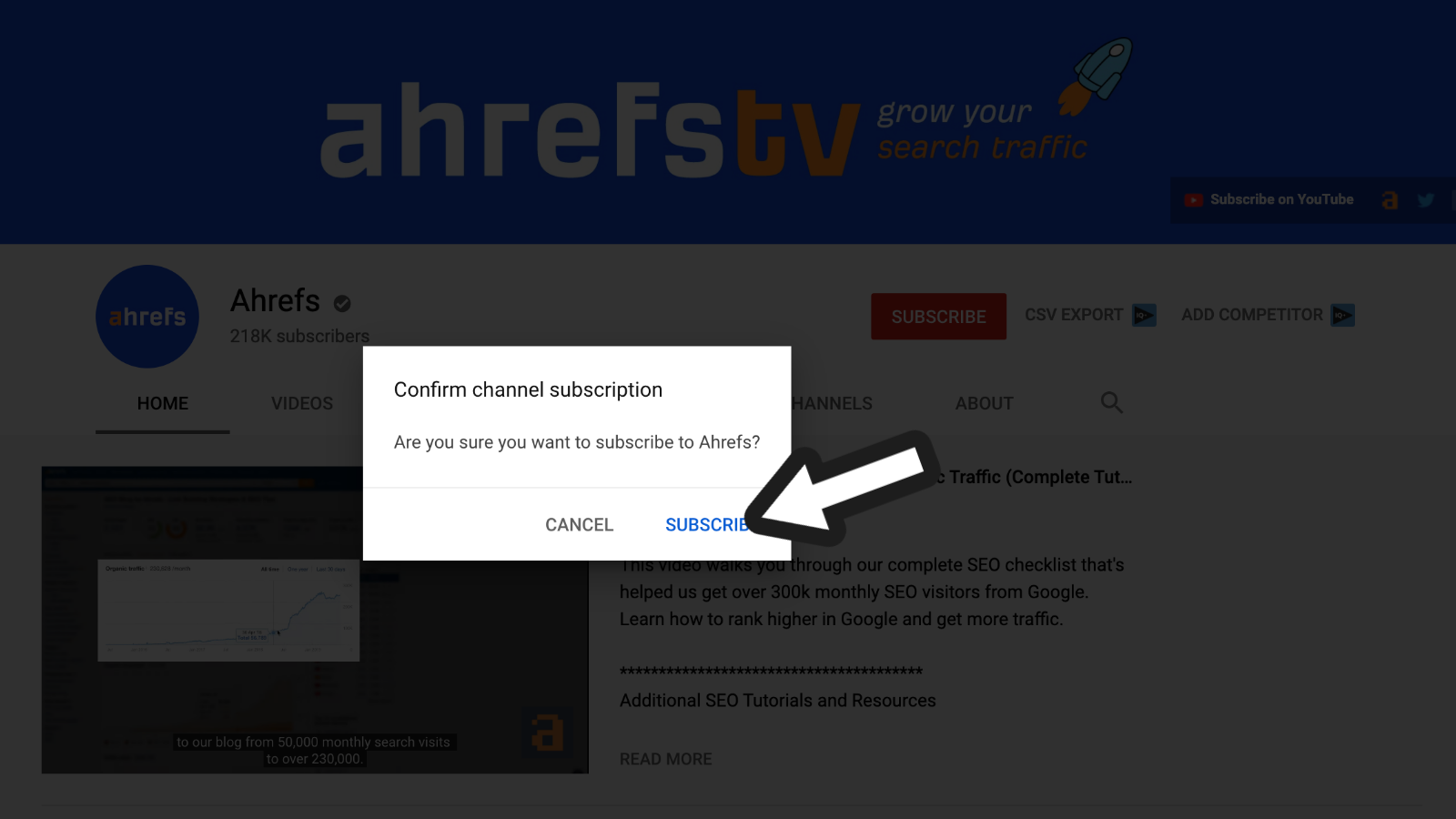 ---
Related reading:
We collected a list of 100+ of the best and top YouTube channels across categories like cooking, education & more.
Here's an updated guide to explain graphic design tips for non-designers in 2021
---
4
9 steps to make a YouTube banner of 2048x1152 pixels
Before you start with the designs for your custom 2048 x 1152 YouTube template, make sure that all your dimensions are right.
Plotting out dimensions is a tedious process.
That's exactly why we created a YouTube banner design template to help you with that process.
All you need to do is download this image and use it as a reference when you are designing your custom 2048 x 1152 YouTube banner. You can use it as a standard reference for all designs like a 2048 x 1152 gaming YouTube banner, 2048 x 1152 free fire YouTube banner, and much more.
Right-click on this template and Hit "Save image" to save it on your desktop.
If you feel that this template is too colorful for your likes, you can also download our 2nd version. It's quite friendly on the eyes.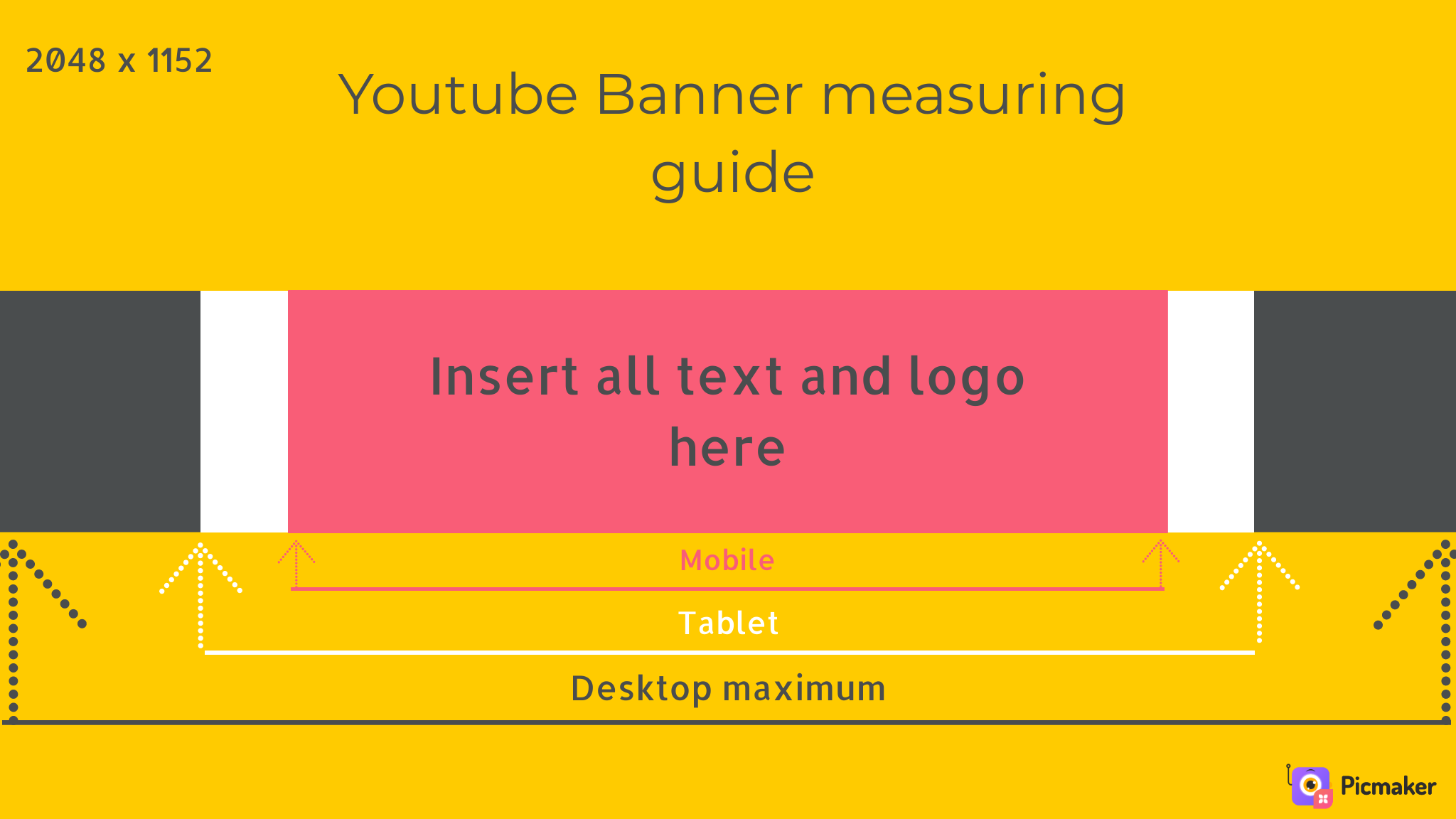 Or, you could download this banner template below.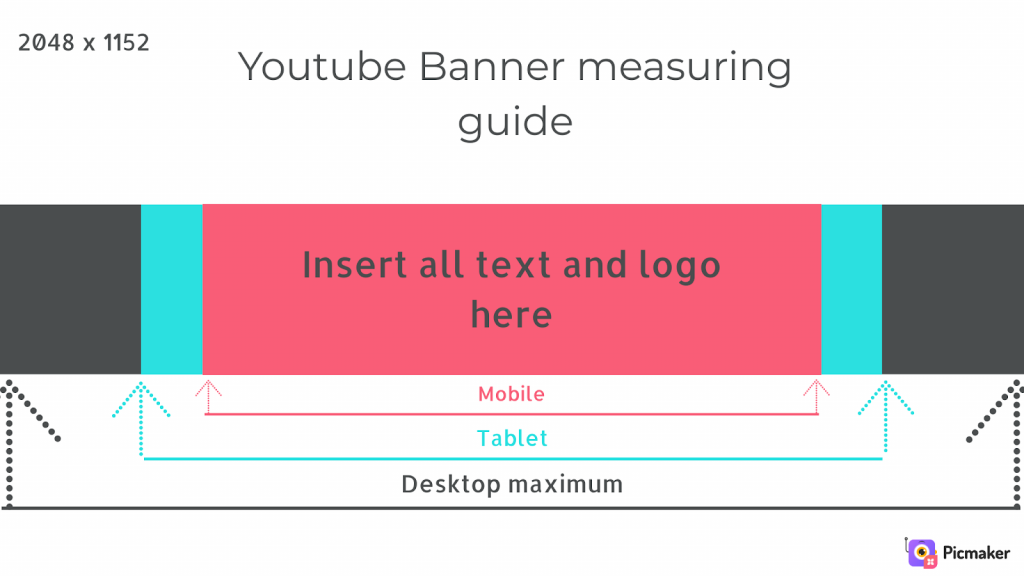 Anyways both are the same, apart from the different color schemes.
This template will be your guiding light for creating your custom 2048 x 1152 YouTube banner image.
Before we dive into the steps, feel free to check out this video. We put it together to help you create the perfect YouTube banner.
Step 1: Download our YouTube banner measurement template for FREE
We'll say it a thousand times before you download this template. Trust us when we say that it's that much important for this process.
Click on the Image and click 'Save.'
Have you downloaded it yet?
Perfect! Let's get on with our second step now.
Step 2: Go to Picmaker and select a custom dimension
Visit Picmaker.com and login to your dashboard. Feel free to create your own account if you're not an user already.
On your dashboard select the "Custom size" option.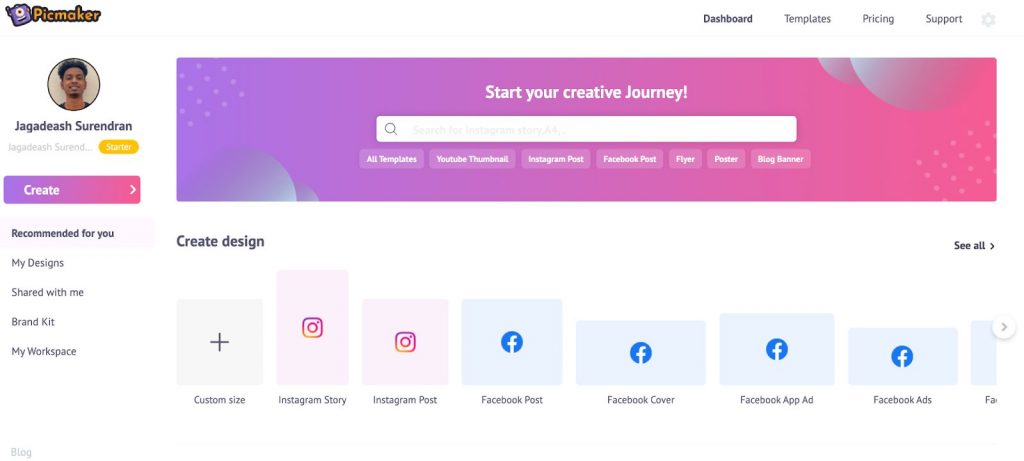 Step 3: Enter the custom dimension values in there
After you click on the custom size option, you'll notice this pop-up.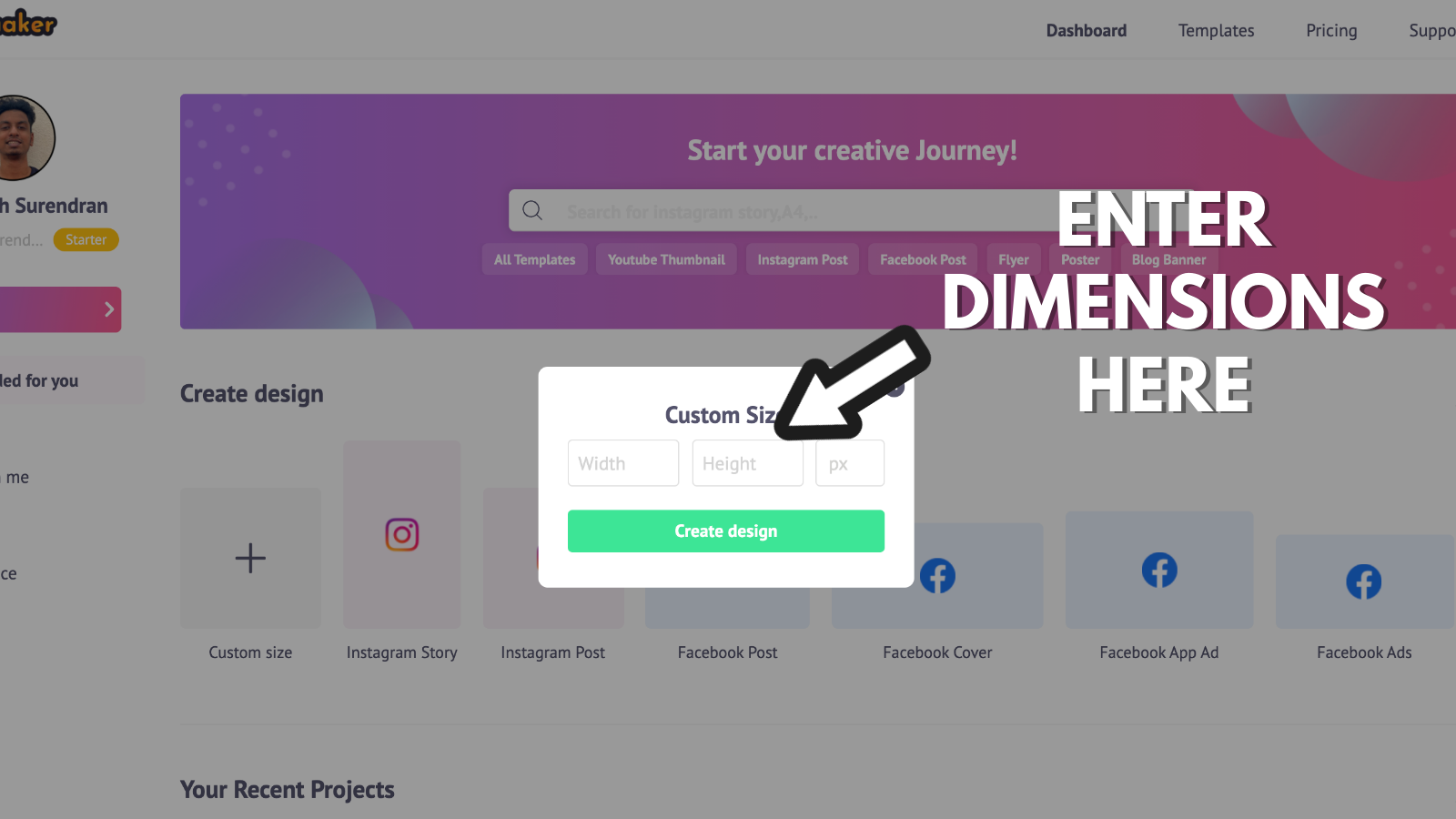 Enter the Dimensions as '2048' and '1152' in the corresponding boxes. Select 'px' as the measurement factor.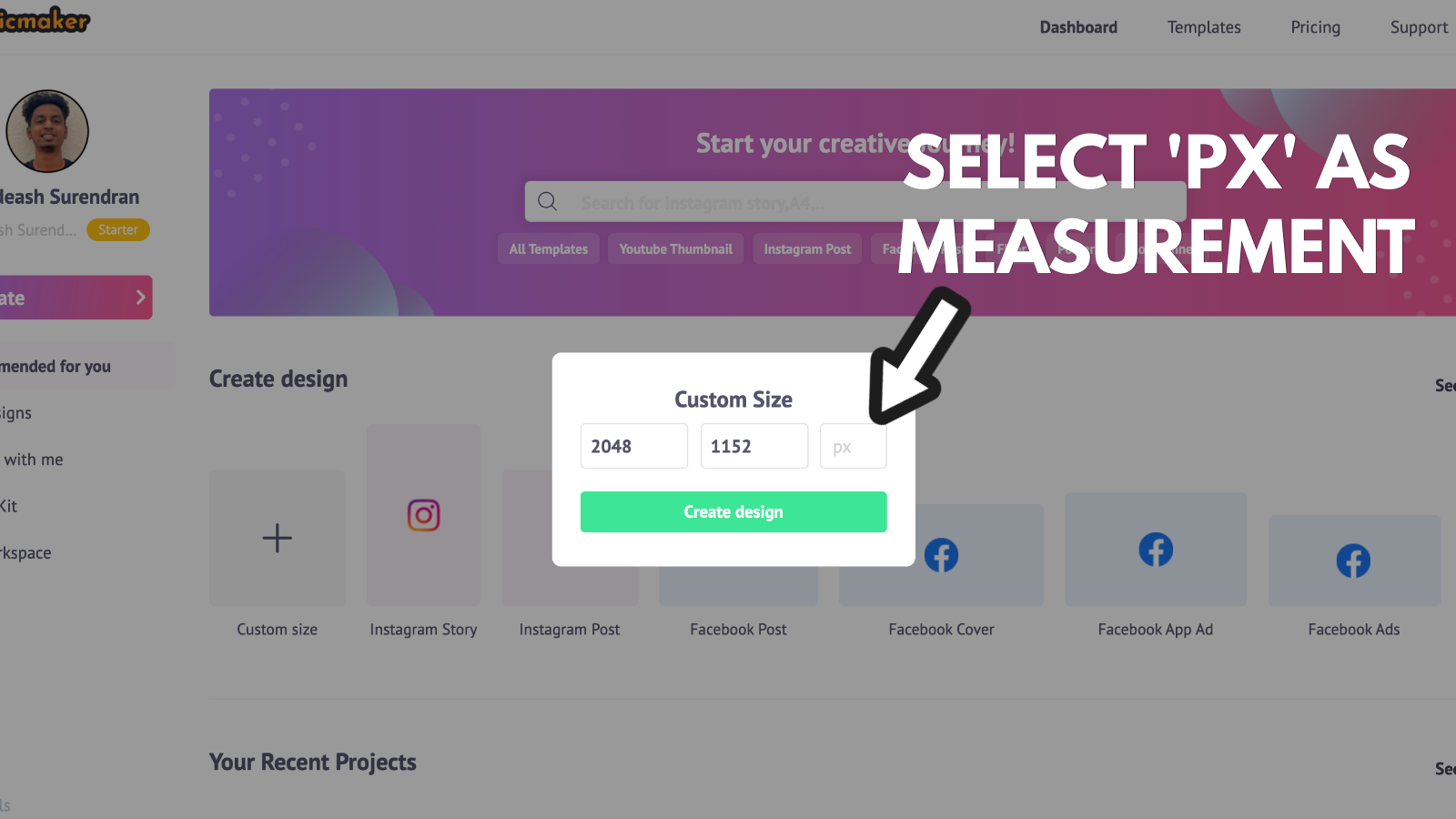 Now click on "Create Design."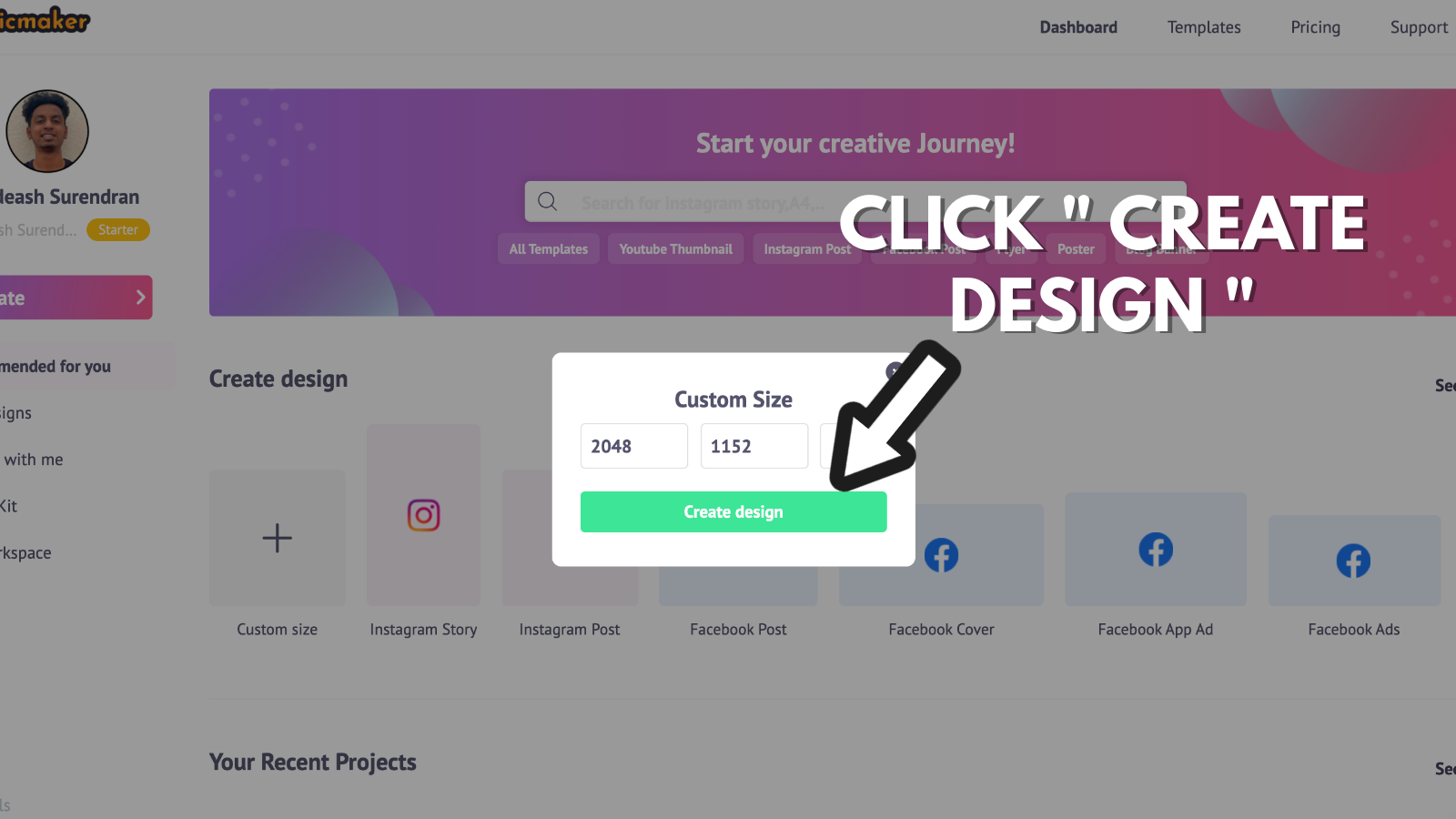 You will be taken to a brand new blank page with your YouTube banner of 2048x1152 dimensions.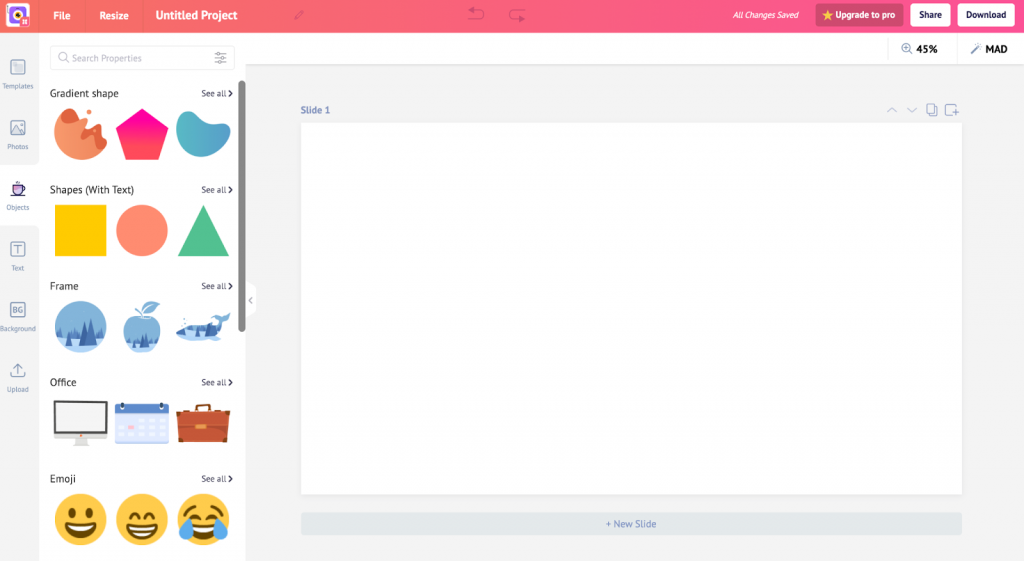 Step 4: Upload our template and import it onto your page
Select the upload 'tab' on the right-hand side and upload the template you downloaded earlier.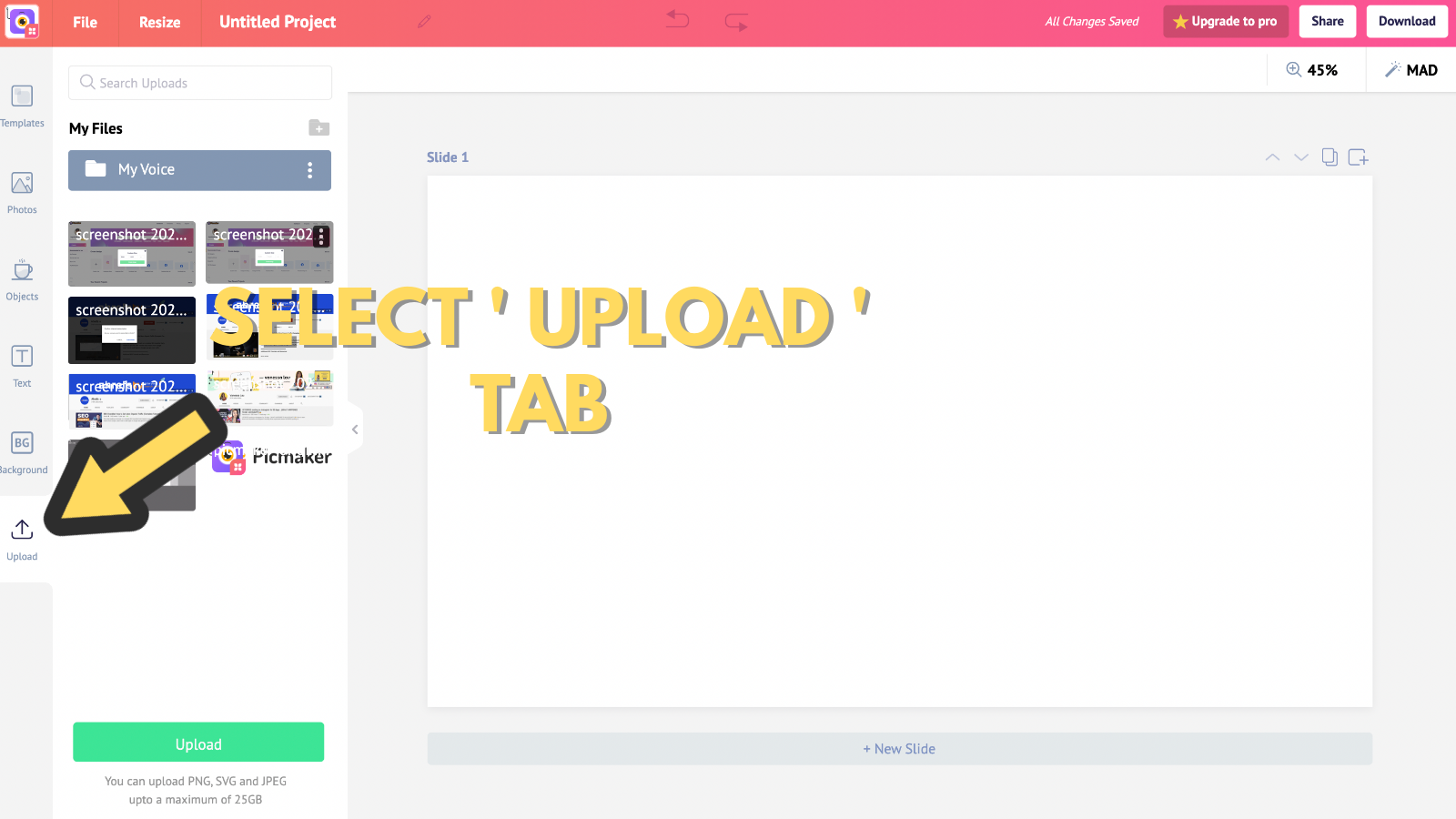 Hit the upload button.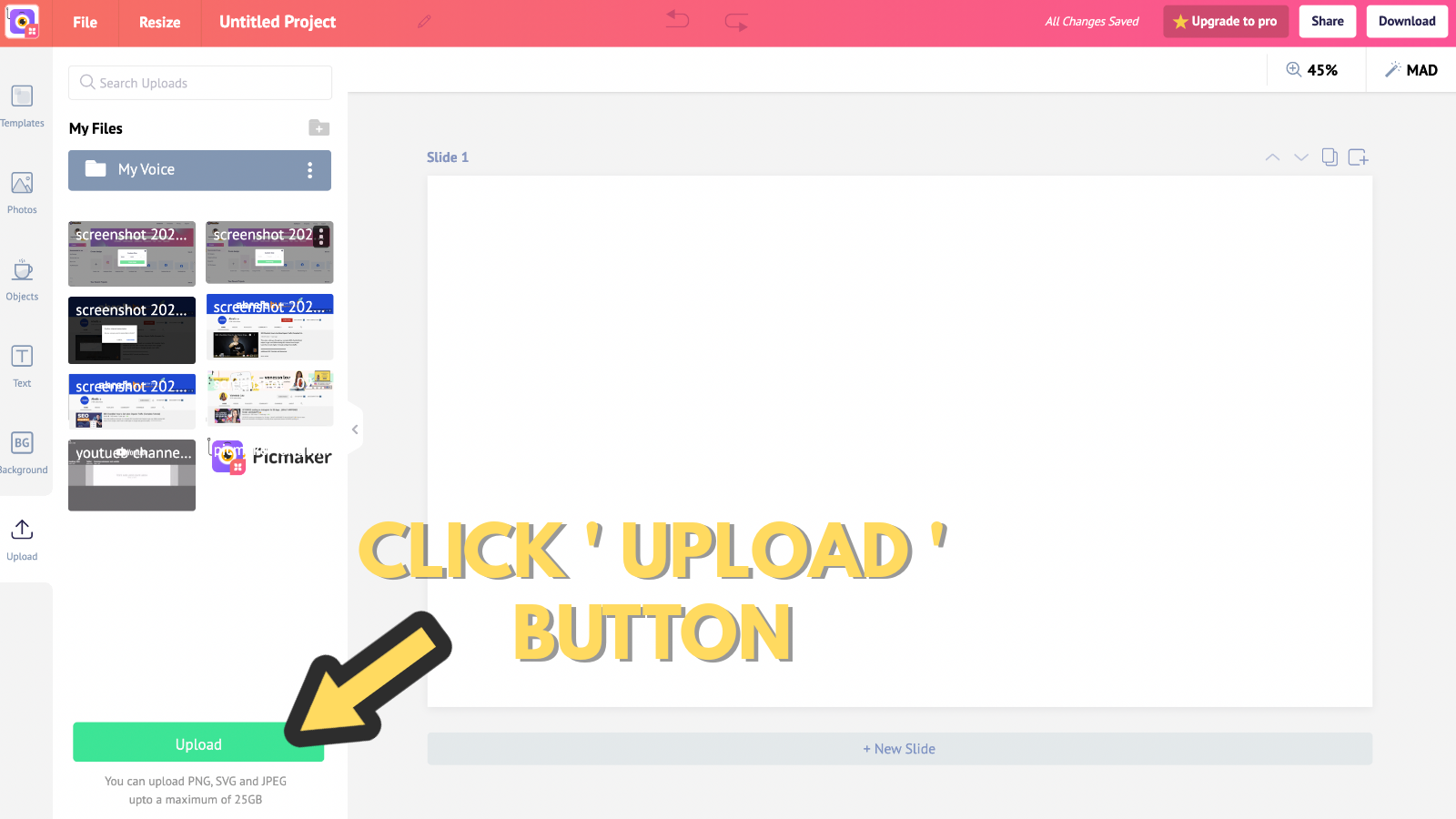 Once you find the template on your device, upload it to your dashboard.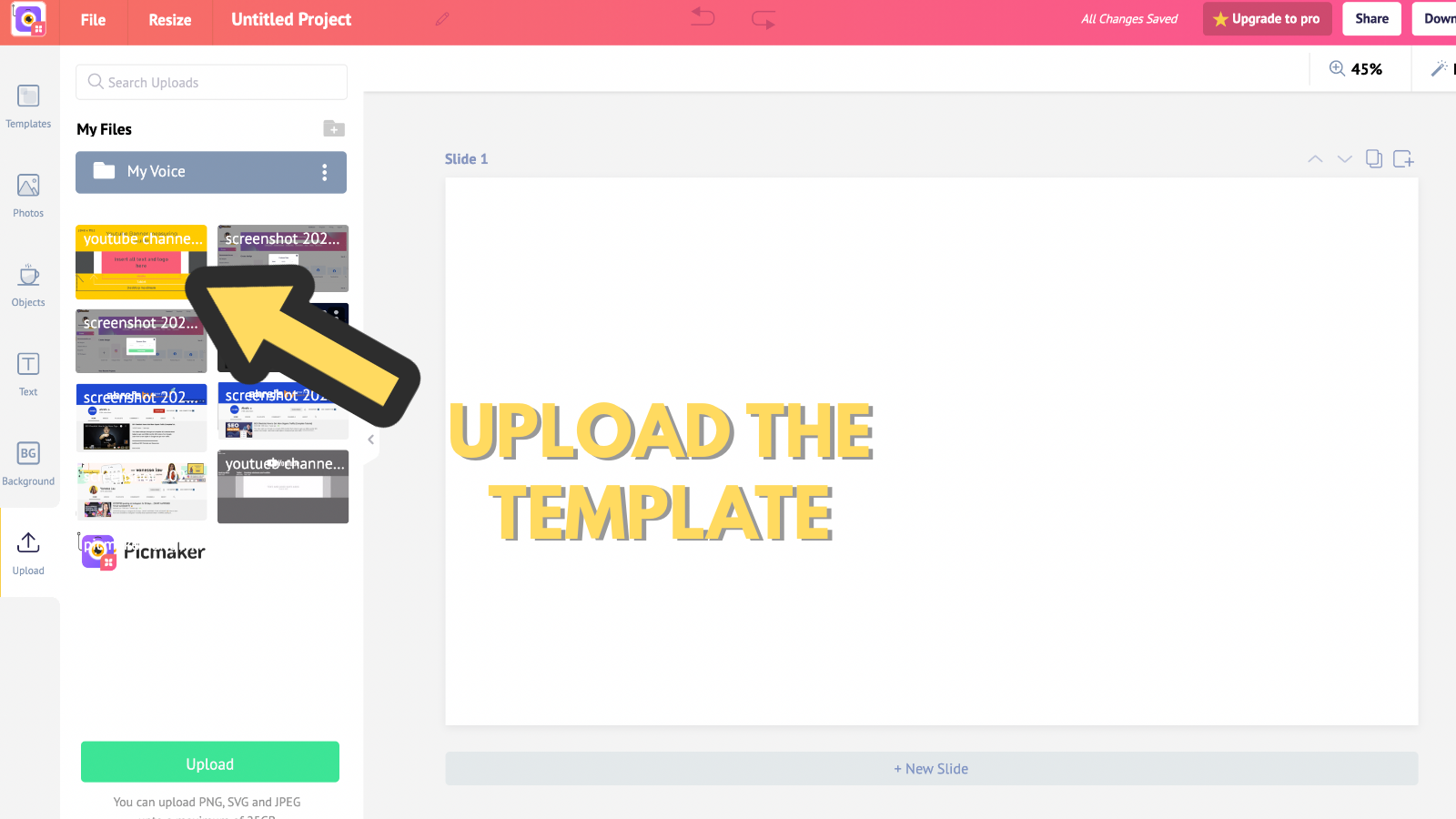 Step 5: Drag and drop the template onto your blank workspace
Once you have the template on your Picmaker dashboard, drag and drop it onto your blank workspace.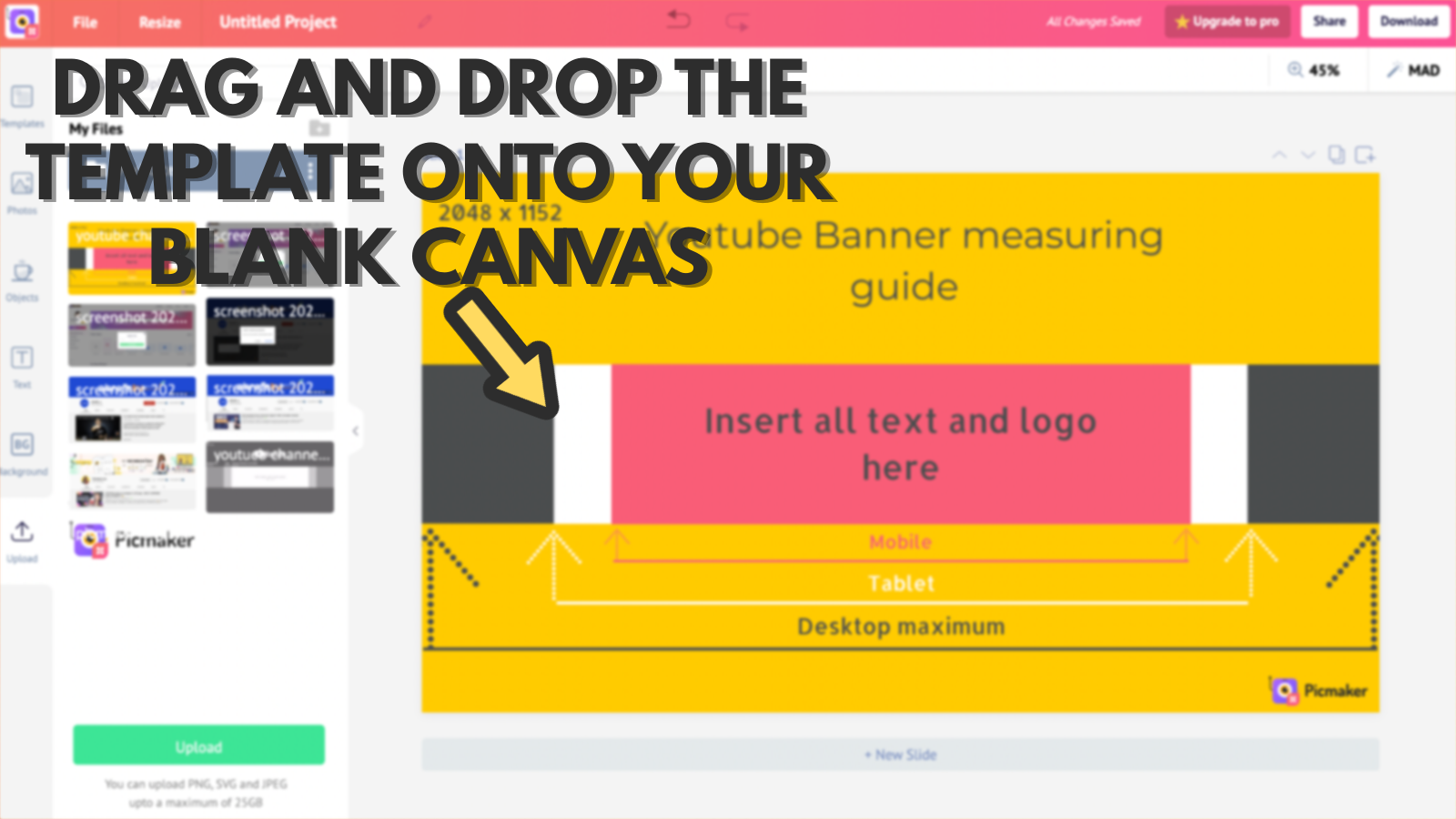 Resize it to fit the dimensions of your custom 2048 x 1152 YouTube channel template.
Step 6: Determine your background for the custom YouTube banner
Once you have uploaded this template onto your dashboard, it's time to get your hands dirty. You need to decide if you're planning to use a picture or just solid color for your banners.
If you are using a picture, here's the next step
You can click on the photos tab and choose from millions of stock photos in our YouTube banner maker.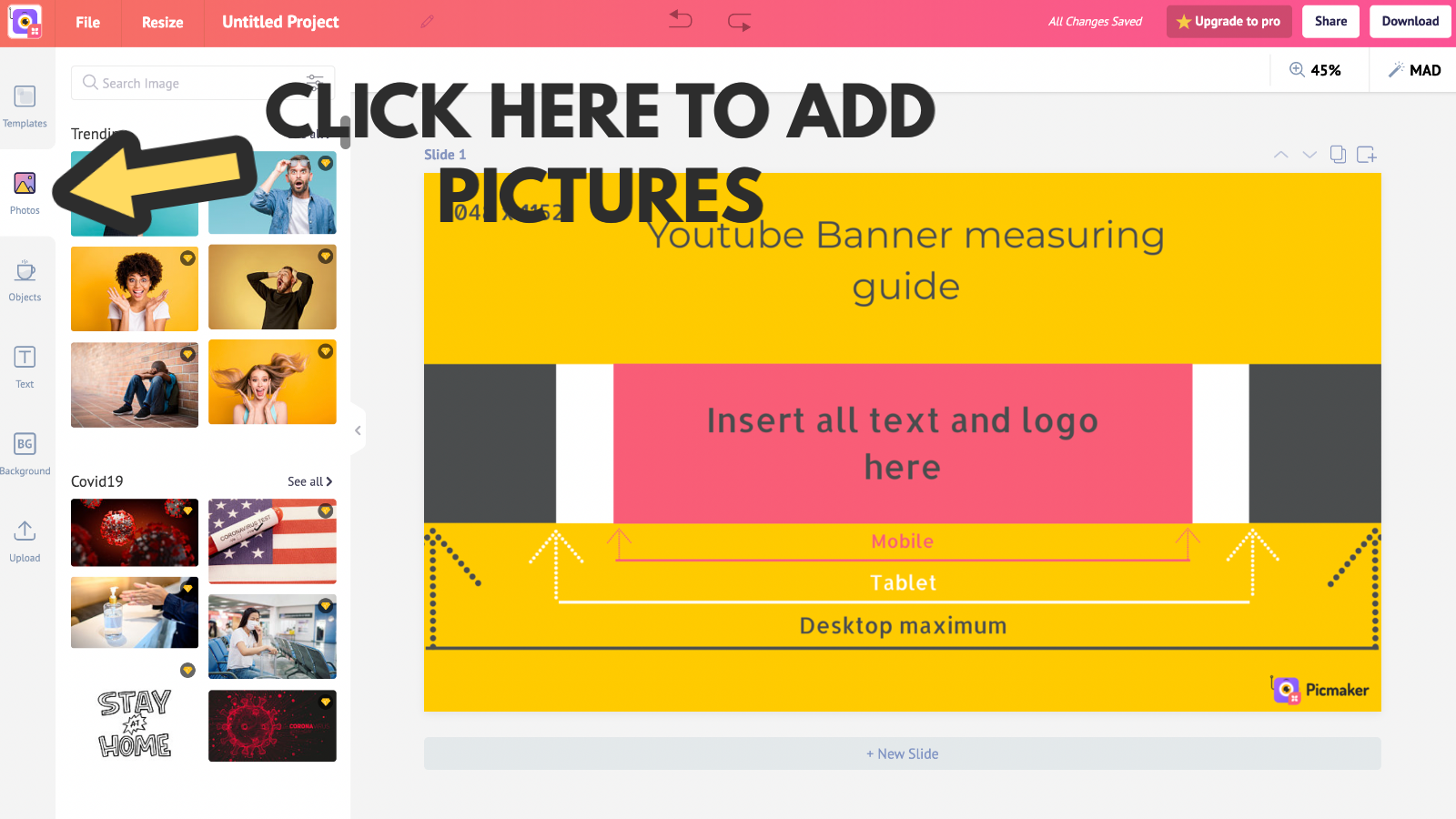 If you want to make it personal, you can also upload an original photo by clicking on the upload tab and uploading your image.
If you are using solid colors, select the gradients or shapes to fill your YouTube banner.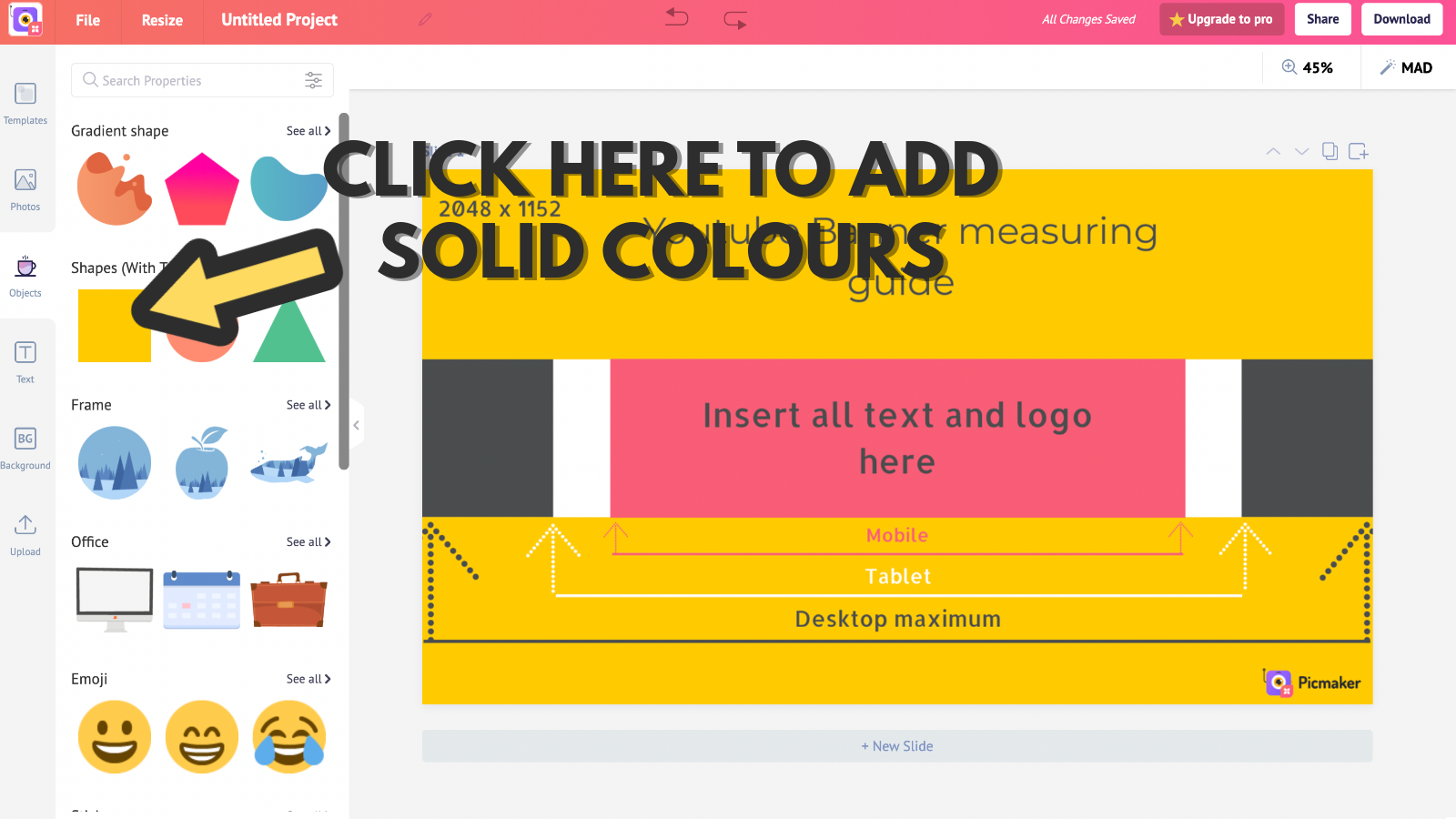 We like to keep things simple.So we are just going with solid colors for this tutorial.
Step 7: Add fonts and colours over the banner
The next step is to add a primary colour over the tablet area.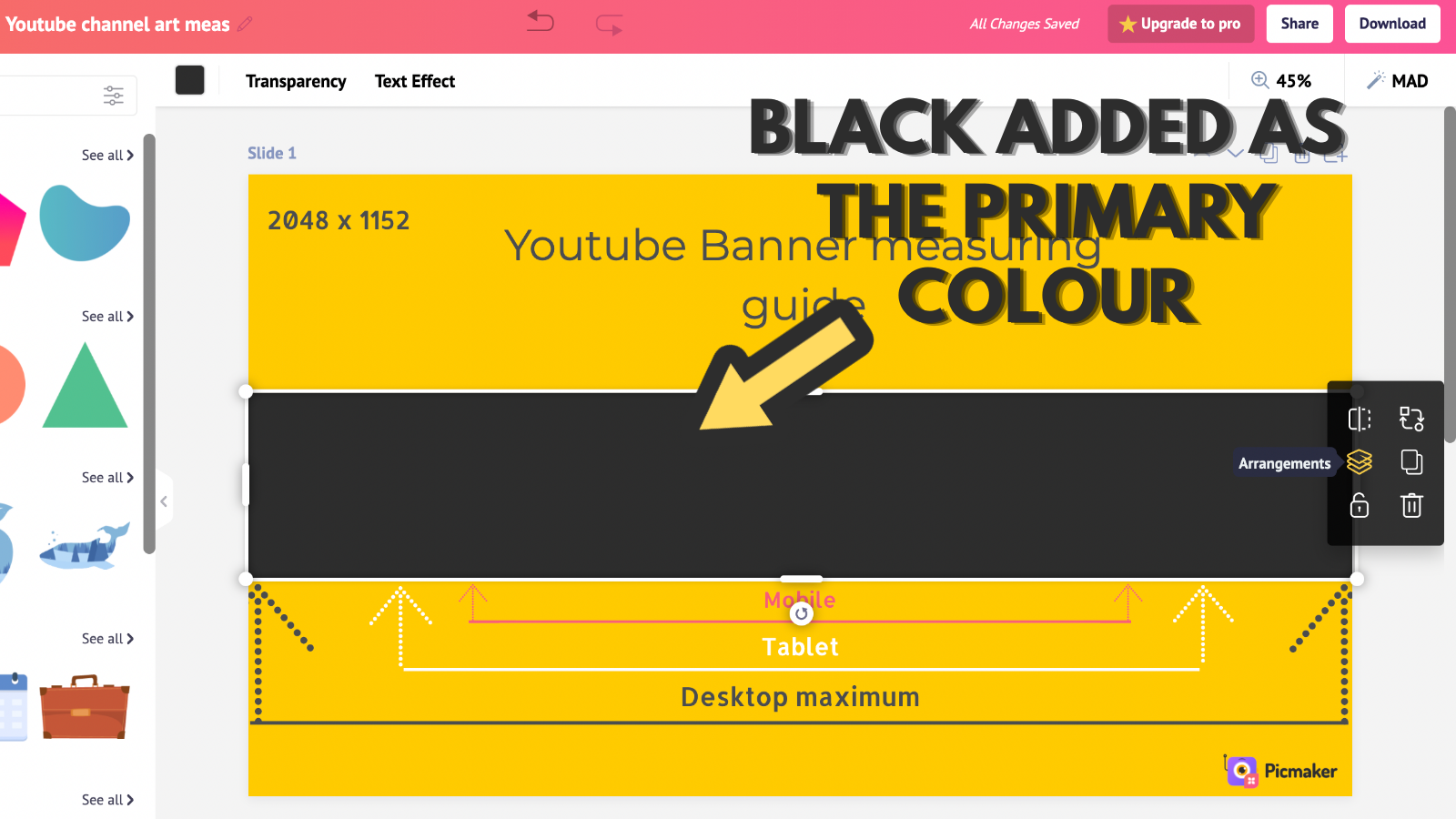 Once your primary color has covered the entire desktop area, click on 'Arrangement.'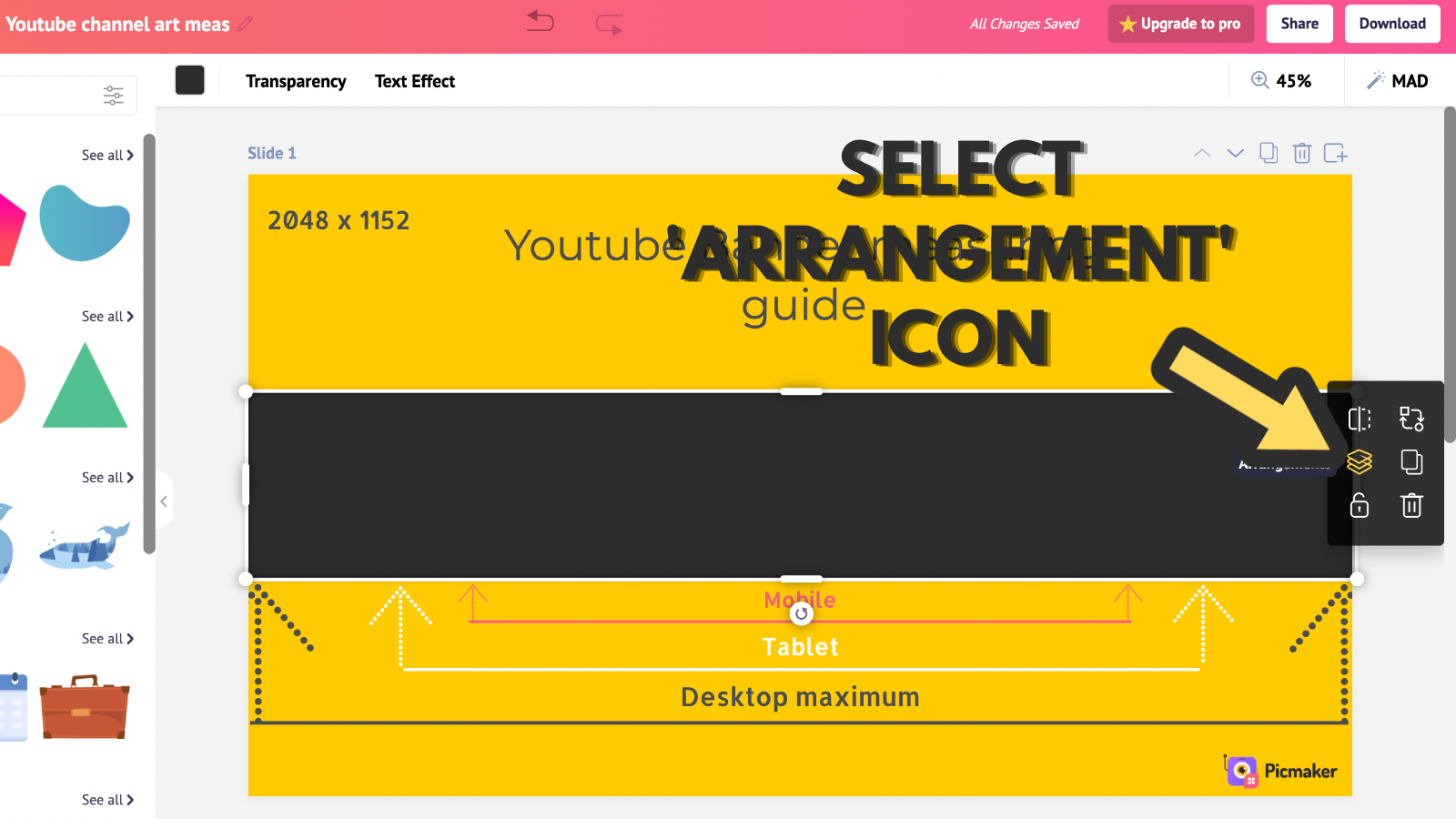 And then hit 'Backward.'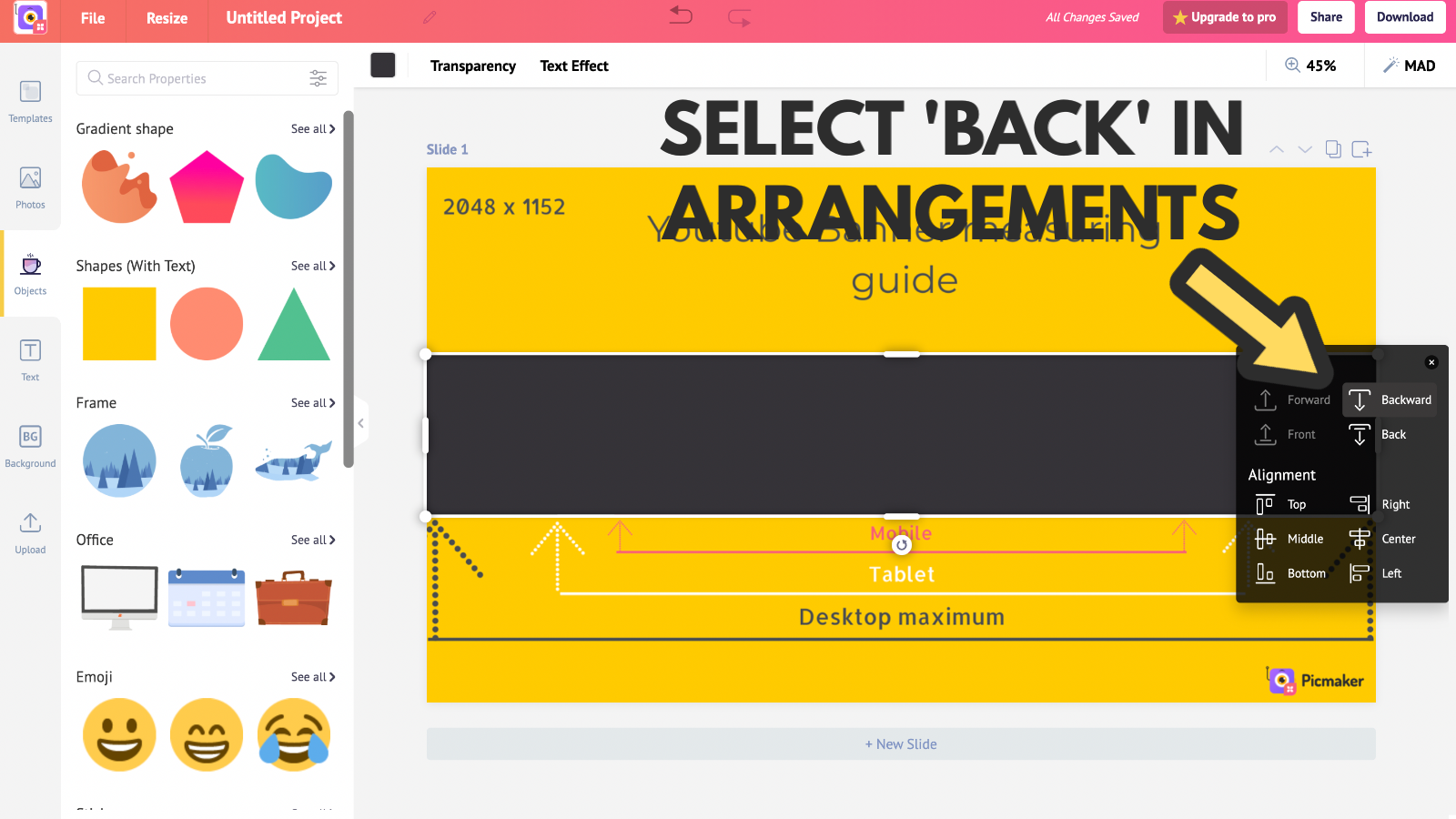 The design will disappear behind our template. But don't you worry about it.
We will retrieve that design in the next steps. Now, go on and add another solid color like this cyan for the mobile area.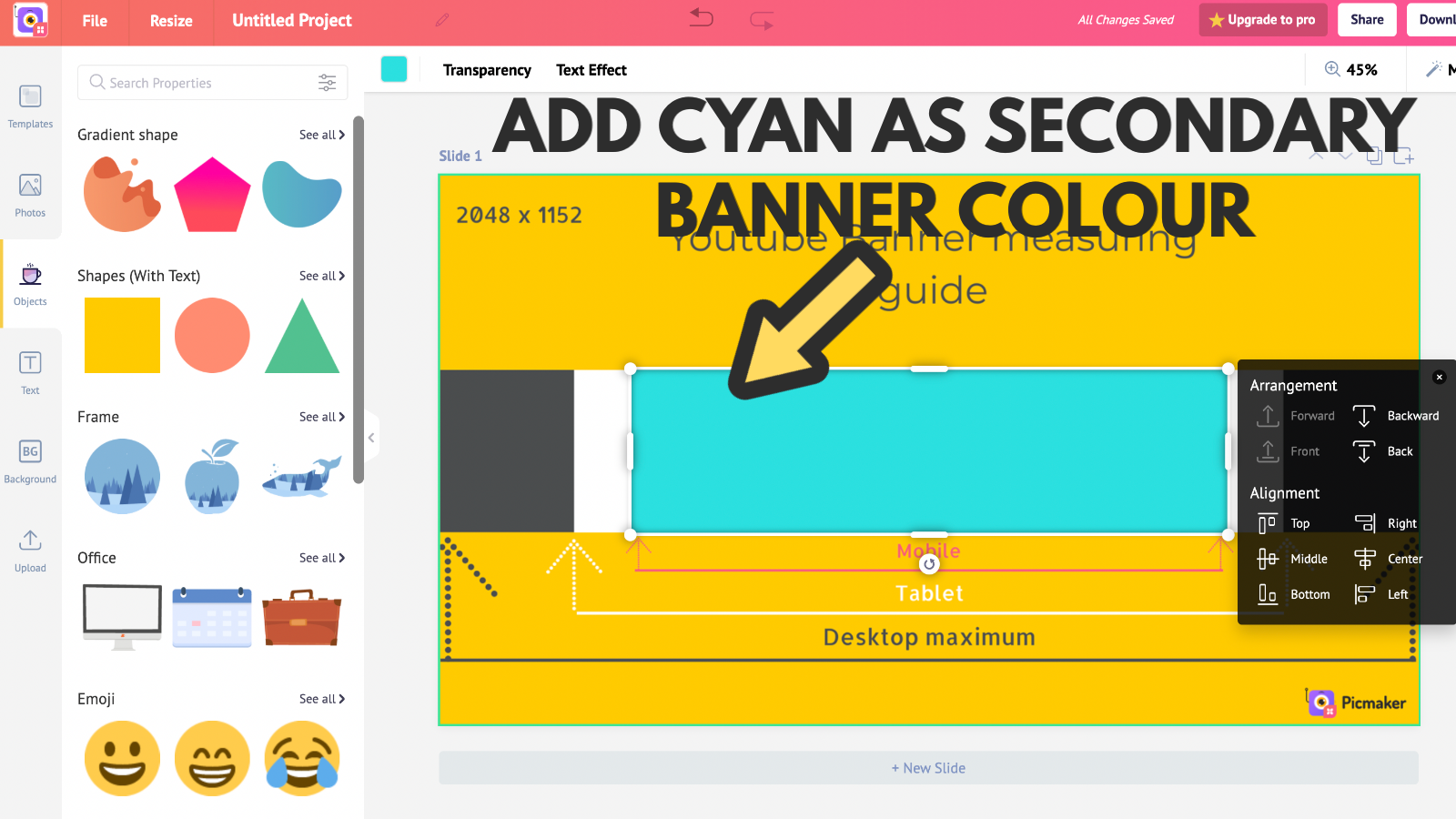 Just like the above step, click on 'Arrangement' and hit the 'Backward' option.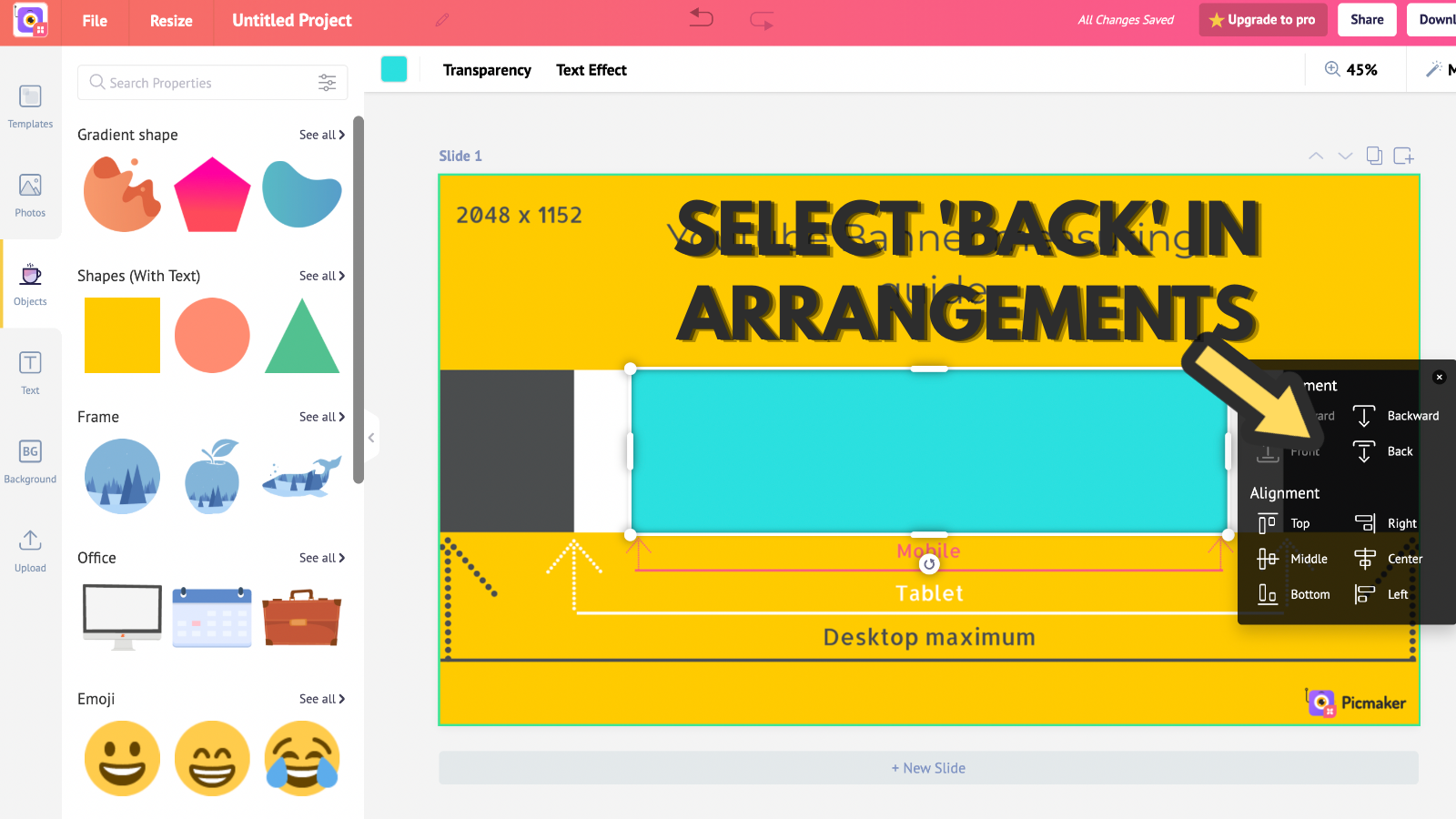 Step 8: Delete the template
After you've added enough variations and colors, feel free to go ahead and delete the template.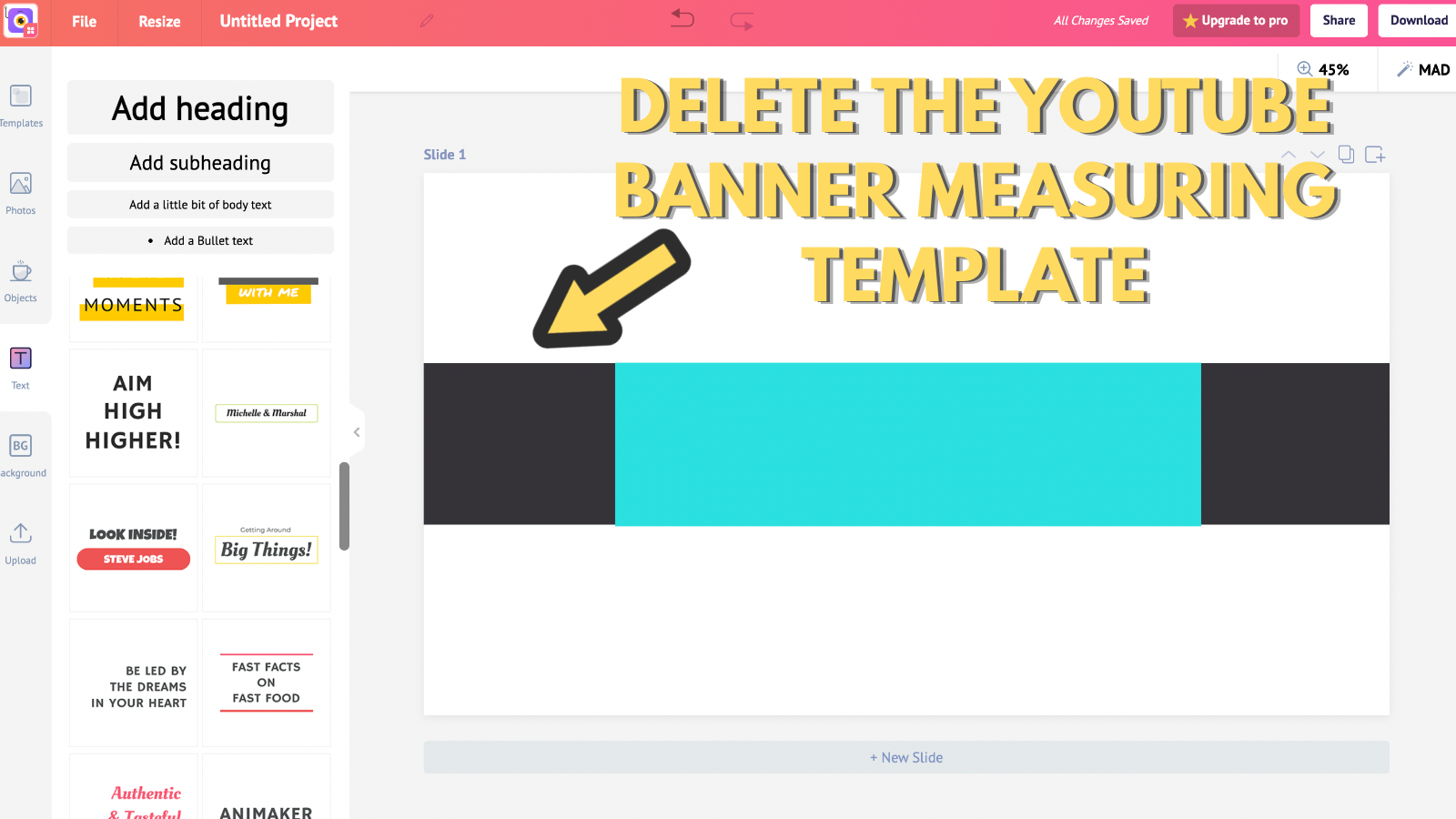 Voilà! Now, you are left with just the templates or designs that you chose earlier.
Step 9: Be creative within the designated area
Now that you have the designated area all to yourself, feel free to let your creativity run amuck. Start by adding the right texts and CTAs for your YouTube channel. You can choose from the hundreds of fonts available on Picmaker's dashboard.
Click on the text tab and select a style of your choice.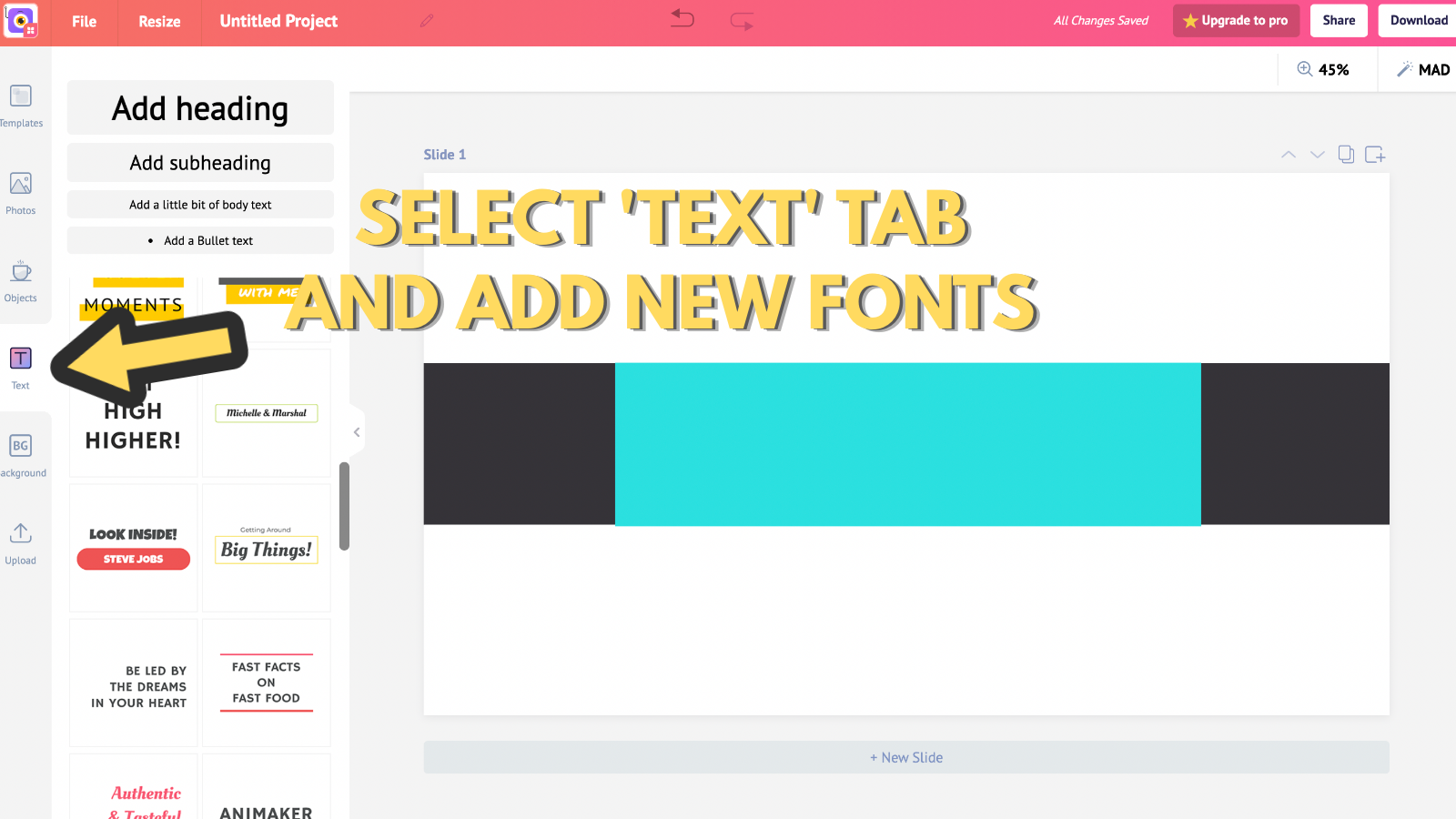 Change the size and color of the selected font to make it fit your design.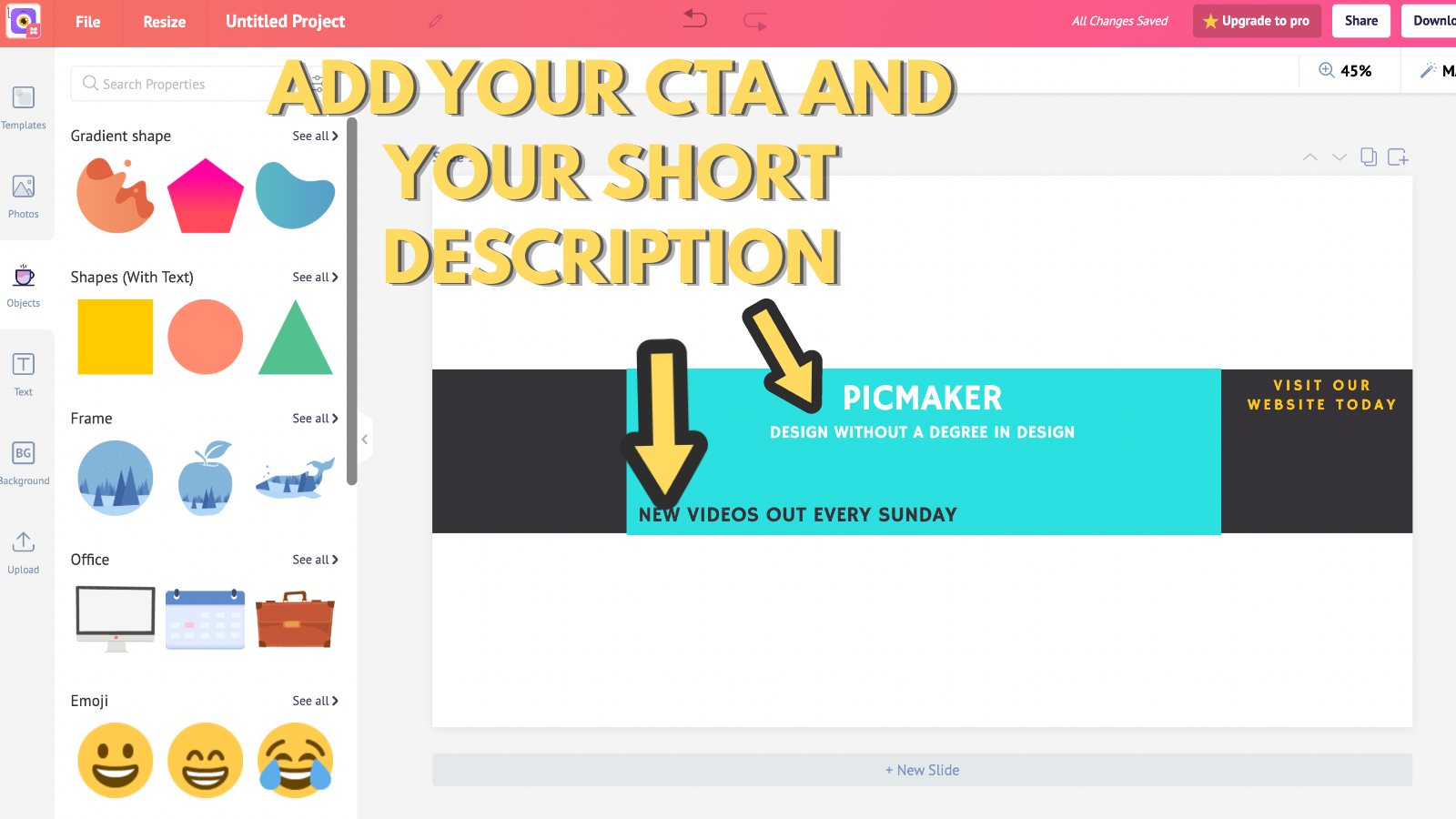 You can also add some fun elements to make your 2048 x 1152 pixels YouTube channel art-pop.
Select the 'Objects' bar and put in elements that fit the theme of your YouTube banner.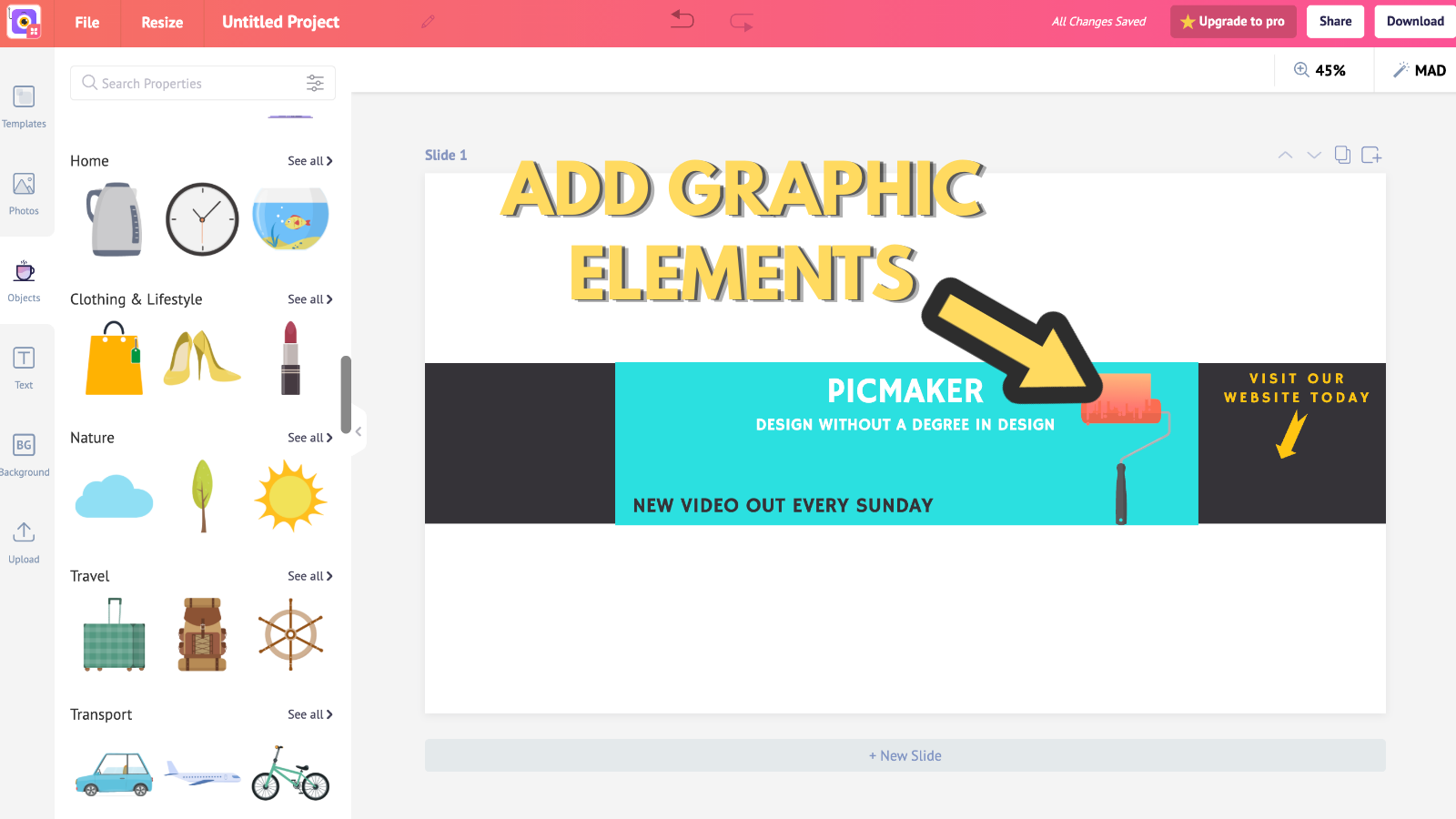 If you're looking to amp it up, you can add your images by removing their background.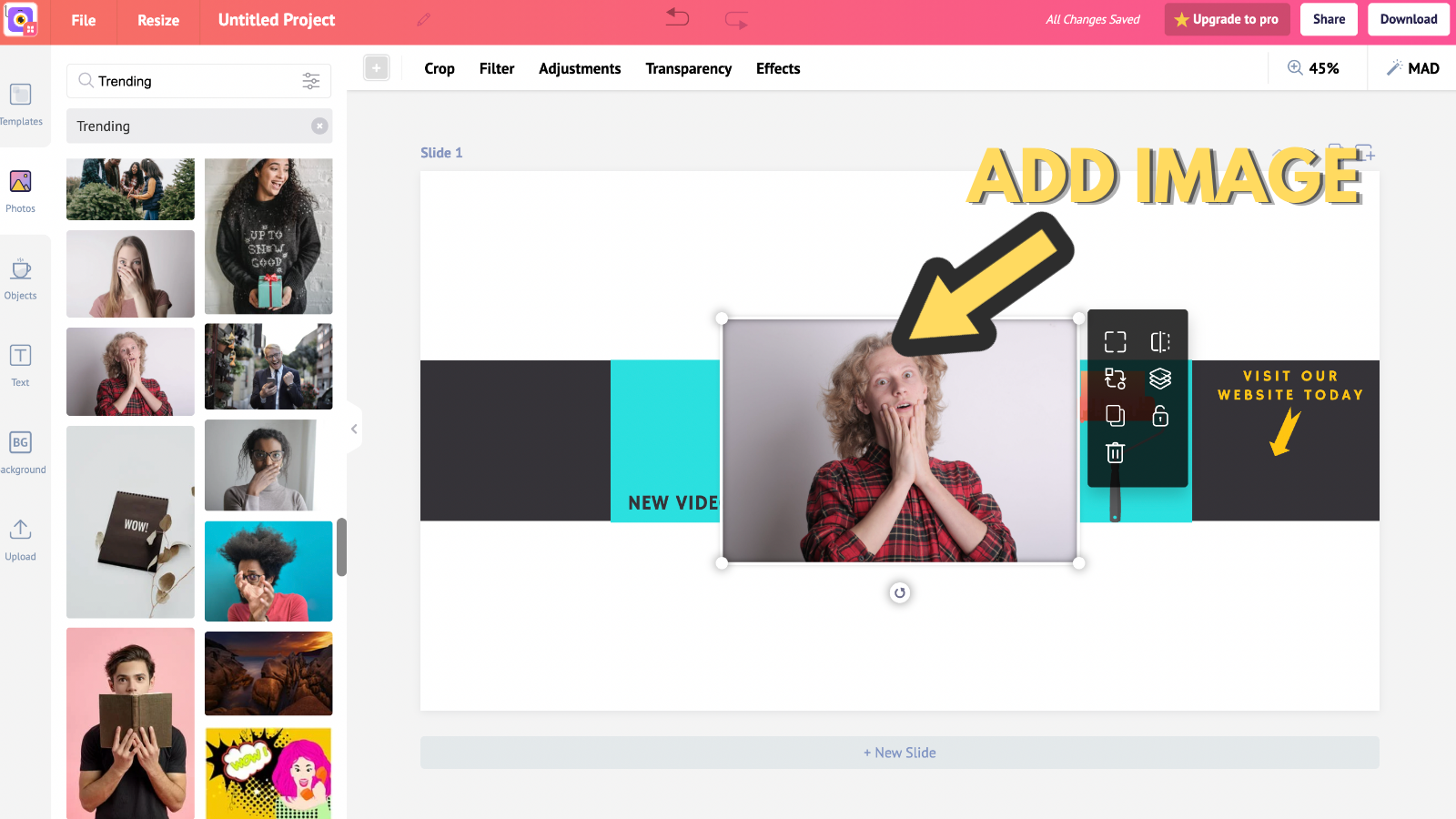 Upload your image and click on 'Effects.'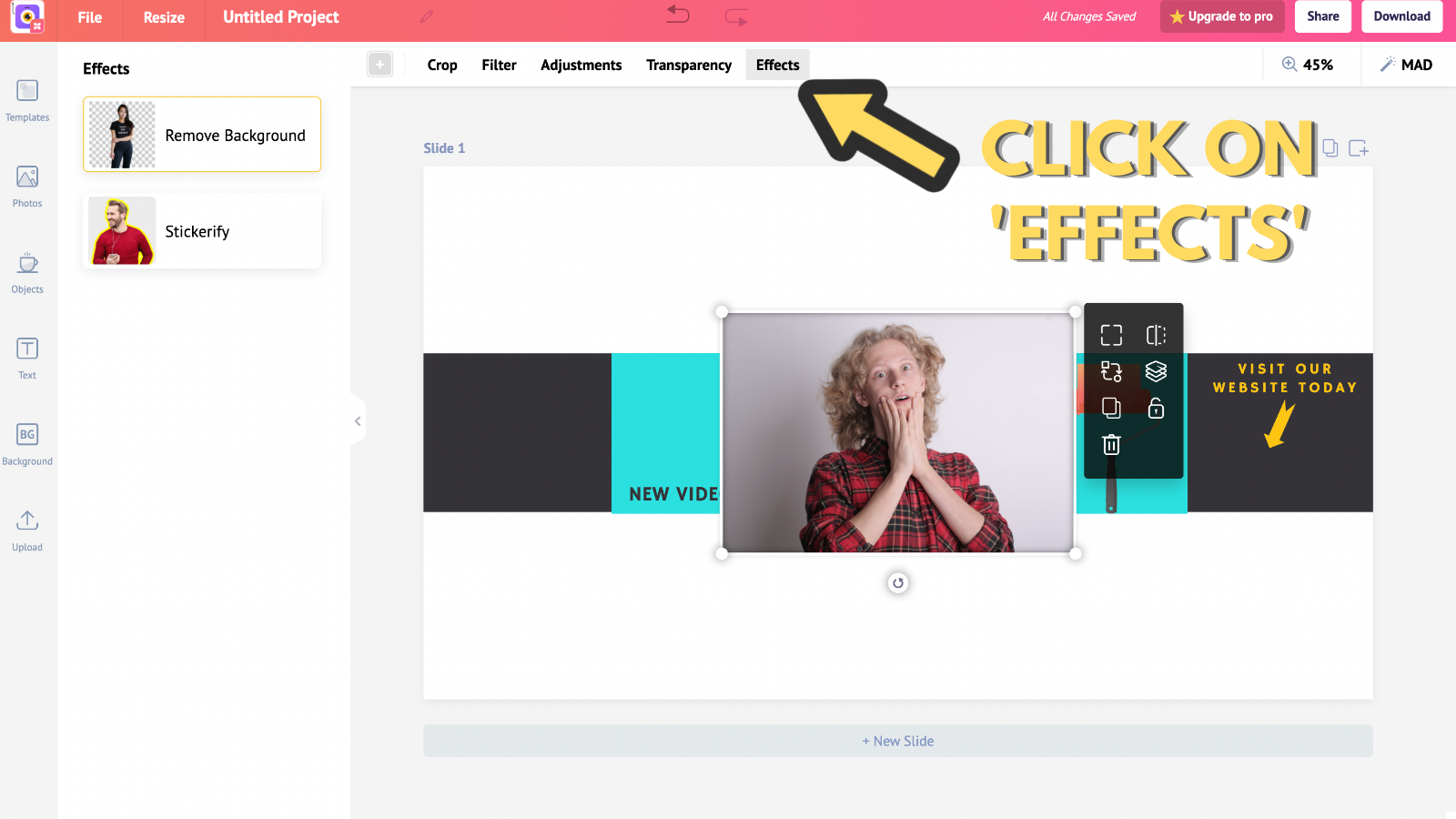 Select 'Remove Background' and remove the image background for free.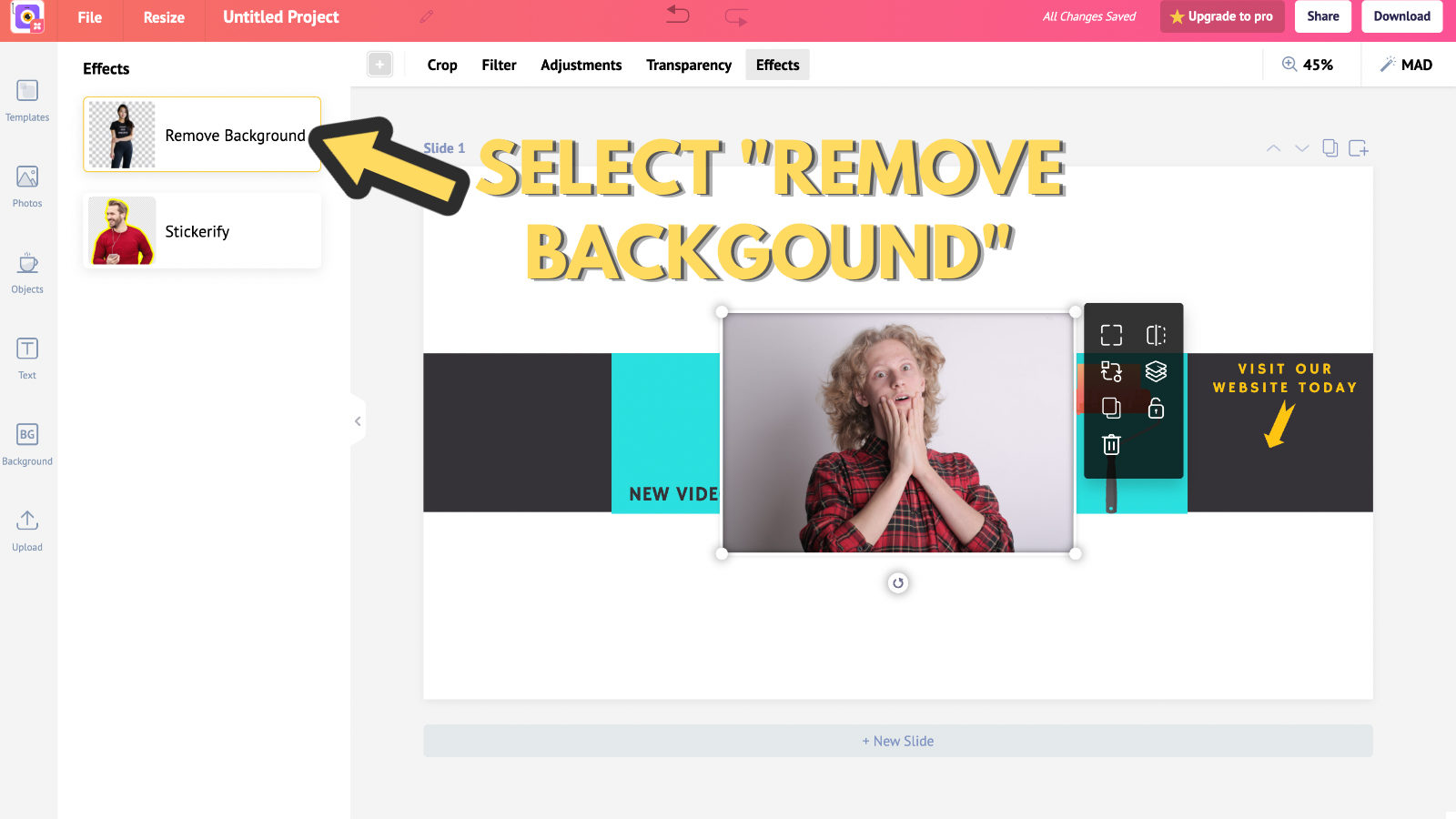 You can finetune it to add or remove parts from your image. Once it's done click on 'Finish.'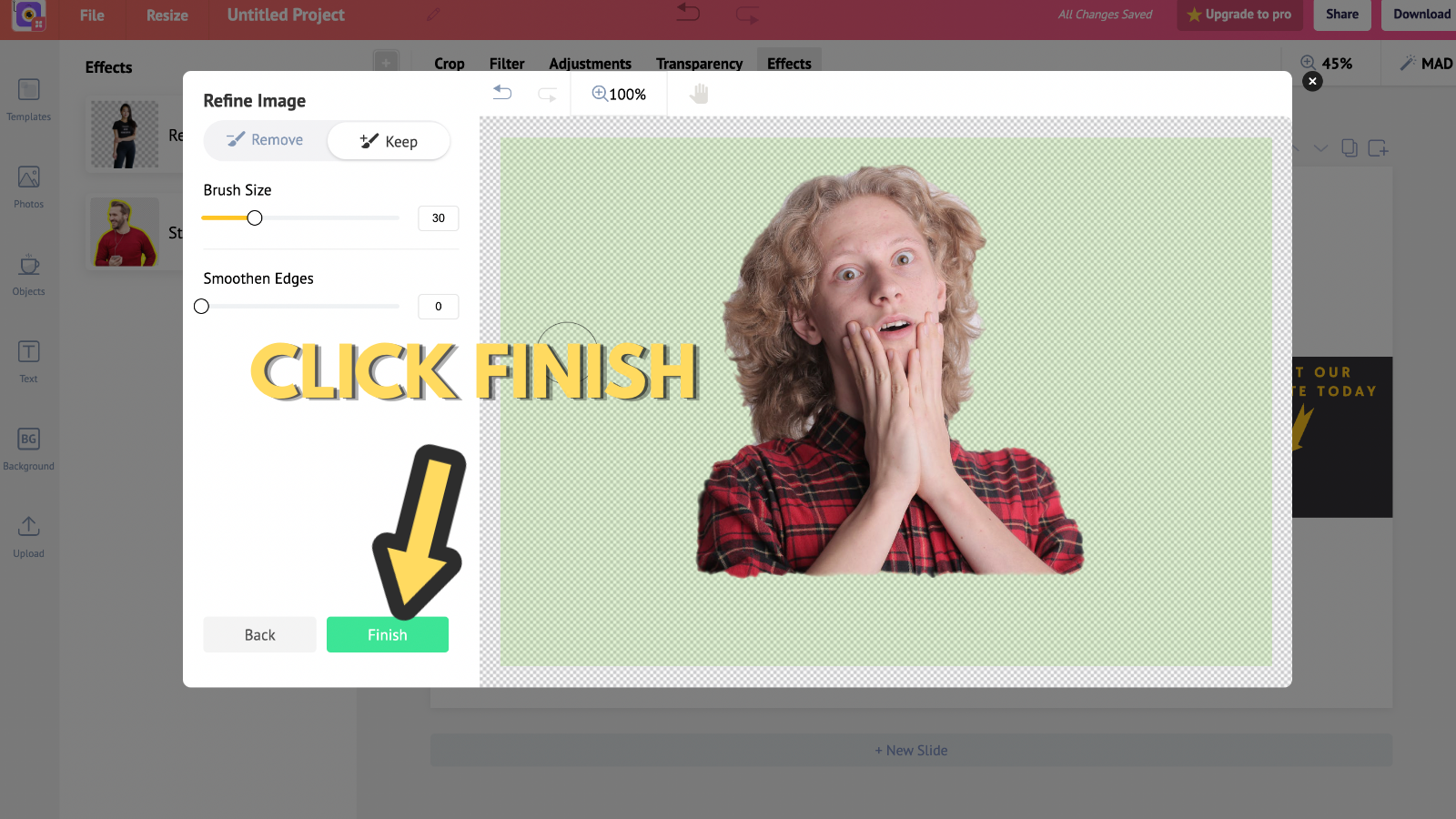 You can take this up a notch and 'Stickerify' your image to make it pop. But, we're not going to do this. Instead, we'll let you figure out that feature for yourself. 👊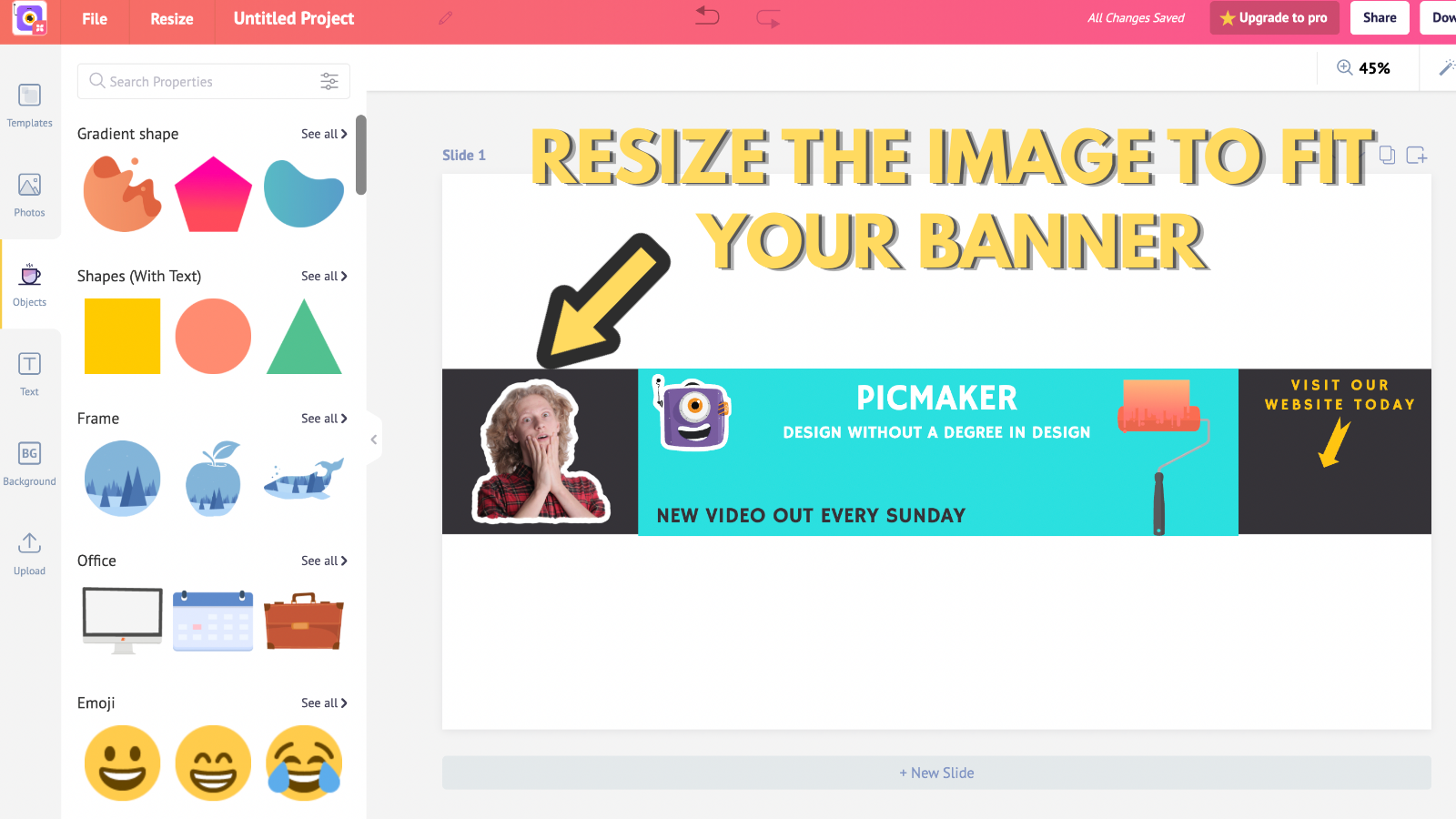 Once you're satisfied with your 2048 x 1152 pixels YouTube banner, go ahead and download it.
Just one last thing - don't forget to add a background for this banner. This background cannot be seen on your smartphones or desktops, but it can be seen on your television.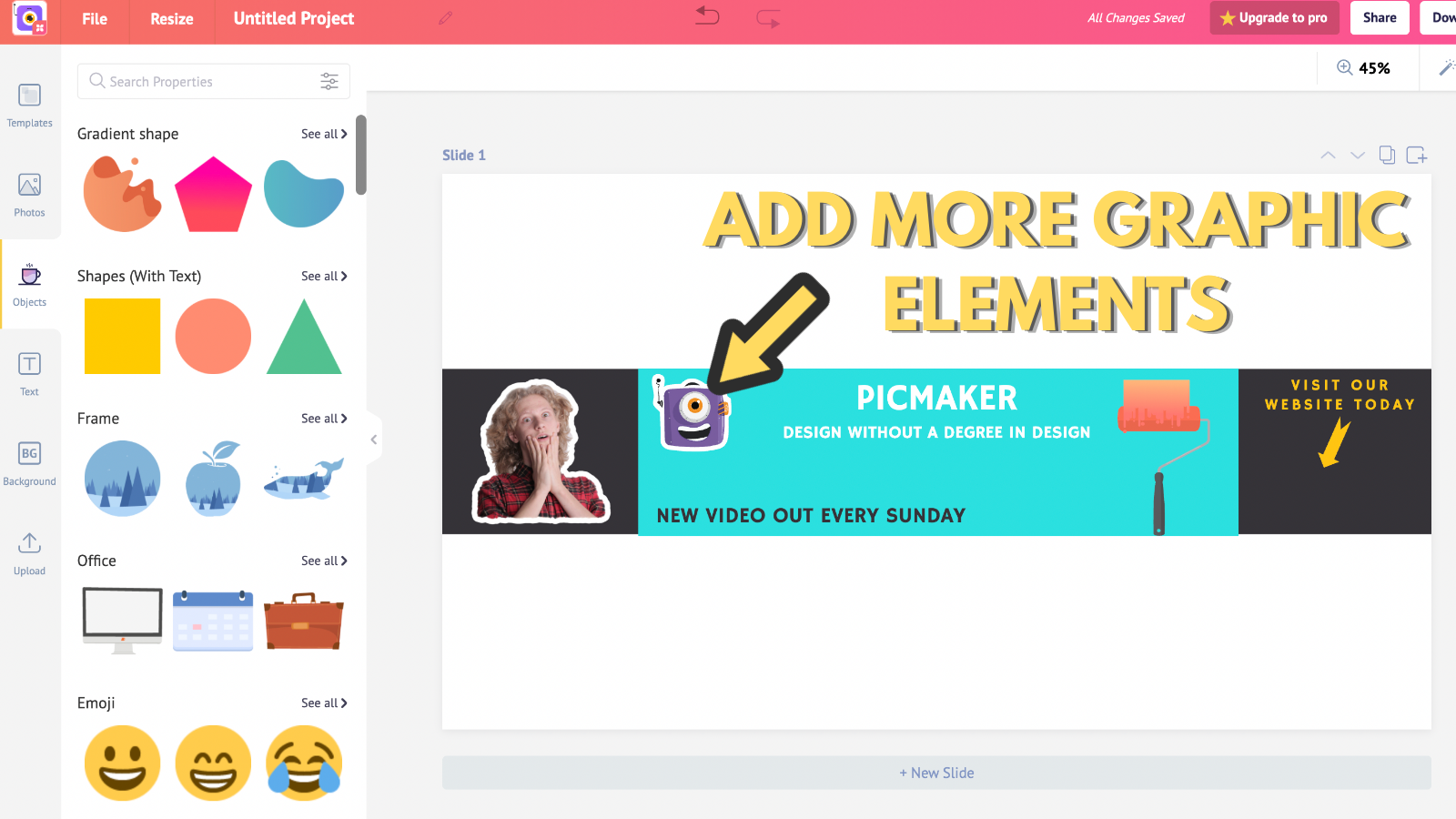 We like to add multiple colors and keep the background as a gradient of all the colors.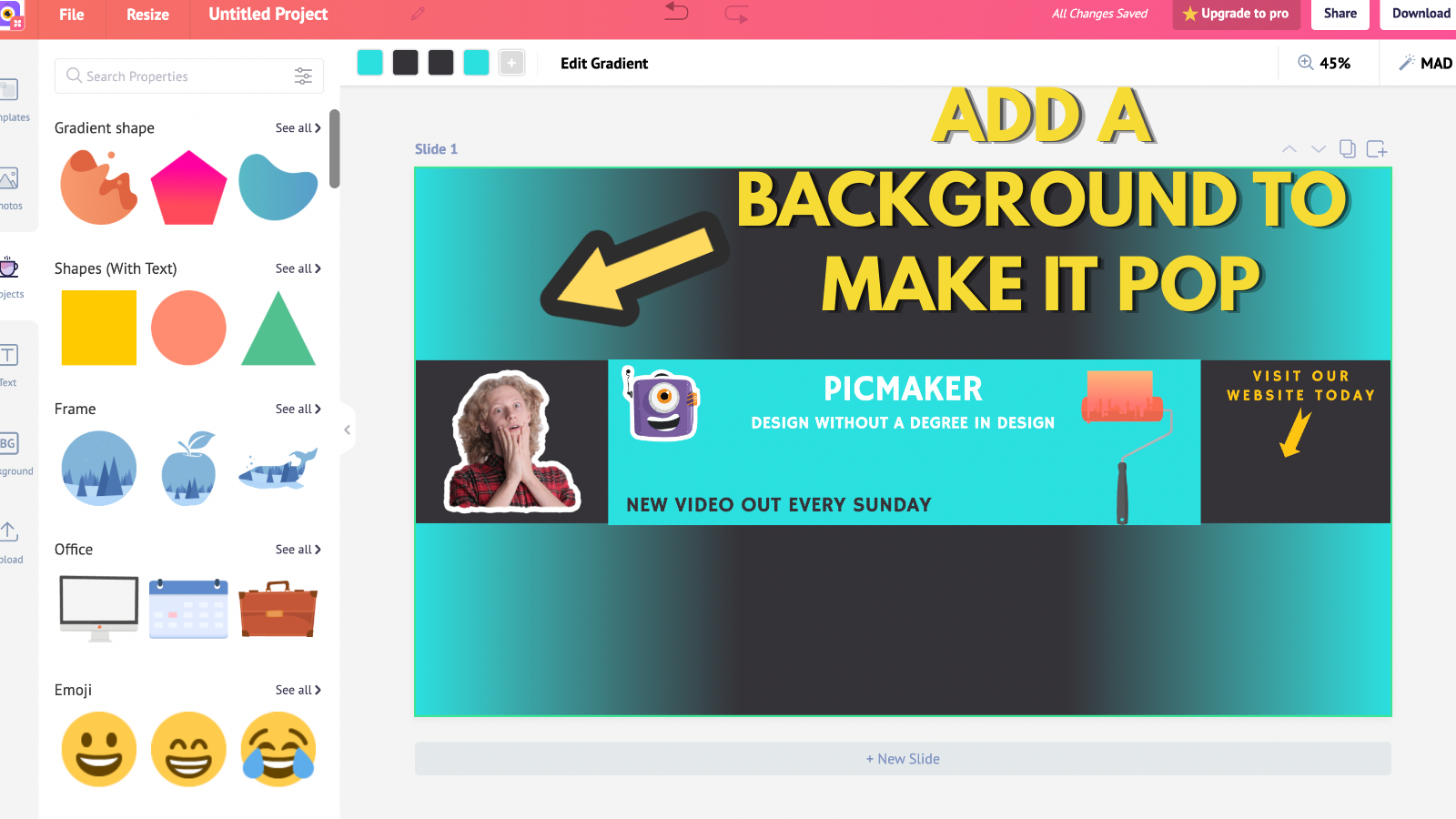 Once it's done, hit download and take your YouTube channel art of 2048x1152 pixels offline.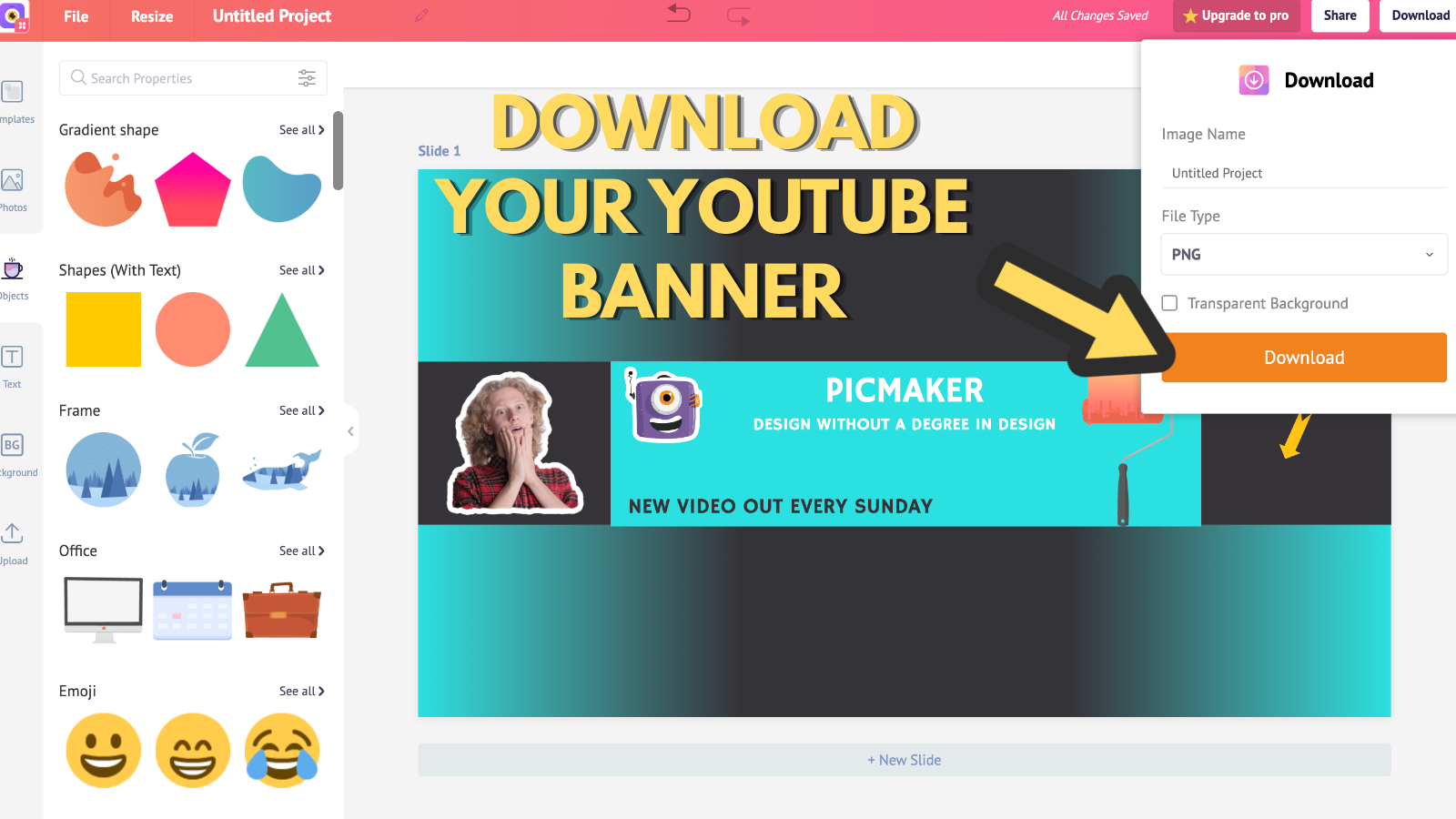 And your custom YouTube banner is done!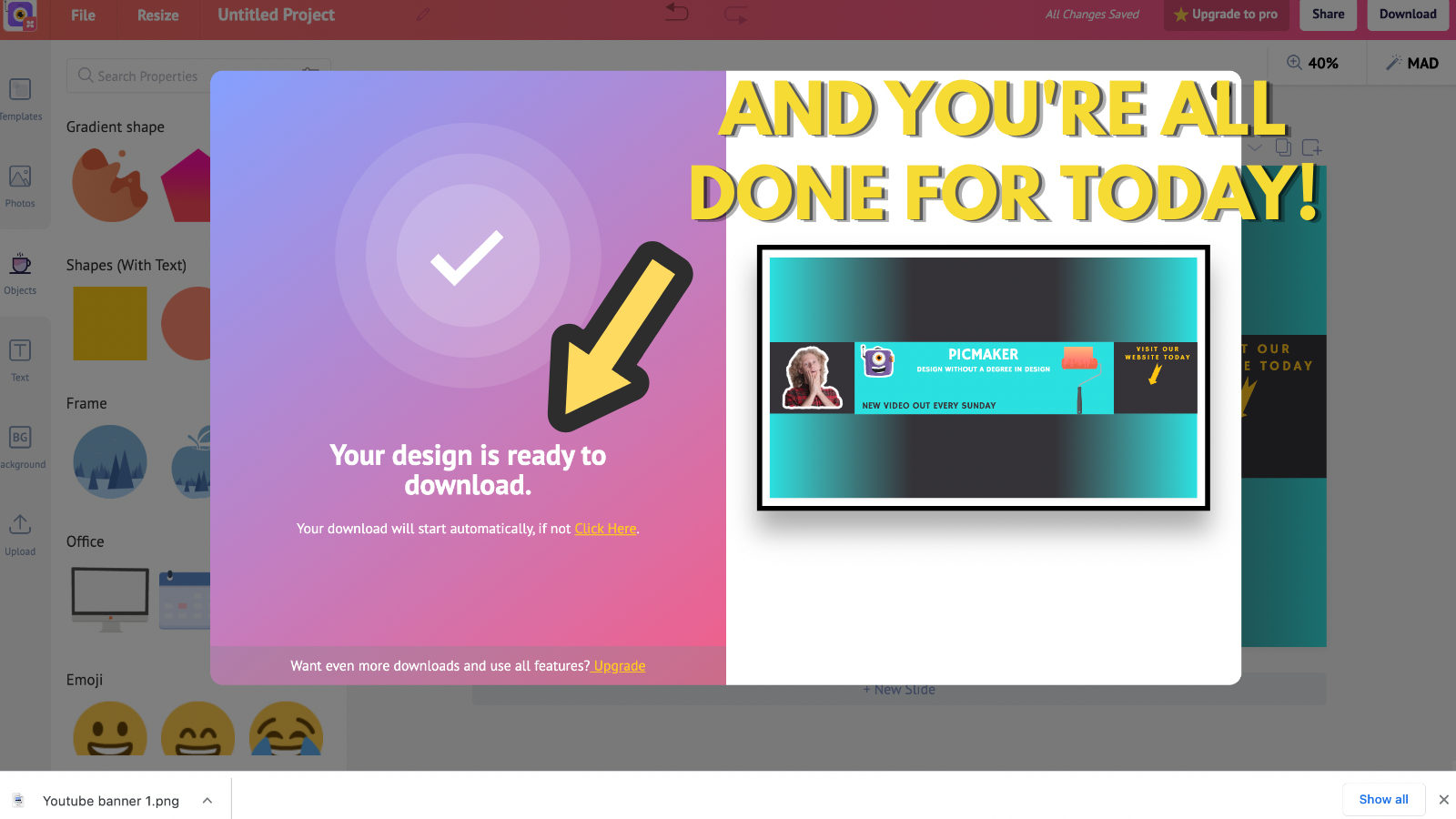 Now that you're done with all the steps, it's time to take a breather with this quote.
There are three great responses to design.

Yes, no, and wow!

You should aim for 'Wow'!
With your YouTube banner, you should aim for something that wows the people.
Here's a short infographic of the 9 steps.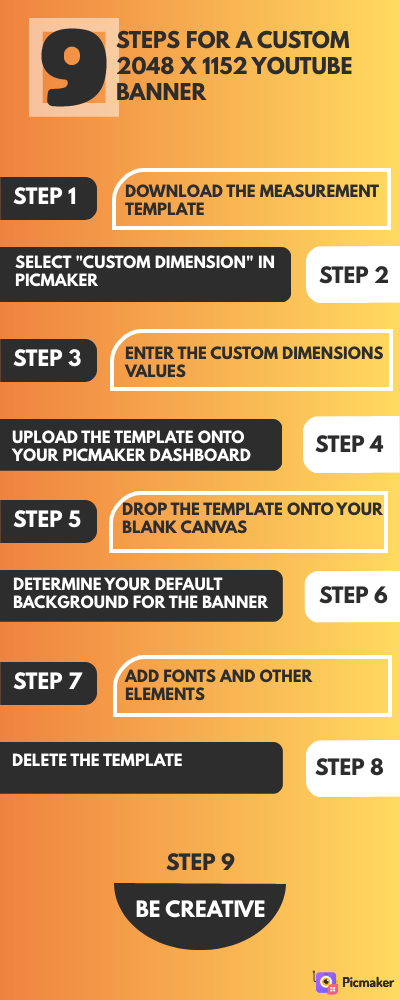 That said, creativity plays an important role in your YouTube banner of 2048x1152 pixels.
Your opportunities are endless with Picmaker's free images and graphics, at your disposal. Learn more about it in our YouTube banner maker.
Go now and come back with a spectacular YouTube Banner!
5
How to upload your custom YouTube channel art of 2048 x 1152 pixels?
You've worked really hard on your custom YouTube banner. You've added the fonts, graphics, and CTA to make it truly personal. Now, you need to make sure that you upload your YouTube banner in the right way.
Go to YouTube and click on your account logo at the top right.

Select 'YouTube Studio' from the drop-down list.

On your creator studio, select the 'Customization' tab,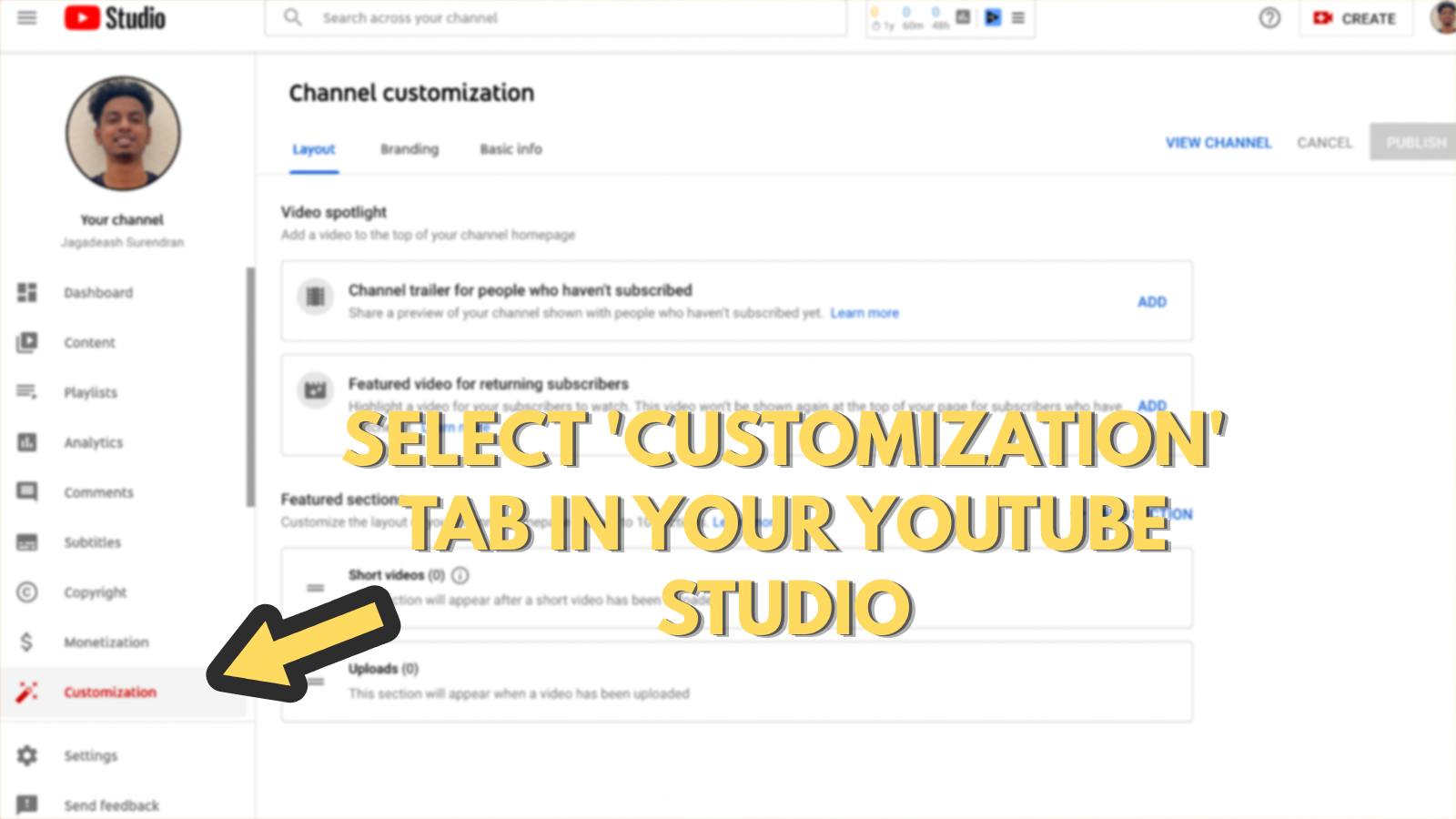 and click on 'Branding.'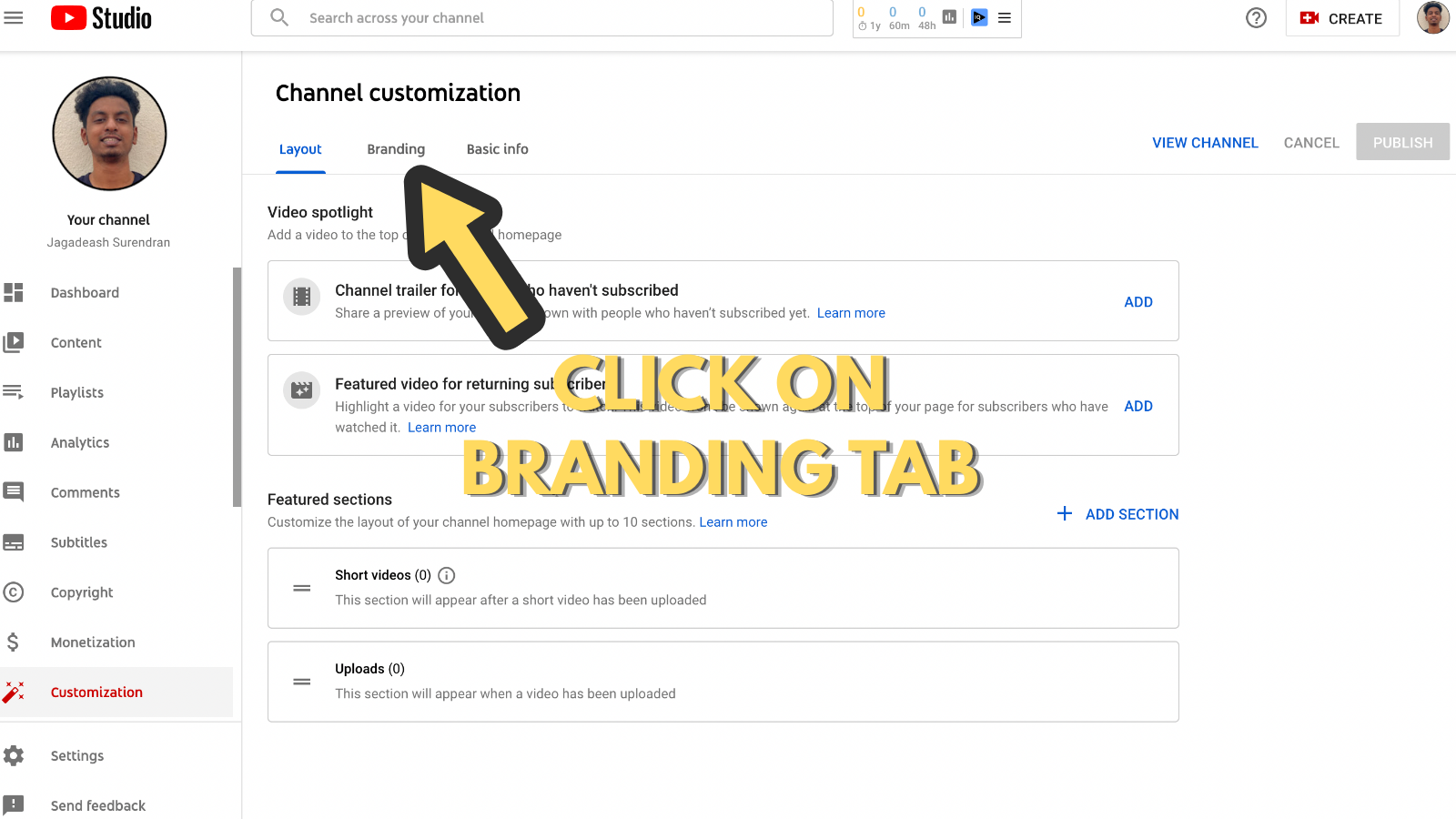 Select the change banner option and upload your banner.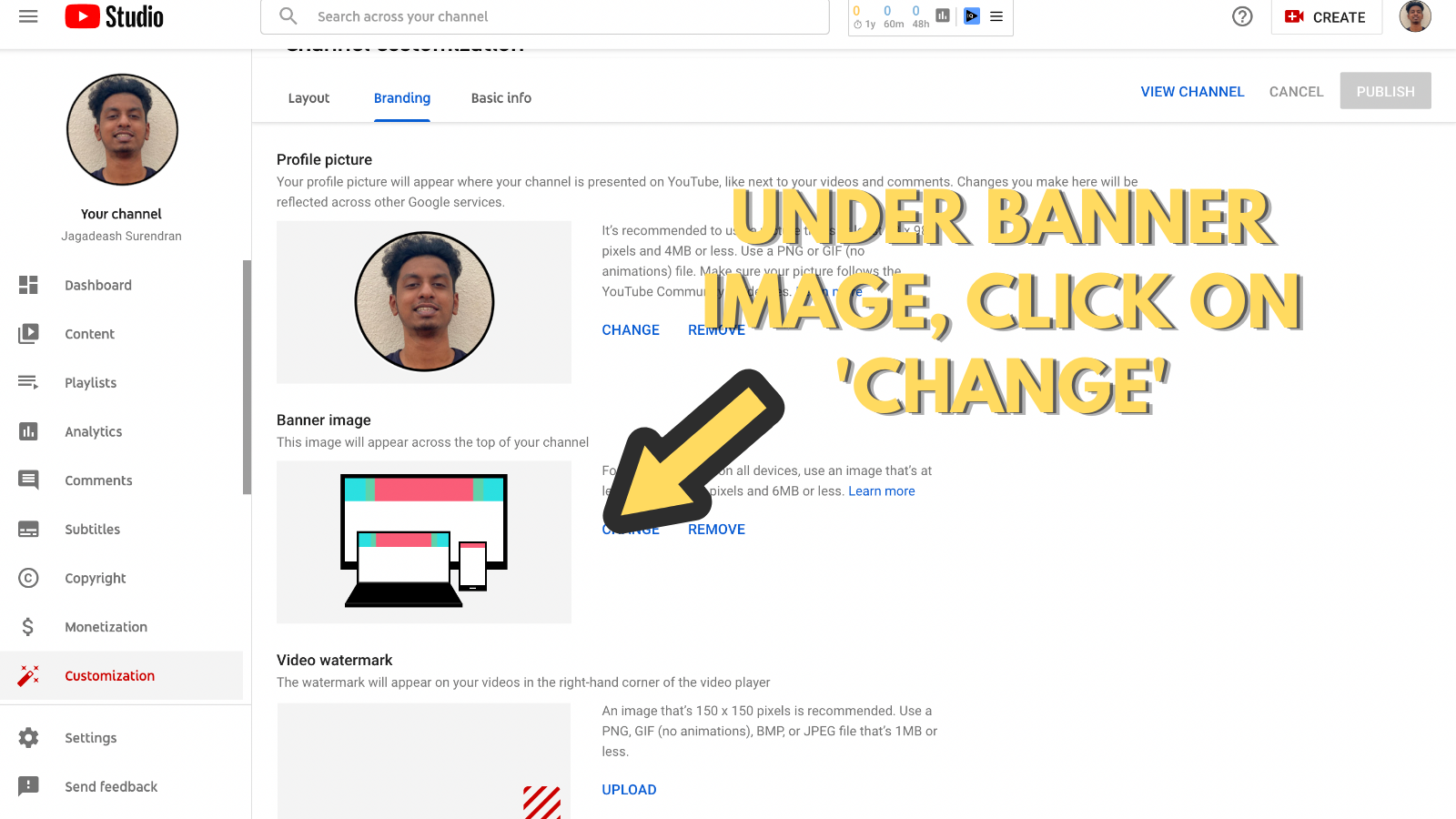 Now select your custom 2048 x 1156 pixels YouTube banner from your downloads and upload it.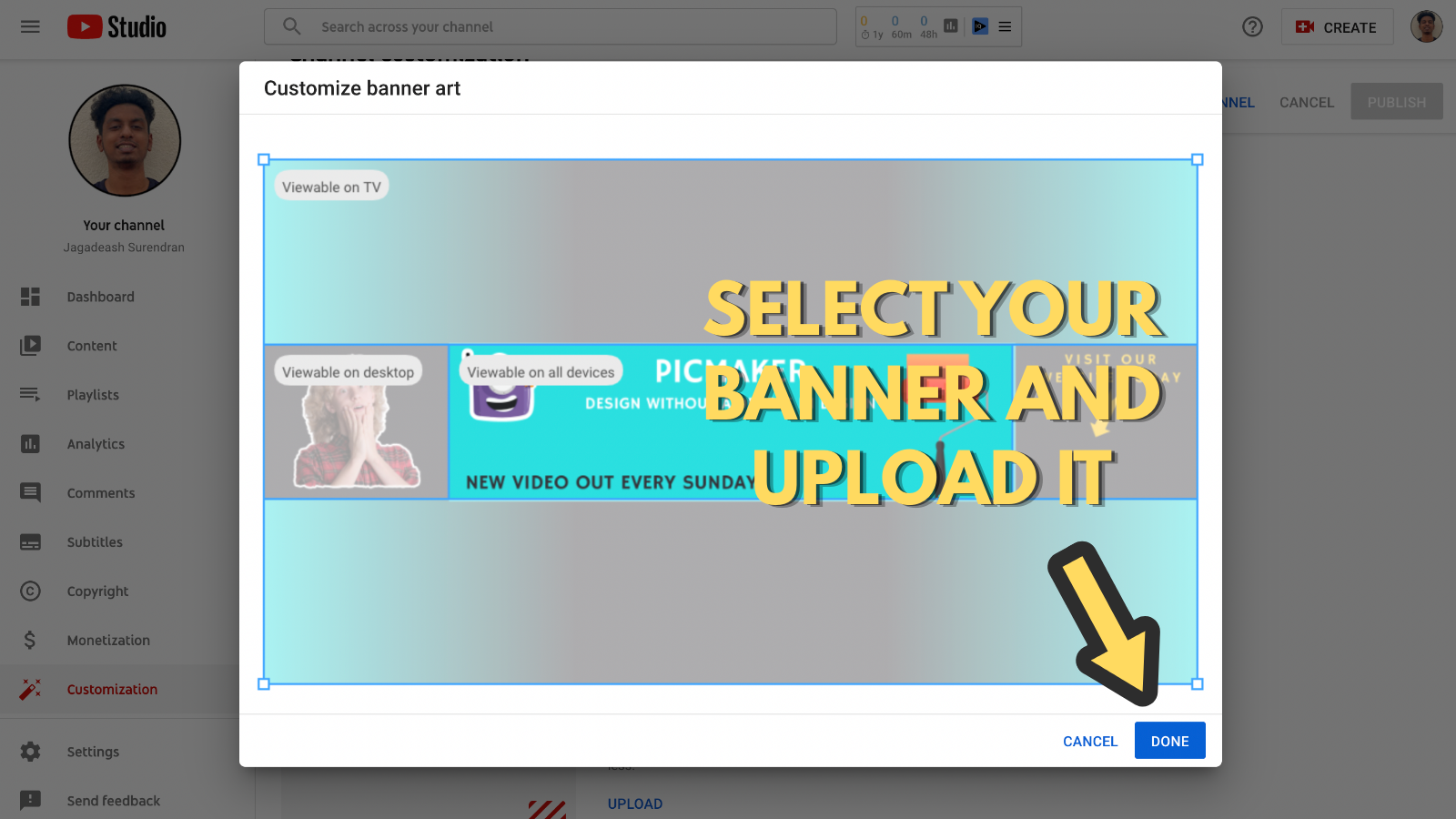 Once done, click on the 'Publish' button.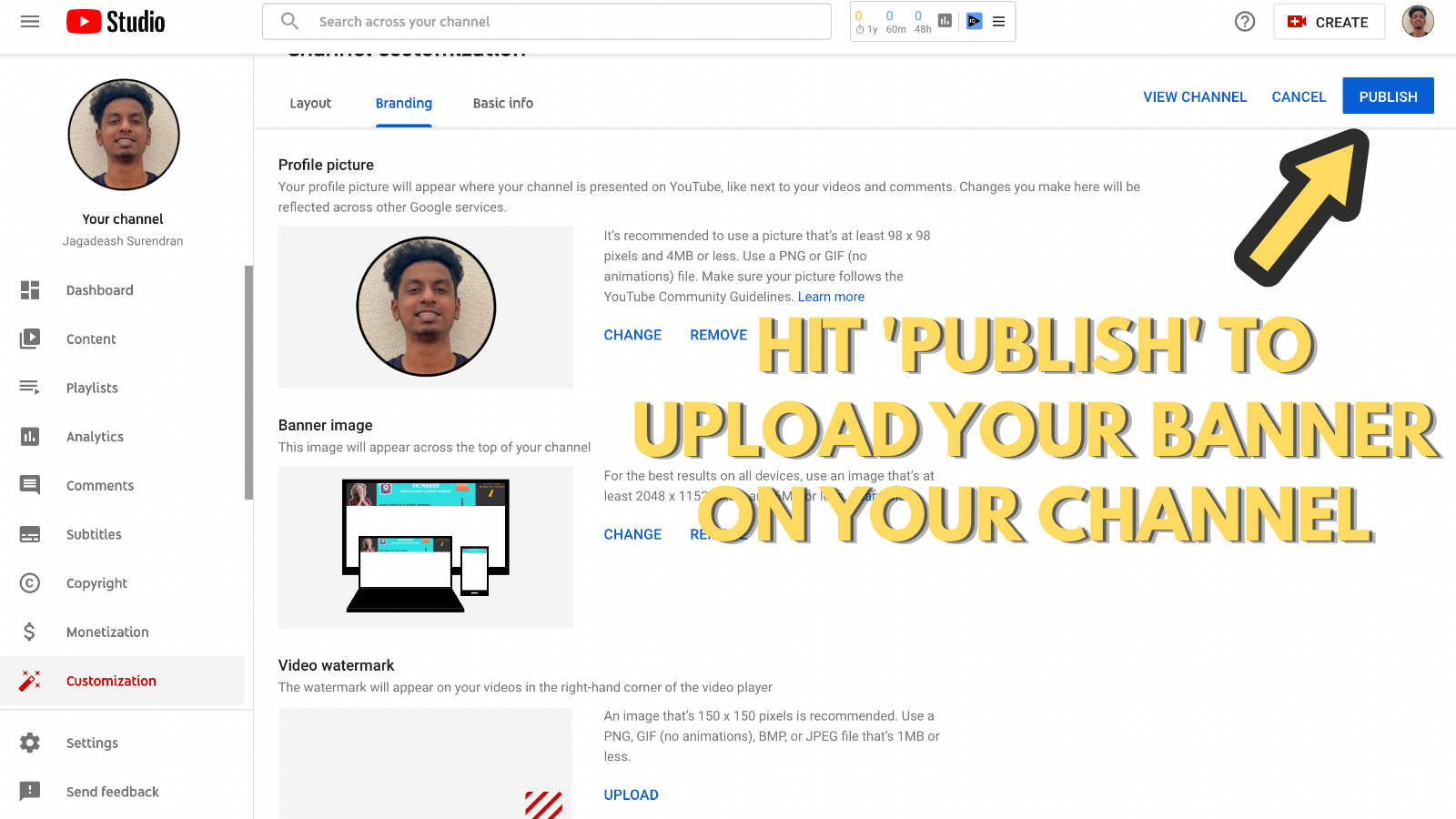 Now you can click on 'View Channel' to your channel with the new and updated custom 2048 x 1152 YouTube banner.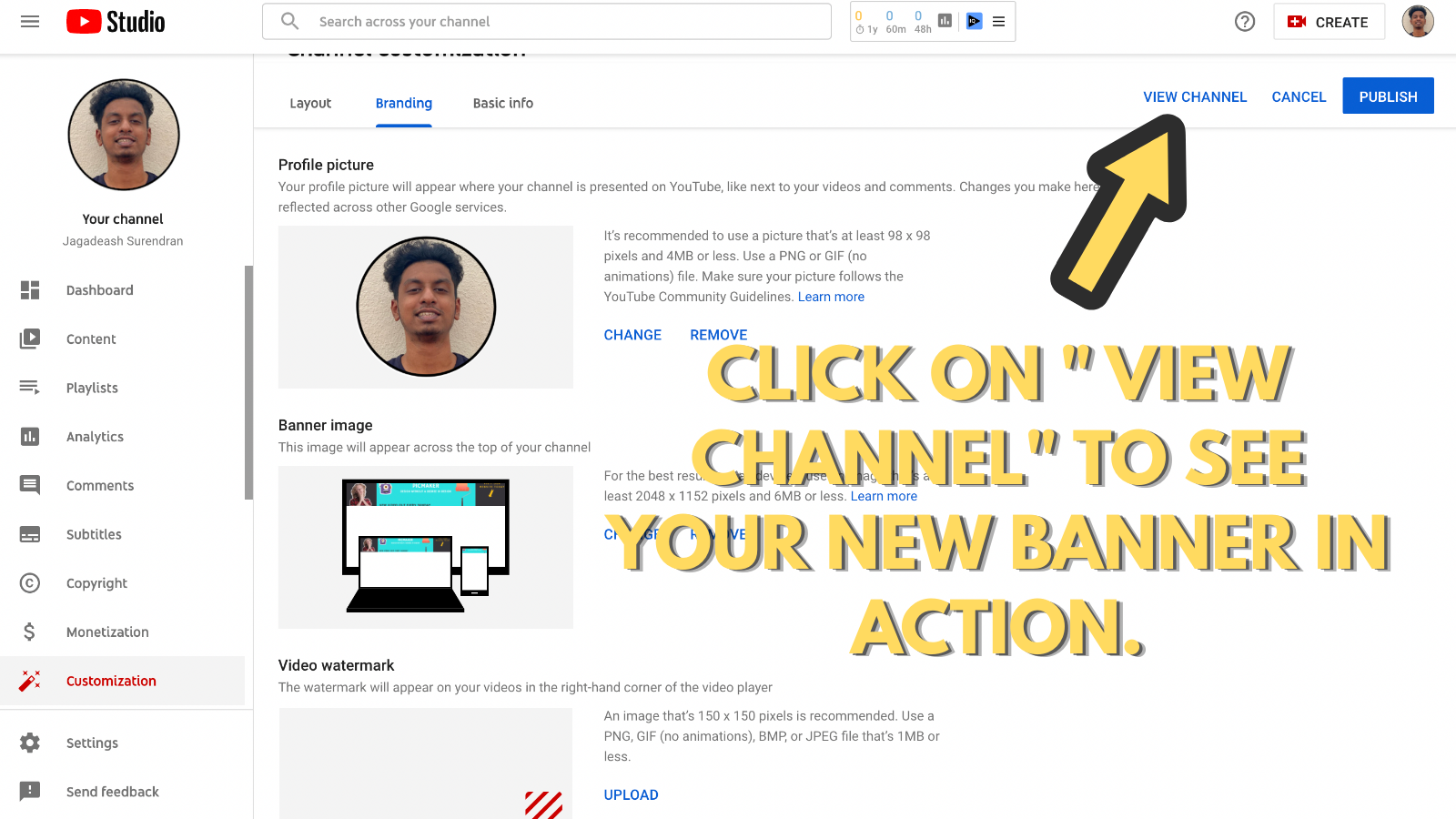 Go ahead and view your YouTube banner on all your devices to make sure it's perfect.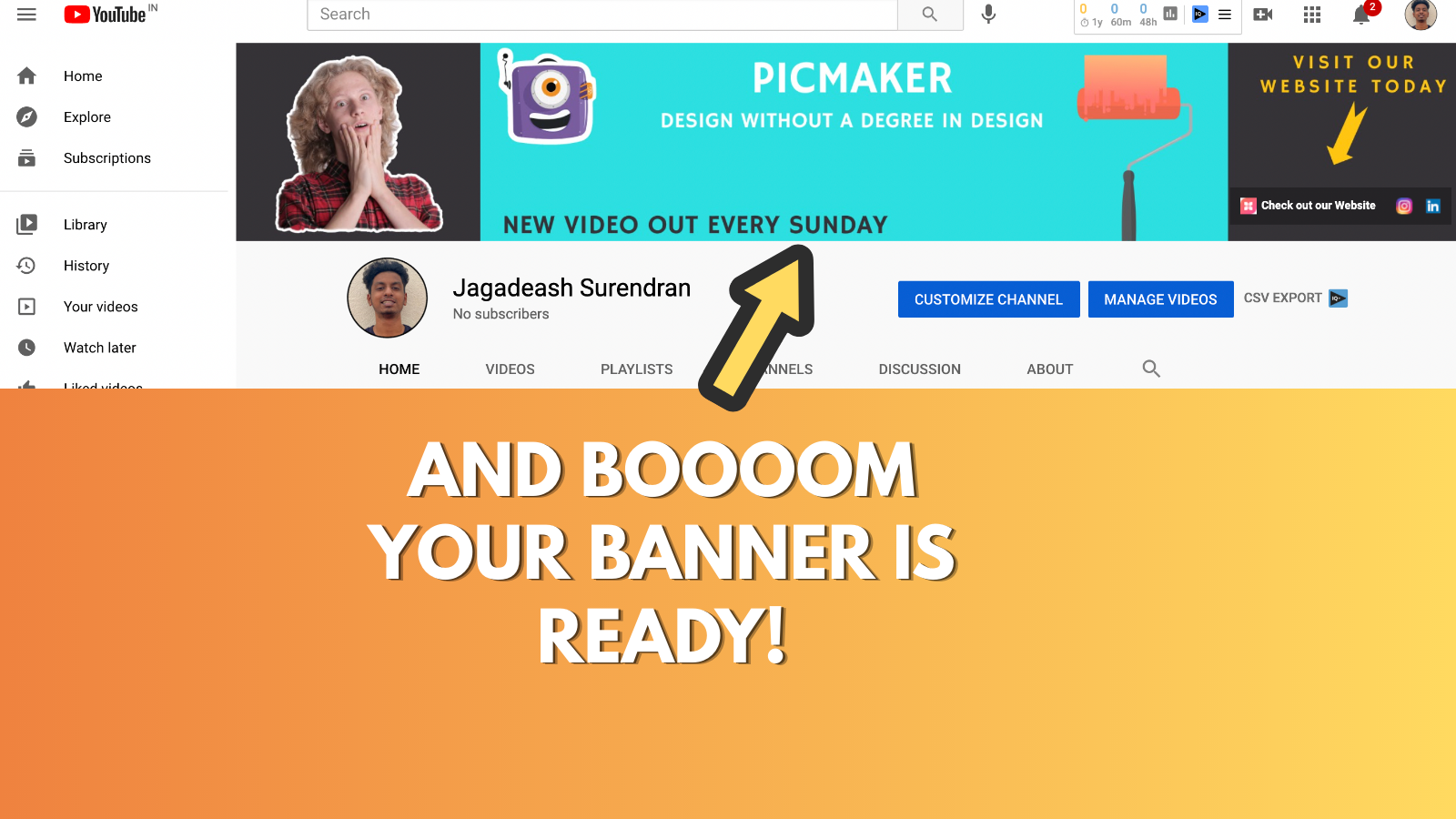 ---
6
3 examples of a perfect YouTube banner of 2048x1152 pixels
We've added 3 examples of the perfect YouTube banner in this section. We hope you can use this as a reference while designing your YouTube banner of 2048x1152 pixels.
1. Justin Brown - Primal Video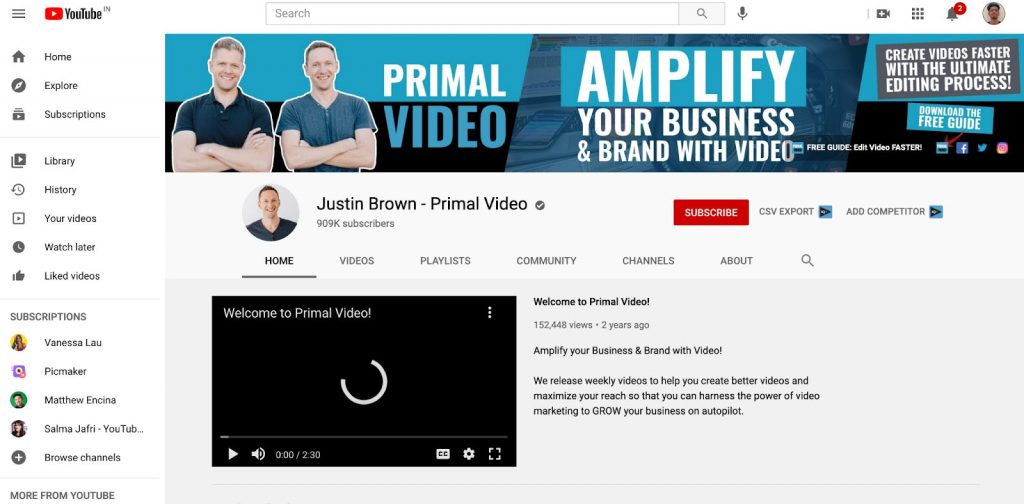 From the CTA to the short summary about the channel, Justin Brown at Primal video does everything right. The banner matches the color theme of their YouTube channel, while also asking visitors to check out their free guide.
This custom YouTube banner screams perfect in all ways.
2. Nick Nimmin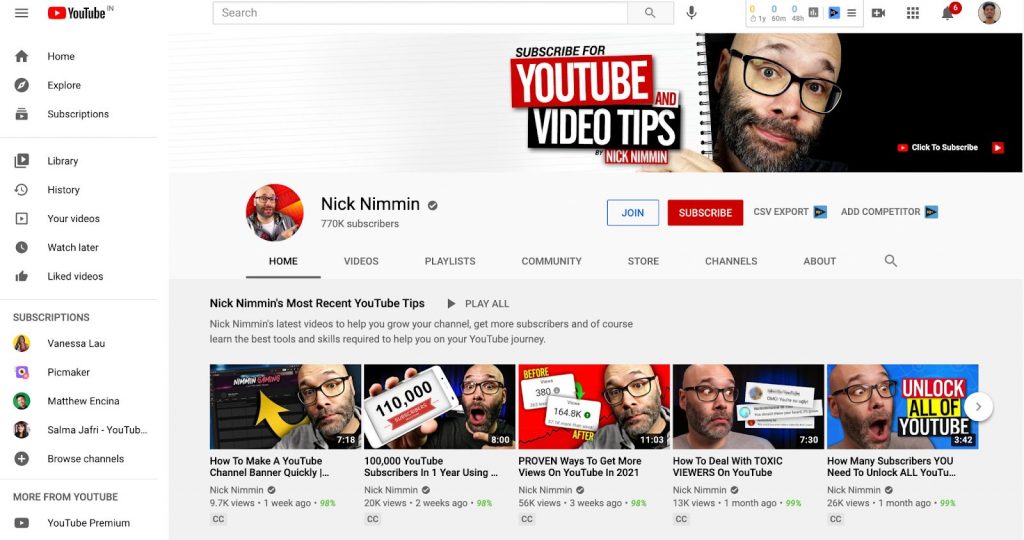 Nick Nimmin is a successful YouTuber and marketer, who has one of the perfect banners. He uses his banner space to convert more visitors into subscribers. He does this in three successful ways
His tagline explains why you should subscribe - he explains that you should subscribe for tips on Youtube videos and video-making tips.
He places a "Click to subscribe" link on his CTA. This gives visitors an easy way to subscribe to his YouTube channel.
3. Salma Jafri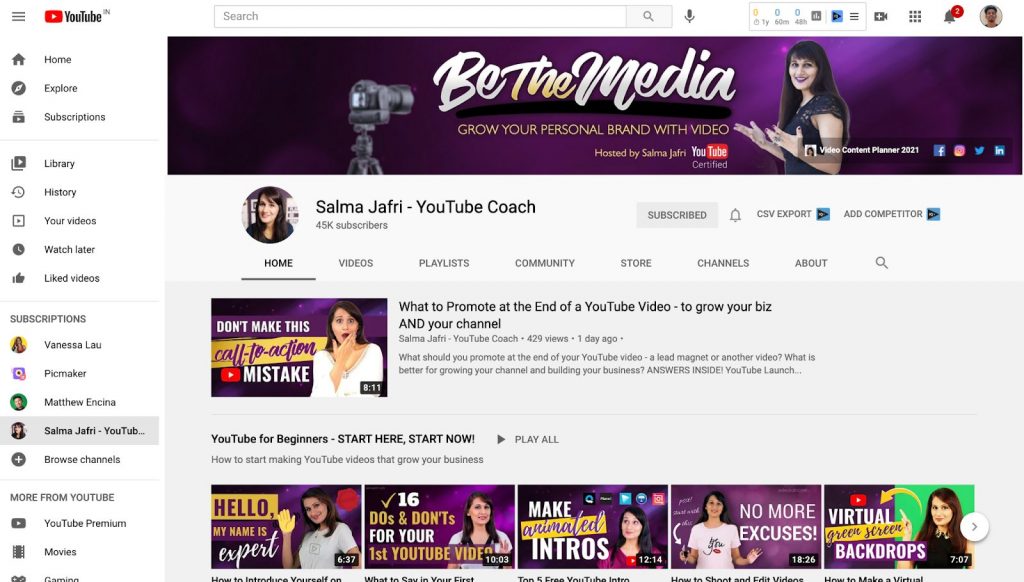 Salma Jafri keeps her YouTube banner simple. All she includes is a short summary of her channel, along with her picture. This is also a great way to design your banner. She has included links to all her social media channels along with her website.
We hope that by now, you have a good idea about designing and uploading your custom 2048 x 1152 YouTube banner.
If you have any more queries or doubts, feel free to reach out to us at yo@picmaker.com.
We'll be happy to answer your queries regarding this topic.
---
And, if you'd like to know about inspirational YouTubers who've grown their subscriber base from zero, here's a list of all the fabulous conversations we've had in our "Grow Your YouTube" series:
---
Loved this guide? Awesome! If you're looking to start your Youtube journey, remember that it begins with the perfect YouTube banner. Here are 69 YouTube banner ideas for your channel. And here are 7 YouTube banner examples for some inspiration.
Besides, here's a detailed guide to creating awesome YouTube thumbnails that attract tons of subscribers.
Moreover, don't forget to check out the detailed guide we wrote on creating your YouTube banner of 2560x1440 pixels.