Live For Another - The story of 20-somethings who make it a habit to help ailing patients live their craziest dreams
Here're 3 crazy things that I dare you to do:
Throw a dart at a map and live where it landed for as long as it takes to change a stranger's life
Break the world record for the highest number of bone marrow donations
Buying a bunch of billboards across town to help a cancer patient achieve her dream of being on Ellen
Which of these are you ready to take up?
Sounds outright crazy, right?
Not to Dillon Hill and his gang of 20-year-olds who are creating an unstoppable community of kindness.
Their project is known as Live For Another, one that creates a positive impact in the lives of ailing ill patients in ridiculous ways.
The project started when Dillon's friend, Chris Betancourt, was diagnosed with leukemia, and Dillon left college to help his friend get a rare bone marrow transplant.
The two friends started accomplishing things on a bucket list and documented their journey through YouTube videos. The first YouTube video had 200,000 views in 2 weeks.
Today, Dillon and his friends run a YouTube channel called "Live For Another," where they put out videos once a month showing how they're helping someone else in creative ways. For example, traveling across the country donating to kids in the hospital.
We sat down with Dillon to know what made him start his YouTube channel and what lies ahead. He revealed an outlandish project that he has in his mind.
Watch the video below to know how he plans to go about it.
---
And, here are excerpts from his interview with us.
Q. Tell us about yourself
Dillon "So, my friends and I, are working on a project called Live For Another. It's a lot of things. But on the surface, it is us trying to use kindness as a way to get through life, which is kind of dramatic. We've come to find that being kind, and coming up with, really big acts of kindness excites us a lot. So, we try to do that.
I think a really important part of that is not making it like perfectly shiny kindness, but being really honest with it. It could be about what's going on in our lives, what's going on in the people's lives, that we're helping - all those sorts of things. So, just being really genuine through our videos and trying to have fun doing it.
Performing big acts of kindness really excites us.
Q. Tell us about your YouTube journey
Dillon: So, we didn't really start our channel on purpose. It was almost an accident. Back in 2017, my childhood best friend was diagnosed with leukemia, and the doctors gave him a year to live.
We had a whole lot of conversations about it. Ultimately, I decided that I would drop out of college, and try to help him, make his bucket list possible, or rather our bucket list possible.
It was more of both of our ideas, so I dropped out of college, and I created a little video, that I planned on sharing around with friends, explaining what our goal was. They could follow us along if they wished.
The first day that we posted that video, it went ridiculously viral. We were very fortunate that it happened to us. Imagine going from a brand new channel, with no views, to have half a million views within a day
It would grow on to just carry this insane momentum. We started off with a huge spike, and that's meant a lot in so many different ways. A lot of people from the internet were helping us with our bucket list.
I learned a lot about what is important to me, which is working on this YouTube channel. So, if you look at it, the internet is a crowdfunded source of kindness, in a weird way.
I learned that through that first experience, but it's also been a technical challenge because you know having such a huge spike at the beginning of your life. It really kinda warps your perspective of what success is.
So, that's another thing we've struggled with a lot, you know. If that first kindness project got 200 million views, are we really satisfied with what we're going to get in the future? That's been an ongoing struggle.
When you get 500k views on your first video, what benchmark do you set for yourself?
Q. What is most critical to growing a YouTube channel?
Dillon: If you're wildly successful, you're will obviously have fun with it. But, more importantly, you want to make sure that when you're in a slump, whether that's creatively, or whether it's just not working out, you want to make sure you're still having fun.
In our case, it could be really tempting, to make fake kindness videos. For example, when we pay someone to give an over-the-top reaction, because it makes a more interesting video.
But, that wouldn't be fun, it wouldn't be interesting. I think we shouldn't take the shortcuts. We tried to do that in the past, and ultimately it detracts you from having fun with it.
I think people should just try their best to keep going because it's something that inspires them. Not trying to turn it into a job, let that happen naturally. I think that's the beauty of YouTube.
You should have fun making YouTube videos. It shouldn't be a job!
Q. How do you create awesome YouTube thumbnails?
Dillon: Our YouTube thumbnails are usually just screenshots from the video. I tried for a little bit to like make thumbnails, but I think that didn't work out for us.
So, when you look up a video of how to make good YouTube thumbnails, and there's do this and that. But, the reality is that it worked for those people. It might not always work for everybody.
In our case, when we try to make fabricated YouTube thumbnails and make it look flashier than the video, it didn't really work. How do we know that? We saw the data from those videos.
Not just that it also just didn't feel right. It felt weird, you know, to like our whole thing. We're trying to have fun, and just be kind, and to fabricate that process - it felt kind of dirty, in a way.
So, now, we try our best to just take a thumbnail of the video as it's happening. Sometimes, instead of taking a video of something happening, we'll take out our phone, and take a picture as a thumbnail. But, even then, it's like the real thing as it's happening, as opposed to after the event is over.
For us, making YouTube thumbnails from the video itself works best. Rest everything looks fabricated.
---
Related:
How to design a YouTube banner 2560x1440 with one of our ready made templates?
We collected a list of the best YouTube channels across categories like cooking, education, fitness & more.
We also created an updated guide to explain graphic design tips for non-designers in 2021
---
Q. What lies ahead for you in your YouTube journey?
Dillon: The biggest struggle for us, is we didn't plan on this at all. So, it's been a lot of learning, as we go. I feel like I have a good grasp of what this is, and where it can go.
Our goal is to get to a place where some of our bigger ideas are actually possible. So, for example, right now, we're dreaming of building the world's biggest trash can. We want to take it on a tour across the country, and fill it up with our community.
I think it's amazing in a lot of ways, but the world's biggest trash can would be sixteen thousand gallons and cost a lot of money. So, that is not something that is possible right now.
I would love to get to a point where our community is big enough, and we have the resources to be able to come up with a ridiculous idea like that. Something that will spread a sense of community and togetherness, but without having to worry about how we're gonna scrap together the funds to do it.
We want to build the world's largest trashcan!
Q. What is your suggestion to aspiring YouTubers?
Dillon: Create content that you enjoy, that you would enjoy watching. Or, maybe not enjoy, but rather make content that gives you an emotional reaction.
So, like when I'm editing a lot of times, I might not feel satisfied, right? I'm sitting here watching the same thing thousands of times, trying to figure out like what is this, why is this important. Eventually, it'll just click.
And, I'll start tearing up watching something, and I know that not everyone's gonna feel the same way when they're watching it. But, if I can get myself to that point, that means there's at least one person out there, that will feel the same way.
So, that's always my goal - whether that's crying or laughing or whatever it is. I think just do stuff that gives you a reaction, and I think that you'll find that there're other people out there, that will feel similarly.
Make sure it's something you enjoy because if you know if you're just being robotic, just pumping stuff out, it's not quite the same and you will get burned out.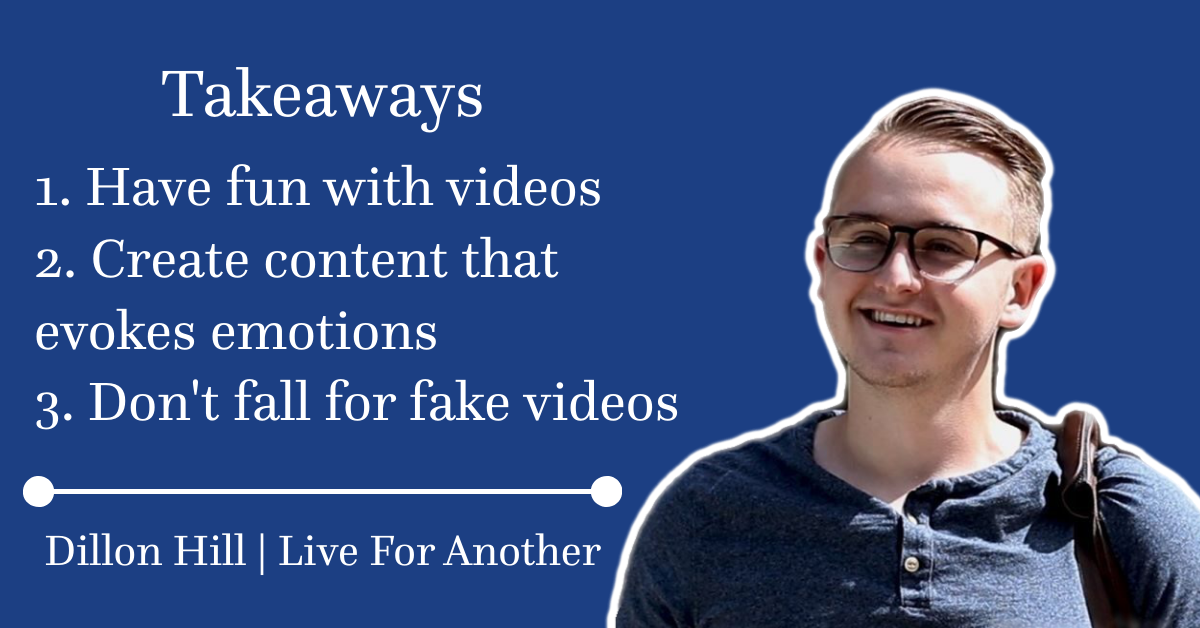 ---
If you liked Dillon's story, here's a video from his YouTube channel. This video shows how Dillon and his friend help their friend Lexi, a cancer patient, knock off an item in her bucket list.
---
Dillon's story is just one amongst a series of fabulous conversations that we've had with YouTubers. Here're other fabulous conversations in our "Grow Your YouTube" series:
Loved this interview? Awesome! If you're looking to start your Youtube journey, remember that it begins with the perfect YouTube banner. Here're the best YouTube banner ideas for your channel. And here are YouTube banner examples for some inspiration.
Besides, here's a detailed guide to creating awesome YouTube thumbnails that attract tons of subscribers.
Moreover, don't forget to check out this blog if you're looking to design your custom 2048 x 1152 YouTube banner from scratch.