Trekers - The YouTuber couple who shot to celebrity status with a video of a secret World War II U-boat
How do you think life is inside a submarine?
If you thought it is exhilarating or exciting, it is far from it. It is swelteringly hot with very little 'living space.' The submariners often sleep in the same place where they work.
And, then there is the threat of being spotted by the enemy. (Well, that's a different story altogether).
But, what if you were inside a German World War II submarine that was captured off the coast of northwest Africa? And, what if you shot a video of the tour and that went viral on YouTube?
That's what happened to our guests, Ari and Jessi, a husband-wife duo, who run a YouTube channel called 'Trekers.' Their blog, also called, Trekers, captures their escapades, some of which are in bustling cities, while others are deep in the jungles and lakes.
So, we sat down with Ari to know their eventful journey and what plans they have for their YouTube channel.
Here is a quick video that captures our conversation:
---
And, here are excerpts from his interview. Don't miss the part below where Ari talks about their U-505 video, that went viral.
Tell us about yourself
Ari: "I represent Trekers - it's my wife Jessi, and me. Both of us have a background in public relations. Jessi still works remotely for a public relations agency. I do freelance contract work - writing, editing project management. Whenever we can, we are out traveling, because we work remotely, and we like to make videos about our trips.
We're doing different things outdoors, and trying to encourage people to travel, and see so many great things that we have in this country. [We travel] in our van, a 2008 Road Trek. It's based on a Chevy Express chassis. This is our 20-feet of living space, (in terms of length). It's about 20 feet long, and we are traveling in it right now.
We are home-based in Michigan, but we decided to spend the winter in Texas, to get away from the cold. That didn't work out this year, because of the winter storms. But, it has been great here. We're spending three months traveling around Texas in our van, and shooting videos and writing blogs about it.
We travel in our 20-feet of living space.
Q. Tell us about your YouTube channel and how did you grow it
Ari: "It's about two years, maybe three years, since we really started to invest in it. We kicked off early in 2019, with a year-long project, to get everything rolling, and then we've continued it since then regularly.
As I mentioned earlier, we live in Michigan, and the project was the centennial of the state parks in Michigan. We decided, "What if we were to take on a crazy project, visit every state park in Michigan, do a video about it, and tell people what they could find there?"
There are 103 state parks in Michigan. So, it was a long project, it was a lot of work. But, it was a lot of fun, and that project really helped us to grow our following. People started to realize what we were doing, and, they found it as a great resource.
So, if they wanted to camp in Michigan, or find out about a state park that they didn't know about previously, they can view our channel. Our YouTube channel has continued to grow from there, as we have continued to offer other resources on the channel as we continue our travels.
We started our YouTube channel with a crazy project - we visited all the 103 state parks in Michigan.
Q. Tell us about the places you visit
Ari: We love hiking and biking, and being in the outdoors. So, that's a lot of where our camping and trekking comes in. But, we're also big history buffs, so if we find an opportunity to visit a historic location, we grab it. One of our biggest videos that went viral was when we visited the U-505 submarine in Chicago and did a big video tour of that.
We love sharing that kind of information. In our careers, we have both worked in state government, and so we're interested in State Capitol buildings.
Whenever we can, we'll try to stop and visit a State Capitol, and do a tour of that for people. So, it's really whatever we can do to show people what's out there to do while you're traveling. Sometimes, it's very remote areas, while at other times, it's a very busy city with a State Capitol.
The other thing we try to do periodically is since we get questions, we talk about either our van and how we have it set up. We'll talk about equipment that we use, and how it works for us, and we've got a lot of good feedback on that as well.
One of our biggest videos that went viral was when we visited the U-505 submarine in Chicago and did a big video tour of that.
Q. What is most critical to growing a YouTube channel
Ari: A big part of getting started is learning to be patient. YouTube has its algorithm, and so, you need 100 subscribers, before you can even get your link with your channel name in it. So, a thousand subscribers seem so far off. But, once you get there, it really starts to grow.
And, YouTube's algorithm is really smart - so, the more you grow, and the more viewers you have, they help promote your videos. So, it starts to tumble after that, and it'll really pick up speed. That's what we have found. So, I think it is about being patient, and getting out there, and doing it.
If you talk to any YouTuber, they will probably cringe at their earlier videos, because the more you do it, the more comfortable you get with it. We've settled into somewhat of a pattern of how we do our videos. In terms of how we shoot them, how we produce them. It has helped us become more comfortable in front of the camera.
And, don't forget about the consistency of publishing. When we were doing the state park project, we were putting out one video per week. And, as they started to build up, we wanted to give it as a resource for people.
So, we started doing two videos a week for a while, and now that we have a bit of a following, and our traveling is a little more erratic, we're not doing the state parks regularly.
For example, as of 2021, we're doing a video every other week. And, people have followed along with us, and we've continued to grow.
So, that hasn't impacted us, but I think initially you can be very consistent with when you publish. And, if you can consistently publish a lot, I think that does help with the algorithm.
Besides, we have always been consistent with our schedule. We publish every Sunday at noon Eastern time. I think people just know that's when we're out there, and when to expect new content and I think that has helped a lot too.
YouTube's algorithm is really smart - so, the more you grow, and the more viewers you have, they help promote your videos.
---
Related:
How to design a 2560 x 1440 YouTube channel art with a ready made template?
We created a list of the best YouTube channels across categories like cooking, education, technology, fitness & more.
Here's an updated guide to help you understand the best graphic design tips for beginners in 2021
---
Q. What matters most to you - viewers or subscribers?
Ari: Views or subscribers - it kinda depends on what you're trying to do. We like seeing more views obviously on a video because that helps with the algorithm.
So in the U-505 video, we still don't know exactly what happened. But that video took off over about a week for us. What happened was after it started to pick up steam, we realized that if you go to the Museum of Science and Industry, Chicago, and you look at their U-505 video, our video shows up as another informational source. So, it ended up becoming a recommended video for people.
So, anybody interested in that topic suddenly had another video to watch, and it was ours. It helped our channel overall because YouTube started to recommend our channel, more so when it comes to getting more exposure. Having a video that can take off is going to be a huge help for you.
But, we really look at subscribers as our number that we want to see. That is because we want to try to connect with this community that we're creating for, i.e., the 3,000 subscribers we have now.
People who are regularly watching our content, and hopefully learning from what we're doing, how we're doing it, learning about the places we're visiting. We hope we're inspiring them to get out and do some of the things that we've already done.
And, the reason I say, subscribers are very important, is because we tend to hear from them. They give us valuable feedback, which is really important for how you adjust your videos later on.
It's also very rewarding to hear from people, who say, "Hey, I never heard of that state park, and it's not that far from my house, I'm gonna go check it out." Or, "That's a beautiful building, or it has a really interesting history, I'm going to take that trip." That's what we find very rewarding and that's what really keeps us going.
Our video on the U-5050 became a second source of information for people interested in German U-boats.
Q. How important is a YouTube thumbnail?
Ari: YouTube thumbnails are very important because, that's often the very first thing that people are going to see, when they are scrolling through YouTube.
Or, they'll get a recommended video, but it'll be a series of five-six videos, and that's going to catch their attention. For our YouTube thumbnails, generally, we take a still shot from the video, because there's usually a theme in there. When we put a video together, we use a theme, and we end up with a screenshot that captures what that video is about.
But, at the same time, it is gonna pique someone's interest. Some people take a title for their video, and put that on the thumbnail. But, it's usually much too long.
So, what you put on the thumbnail will grab somebody's attention, and make them think, "Well, what's this about?" Then, they move from there to the title of the video, and then the description. So, a YouTube thumbnail is your main advertising, it is that initial thing that people see and so it needs to grab their attention.
A YouTube thumbnail is your main advertising, it is that initial thing that people see and so it needs to grab their attention.
Q. How are you planning to grow your YouTube channel?
Ari: We've started traveling more and more. I don't know if we'll ever sell our house and go on the road full time.
But, we have started to really spend more time away from home and traveling and that offers us more opportunities to shoot videos. I think we're going to continue doing this to inspire people. If we could see steady growth on our YouTube channel, that would be great.
We have been consistently growing. If you look at the analytics on YouTube, at the data for past 28 days, our number of subscribers has been going up. It's not necessarily going up exponentially, but we've had a very steady increase.
It's very similar from month-to-month, and we see that as a positive, that we're doing something right. More people are interested in what we're doing and want to see what comes next.
So, I think we'll continue to do that, and it keeps us going. It is a lot of work. We have full-time jobs, but we're still trying to do the videos. I think hearing from people, or seeing that we've inspired people is what really keeps us going - pulling that camera out, and shooting the video, and then spending time producing it.
I think hearing from people, or seeing that we've inspired people, is what really keeps us going.
Q. What is your message to aspiring YouTubers?
Ari: A key part of it is figuring out your content, and the delivery of your content, because there is such a saturation on YouTube right now. I mean, there's so many videos available, so, how do you get people to stop, and look at your video?
I think one mistake people make is, they think they have to have all this expensive equipment, and different accessories to get started. We know people who have started with cell phones, and just started doing the filming and getting the video, and getting more comfortable with shooting video, with putting yourself on camera.
You don't need expensive equipment to start a YouTube channel
So, start with what you have, and then, add onto your equipment, as you discover what it is you really need. I would say you can literally start with a cell phone because they're so good these days, with the video quality.
The one thing you could invest in, and it's not very expensive, is a decent microphone. Having a good way to record audio, because we have discovered, that people will put up with a video that's a little shaky. But, if your audio isn't clear, they are not going to stick with it.
So, you have to have good audio, and then the other thing is you need the ideas. What is your niche, what is it that you are doing? Either your content is different so people are going to find something different with your channel.
Or, is it your delivery that's different, is it entertaining, or informative, or something that makes you and your channel stick out? It's a very crowded market out there right now, depending on what you want to shoot video about.
So, find a niche really, bring it down to what you can focus on, and then find a way to deliver quality content. Make sure you deliver it in a way that's interesting, or funny, something that's gonna get people's attention, and keep their attention.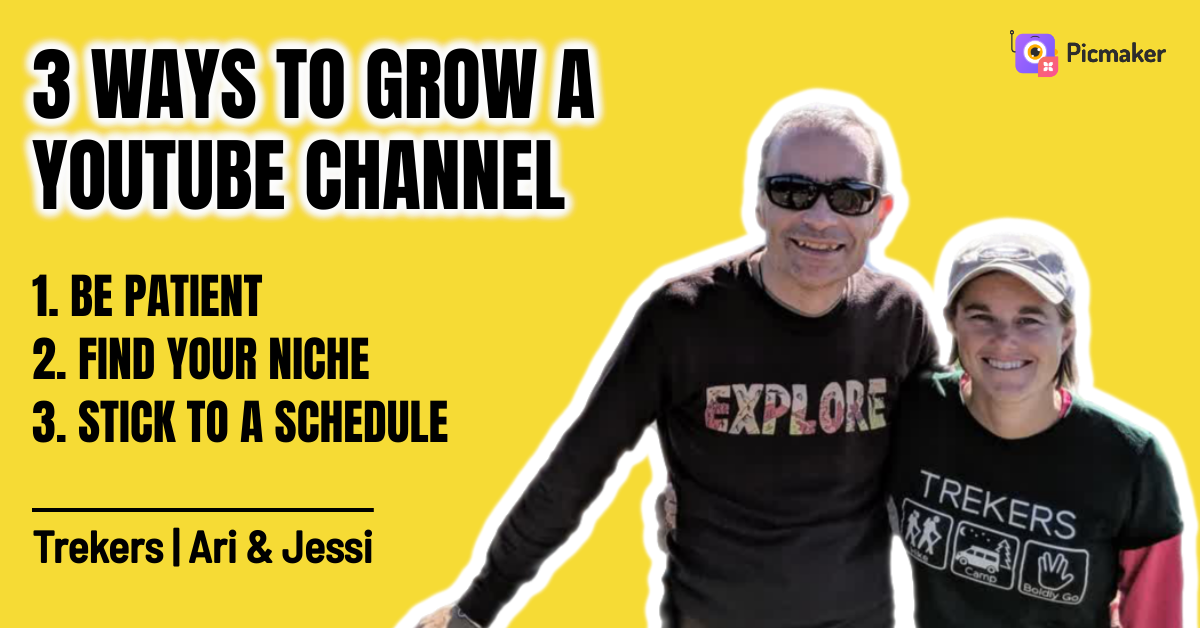 ---
If you're interested in Word War II U-boats, and especially what happened to U-505, then don't miss watching Ari's and Jessi's hugely informative video on that here:
---
And, if you'd like to know about inspirational YouTubers who've grown their subscriber base from zero, here's a list of all the fabulous conversations we've had in our "Grow Your YouTube" series:
Loved this interview? Awesome! If you're looking to start your Youtube journey, remember that it begins with the perfect YouTube banner. Here're the best YouTube banner ideas for your channel. And here are 7 YouTube banner examples for some inspiration.
Besides, here's a detailed guide to creating awesome YouTube thumbnails that attract tons of subscribers.
Moreover, don't forget to check out this blog if you're looking to design your custom 2048 x 1152 YouTube banner from scratch.