The hidden secrets of how to make a poster online for free (Includes 5 awesome poster templates for everybody)
Introduction - How to make a poster online for free
Ever wondered what makes you stare at a movie poster?
Is it the expression of the actors/models in the poster, the contrasting colors used to create it, or, is it the copy?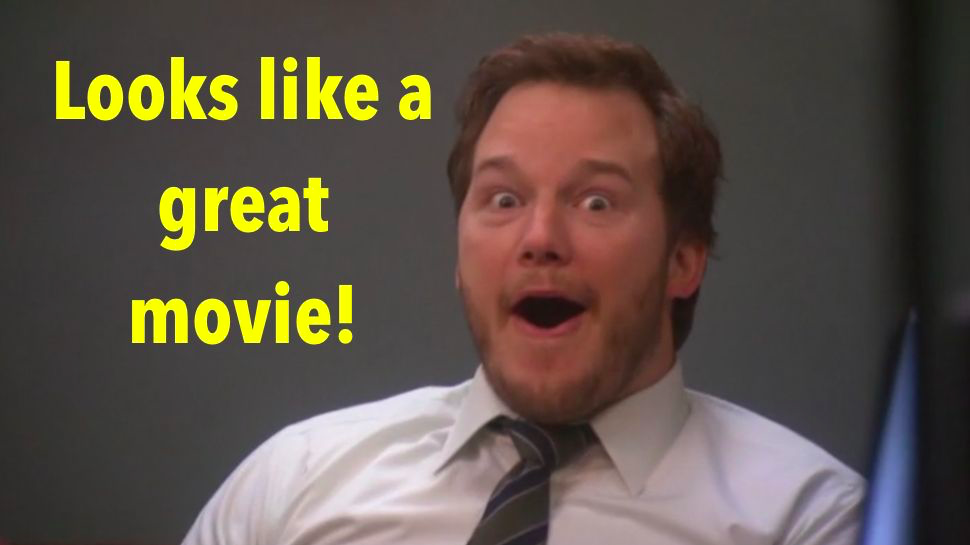 A poster is an advertisement for a product or a service - a new product launch, announcements, an appeal, a set of instructions, etc. calling the attention of a large audience.
But, what makes a poster awesome? What makes people stare at it, and share it with their friends?
In this blog, we will uncover the hidden secrets to make a stunning poster online for free.
But, before that, let us understand a few basic aspects of creating posters online.
What is your objective of making a poster?
From our experience of designing posters for over 5 years, we've noticed that posters that do not have a clear objective often fail.
So, before you rush to design a poster from scratch, step back for a while and think what is your objective.
Are you announcing a message to a broad audience?
Or, are you inviting people to try something new?
Or, is it a call to action for people to register, click, avail discounts, etc.
Yes, it is exciting to create posters for billboards for movies that people will stare at for a long time. But, fix your objective first before you dive into it.

Pro tip: Remember that a poster can have only one objective. If you're asking your audience to do too many things, you're likely to confuse them.
For example, in the below business conference poster template, the objective is to:
Inform participants about the event
Intimate the date of the event
Mention the theme for the event
Write the website URL where likely participants can find more details
Who is your audience?
Without determining your audience, don't roll up your sleeves yet. Know who you are trying to reach.
Are they millennials who attend college or are they 50-year-olds who're planning their lives after retirement?
It could be the general public too. For example, a confectionary company could announce their launch of a new chocolate bar using posters. Movie producers may create posters to attract audiences for new movie launches.
But, why is it important to know your audience while designing posters?
Because, that way, you can create designs that have the appropriate imagery and copy to go along. In instances where the audience consists of millennials, posters need images that mirror their personalities.
It increases the likelihood of a poster meeting its objective, i.e., the audience doing an action that you expect them to do.
In the below poster template, the target audience are people who're would like to attend a New Year's party. It includes:
The date (of course, 31 December!)
Time of the party
Ways to get in touch for booking tickets, i.e., over the phone or by visiting a website.
The right size for posters
Now, we also need to keep in mind the right size for posters before we create them. Usually, posters come in sizes of 42 centimeters x 59.4 centimeters.
That is, they're 42 centimeters wide and 59.4 centimeters tall.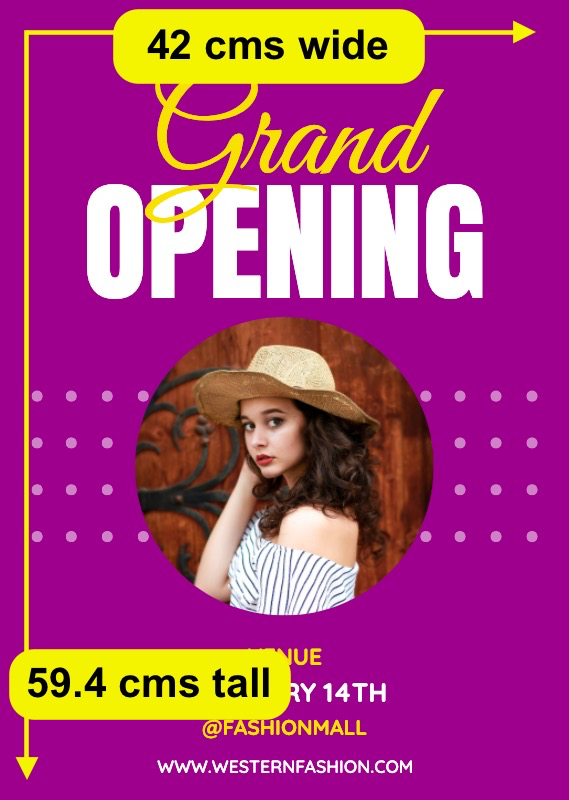 When you convert them into inches, you get 16.5 inches wide and 23 inches tall, which is the international standard size for posters.
Writing the copy for posters (including CTA)
The next step is to write the copy for the poster. The basic principle while writing copy for posters is that it should evoke an emotional response.
And, the easiest way to do it is by creating a sense of urgency in your communication.
When you see a poster with a copy that says, "Raining discounts. 50% off all products. Hurry, limited stocks!" you're creating a need for your product. You're imploring your target audience to start missing your product.
That is what effective copy does. It prompts your target audience to move away from their present state and do something that you expect them to do.
We call it 'Call To Action' (CTA) in copywriting. The CTA always follows an offer that you make.
For example, an offer could sound something like this: "Exciting range of men's summer wear. Latest collections. Great discounts." This offer needs a clear CTA that expects your audience to listen to you and act on it.
A suitable CTA for this is "Buy now. Visit <youronlinestorename.com>." It implores your target audience to act on it.
Pro tip: Remember to have only one CTA for your poster. When you include more than one, people are unlikely to remember it.
Breaking down the copy for a food menu poster
Writing a copy for a poster is not easy. Let us now look at the copy for a sample poster below.
The headline is "Delicious Weekend Menu," which is almost screaming at you.
Words like 'Delicious' help in tingling the emotions of your target audience.
The offer is the "Flat 30% Off" after the header.
It is right in the middle of the poster because the human eye tends to look at the center of a picture.
The copy "Flat 30% Off' is in white font against a dark background
The Call To Action, "Book Now" follows the offer, i.e., "Flat 30% Off"
This poster has minimal copy and lets the overall design combine with the copy to give out a simple message.
It is ideal for pasting on walls of retail stores, checkout counters, inside subway trains, etc.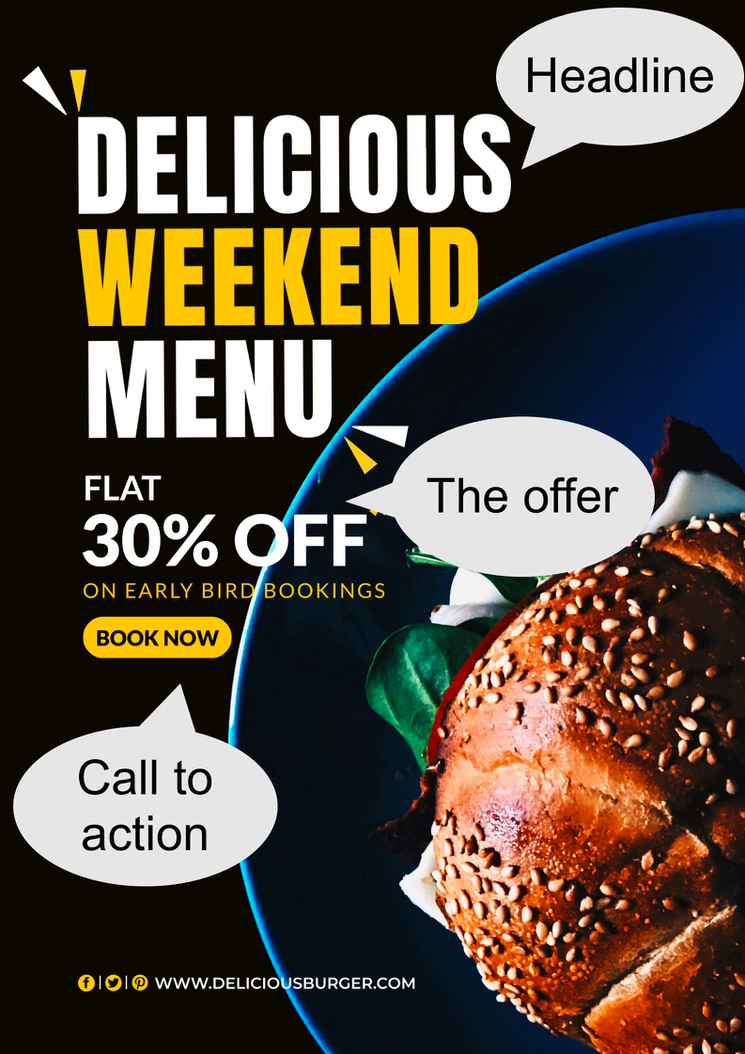 If you liked the above poster template, feel free to click on the below link to use it right away.
Breaking down the copy for a musical event poster
Let us look at another example of poster copy. This time, we're looking at a poster for a musical event.
It begins with the sponsor or presenter at the top.
The headline, i.e., "Psycho Musician" appears at the middle of the poster, which is different from above.
The offer is about jazz music and it appears right after the headline.
The call to action, "Book your seat now!" is almost at the bottom of the poster. However, it appears in a red button in a white font. This makes the CTA discernible.
The CTA has a sense of emergency and ends with an exclamation mark.
The date and venue of the event is at the bottom. Chances are people will notice the CTA first and then the event details.
Throughout the poster, you will notice the same font, which reinforces the message easily.
The font is not heavy - unlike what we saw above. Instead, it is pleasing and blends nicely with the overall theme of the poster template.
Lastly, the image of a jazz musician along with his musical instruments adds the right flavor to the poster.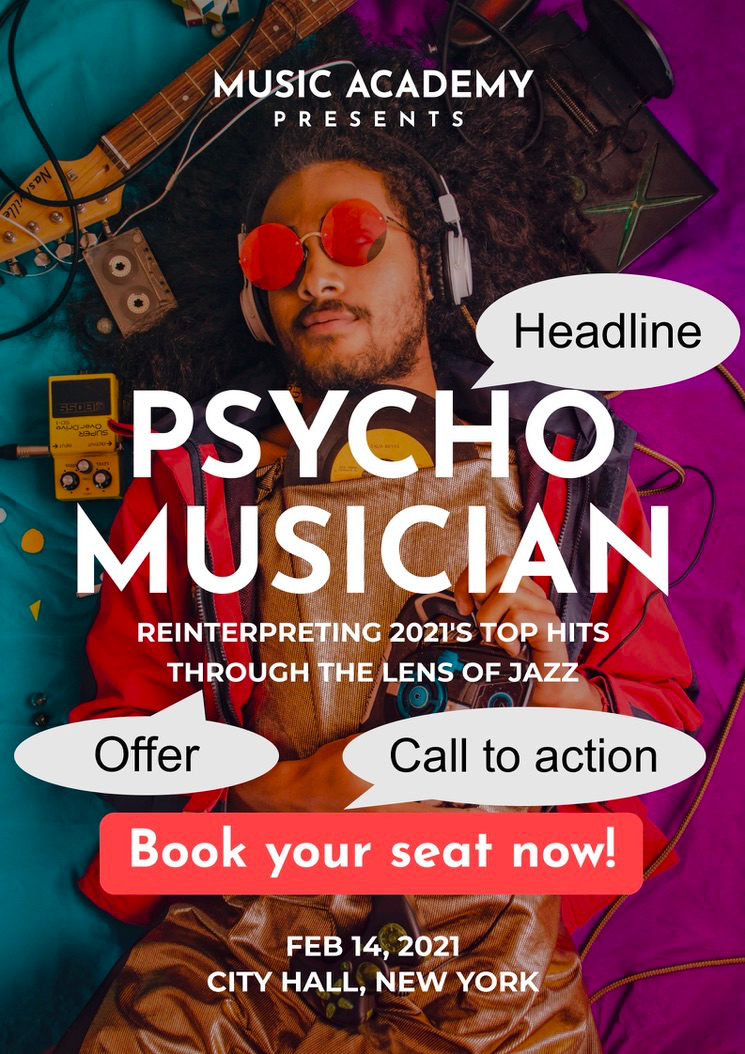 If you liked the above music template poster, click on the below to use it for your offline and online event.
According to our designers, only two things matter in a poster - the image and the copy. Rest everything is secondary.
The good thing is that using such poster templates, you can easily make your edits and launch your advertisement.
How to make posters on your computer online for free?
Let us now get down to creating posters that will make your audience crave for your product/service.
In this section, we will use Picmaker's platform to design posters that can get us going in a few minutes.
Step 1 - Setting up on Picmaker
Head over to https://accounts.animaker.com/register/picmaker and create an account for yourself. Or, you could visit our online poster maker and sign up. It'll take you less than a minute to do it.
When you finish signing up, go to your email id with which you signed up to activate your account.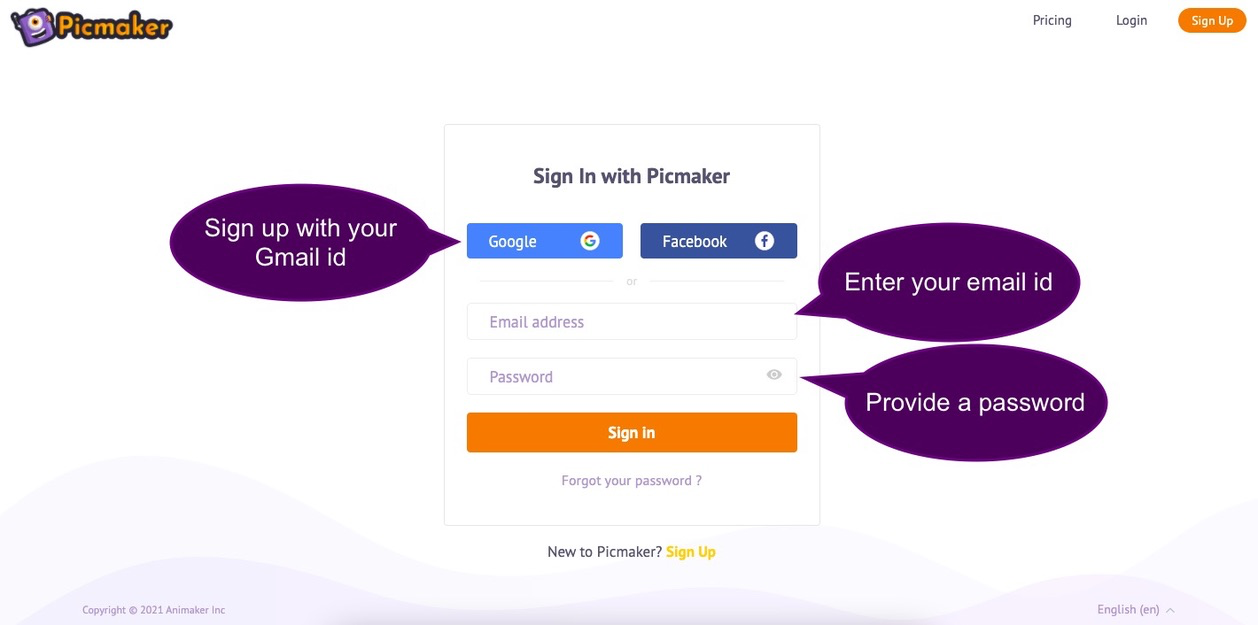 Step 2 - Choosing a poster template
When you have signed up, you will land on a dashboard that looks like the screenshot below. You could either use the search bar right at the top to search for 'Poster' or, you could scroll down a little towards the bottom.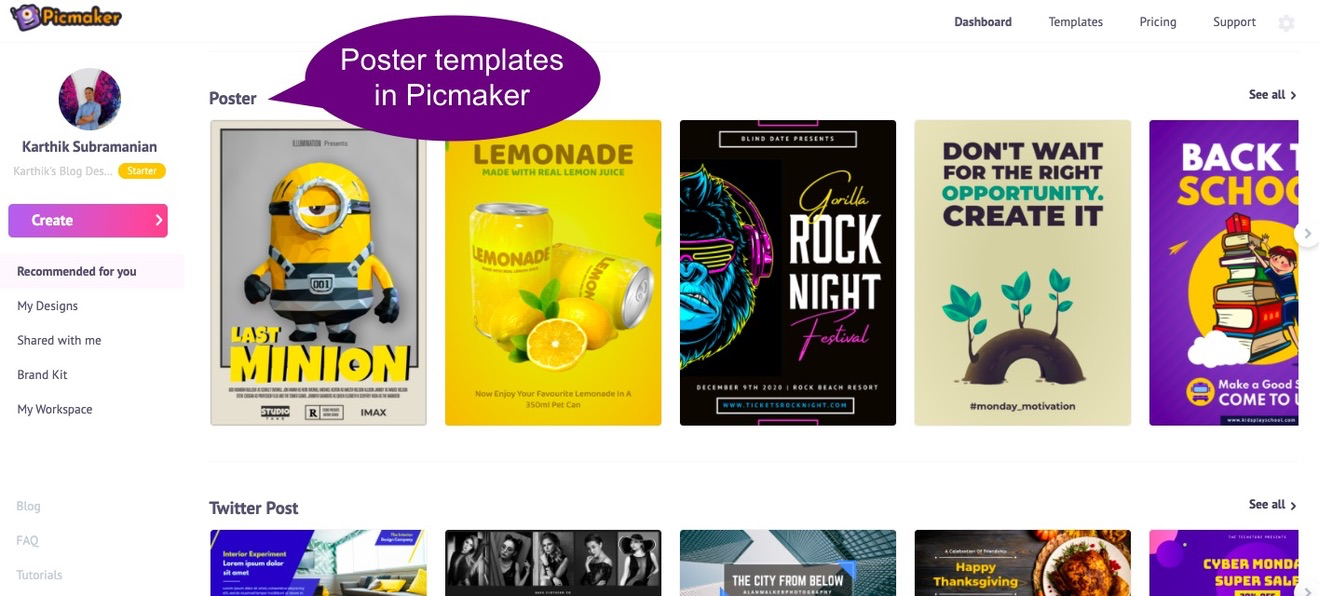 You will notice a collection of poster templates - you could either choose a template here or click on 'See all' at the far right to view all options.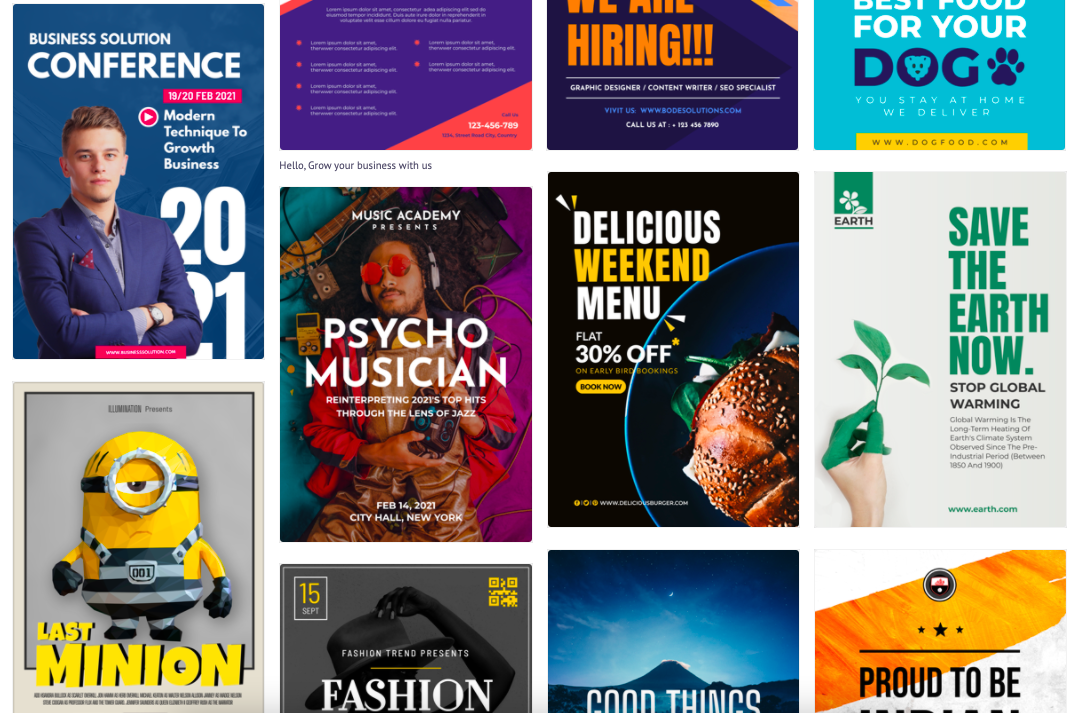 You'll notice all poster options that you could lay your hands on - for FREE! Yes, you read that correctly.
Now, choose a template for yourself by clicking on it.
Let us assume you're announcing a music festival. The below poster template is an ideal choice for you. Its color combines well with the images and the copy of the poster.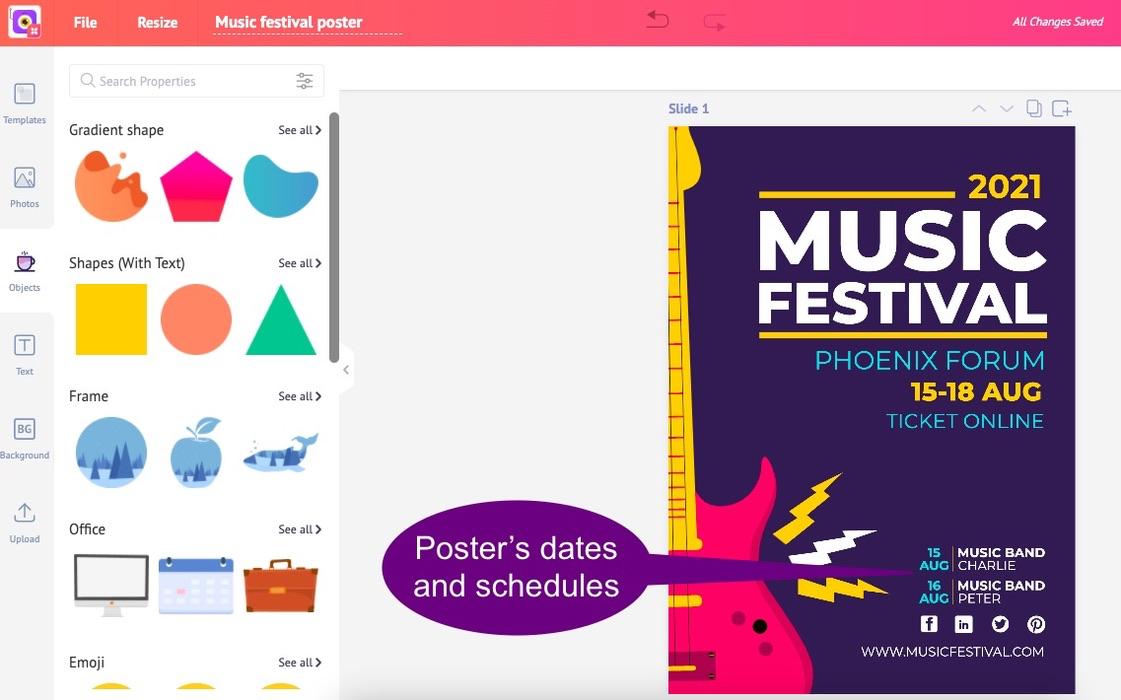 Now, what you need to do is change the dates, add a venue (if you're having a physical event), and enter your website details.
Besides, you'll need to update the social media links if you're planning to share them online.
Step 3 - Download the poster
That's it. Click on 'Download' at the top-right to have a copy of your poster and get your posters in your favorite file formats - PNG, JPG, PDF etc.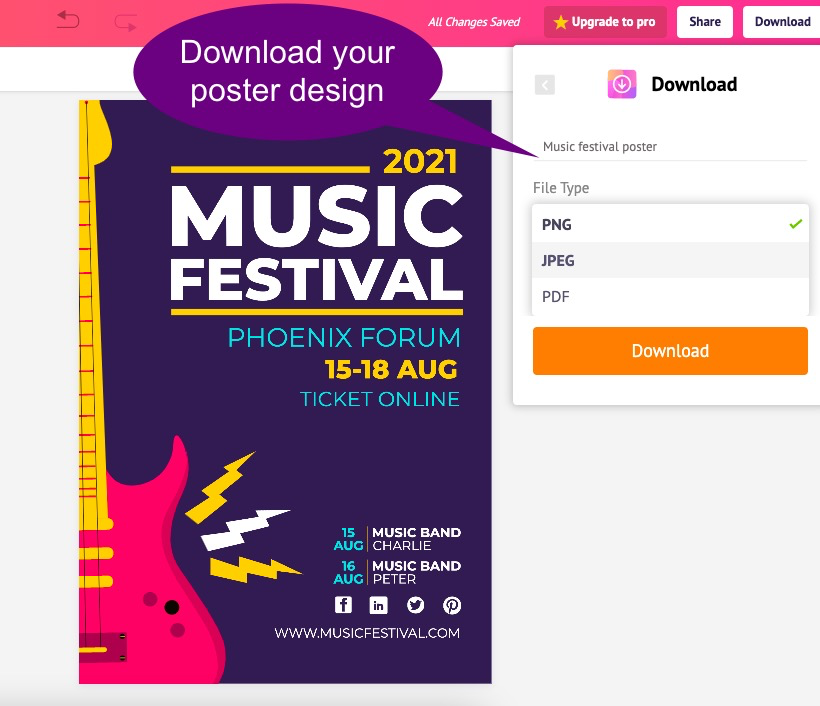 Okay, now let us answer a few basic questions.
How do I change the background color of this poster template?
Of course, you can! All you have to do is click on the background, and notice a color button activates on the top-left of your screen.
Click on it to see the different readymade color palettes that you can choose. We chose a different color, and here is the result.
It looks marvellous to share with your friends.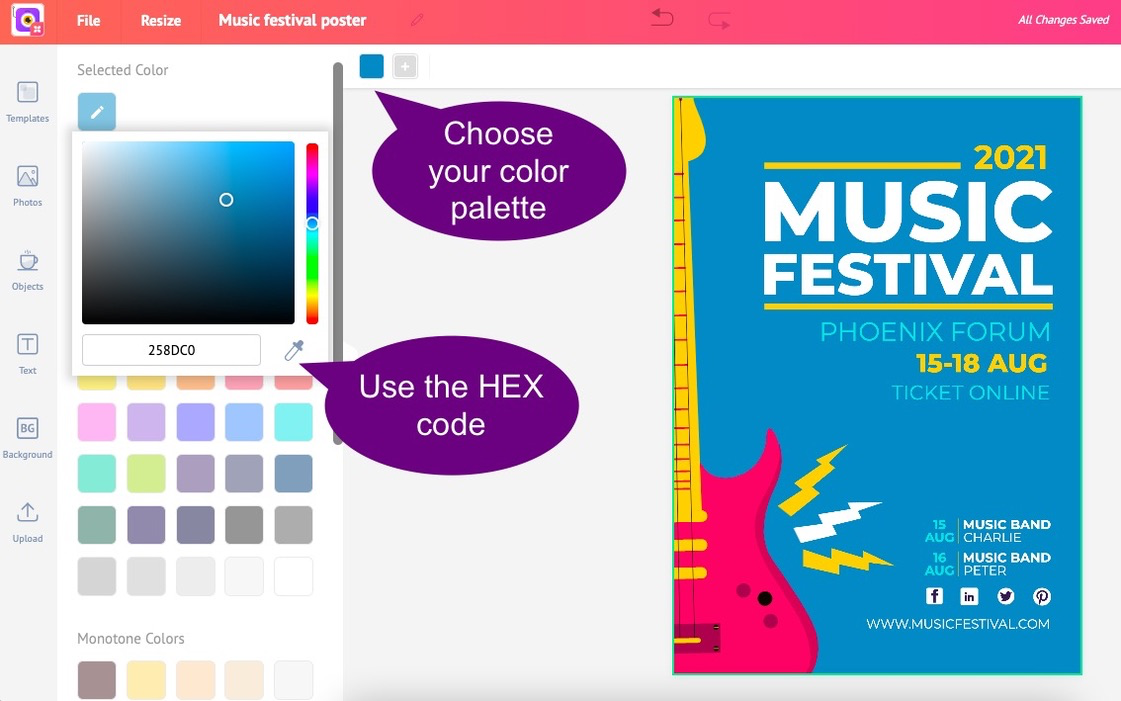 You can even choose a custom color of your choice if you know its hexadecimal code. Click on the same blue color and enter your HEX code. For example, we used the HEX code: AE25C0, and here is the result.
How do I change the font of the poster templates?
Yes, of course. All that you need to do is click on the font in your design canvas. Then, click on the font on the top left, and you will see different fonts that you could use.
We changed the font Montserrat Extra Bold to Bungee, and it looks classy!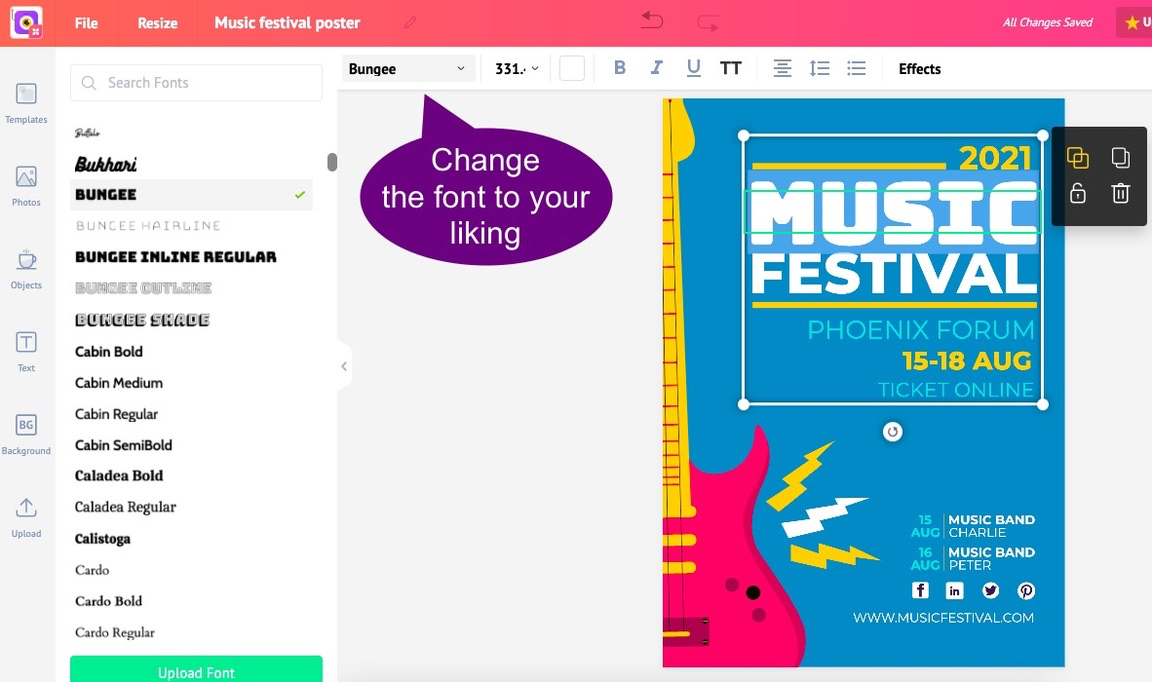 How do I change my poster template?
For some reason, you might want to change your poster template. We totally understand that. What you can do is click on the left-hand menu bar, go to 'Templates' at the top, and click on any template you want.
In our case, we changed to the one below. Changing the template is the easiest thing to do on Picmaker - it takes only a click, all thanks to our algorithms in the back end.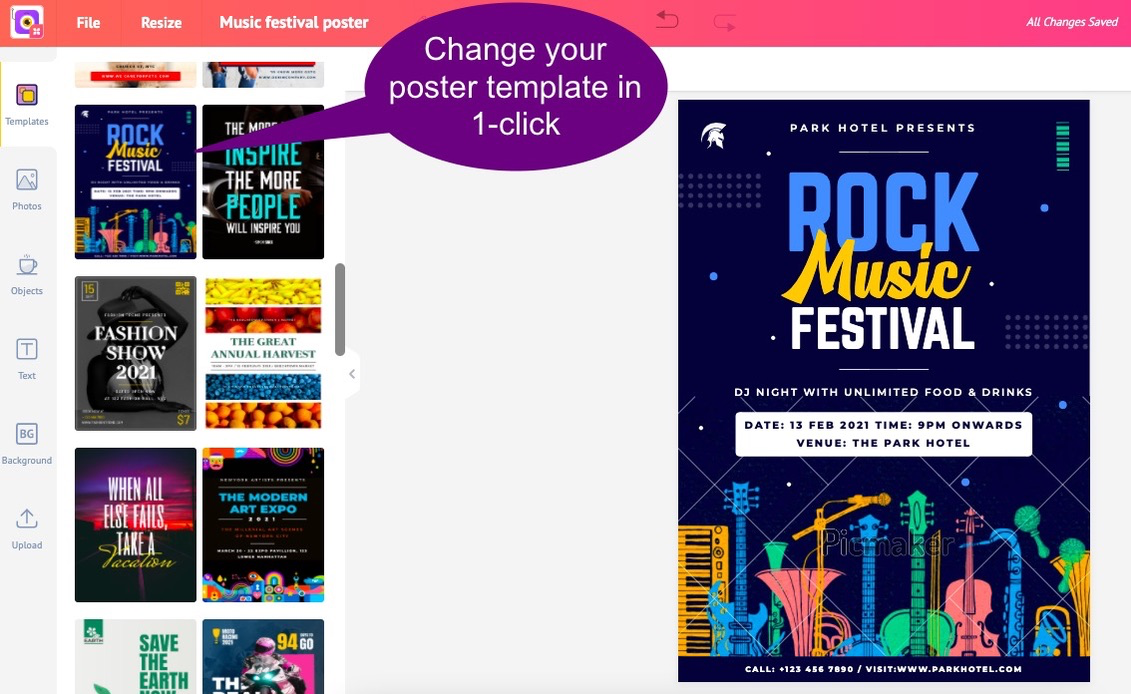 How do I add a picture to this poster?
Why not? You can choose from Picmaker's repository of 100 million pictures or bring your own picture, and add it to the poster template.
In the screenshot below, we chose a free picture from Picmaker's picture library and set the image as the background for the poster template.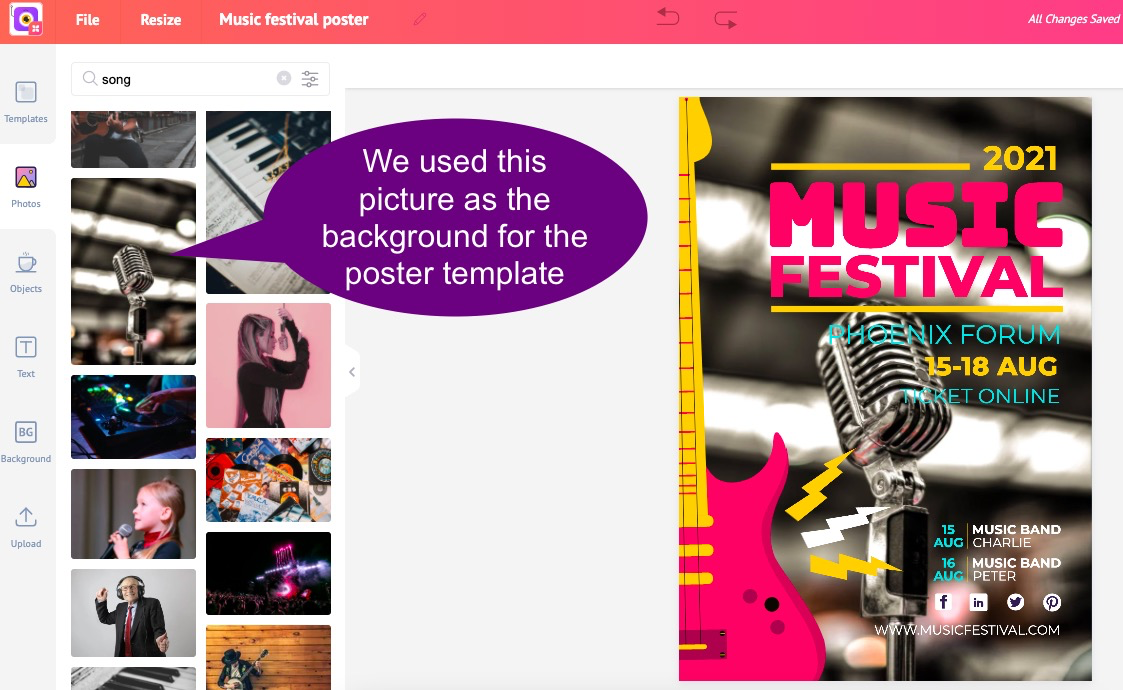 Alternatively, you can import your own pictures. Notice the 'Upload' tab at the left-hand bottom. Click on it to upload your picture or background from your computer.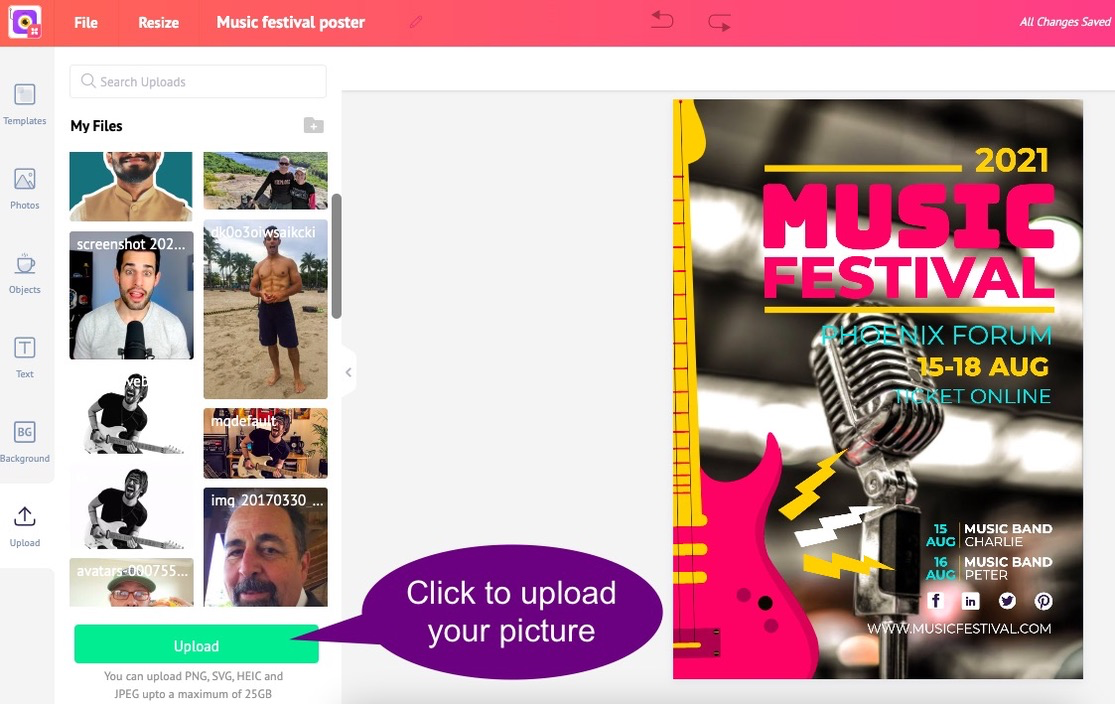 How do I share my poster design?
You could share your posters in a few ways. Click on 'Share' at the top-right and enter their email ids, and hit send.
Don't forget to give your coworkers 'Edit' or 'View' access to your poster designs.
Alternatively, copy the 'Edit' link or 'View' link to your posters and share them via email.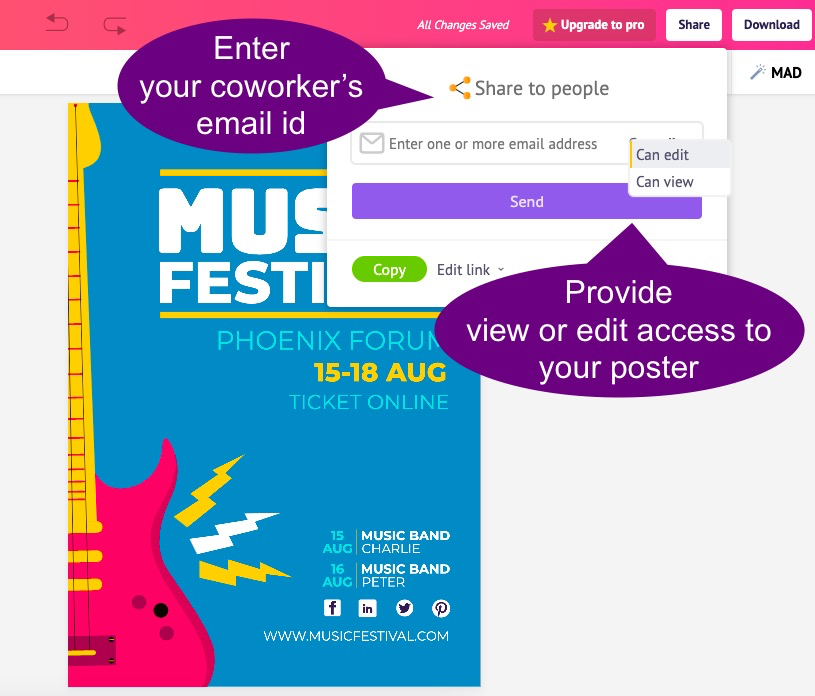 How do I share my poster designs on social media?
We've thought about it as well :). You can share your posters by clicking on 'Download' and sharing it directly to your Facebook page or Twitter account.
Do note that you'd have to integrate Picmaker with your Facebook page and Twitter accounts to share your posters.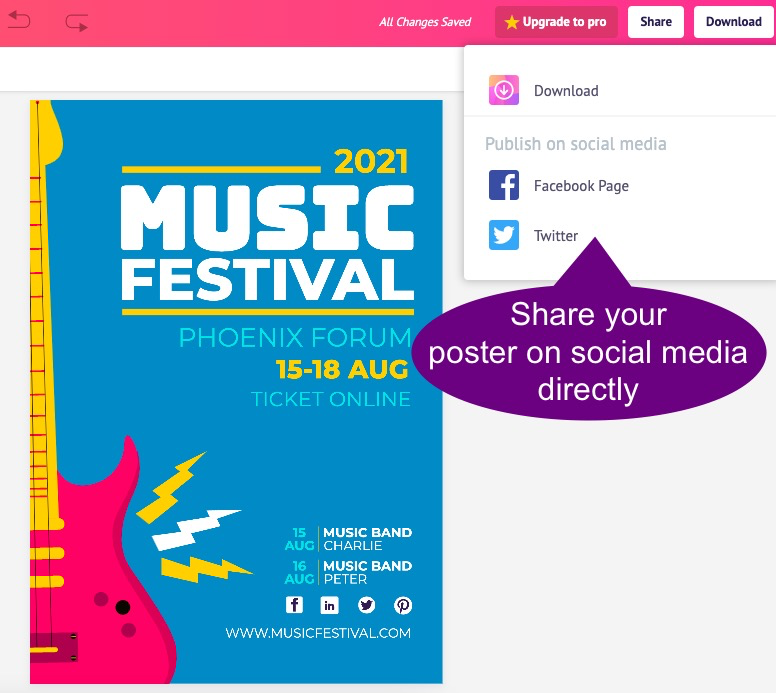 How to make a school poster?
A lot of you are students and you're looking to create posters for your school assignments and projects.
We've thought about it too :)
Here's a poster design you can readily use.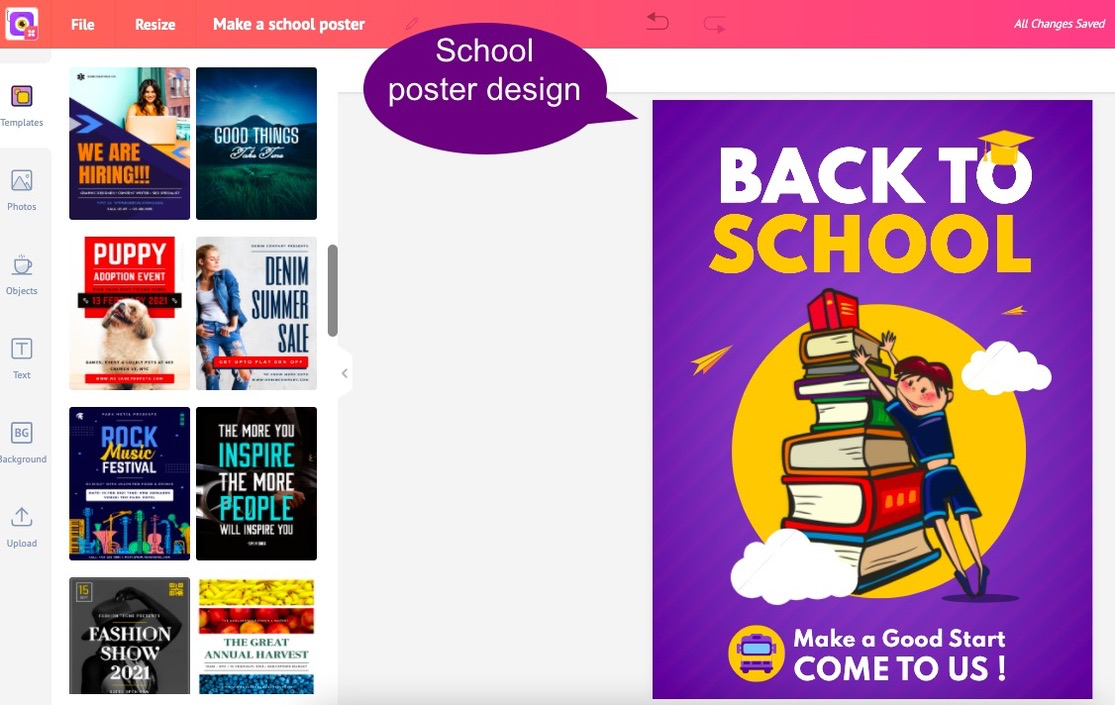 In this poster template for a school, here are a few points that we can readily glean.
The first thing that strikes us is the contrasting color schemes. The background color is purple while the headline is in white and bright orange colors. It makes for easy reading.
The font is Spartan Black, and the font size is 238.
The poster size is 42 cm X 59.4 cm.
The written copy in this poster is sparse.
The image is a cartoon character showing a boy stacking up books.
You can change the call to action at the bottom of the poster.
Add in your school logo at the bottom too.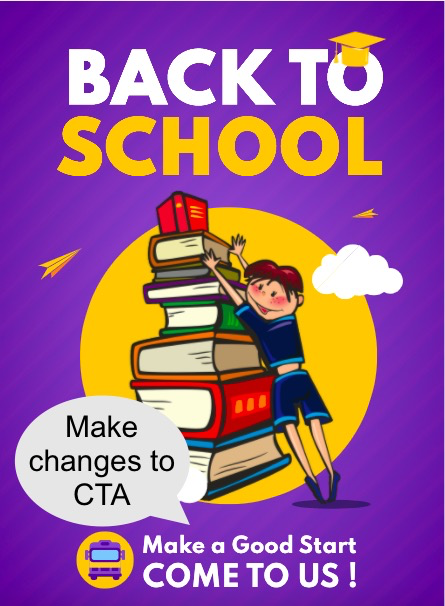 If you liked the above school poster, click on the below image to start using it immediately.
FAQs about how to make a poster online for free
Now that we've dealt with how to create posters online using readymade templates, let us look at some frequently asked questions.
Which is the best poster making app?
Now, there are many ways of creating your own posters online.
But, here is a hard fact nobody ever told you: Most poster making apps are clunky and have a steep learning curve.
Using a DIY graphic design software like Picmaker that gets you going quickly isn't the same as other software that you'd have to download.
By the time you master them, there's some other software to outdo them.
What is a good poster maker app for PC?
Technically, you cannot design a PC on your mobile because the resolution would be way too small. You need a PC to design posters because you can get the dimensions right.
And yes, there are quite a few poster maker apps for PC on the internet. However, while choosing an app, make sure it suits your needs.
We recommend choosing an app that has ready-made poster templates so that you don't have to worry about deriving the inspiration. Instead, you could straightaway make small changes, and launch your poster.
Picmaker's poster maker provides you with hundreds of poster templates for every occasion. Here's a glimpse of different options available in Picmaker.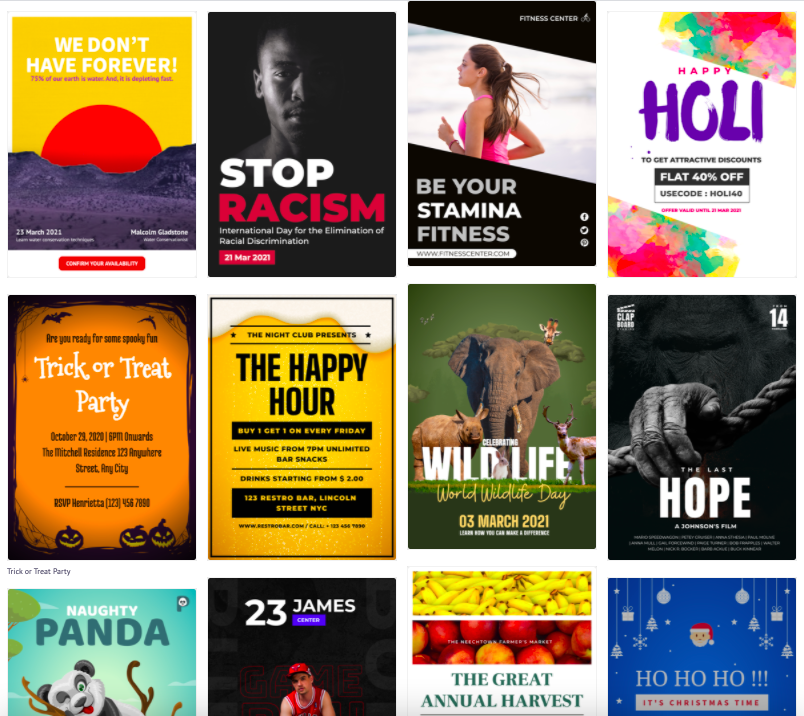 How to make a poster on MS Word or Google Docs or PowerPoint?
Let us address this question upfront.
The trust is that while you can make posters on MS Word or Google Docs or PowerPoint, you do not have readymade templates or graphic elements to get started.
Yes, they have a few templates, but not professional enough to put out on social platforms or to get printed.
Here are a few examples. None of the free templates available below from Google Slides are suitable to create a poster.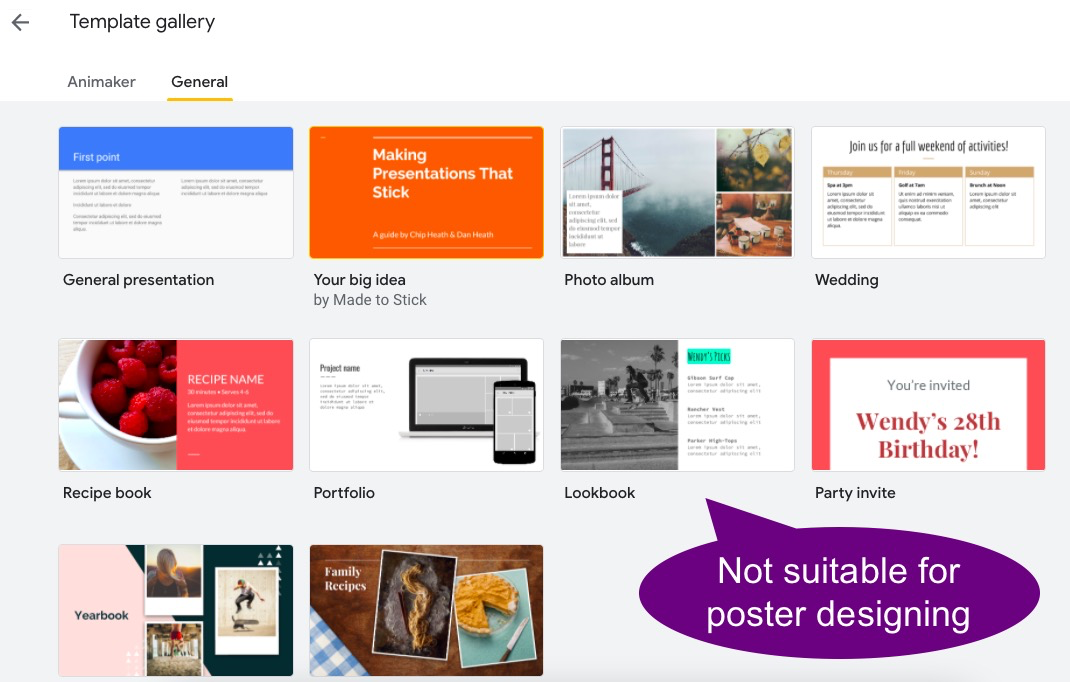 Imagine this situation - you want to make a poster. You figure out that Google Docs or PowerPoint could be a safe option.
But, with these software packages, neither do you have any professional designs to get inspiration from, nor do you have a clean user interface to design them.
They serve a sole purpose individually:
MS Word and Google Docs - For writing blogs, emails, speeches, etc.
MS Powerpoint and Google Slides - For making presentations
Nothing more.
Instead, with a big poster maker software like Picmaker, you can create posters that are wow-worthy without spending a dime.
By now, you'd know which is the easiest way to make posters.
Are there any free online poster makers without login?
Fair question. We understand you don't want to leave your email id behind.
But, when you create a poster that way, you cannot retrieve it or edit for future use. Because such online poster makers do not let you store without a login.
So, go for a PNG poster maker that lets you store your designs, and there are tons of them.
Conclusion - Make a poster
Creating a poster online is not a hassle with the number of templates available and the different customization options at hand. However, poster creators must know what purpose their posters will serve before starting off.
To conclude, let us recapitulate the core learnings of this blog. To make a stunning poster, you need to:
Know your objective
Know your target audience
Write a clean copy that evokes a response from your audience
Choose a DIY design software
Choose a poster template that you can easily edit
Make edits and share/download your posters when you're done
---
If you're looking to create even more awesome designs in minutes, visit our:
---
Additional Reading