The Uncomplicated Guide on How to Design a Logo for Free in 2022 | Includes Logo Design Templates for Everybody
Think of the number of times you've played a logo quiz in your childhood.
They came in all shapes and forms - on Adobe's Flash software, and at other times, they used to be on the humble Microsoft Excel.
But, each time you played, you'd yell "Yeah!" if your answer was correct.
Why?
Because these logos tested your memory to the hilt.
Sometimes, you'd be thinking of them for days, until you remembered it. Or, notice them somewhere, and you'd run to check if your answer was correct. :)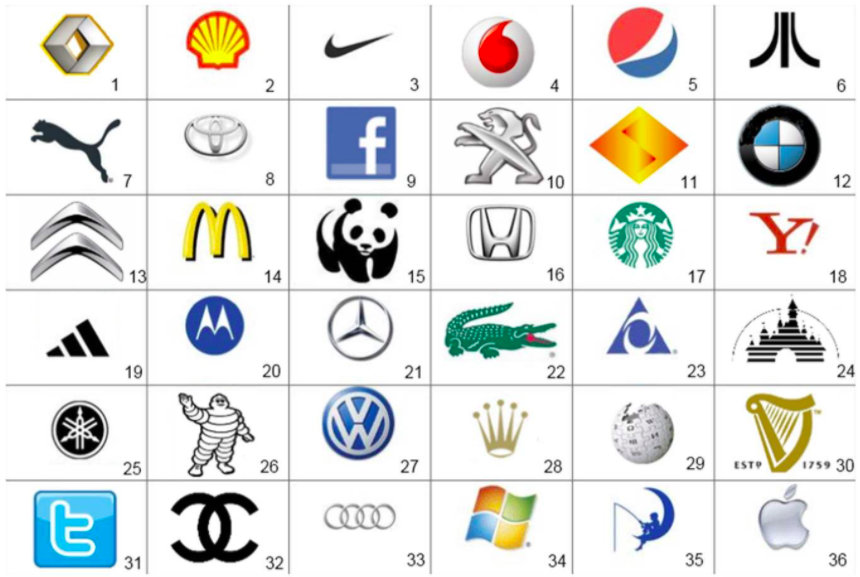 But, the biggest takeaway from that exercise was that - logos of different companies and organizations made an impression on you.
And, the truth is logos can help register your organization in the minds of your audience.
So, in this blog, we will see how to create impactful logos that can help build a significant presence for your brand.
What is a logo?
A logo is a graphic design or symbol that represents a brand, business, company, product, or organization.
For example, the World Wildlife Fund for Nature's logo is a panda, an endangered species.
While the Olympics' logo is five interlocked circles, symbolizing the five major continents. The five circles have colors of blue, yellow, black, green, and red, which represent the flag of every competing nation.
Why do you need to make a logo? And, why do you need to impress your audience with it?
Like we mentioned before, a logo represents your identity. It symbolizes your brand and has a place on your:
Company website
Sales and marketing materials
Social media channels such as Facebook, Instagram, YouTube, etc.
Physical assets such as offices, reception desks, banners, standees, branded outfits as a part of your corporate dress code, etc.
A logo that is distinct can lead your audience to immediately relate to your brand or product. It acts as a 24X7 invitation for anybody who is interacting with your brand.
For example, in the below logo template:
The colors are contrasting
The icons clearly indicate that they belong to a gaming organization (it could even be an individual)
It has the name of the YouTube channel which features its gaming videos
A viewer can look up videos under this logo by searching for the name "GamerPeter"
It is ideal for all kinds of social media channels, websites, etc.
What do you need to remember while making a logo?
In this section, let us understand what do we need to remember while making a logo.
A logo is a permanent business marker. It stands for your business identity, and your audience will identify your business with your logo. So, obviously, you cannot change it frequently.
That means you'll need to put some thought into it before finalizing one. But, what factors should you consider while making a logo?
Let us go over them one by one.
1. What industry do you belong to?
Having a distinct logo for your business, product, or brand helps in differentiating yourself from competition. So, while designing an impactful logo, here're a few things you must consider:
If you're in the retail industry, then a gaming logo may not be a good choice. So, make sure you choose a logo that is at home for your environment that you operate in.
In the logo template below, we find that:
The logo belongs to a photography studio
It has a white background that symbolizes a photographer's real studio
The words 'Focus Point' indicate how a camera focuses, so this logo surely belongs in the photography industry.
2. What business are you in?
Are you a B2B brand or a B2C brand? Not that there are stark differences between B2B and B2C logos, but B2B logos tend to be sleeker.
On the other hand, B2C logos are more easy on the eye and friendly.
Here is a B2B logo that digital marketers can use for their agencies in a few clicks. It has:
A classical angular framework to it
Black, white, and yellow colors that have a B2B theme
A yellow border with loads of white space between the text and the outline
League Spartan Bold fonts that are more business-like than other font families
Now, let us take a look at a B2C logo. This one is a wedding planner logo template, and it has:
A casual font for the keyword 'Wedding'
A peach color that is more consumer-centric than business-like
Painted strokes in peach color below the main keyword
Ideal for wedding planners and organizers who cater to customers directly
On the other hand, let us look at yet another logo for the food industry. This logo design has:
A casual font, i.e., Pacifico (similar to the wedding planner logo we saw above)
It has the right elements for a food joint/restaurant business, i.e., B2C
It even has a date of starting to assure customers of its longevity in business
A green background merged with yellow that combines aesthetically. The friendly green color stands for good health and nature.
3. Get inspired. Get a logo template.
If you talk to professional logo makers, they'll take you on a journey. We're not saying you shouldn't listen to them. In fact, you can take notes from what they tell you.
However, you, and only you know your business better than anybody. So, why hire people to design expensive logos when you can you do it yourself?
And, that is why we suggest that you start from a template. It gives you a base, from where you can build and customize your logo.
For example, you run a fitness center, and you're creating a website for people to sign up. The below template could fit your needs, although you may need to tweak it to match your style.This logo features:
This logo features:
The Bevan font family which appears in bold letters
Its font typography is quite thick and suits the core theme of a fitness club, i.e., strength and fitness
The fonts are in black and white color so that website visitors and viewers can easily register it
It shows icons that portray strength and fitness
This logo template is ideal for gyms and fitness clubs looking to build a brand presence amongst their audience.
4. How would you like to be known?
There are different ways businesses build their brand. Some use friendly customer service, some use faster time to delivery, while others speak about quality of their products and services.
But, no matter, what each business stands for, their core differentiating factor gets conveyed through their logos.
So, package delivery businesses could symbolize speed on their logo. They could use a delivery boy rushing with a bag full of parcels slung on his shoulder.
On the other hand, an aquatic park could show dolphins jumping above swirling waters with a child enjoying it.
The below logo template is for pets and it shows:
A friendly business that loves caring for pets
The dominant color is yellow (HEX code: FFBF1E), and it exhibits their friendly nature
Its font is 'Baloo' which belongs to the non-cursive family. (In fact, 'Baloo' is a character from Rudyard Kipling's legendary book for children, 'Jungle Book'
The icons in this logo template are almost toy-like, so they'd appeal to children
If you look closely, there are animal paws in both 'Bs' of the word 'Febby'
Overall, it has a casual tone that'd be ideal for businesses such as pet food, pet toys, veterinarians, vet clinics etc.
Let us look at another logo example. This time, we will take a logo that could be corporate, yet be less uptight (whoever said corporates need ties and boots!).
Here is what we observe in the below logo template.
An owl sits right in the middle of the template, which is a friendly bird
It is for an company or agency that provides security solutions to corporate companies
An owl signifies a service provider who is awake and watchful while you sleep
It has a mixture of corporate flair and friendly demeanor - its fonts belong to the Montserrat font family.
The font family has an ExtraBold version to demarcate the name, a slightly lesser font size for the business (i.e., 'Security'), and the normal variety for 'Services.'
5. How creative you'd like to be?
No matter what business you are in, there are many ways to be creative. It shows how you wish to be different from your competitors.
So, in this creative logo template, let us understand a few simple things, and they are:
It is a minimalist logo with minimum designs
The fonts used in this logo Comforta, which aren't too heavy
It is quite creative - in the way it shows a glass of juice shaped out of the letters U and H
It combines the concept of a juice shop within the text. Therefore, there is no need for a separate juice icon in the logo.
6. Using the right colors for your logo
Choosing a logo with the right color combination is quite important.
Why?
Because different colors have a different effect on how people perceive them. Here is a basic color guide from Digital Synopsis that captures what the human brain feels when seeing it.
So, choose a color that is appropriate to what you'd like to convey to your audience. For example, yellow signifies clarity, warmth, and optimism, while red shows energy, passion, and appetite.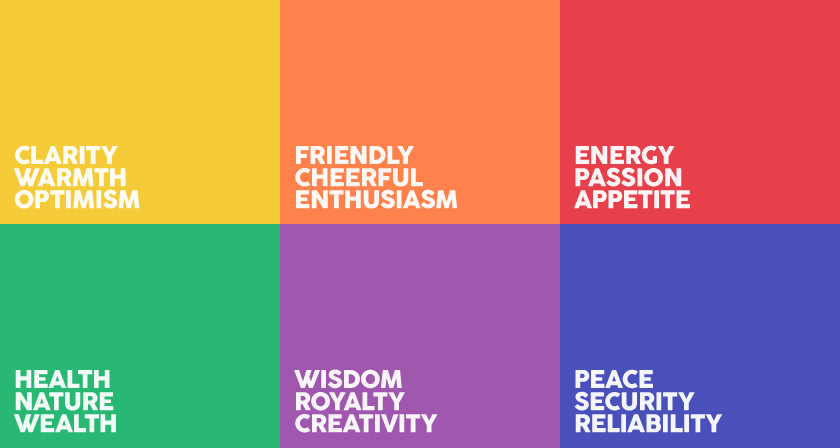 In the below logo template, we notice that:
It is artistic and creative
Yellow is the most prominent color in it
It also has a bit of orange in it
And, its font is in black color against a white background
It has a subtle wordplay: Idea + Ideology = Idealogy. It signifies a creative business that is unwavering on beliefs and principles.
While the word 'Art' is in a friendly Artistic Daughter font, the word 'Idealogies is in angular Montserrat Bold font.
Overall, this logo template shows that this business is artsy, cheerful, and is professional at the same time.
How to make a logo for free with logo design templates?
Now, let us turn our attention to how to make a logo for free. We could do this using free logo design templates.
Step 1 - Setting up on Picmaker
The first step is to head over to Picmaker's logo maker, and sign up on the design tool with your email id.
Or, you could simply click here to log in to Picmaker.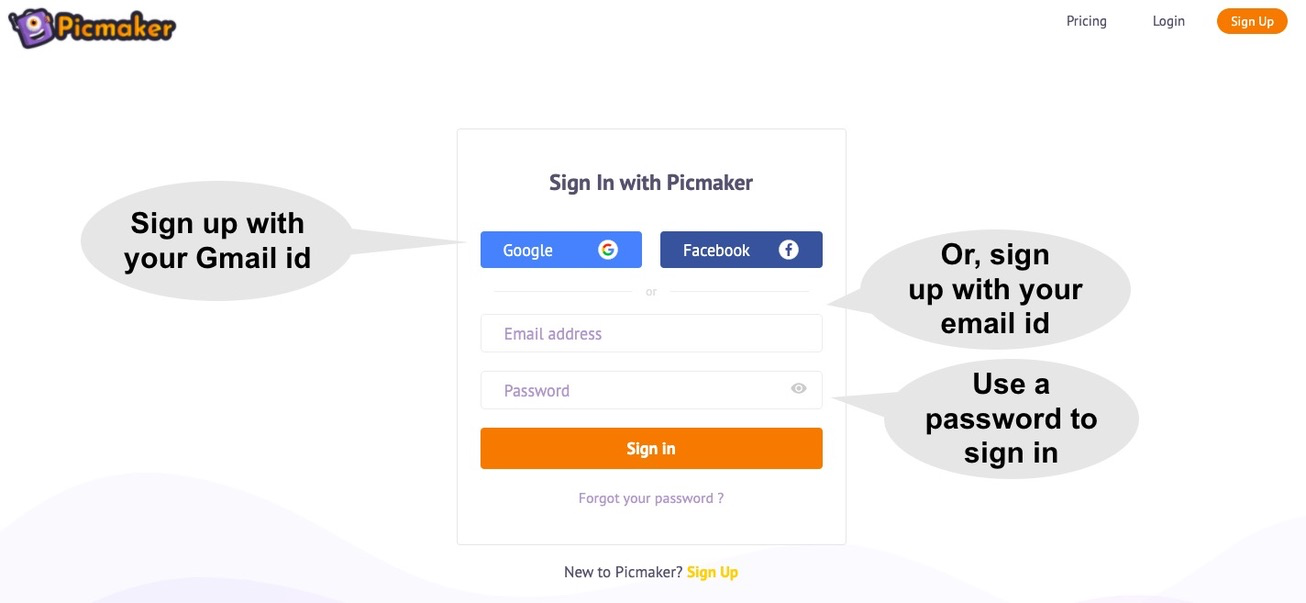 Step 2 - Choosing a free logo design template
Now, the next step is choosing a logo design template for yourself that matches your requirements.
When you sign in on Picmaker's logo maker, you will land on the dashboard. Use the search bar at the top to look for logo-related terms.
Or, scroll down a little to pick your favorite logo template.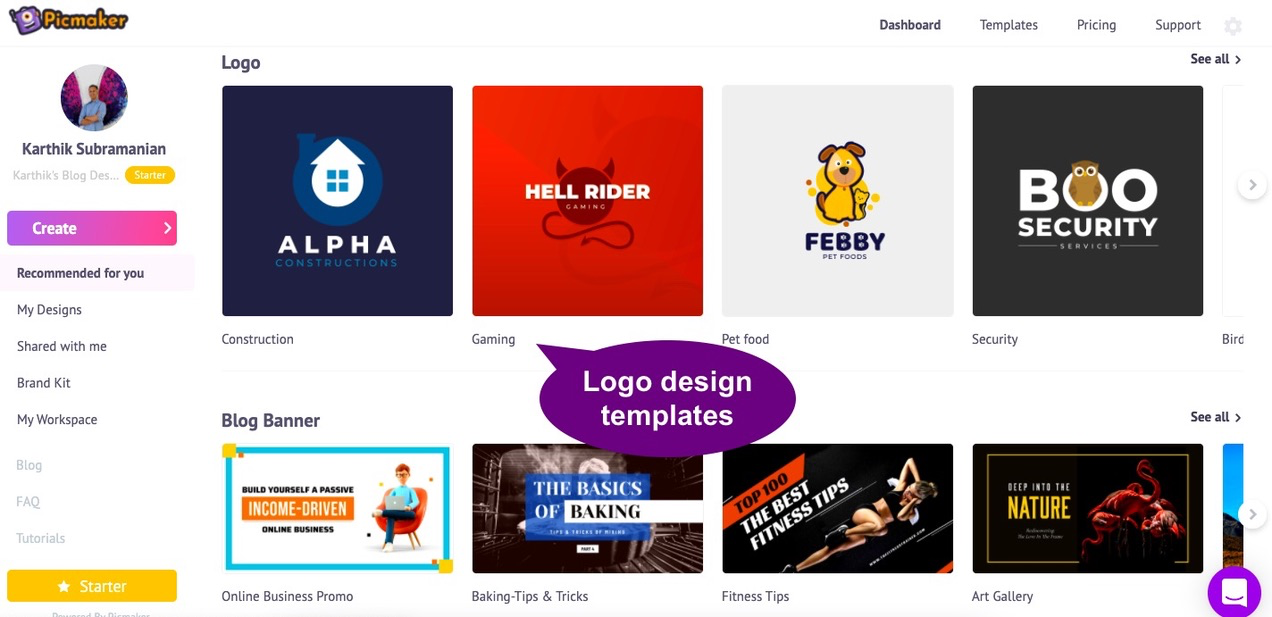 Or, click on 'See all' at the far right of your screen to see all logos in one go. Here is a quick glimpse of a few logo templates.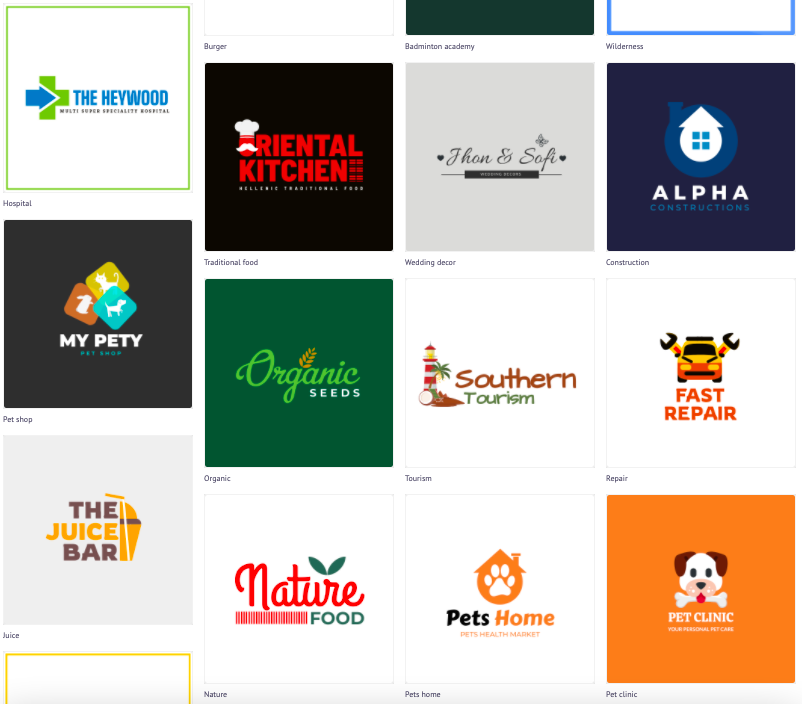 You could either pick a favorite logo template here, or use the search bar at the top to look for a logo.
Imagine you're running a fast food joint that sells donuts, you could choose the below template.
Step 3 - Customising a logo design template to suit your needs
Now, click on this template, and you are ready to start designing. At any point in this process, you can always go back to change your logo template.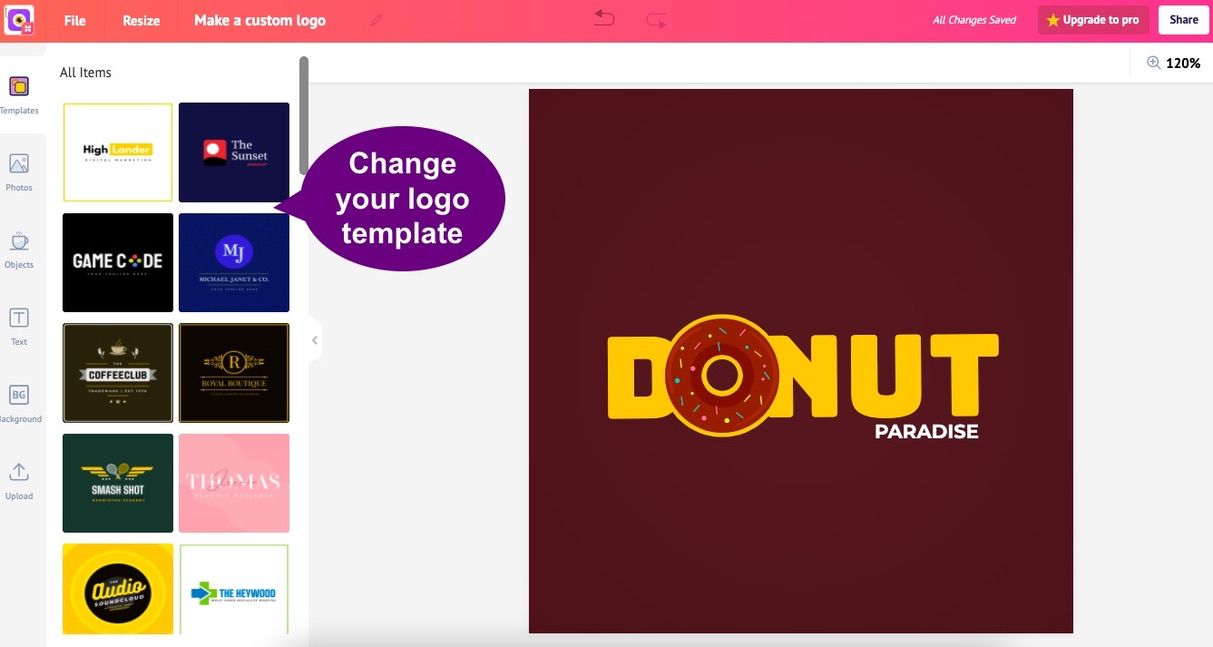 Now, notice the left-hand menu bar in Picmaker's design window, which gives you various ways to customize every element in this logo design.
For example, you can change the background of this logo template by clicking anywhere on the logo template. Then, click on the color palette you see.
It opens up the color menu window. Choose any of the preset colors or enter your Hex code to get the right color.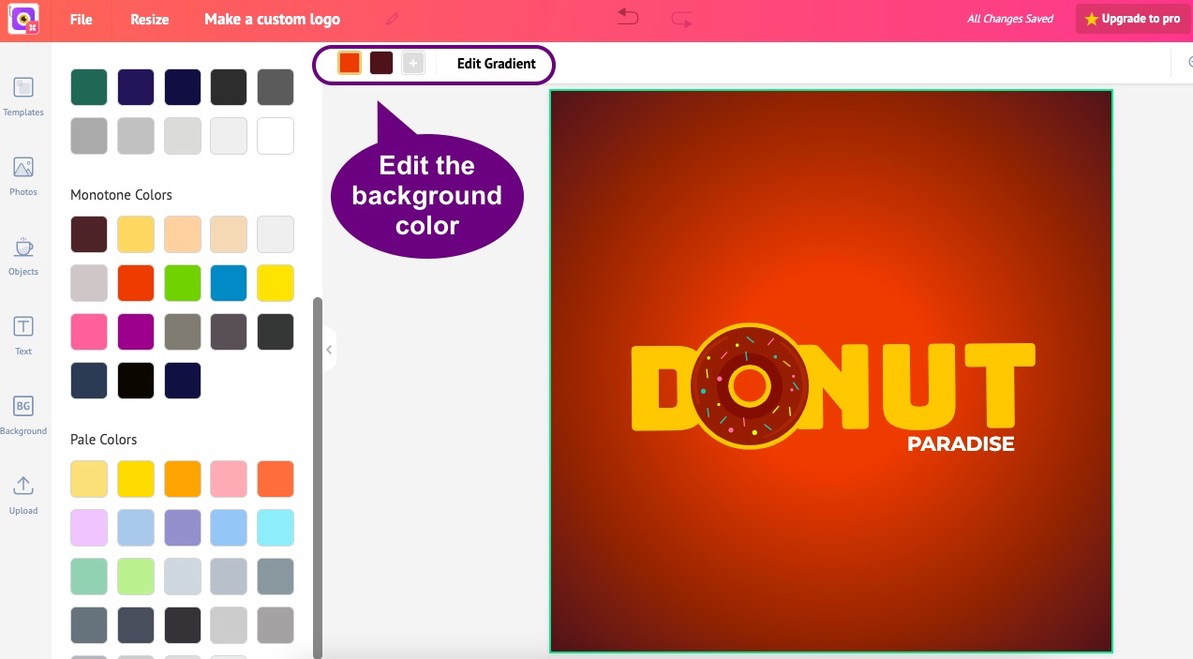 For example, we used a Hex code: DF1796 in the above design, and here's what we got: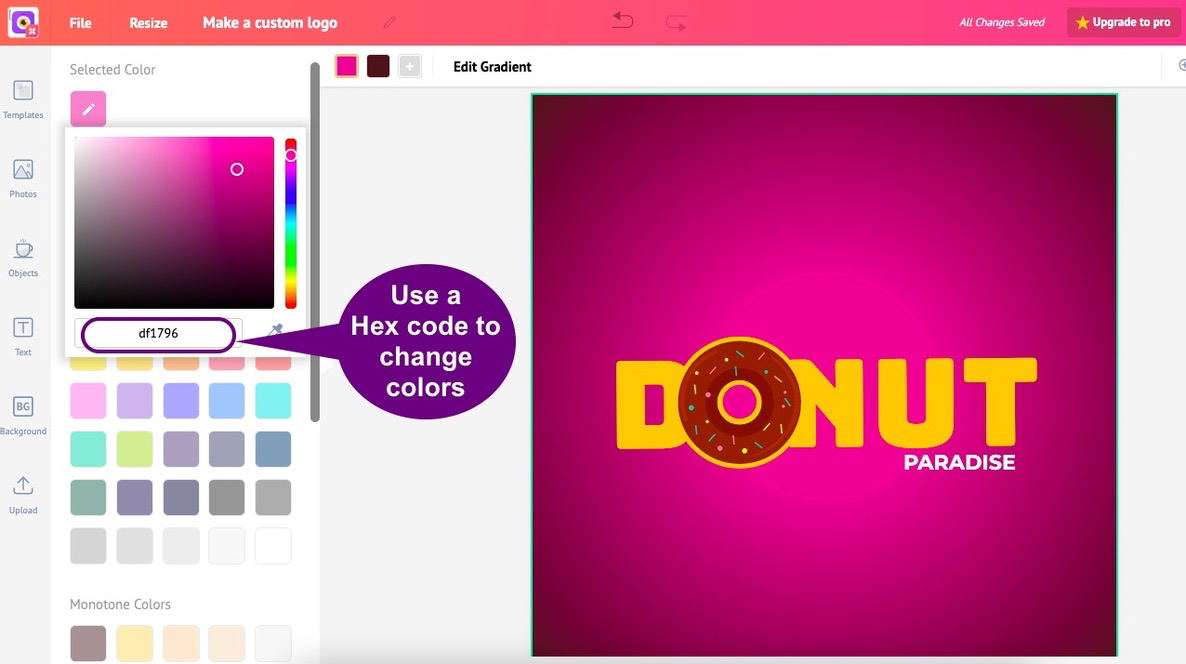 Now, what if you were to add a name to this logo template? After all, it is your personalized logo, it certainly deserves a name.
Here's what we did. We noticed that the dominant font in this template was 'Bungee' by clicking on it. So, we clicked on 'Text' on the left-hand menu, and chose a sub-head font, and changed it to 'Bungee.'
We added a name too to it.
You can choose a font that you prefer, or even upload your font from your brand kit into Picmaker.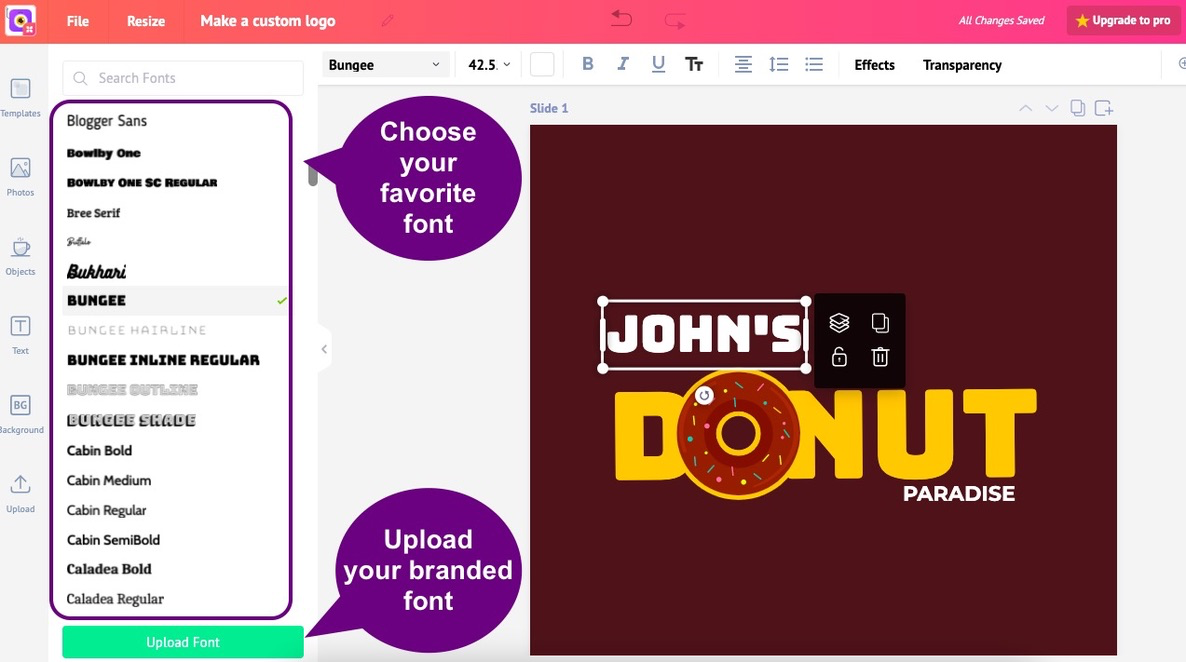 Besides, when you're working on logos, your font matters a lot. Picmaker enables you to add special text effects to your fonts or make their outlines glow.
In the below image, we added a 'Splice' effect to the font such that its outline is yellow. Looks cool, yeah!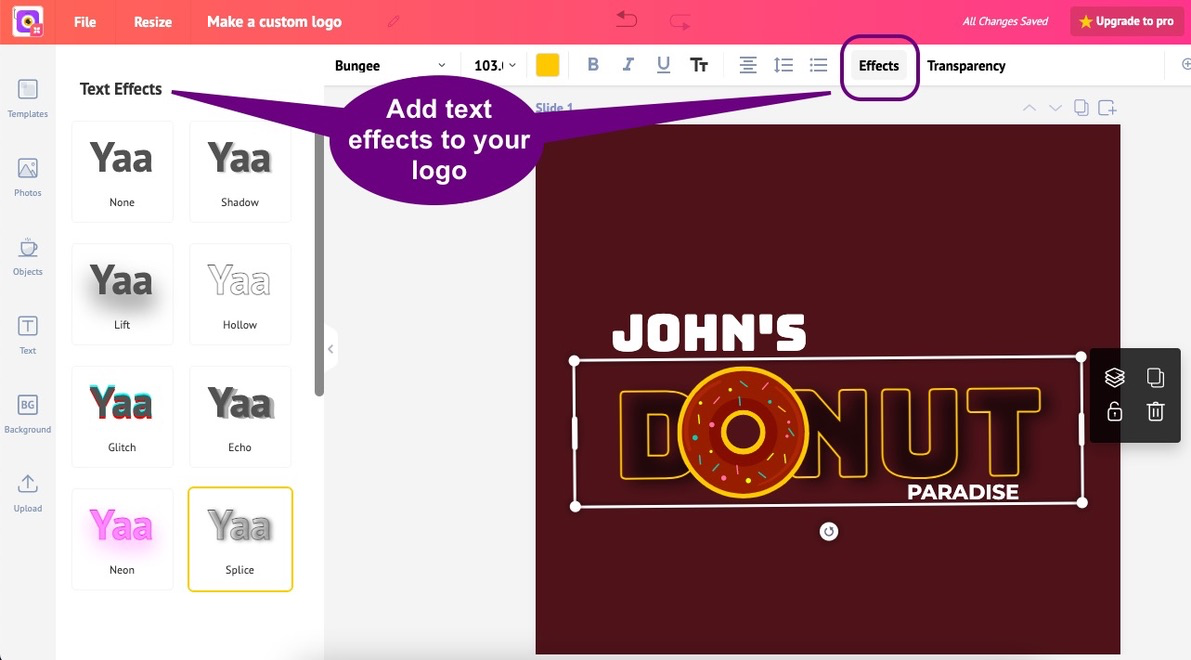 Step 4 - Download your logo
We have now come to the final step, and that is to download your logo. If you're happy with all your changes, all that you need to do is click on 'Download' at the far right corner of your screen.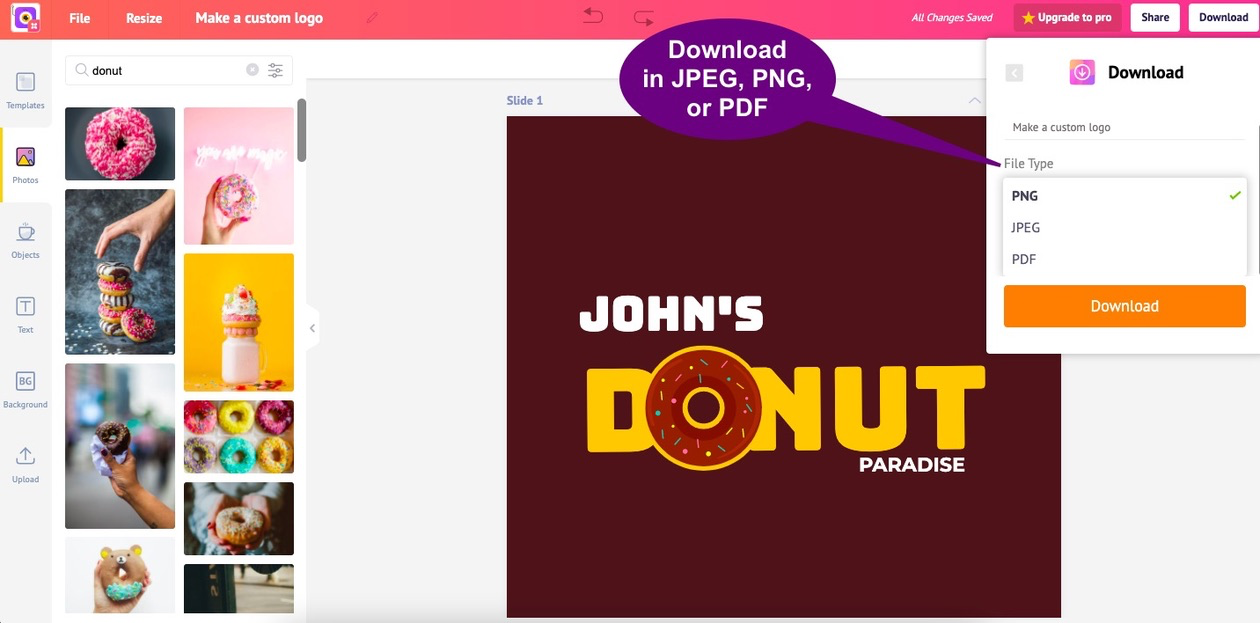 Make a Logo - Summary
Making a logo need not take days or months for your business. It need not be expensive either. Let us now recap what we learned in this blog:
Your logo is your brand identity, and you know your brand well
Your audience interacts with it 24x7
Use a logo template to get started
Make a logo that takes into account - the industry you're in, your business, your creativity, color, etc.
Customising a logo in Picmaker is easy
---
That's not all. If you're looking to make gaming logos, then read our detailed guide to know how you can do it for free with gaming logo templates.
And, if you want to design a poster for your business, this comprehensive guide to making a poster will get you started in minutes.