How to Design a Star Wars Poster for Free (Includes 3 Stunning Poster Templates)
Are you a Star Wars fan? Well, who isn't. No matter whether you're born in the 70s, 80s, or you're a millennial, you'd have surely come across the legends of Han Solo and Princess Leia.
And, what better way to be a loyal fan other than pasting a Star Wars poster in your living room, or in your school locker? Or, perhaps have it in a secret place nobody knows. ;)
So, in this blog, we will quickly explore how to create a poster that pays tribute to your favorite legends.
P.S. You don't need any design skills to create brilliant Star Wars posters.
1
What do you need to create a Star Wars poster?
You need two things before you start creating a Star Wars poster:
A picture of your Star Wars heroes
Access to a DIY poster maker software like Picmaker (There're probably many other options, but we'll use Picmaker for now)
Before we jump in, let us remind you that we will use free pictures for our posters. However, there are tons of paid pictures available in Picmaker that can make your poster even more awesome - so, suit yourself. :)
Step 1 - Setting up on Picmaker
The first step is to head over to Picmaker's poster maker, and sign up on the design tool with your email id.
Or, simply click here to log in to Picmaker.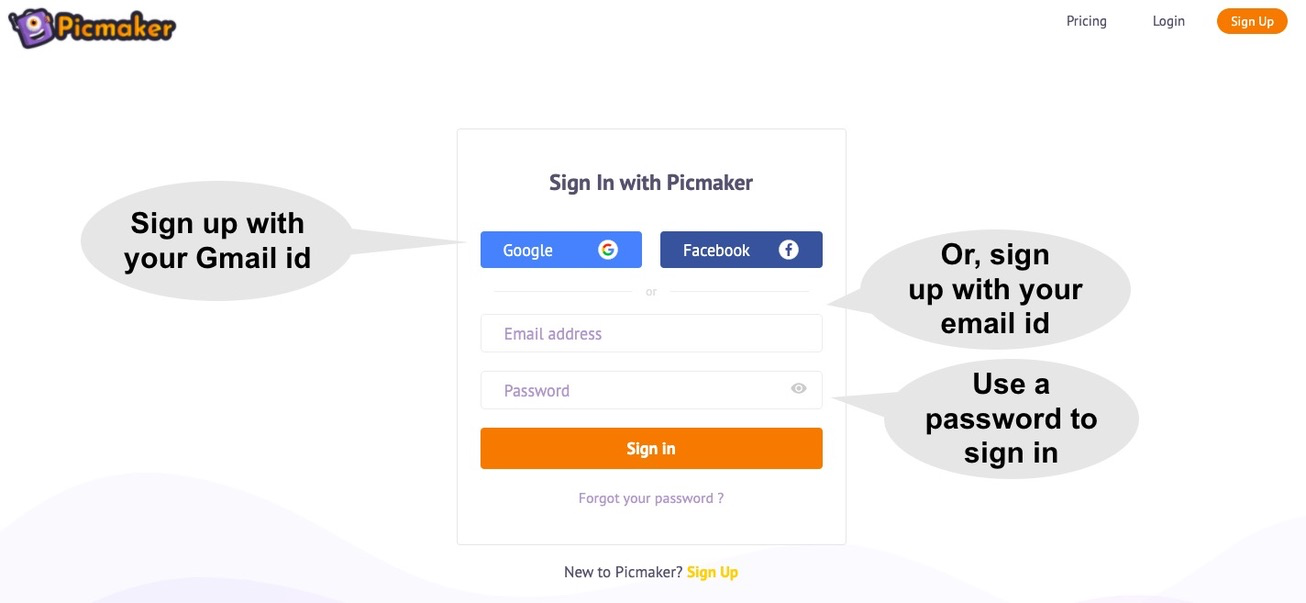 Step 2 - Choosing a design template for a Star Wars Poster
Now, there are tons of poster template options available in Picmaker, but we will go with the one below. Obviously, it belongs to the Minions franchise, but we will tweak it to suit our heroes.
Click on the above template to use Picmaker's workspace that lets you edit and customize your Star Wars poster.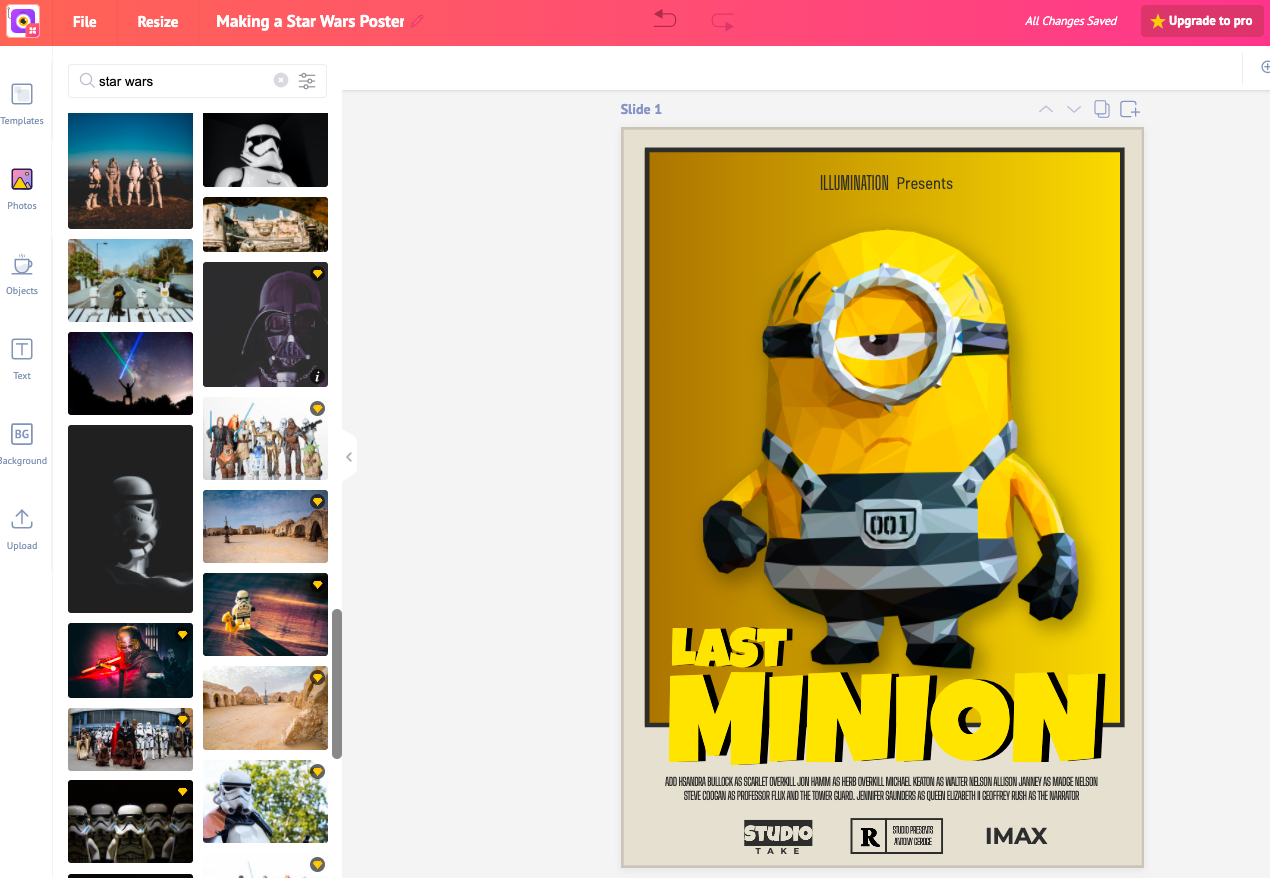 Step 3 - Choosing a Star Wars picture
Now, obviously, since you want your favorite hero on your Star Wars poster, you need an awesome picture. There are two ways of going about it - one you could choose one from Picmaker's library of 100 million pictures, images, and icons.
Or, you may upload your own pictures into Picmaker. Read this quick FAQ to know how to upload your picture in Picmaker.
For the purposes of this post, we'll use the pictures in Picmaker because it gives us what we need. To get our favorite Star Wars picture in Picmaker, we need to search for 'Star Wars' on Picmaker's left-hand menubar.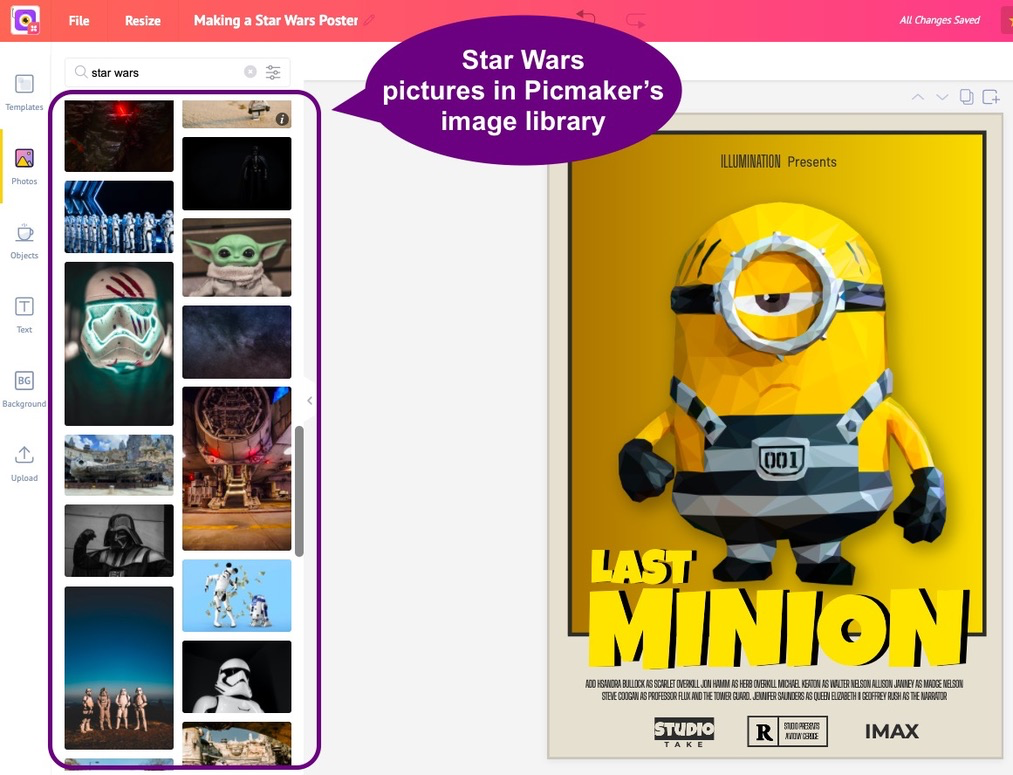 Step 4 - Importing the image in the poster
For this blog, we chose the image of a stormtrooper with fire on the side to give the poster a real feel. Here's how the poster would look when we import it on the workspace.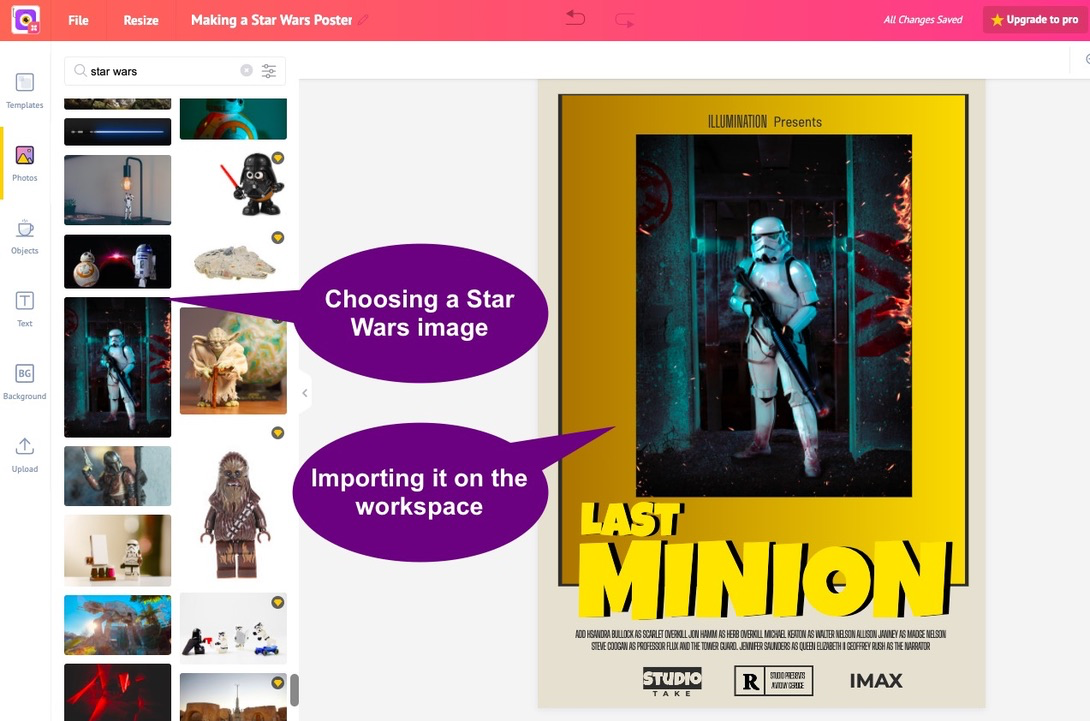 Now, we will edit the picture to make sure it fits our needs for a realistic Star Wars poster. In the picture below we have enlarged the picture and we've used the Arrangements option in the image menu to push it back. This ensures that we have the frame, text boxes, and other elements in the front.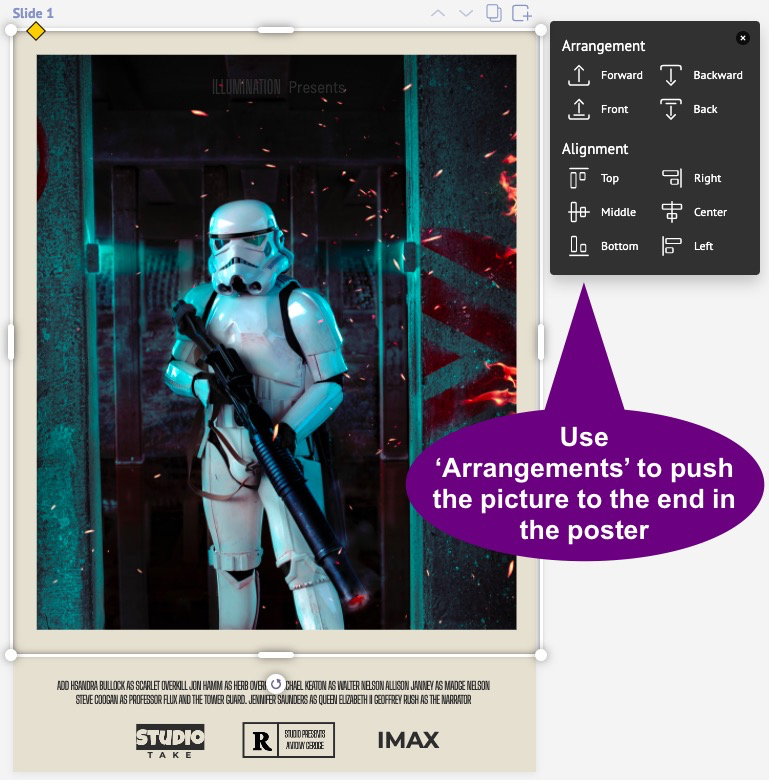 Step 5 - Inserting text boxes in the poster
Now, we will insert the name of the poster - it could be anything that you wish - the movie name, character name or any particular preference that you have.
For this purpose, we will use the Star Jedi font to make it look realistic. Any other font will not give it the desired effect. This font has its origins from the movie franchise and the logo's typeface. It is a capitals only font, with a number of variants. Even its small letters are in capitals while the capital letters are combinations of serif.
Since we did not have it in Picmaker's font family, we had to import it. We used DAfont.com to download the .ttf file and then upload it onto Picmaker. The reason why we downloaded the Star Jedi font is because it is not commonly used, and that is why we don't have it in our font library. Learn how to upload a font in Picmaker here.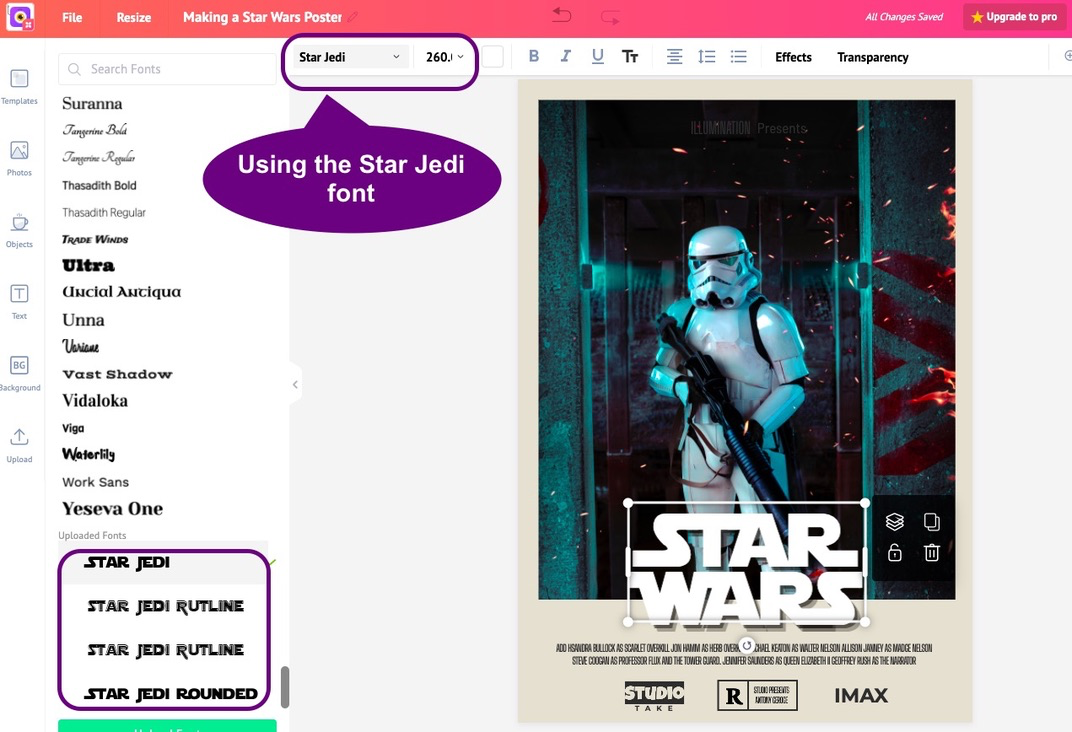 Step 6 - Adding special effects to the title
The next thing that we will do is add some cool effect to the title of the poster to make it even more awesome. In the picture below, we've used an 'Echo' effect for the title with an offset of 83 - perhaps a little too much for this poster - but we always wanted the title in our star wars poster to scream. :) If you notice, part of our title sits on the image, while part of it bleeds onto the frame, and that is why we see the broad offsets in the poster.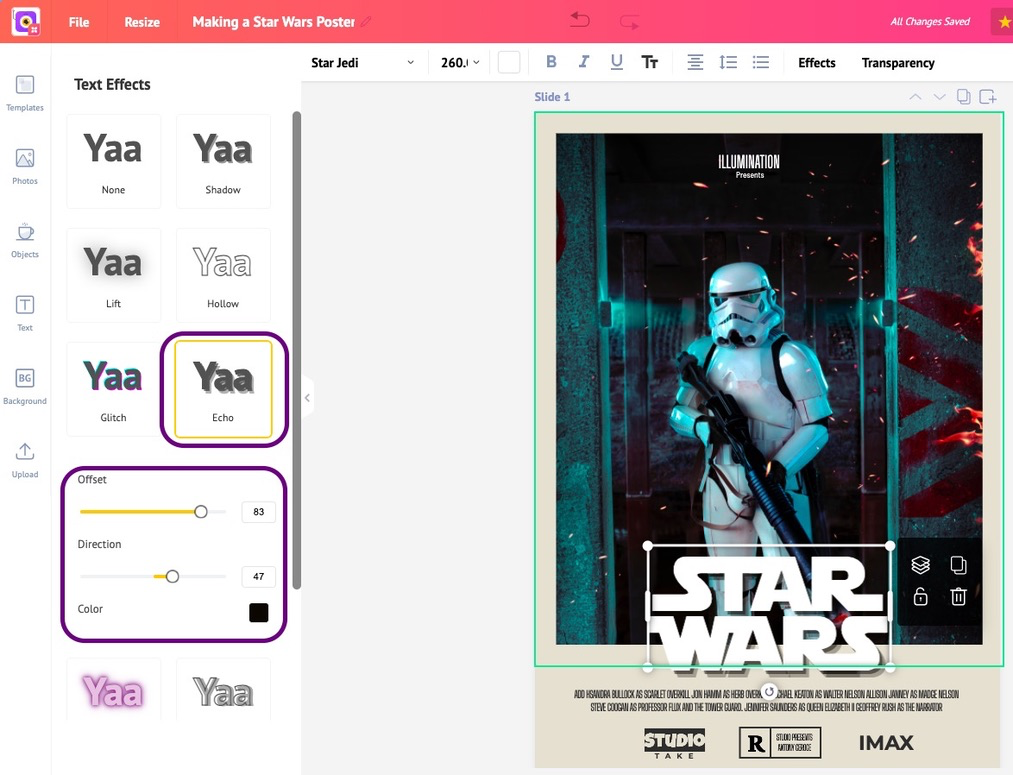 Step 7 - Downloading the Star Wars poster
When you're done with your Star Wars poster, it is time to download it. Go to the top-right corner of your screen, and click on 'Download' to get a copy of your poster in PNG, JPEG, or PDF forms.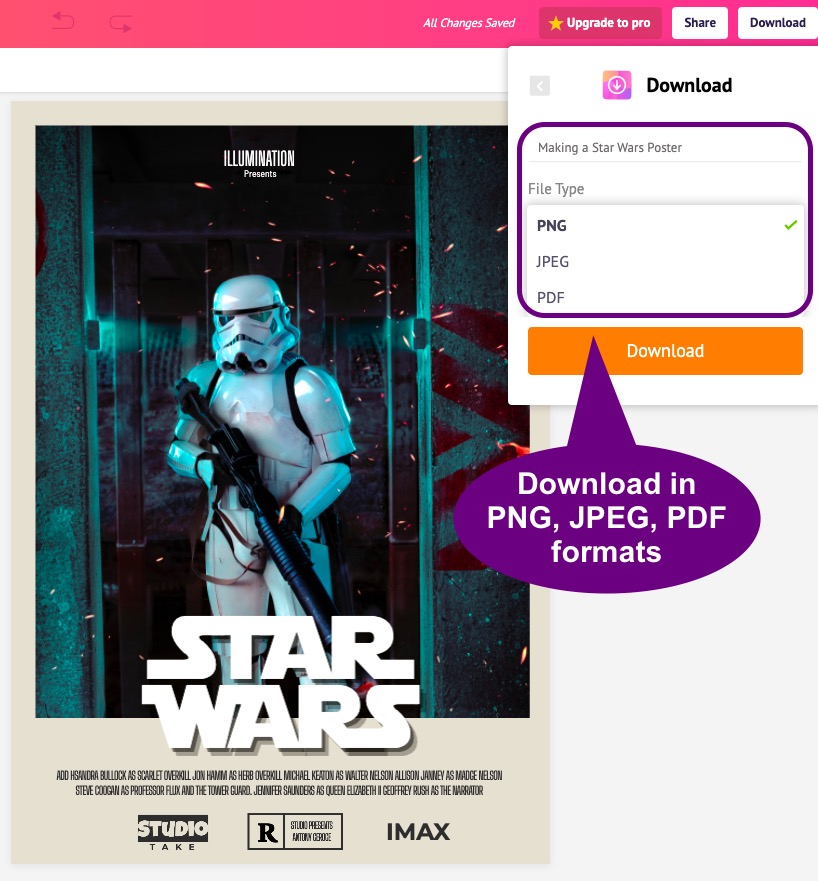 Here's how the final Star Wars poster looks in all its glory! The sparks from the fire flames around the stormtrooper, who's holding deadly weapon could send a chill down anybody's spine.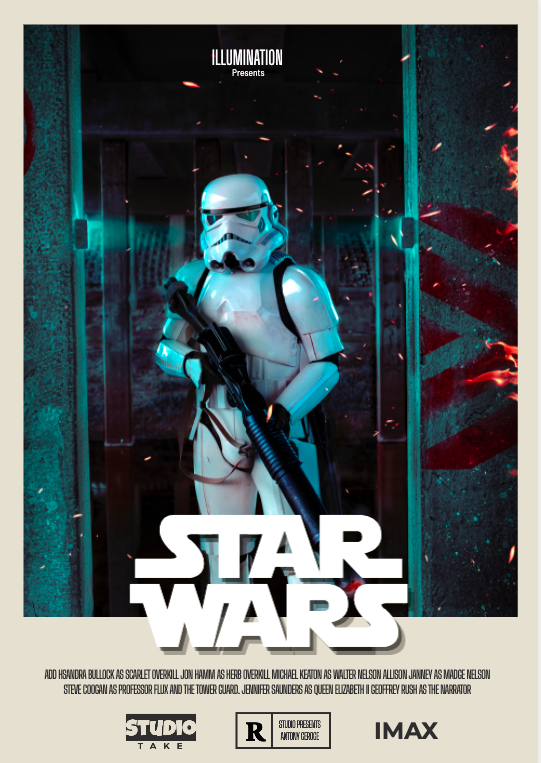 2
Exploring a few more Star Wars posters
Like all Star Wars fans, we're never happy with a solo effort. We want more from our posters. So, we ventured out to create a few more that could bring down the rafters.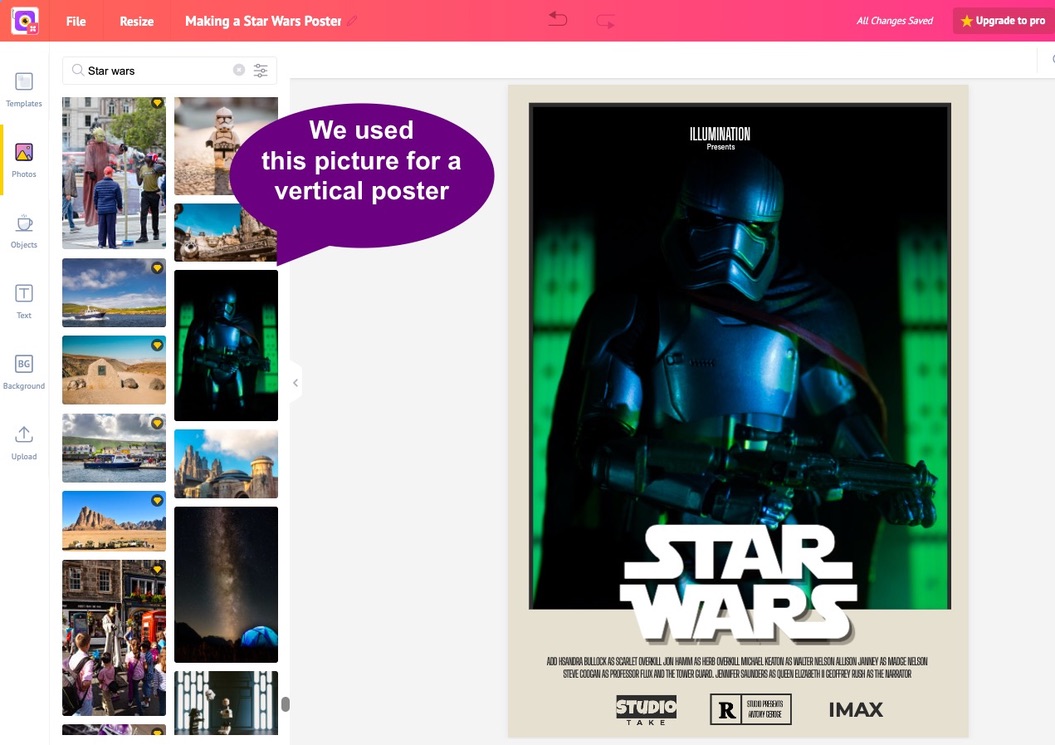 We downloaded it onto our local computer, and it looked terrific. The green lights at the background of the Stormtrooper, whose face is in shadows makes the poster even more cool.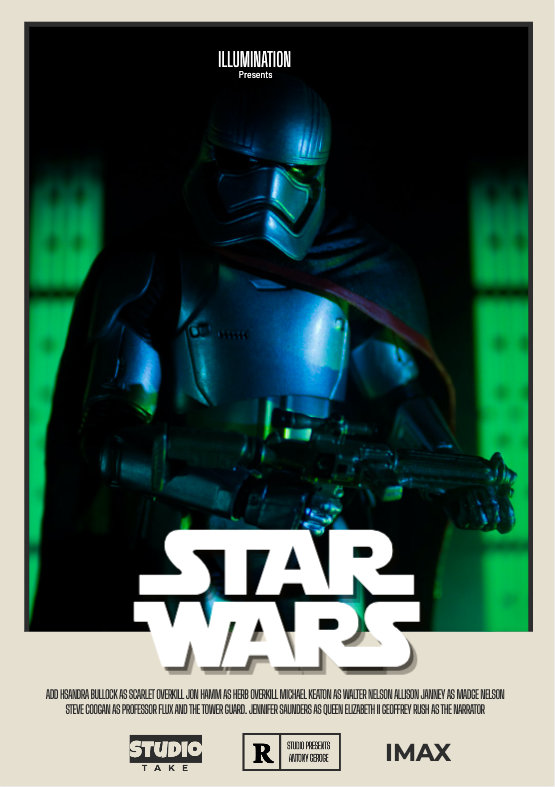 Here's a horizontal Star Wars poster with dimensions of 75 centimeters wide and 42 centimeters long. How did we get this dimension? We used the custom design option in Picmaker to create a customized workspace for ourselves. (We'll see how to create a custom size poster at the bottom of this blog).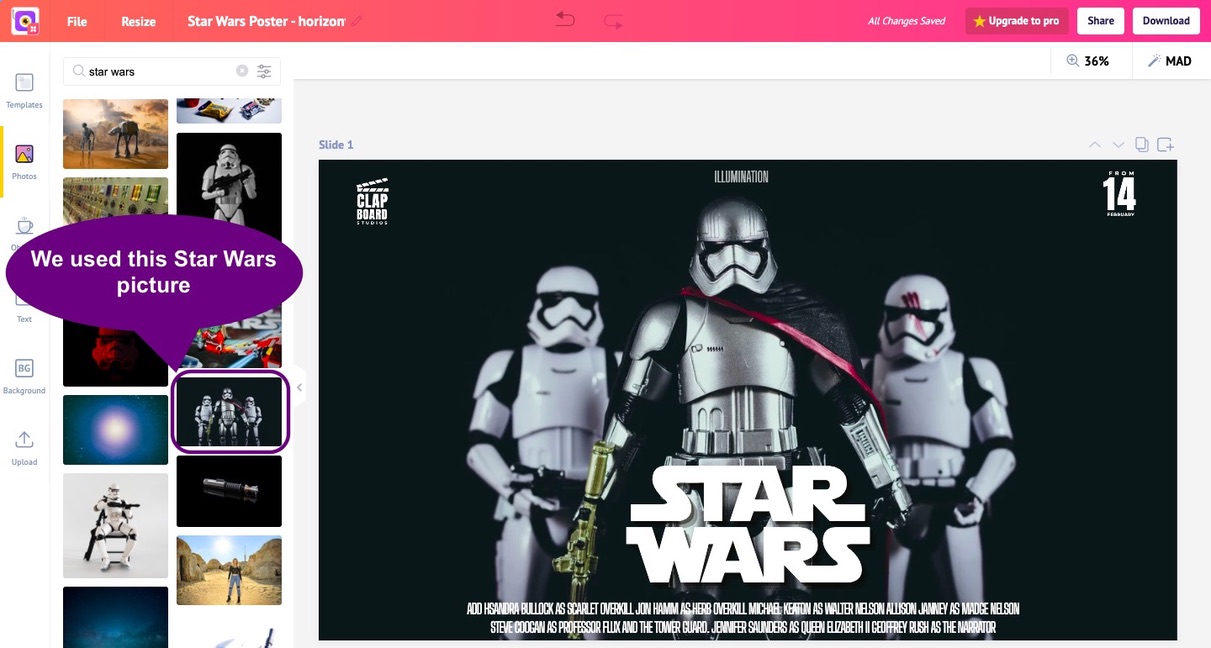 And here's how the poster looks when you download it. There's not enough space on this blog to show you how it would look when you print it, but we assure you it looked pixel-perfect. The black shawl draped around the Stormtrooper in the front looks out of the world.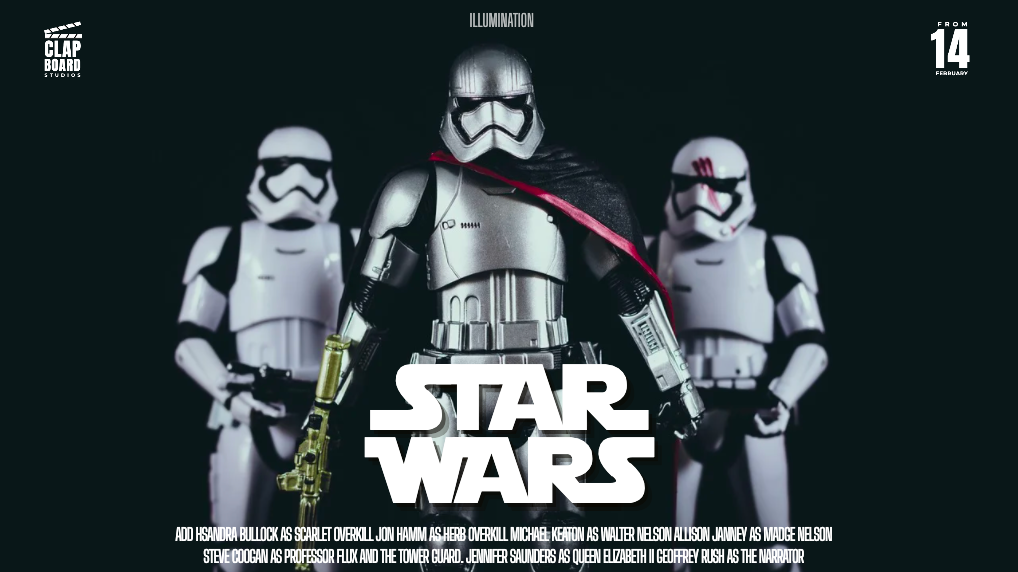 3
Designing a Star Wars poster with all characters
Okay, enough of Stormtroopers. Now, let us create a cracking poster with all Star Wars characters in it. Take a look at the poster below that we found on the internet. It is a poster created with the names of all movies.
Can you take a guess at the number of layers in this poster? It could be well over 50. We asked our designers what would it take to create such as poster They responded that it isn't easy to source these pictures. Besides, you need a large monitor and a professional designer would take more than 6 hours to get the whole thing going.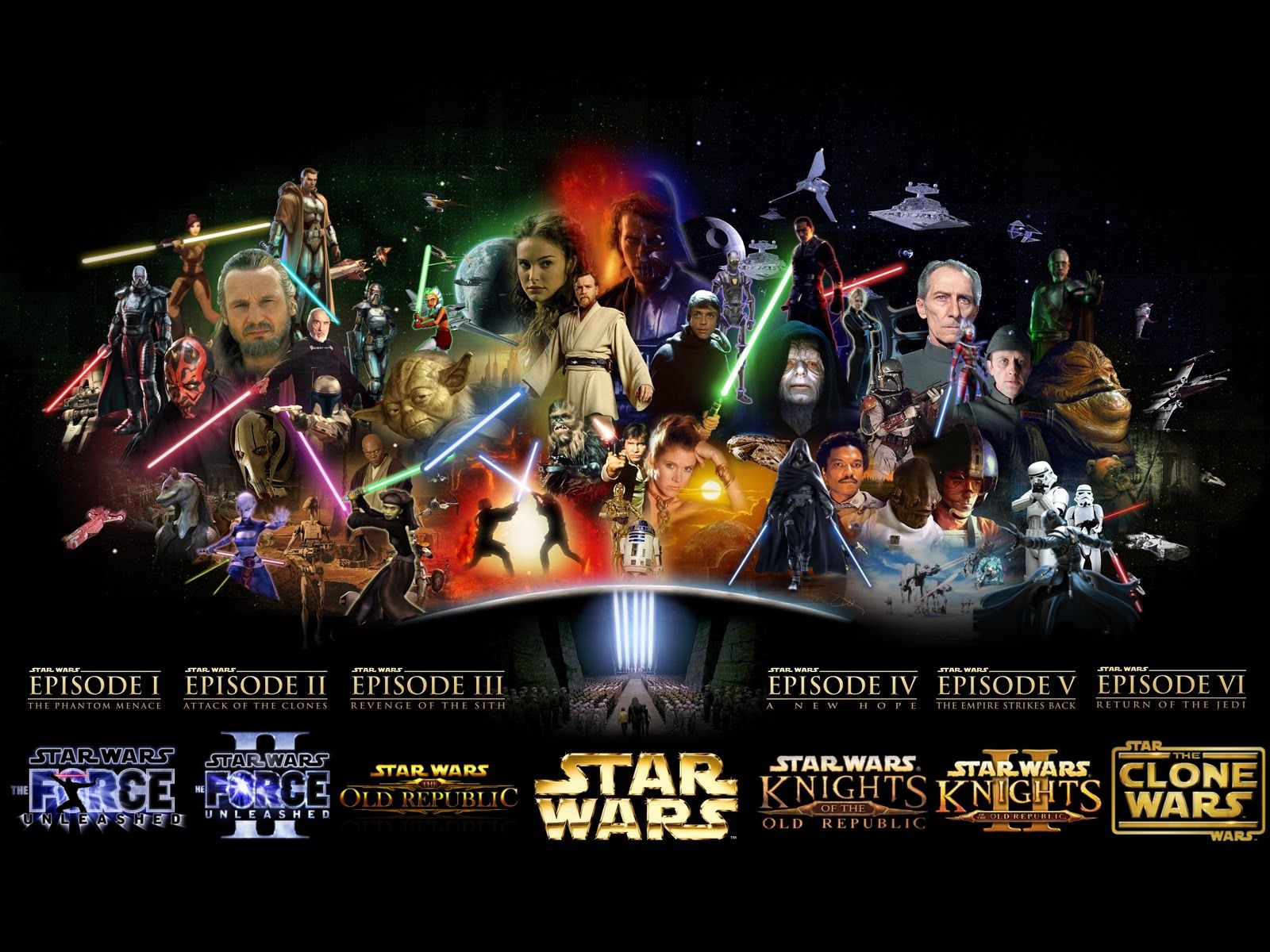 But, we don't have the time to create a poster like this. So, we'll create one that looks like a masterpiece using Picmaker.
We'll download the free pictures from Wallpaper.com or any other free picture resource and proceed to create a poster. Now, you may ask, why should you not just download one of these images and paste it on your study room wall?
Well, what is a Star Wars poster without its famed font that mentions the movie? And, what if your geeky friend, who's got no idea what Star Wars is, pops in to your study room and asks you "What is that?" You don't want to get exasperated describing about your favorite movie franchise.
Moreover, a real movie poster has much more to show than just a picture - it has the names of the director, producer, actors to make it look like it's right off the press.
So, we will see how to use these elements in these pictures and convert them into fabulous posters.
Step 1 - Uploading your pictures into Picmaker
When you've finished downloading your favorite pictures, you are now ready to upload them onto Picmaker. Read our quick FAQ to know how upload your picture, and don't forget to switch back to this tab when you're done. :)
We will use the custom design option in Picmaker to create a specific workspace for 60 cm x 42 cms. When we added our picture into workspace, and then added the Star Jedi font at the bottom, it transformed the poster. If you noticed we changed the color of the font to black and added a bit of outline to the text.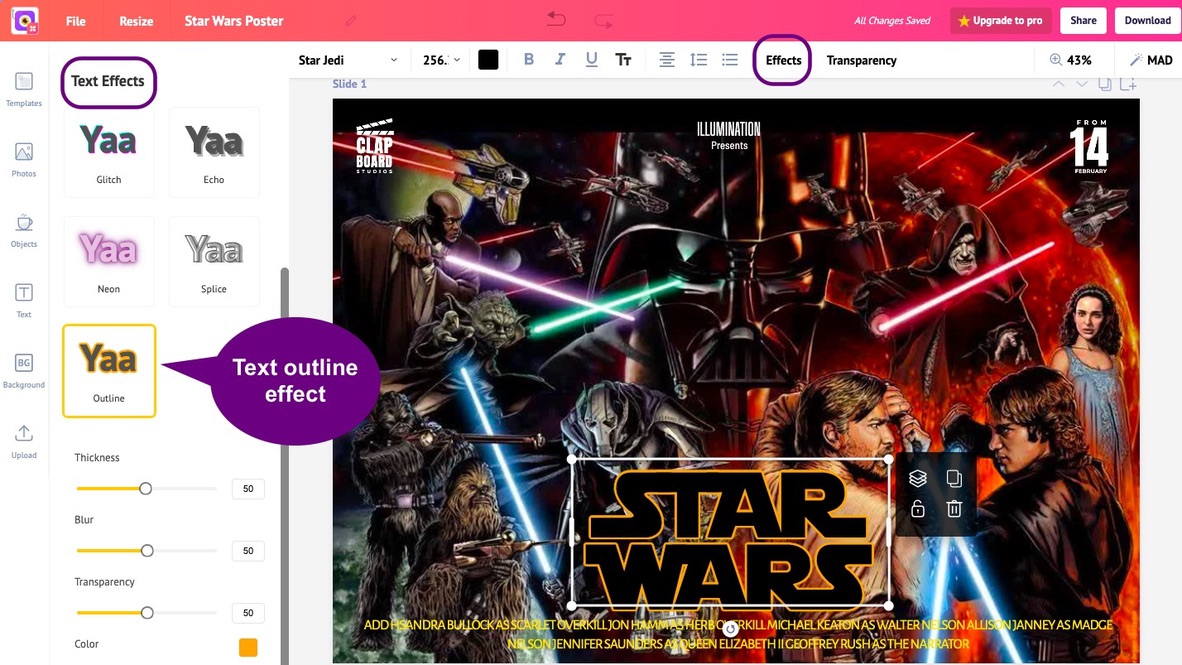 And, here is the poster that we got. This was one of the earliest movies in the franchise and characters have a cartoonish feel to them.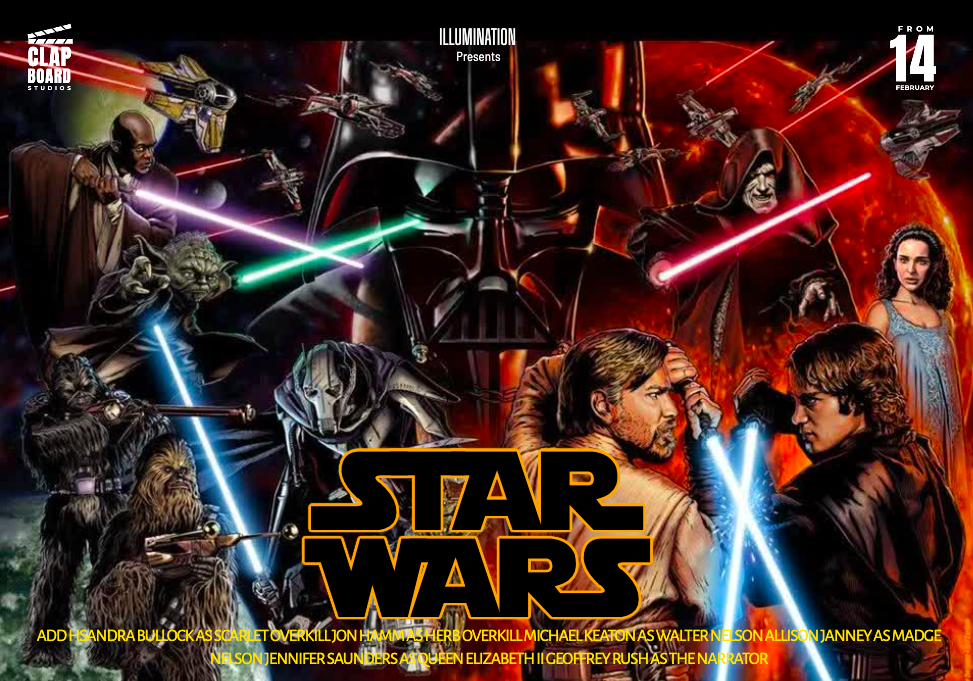 And, then we proceeded to create one more poster with the Star Wars characters. This time, we used a different picture and added an 'Echo effect' to the Star Wars font at the bottom. The black echo effect combined with the yellow color of the font makes the words 'Star Wars' a little more prominent than before.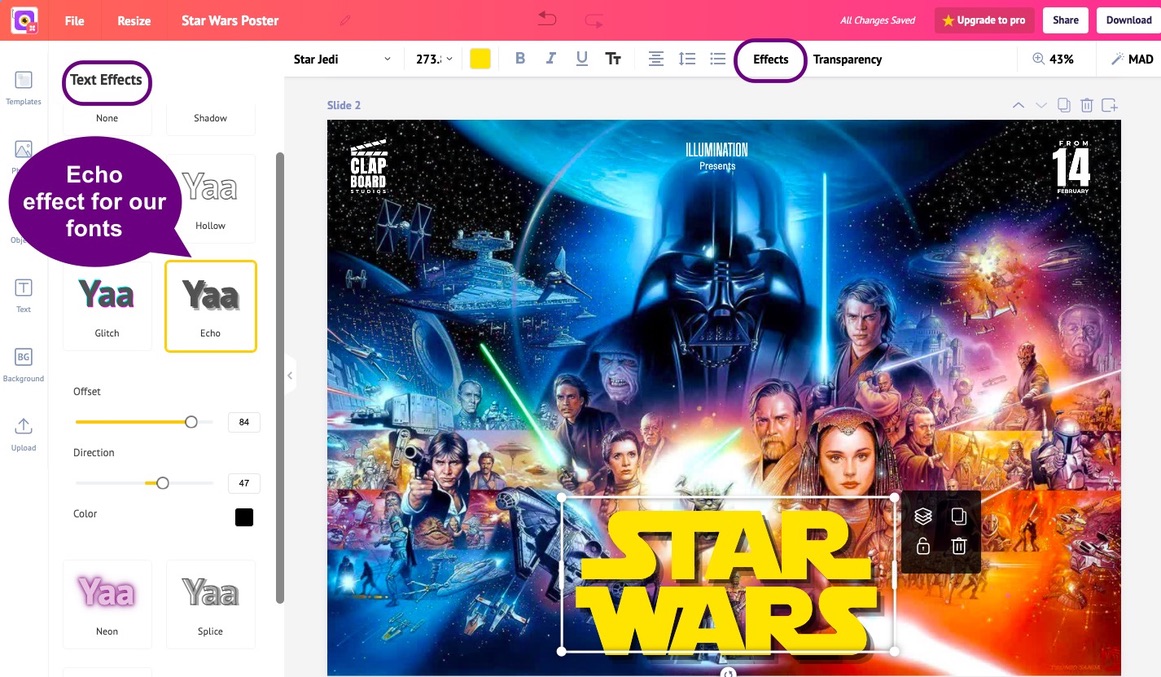 This is how the poster looked when we downloaded. The menacing look of Darth Vader looming at the background makes the poster even more stunning than it already is.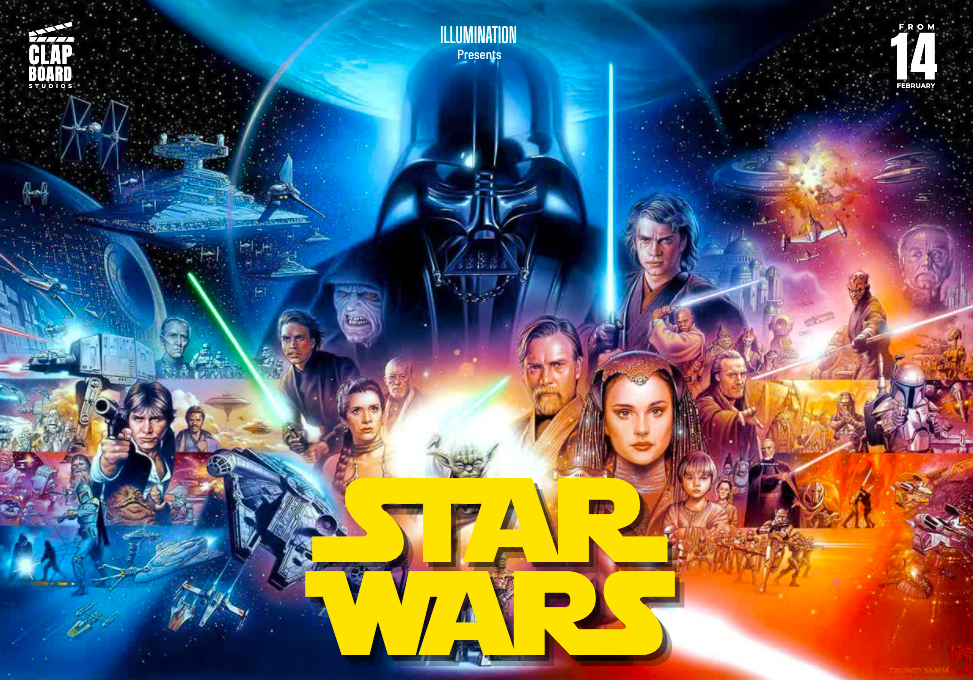 Finally, we had one more picture left with us which had a vertical orientation, but with ample blue space at the bottom of the picture. It helped us place our font in golden letters and admire its beauty. :)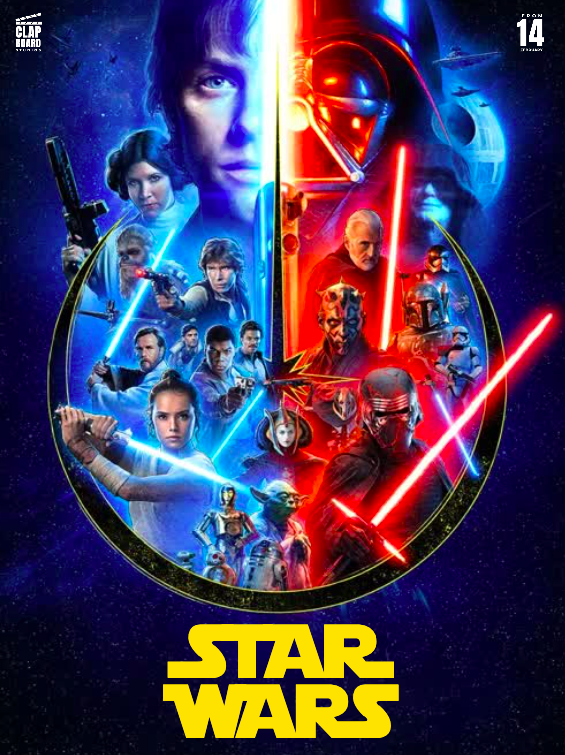 4
Designing a 24x36 Star Wars poster
Okay, let us now see how to create a custom 24x36 Star Wars poster with another picture. This time, we'll use a picture that has special effects.
Step 1 - Creating a custom-sized poster
We'll use Picmaker for this exercise as well. When you log into Picmaker, you'll land on the dashboard, similar to the screenshot below. For the purposes of this poster, we are using a Starter plan, but you could even use a Free plan for this. With Picmaker's Starter plan, you get tons of free stuff such as the ability to add an outline, 100 million pictures, resizing a design, etc.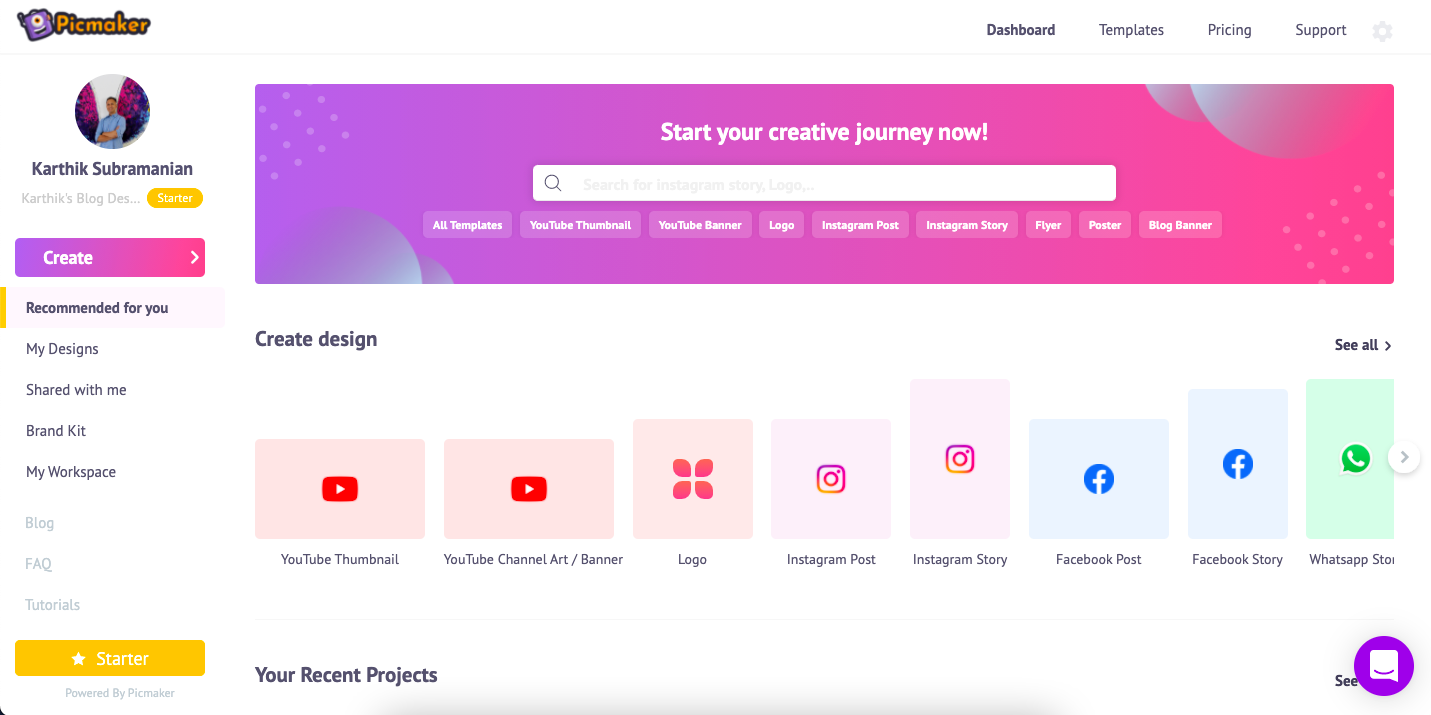 We will now choose a Custom size poster by clicking on the 'Create' button on the left-hand menubar. Or, you could find the Custom button on the 'Create Design' section of your Picmaker dashboard.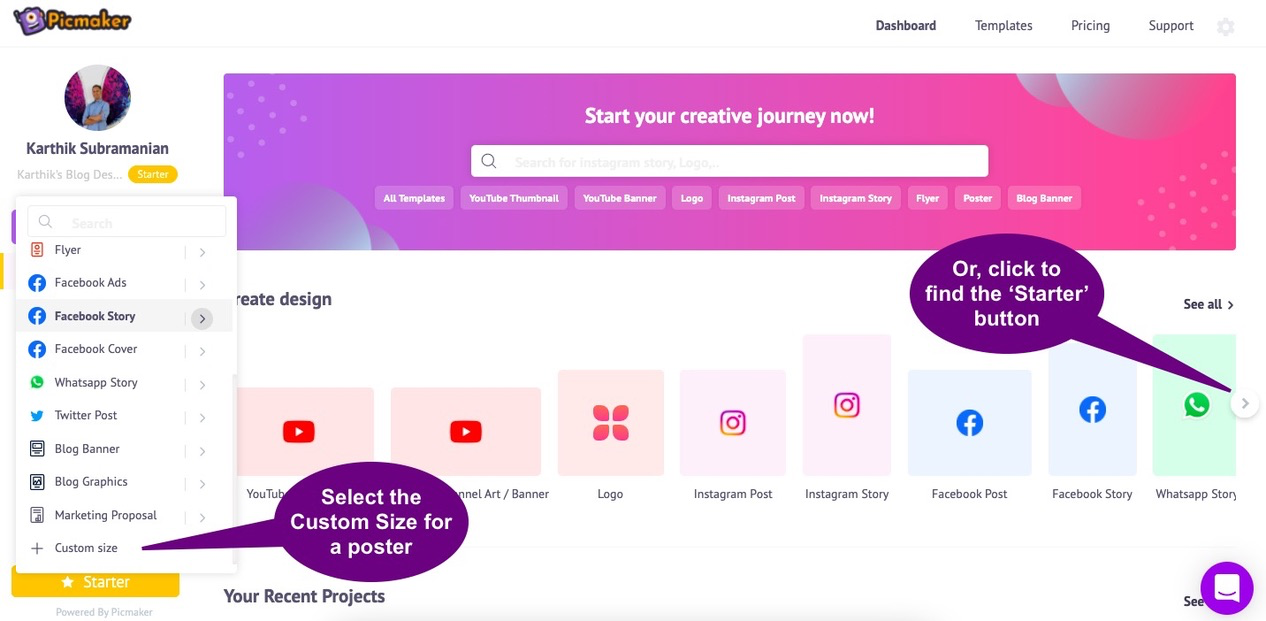 When you find the 'Custom Size' button, click on it and make sure you set the dimensions in 'Cm' and click on 'Create design' to get a large poster.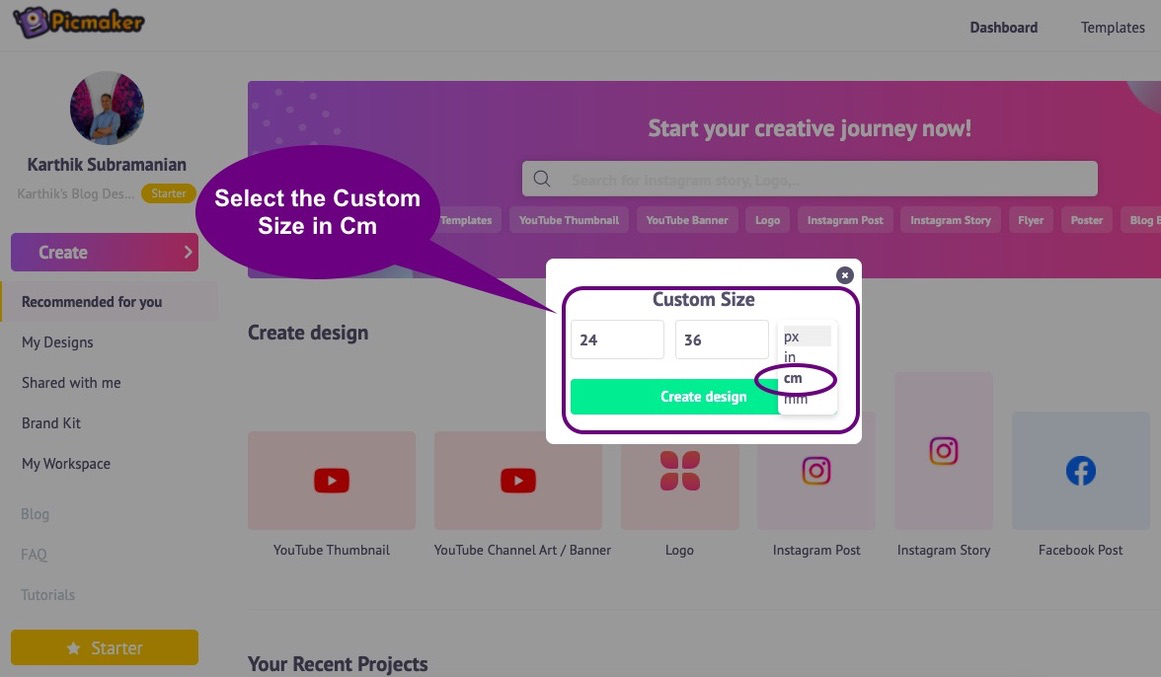 Step 2 - Choosing a picture for a 24x36 Star Wars poster
Now, you are ready to start designing your 24x36 Star Wars poster exactly the way you want it. We will now add a few pictures that can remain in the background of our poster.
In the screenshot below, notice how we searched for Star Wars pictures, and we got a Darth Vader picture in his full fury. While we generally do not prefer villains on our poster, we made a concession for Darth Vader because of his role as a tragic hero in the Star Wars saga. (Remember how he redeems himself by saving his son, Luke Skywalker, and kills Palpatine, and sacrifices himself during the process).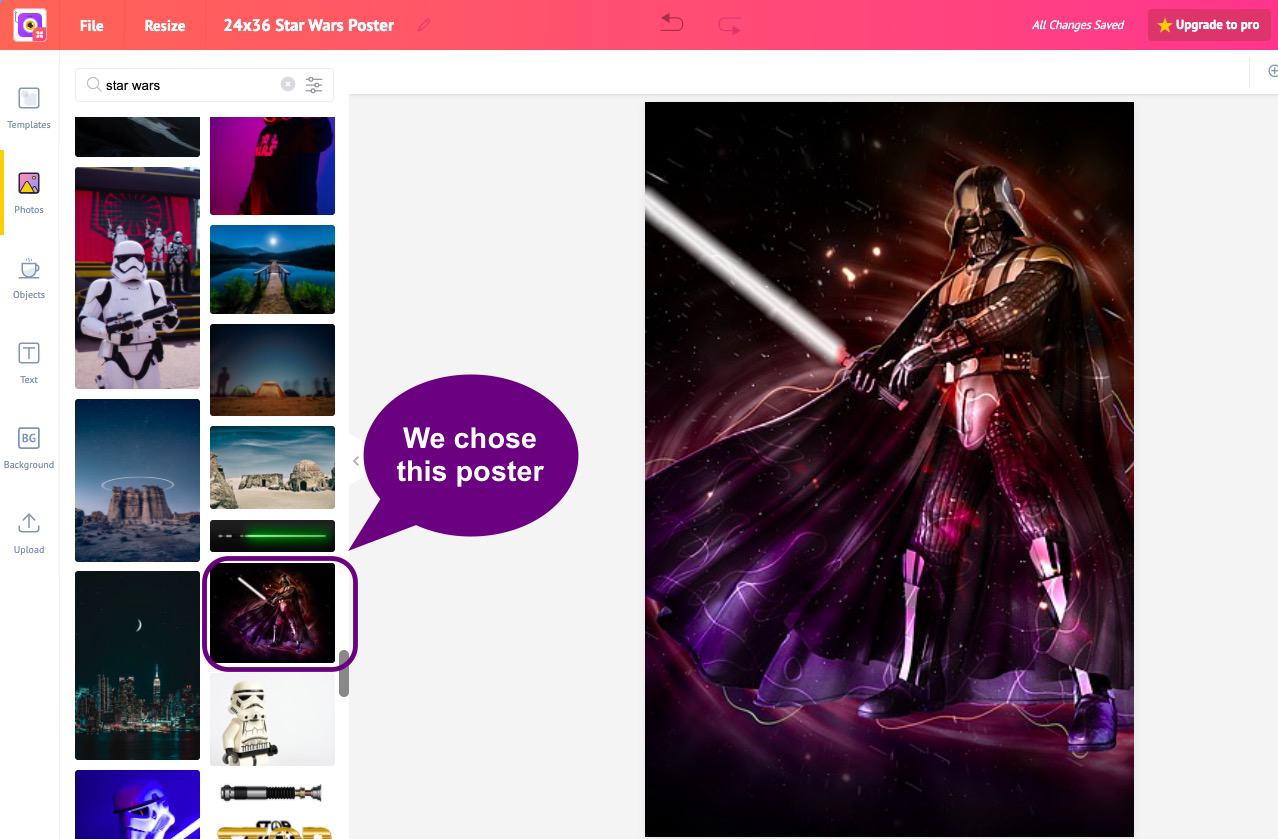 Step 3 - Adding the title
We will return to our Star Jedi font family and add a title to this poster to make it even more cool.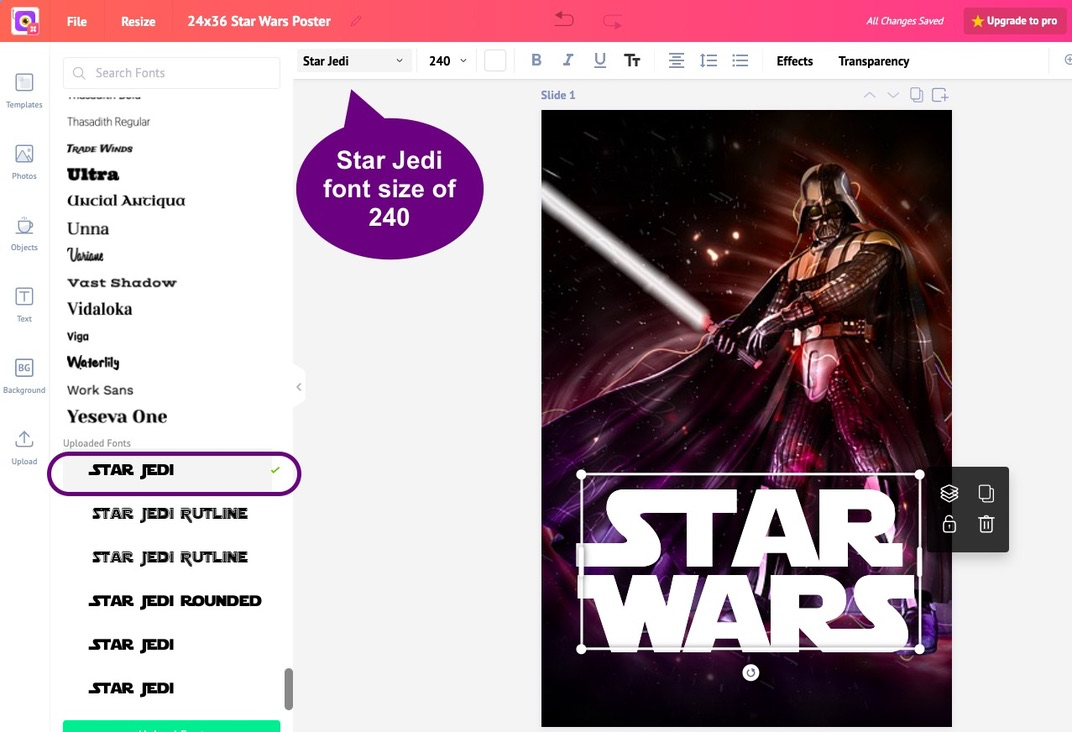 Step 4 - Adding a few extra elements
Now, we'll add a few extra elements to make it like a real movie poster. That includes names of actors, production houses, media houses, distributor names, etc. In the screenshot below, notice how we've added accompanying text both at the top and at the bottom of the poster.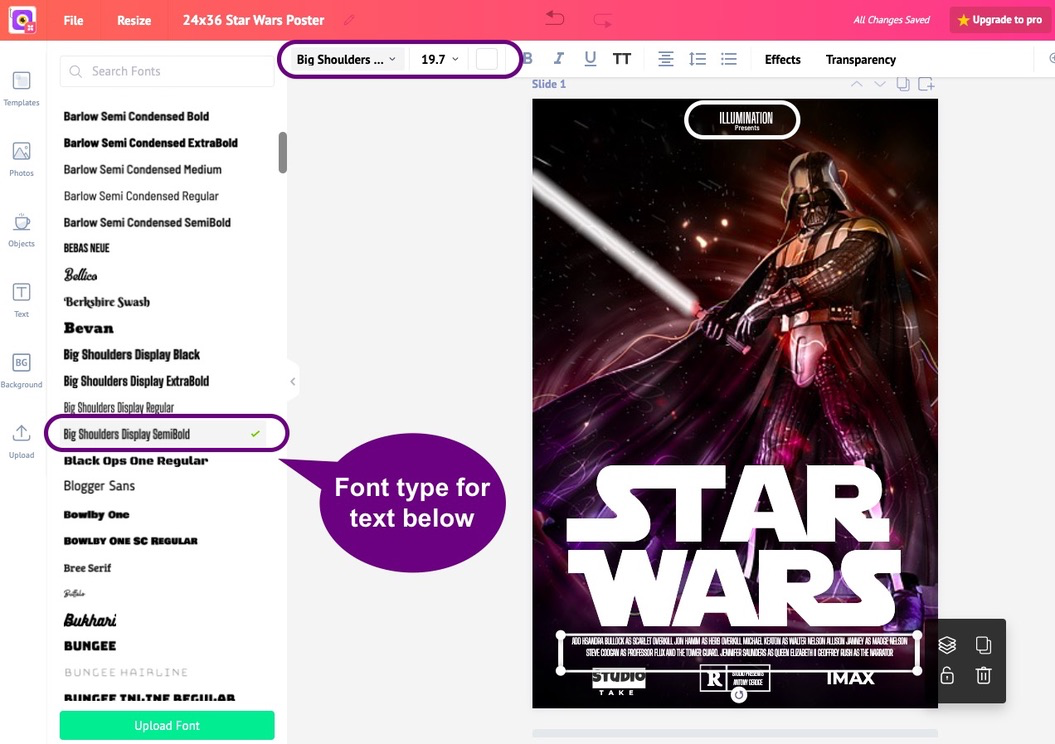 Finally, here's how our poster looks, when we're done with it. Not bad for a 10 minute effort!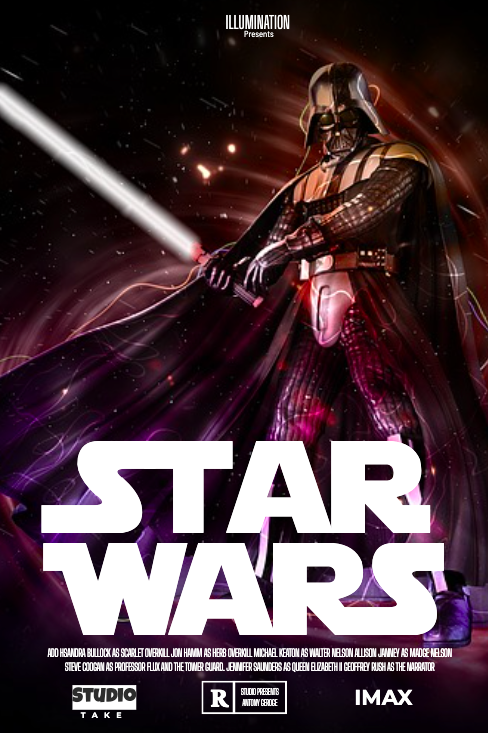 But, we weren't happy with just one of these, so we went ahead and created one more using Darth Vader's face. Here's how it looks.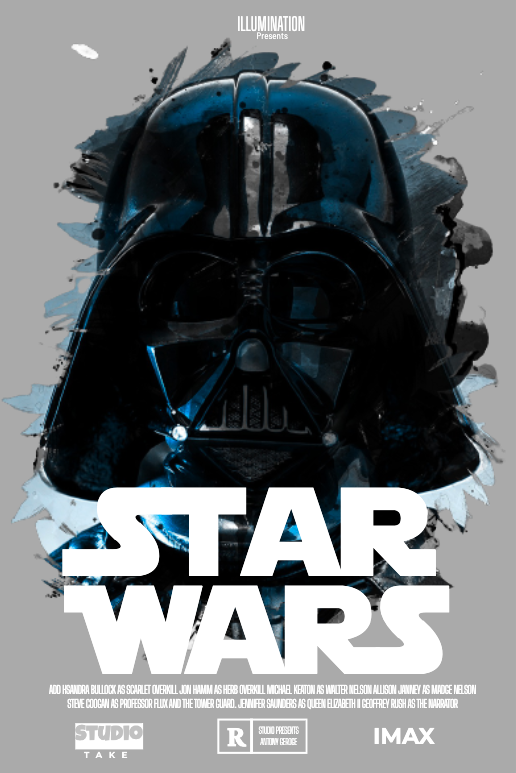 ---
5
Exploring more movie poster ideas
Now, let us explore a more movie poster ideas and templates. Picmaker gives you tons of ways to design awesome posters of your favorite movies. For example, if you're a wildlife fan, here's a readymade poster template that you can use right away. This poster template has a dark background, and goes well with the title.
And, then , we have a poster template for you that you can use for a comedy movie. This poster reminds of legendary actor Jack Nicholson's work in One Flew Over the Cuckoo's Nest is not created for a movie, but we can still use it by making a few tweaks.
This is how we used the above poster template to suit our needs :)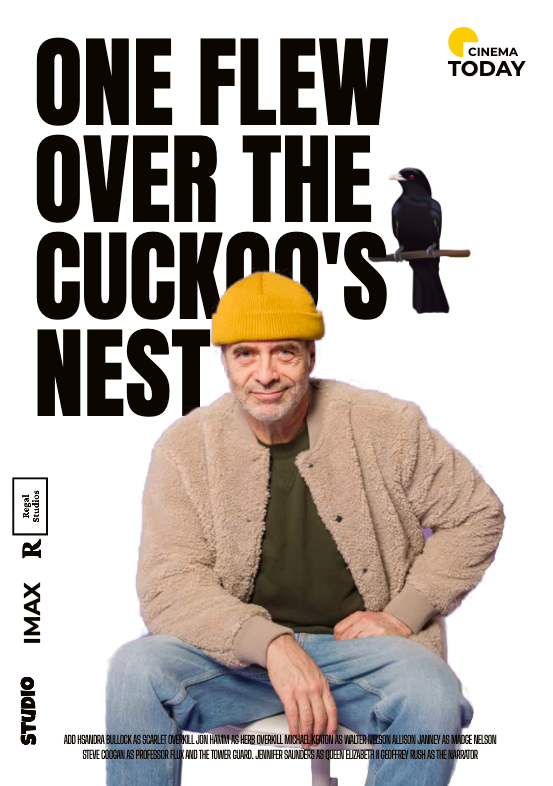 6
Summing it up
Getting a Star Wars poster or any movie poster ready with Picmaker will take you only 5 minutes. The best thing about it is that you don't need any design skills to do it. All that you need to is choose a template and choose a picture. Our design template will have all the fonts, text boxes, shapes, etc. in the right balance for your movie poster.
ADDITIONAL READING: