[Infographic] How to Take Advantage of Video Marketing on Instagram: 4 Easy Steps For Success
Instagram is a multimedia-based social network and is one of the most popular apps in the world. People use Instagram to easily share their moments as pics and videos.
Besides, videos account for a significant portion of internet usage and can be very useful for them. And, they have become the most sought-after kind of content among social users, especially Gen Z.
Instagram allows you to post videos via regular posts, stories, Live, and IGTV. It is perfect for marketers to build a following with their audiences and grow their businesses through smart video marketing techniques.
Marketers use Instagram to broadcast their messages via various types of videos, such as:
Branded videos: Used for brand storytelling and introducing the brand.
Product videos: Focused on specific products explaining why they're good for customers.
Tutorial videos: Helps in training customers to make the most of the products.
Educational videos: Enables brands to become a thought leader in a specific industry or niche.
Live videos: The best way to engage with the audiences face-to-face.
User-generated videos: Shared by users and customers while using a company's products/services.
But, videos are hard work, and you need to flex your creative muscles to put out videos that constantly engage your audience. Besides, you need the relevant expertise, content ideas, and time to produce high-quality videos. And, with a little fun in your videos, you can gain tons of impressions on Instagram.
Moreover, being consistent in style and posting schedules is critical to gain more visibility within your audience based on your location and niche. Having a unique style on all your videos can make your content recognizable by niche audiences.
But, in order to succeed via video marketing on Instagram, you need to adhere to a few best practices. It isn't a silver bullet, but sticking to it can yield incredible results in the long run.
Let's dive into it right away!
Infographic: 4 Steps to video marketing success on Instagram
We invited our friends at Social Tradia to share the best tips for video marketing on Instagram. And, they put together this lovely infographic that explains the 4 steps to take advantage of video marketing on Instagram.

Let us now go over each step so that you can implement it easily.
Step 1: Align Instagram Videos with Your Marketing Goals
When you've determined your marketing goals, work backward to get your Instagram videos to fall in line with them. For example, a startup could focus on spreading awareness about their product/service in Year 1. So, these could be tutorials or How-to videos.
On the other hand, more established companies could produce behind-the-scene videos that showcase their culture and camaraderie in their offices.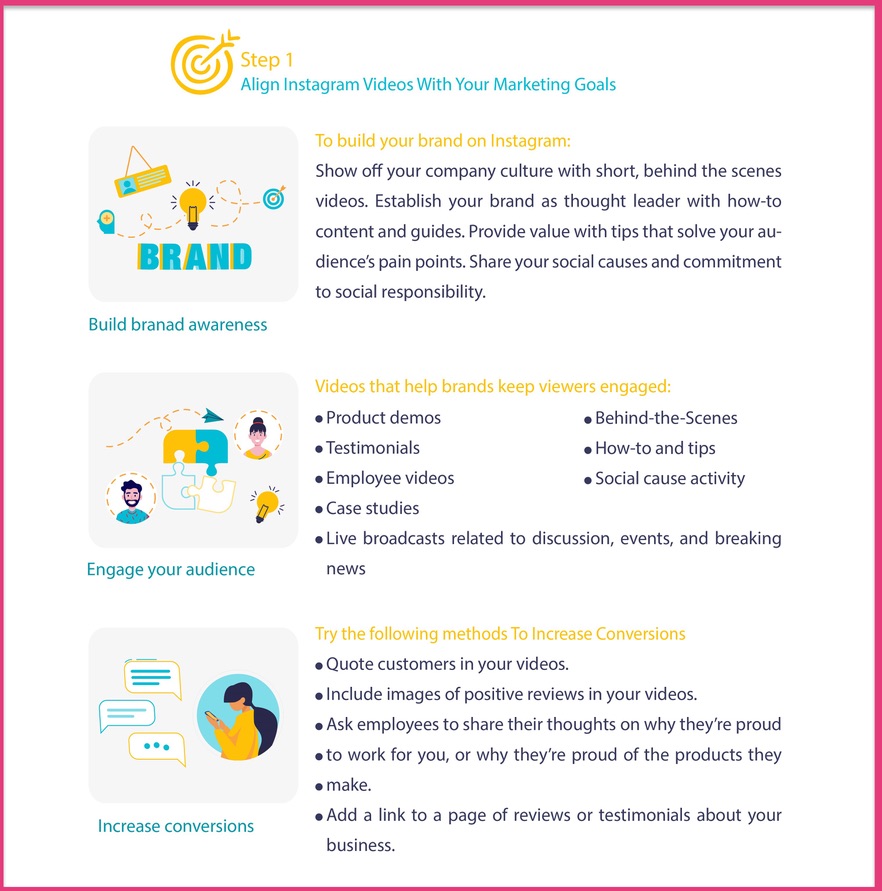 Here're the different types of videos you could produce on Instagram:
Product demos: Showcase how your product solves real-life challenges
Testimonials: Tell your leads why your existing customers love your product/service
Employee videos: Get employees to shoot videos with their mobile phones (Don't forget to set the guidelines/standards)
Case studies: Explain how you solved a problem for an existing customer
Behind-the-scenes (BTS): Show the real challenges your team goes through with BTS videos
How-to and tips: These videos help you get more leads/interested audiences because you can integrate your product/service with a customer problem
Social cause activity: Always make sure you're espousing the right social causes
Step 2: Produce High-Quality Video Content
No matter what videos you create, make sure they are high-definition. Low-quality videos do not attract audiences and have poor retention rates. Besides, while creating high-definition videos are important, don't forget about their ideal resolutions, duration, and aspect ratio.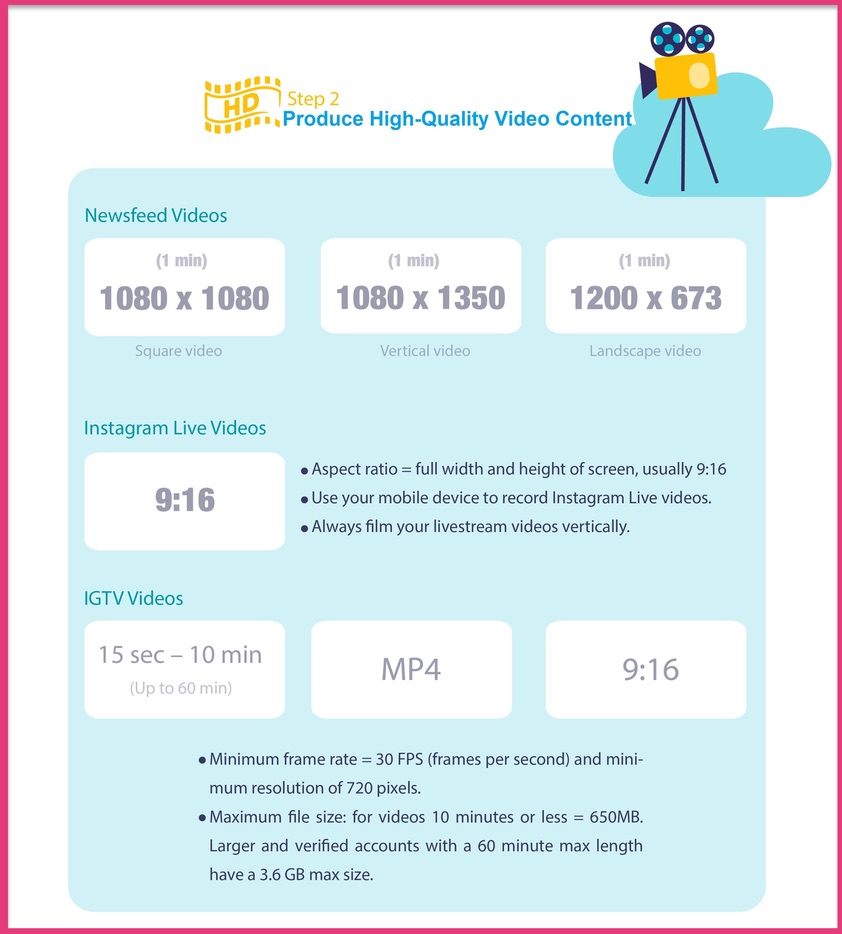 There are mainly 3 types of videos on Instagram.
Newsfeed videos: These videos are 1-minute long, and come in three types - Square, Vertical, and Landscape. Square videos have a screen resolution of 1080 x 1080 pixels. Vertical videos have a screen resolution of 1080 x 1350 pixels, while Landscape videos come in 1200 x 673 pixels.

Instagram live videos: Using Instagram live videos, you can reach a large audience at a pre-announced time and use a topic. For example, if you're a badminton coach, you could show a live video of how to play the backhand at a specific time. Instagrammers often use this feature for an interview with different personalities, chats, etc.

IGTV videos: These videos last from 10 minutes to 1 hour. Use this to showcase longer videos such as product reviews, documentaries, detailed interviews, et al.
Step 3: Use Instagram Analytics to Improve Your Videos
Knowing what videos are working like a charm for you is key to a successful Instagram strategy.

So, how do you check the analytics of your Instagram videos? Go to your Instagram profile, click on Insights, and you will notice a lot of analysis of your content performance.
Tweak your content strategy based on these insights for better results.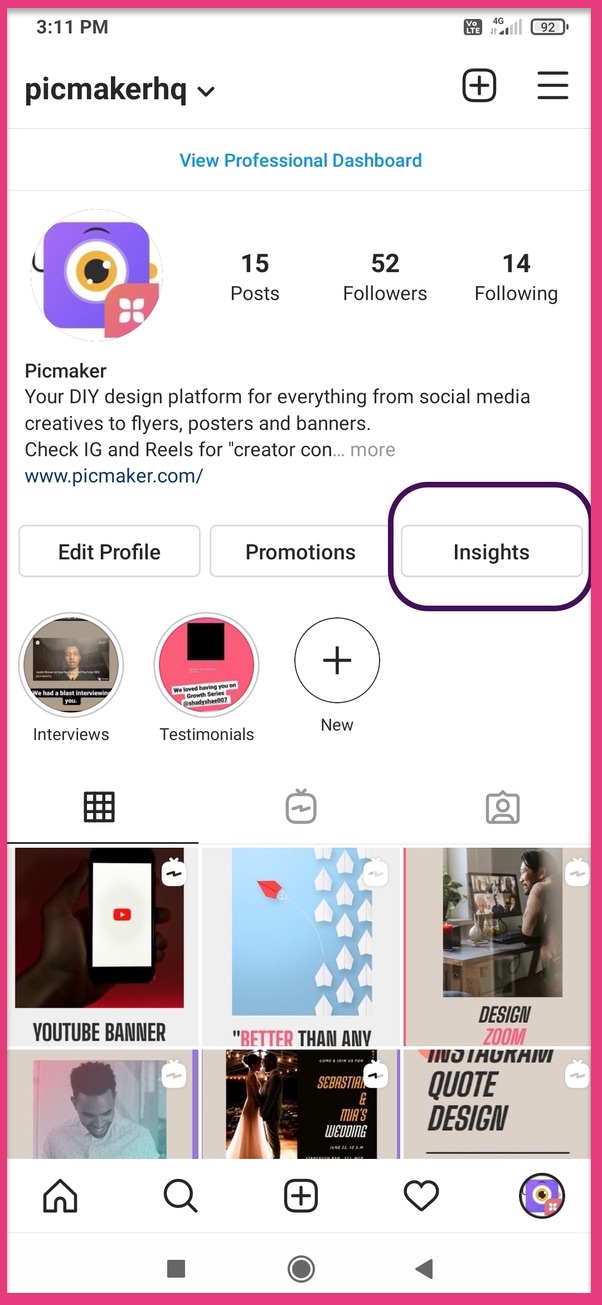 Step 4: Use Instagram Video Best Practices
Like any video strategy on social media, there are a few best practices that can help you go from 'good to great.' In the image below, we've captured a few of them that you need to follow to get the best results.
For example, responding to people who comment on your videos. Take the time out to respond to every single comment on Instagram. This helps the algorithms understand that a genuine conversation is taking place.
As a result, it showcases your video content to even more people across its user base. That is how videos go viral on Instagram. Not that every video will go viral on Instagram, but, following these best practices can help you score a home run faster.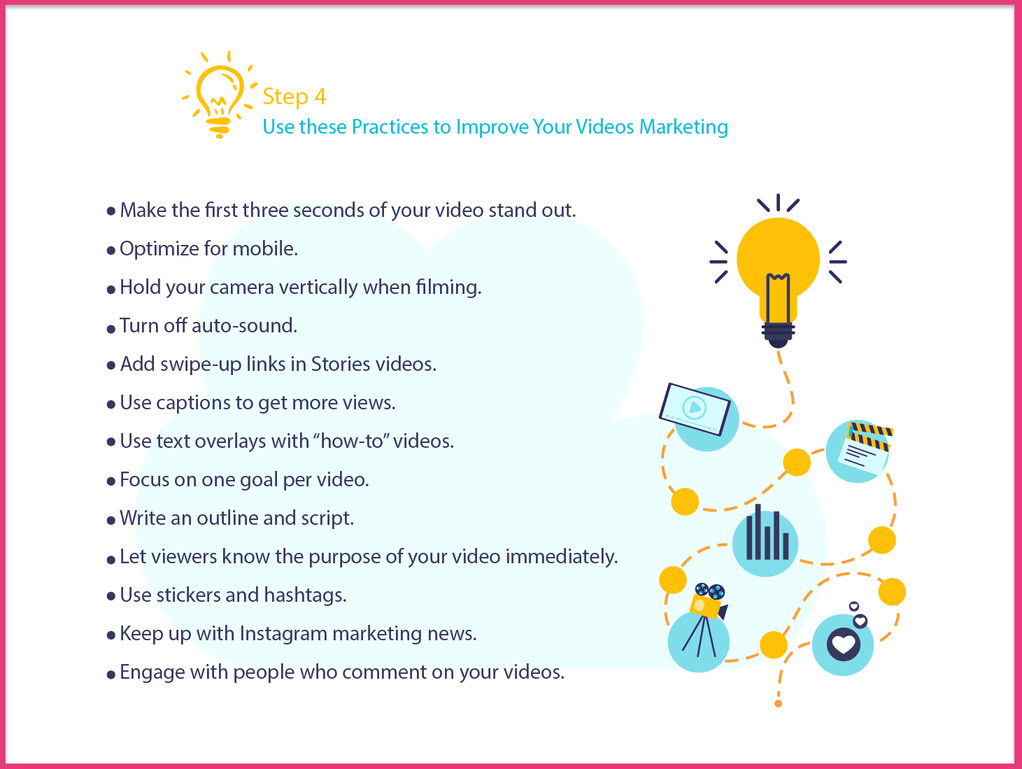 Conclusion
Like YouTube videos, Instagram videos are not easy to crack. It has a learning curve that all Instagrammers must go through before people take notice. It is easy to get lost and trapped in content that is not useful to anybody.
So, remember to create that content that follows the 3Es. It must either Educate, Entertain, or Enlighten your audience. If your video does not do any of these, you're spinning the right yarn.
Besides, far too many beginners want to satisfy everybody in their audience. In fact, you must aim to create videos that satisfy one person's needs at a time. One person's word of mouth travels much faster than you can imagine.
---
This blog was contributed by Tom Siani, an online marketing expert. Tom works with well-known brands to generate traffic, create sales funnels, and increase online sales. He has also written blogs about social media marketing, brand marketing, blogging, search visibility, etc.
---
This Instagram marketer failed in 15 different businesses but now runs a successful agency that teaches people how to market on Instagram. Read his inspirational story.
How to Improve the visibility of your Instagram posts? 5 graphic design tips + 11 free templates to put them into action.
If you're looking for templates and inspiration, don't forget to check out how to create awesome Instagram Stories for your business with Picmaker's Instagram Story Maker.
Besides, if you're looking to create stories that don't look like a flock of sheep, try our Instagram Post Maker.
More than a billion people use Instagram daily. Here're 7 ways to use Instagram Stories for your business and get more people to notice your brand.