15 Best Instagram Post Ideas With Images to Drive Huge Engagements in 2022
Ever seen a flock of sheep? Think you can spot the difference between all the little ones in there? Probably not. That's exactly what happens on Instagram too.
People, especially businesses, are blindly following what others are uploading on their feeds, without actually knowing what's relevant to their brand. When you simply copy others' ideas, it will not take much time for your post on Instagram to sink in the large ocean of 95 million photos and videos shared every day!
You have to separate yourself from the pack and provide your target audience and followers with content that they can't get anywhere else. We know that coming up with unique post ideas regularly can be difficult. So we have rounded up 15 best Instagram post ideas that will make your audience stick to your feed.
Before we begin, here's a pro tip:
"Whenever you design a post to upload on Instagram, make sure it does one of these four things: Inspire, Entertain, Educate, or Reveal. After designing it, make sure that you upload it at the best time to post on Instagram to get maximum reach and engagement."
So let's see the ideas that will benefit your followers, drive traffic to your website, and keep your audience interested in your business.
15 creative Instagram post ideas for every brand
Take a look at our different ideas, and choose the ones that suit your business or brand.
1. Share a Tutorial
Tutorials are very popular on Instagram. Especially after the introduction of Reels, people are finding ways to create how-to videos in less than a minute. They are quick, informative, and keep your audience engaged till the end of the video. You can create tutorials on any topic that relates to your industry. These videos can be posted on your Feed, Reels, or IGTV (if it's a longer tutorial).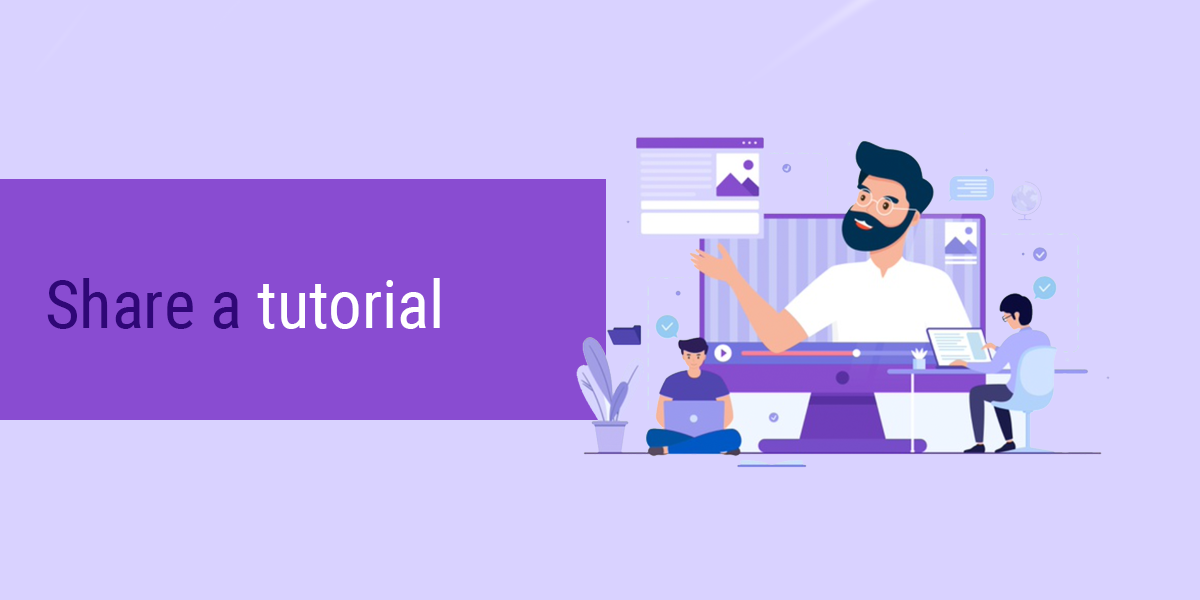 For example, if you own a restaurant, you can show your followers how they can make one of your dishes on their own. Your customers and followers will be happy to see such content. You can also show how your products are used, which will increase your sales along with engagement.
2. Take people behind the scenes
Users on Instagram want to see your personality as a brand. They don't just want to be bombarded with product pictures every now and then. One great way to add personality and humanize your brand is to share behind-the-scenes content. By showing your followers what goes on in your workspace, you will make them emotionally invest themselves. They will feel like a part of your business.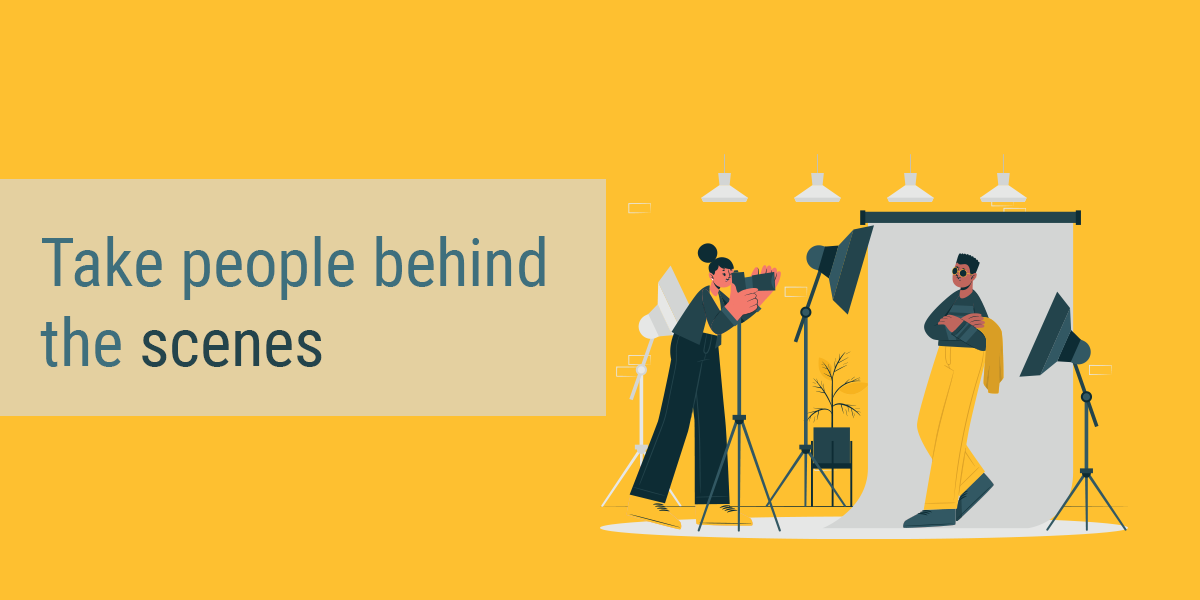 Such content can include anything from showing your employees working at their desks, the celebration of an employee's birthday, fun Friday games, a little pizza party - anything that shows the fun side of your office. This will create transparency, build trust, and allow your followers to know your brand at a more intimate level.
3. Run a contest or a giveaway
Contests and giveaways are the best way to quickly get a lot of engagement on Instagram and build excitement around your brand. They will get people talking about your brand. Everyone loves to get free stuff and even the ones who don't win can become your potential customers after they see how much buzz your contest has generated.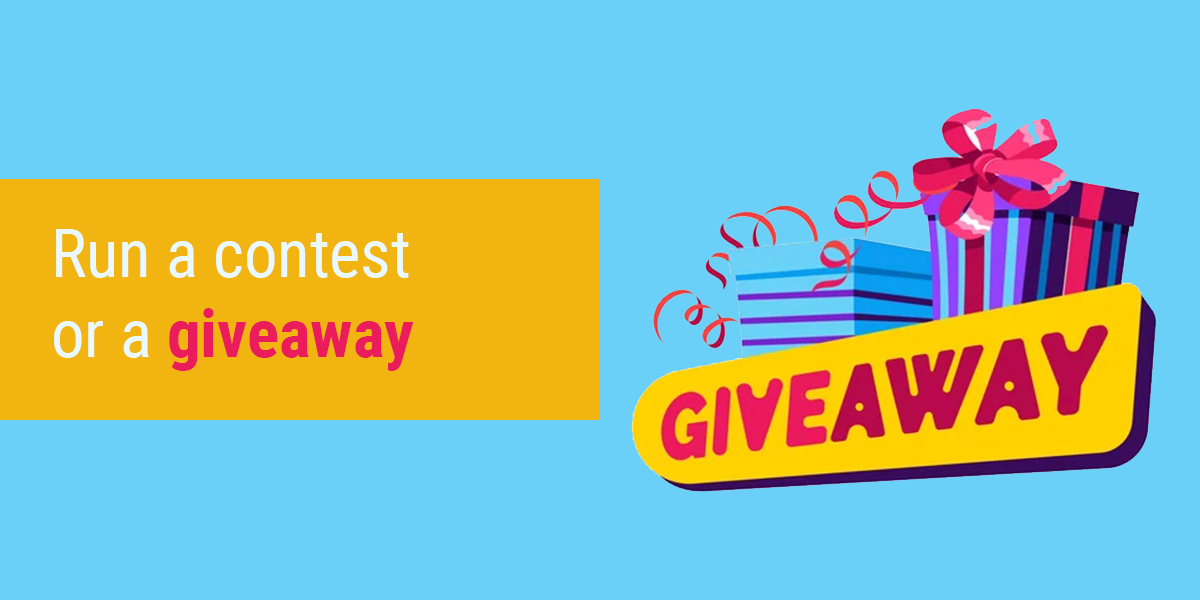 Just make sure to offer an appealing prize for the giveaway. To make your contest a success, ask people to comment on your giveaway post and tag their friends, share one of your posts on their social media accounts, like your post and follow your account, or share your giveaway post on their stories by tagging your account and using your hashtag.
4. User-generated content
You don't have to create every piece of content by yourself! And what's better than content generated by your customers themselves? Re-share your customers' content showcasing your products in use, whether that's a collage maker or another tool which makes the creation process easier. By doing this, you will not only appreciate your customers, but also build brand awareness and social proof.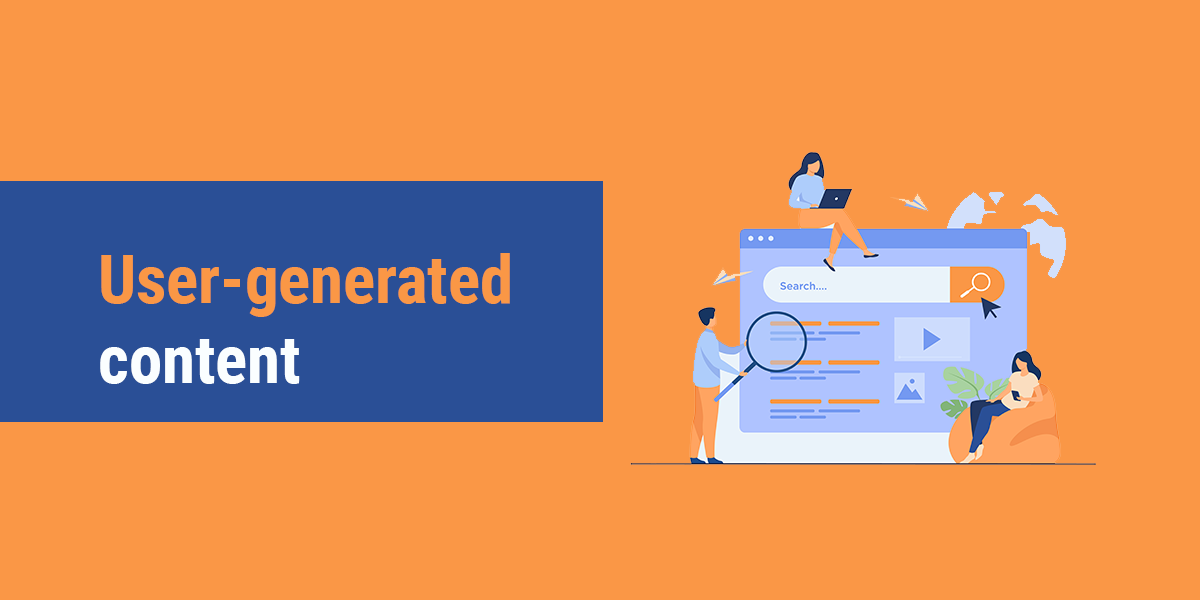 Apple uses this Instagram post idea all the time. It encourages its users to use the hashtag #ShotoniPhone and share their photos and videos. 73% of people say that they trust the recommendations made by other people on the internet. Thus, your customers will actually convert into micro-influencers in this case. You can also encourage your customers to share photos and videos of your products on their profiles in exchange for a discount coupon.
5. Share the mistakes you've made
To err is human. Everyone makes mistakes, humans aren't perfect. So, don't shy away from admitting the little mistakes you make in everyday life. Obviously, you don't have to share the email from an angry client saying that you screwed up their order. However, you can snap and show the little mishaps that might happen with everyone out there.

For example, say that you own a bakery. Show the results of that cake base that you left in the oven and forgot. The point here is not just to show the mistakes that you made, but how you corrected them after. This will humanize your brand and build trust as well, as your followers will know that you won't provide them with malfunctioned products in any case. If you don't wish to upload these as posts, they can work as a great Instagram story idea too.
6. Jump on a trend
Have you heard about the bottle cap challenge or the mannequin challenge on Instagram? They got viral like wildfire! Every second person on Instagram was doing this trend.
Following popular trends is a great way to inject some fun into your brand's profile. Obviously, you don't have to follow every other trend that comes up on the platform. When a trend appears that is relevant to your brand and doesn't hurt your repo, don't think twice to jump on it.
Be sure to follow it the right way. Otherwise, you will fall into the fellow kids territory - it's when brands try to follow trends but fail miserably! Along with creating good content, write interesting captions and use trending hashtags. It will increase the reach as well as engagement on your post.
7. Recent and past projects
This is a great Instagram post idea for writers and the ones in creative business. If there is any project that you are working on, don't hesitate to share it with your followers. If you already have an in-depth blog or press release published about your projects, create an Instagram post showing bits and pieces of your work, and then point it towards your blog. You can also share work-in-progress posts and build some hype around your work even before it gets completed.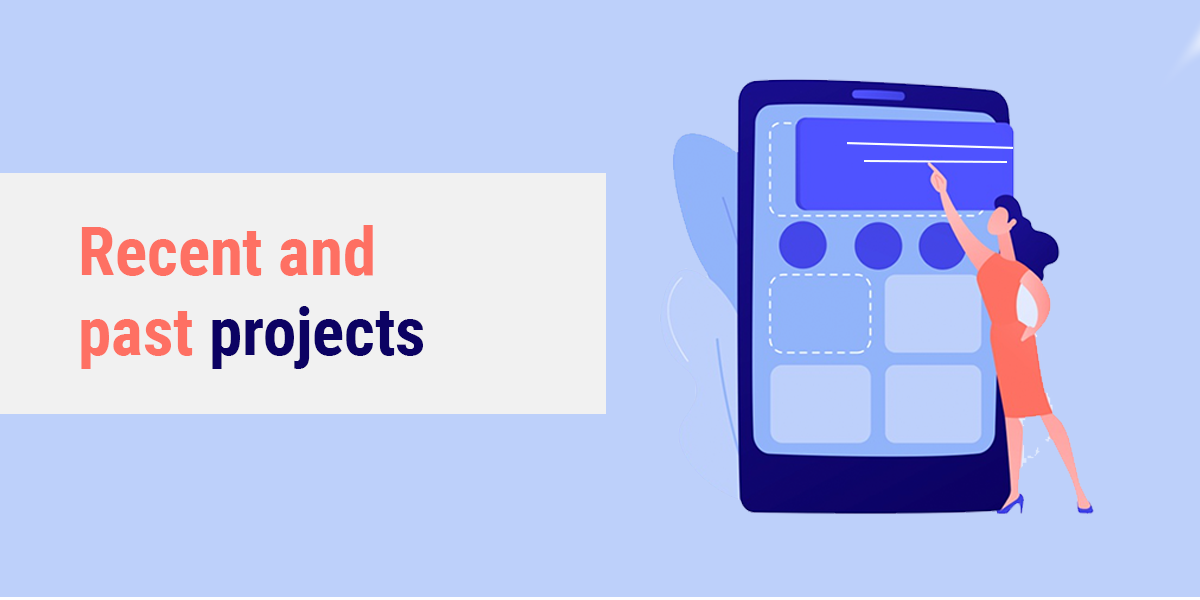 Also, share past projects from your work portfolio and take advantage of throwback Thursdays. If your projects are visually appealing, you can also ask your followers which one they liked the most.
8. An influencer using your product
Have you reached out to influencers for promoting your brand? Or see an influencer using your products or services? Share those photos and videos on your feed and stories. It is a great way to improve brand awareness and create social proof. Your target audience knows those influencers, and thus when they see them using your products, they are more likely to purchase from you.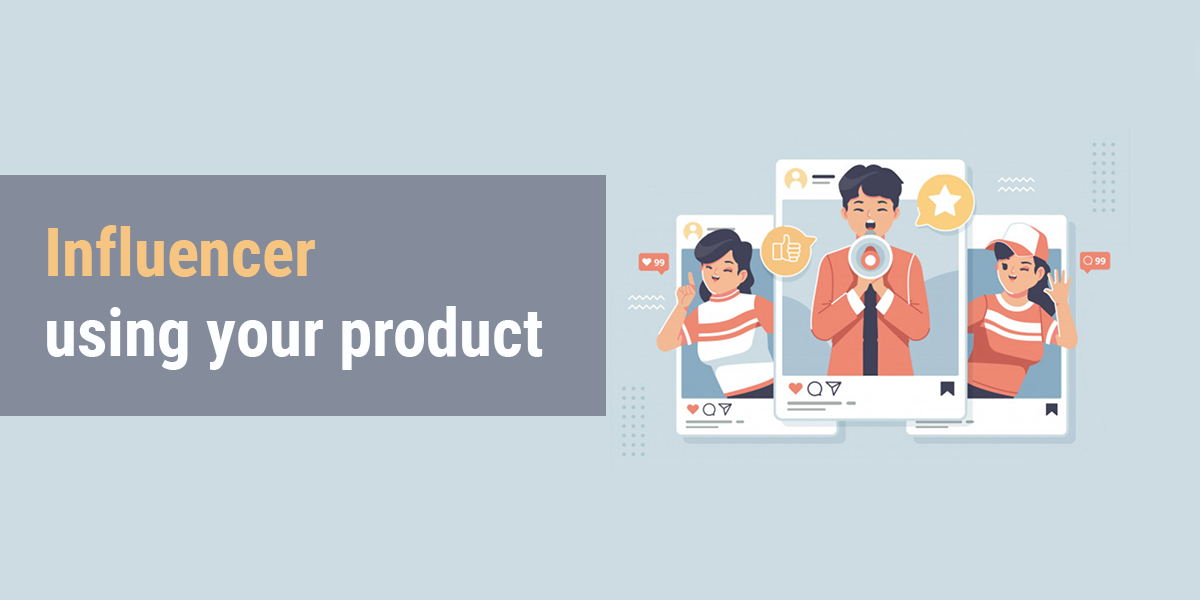 Find out influencers that are related to your brand, and collaborate with them to promote your products. Big name influencers with millions of followers aren't necessary. You can tie up with micro or nano-influencers and get crazy results for your brand. They are more affordable and have a highly engaged audience as compared to the big shots.
9. Repurpose old content
As a social media manager, you might be aware of the effort and time that goes into collecting ideas and creating a single piece of content for Instagram. As you are putting in so many resources, you'd want to make sure that you get the most out of every post that you design. And the best way to do that is by repurposing your old content.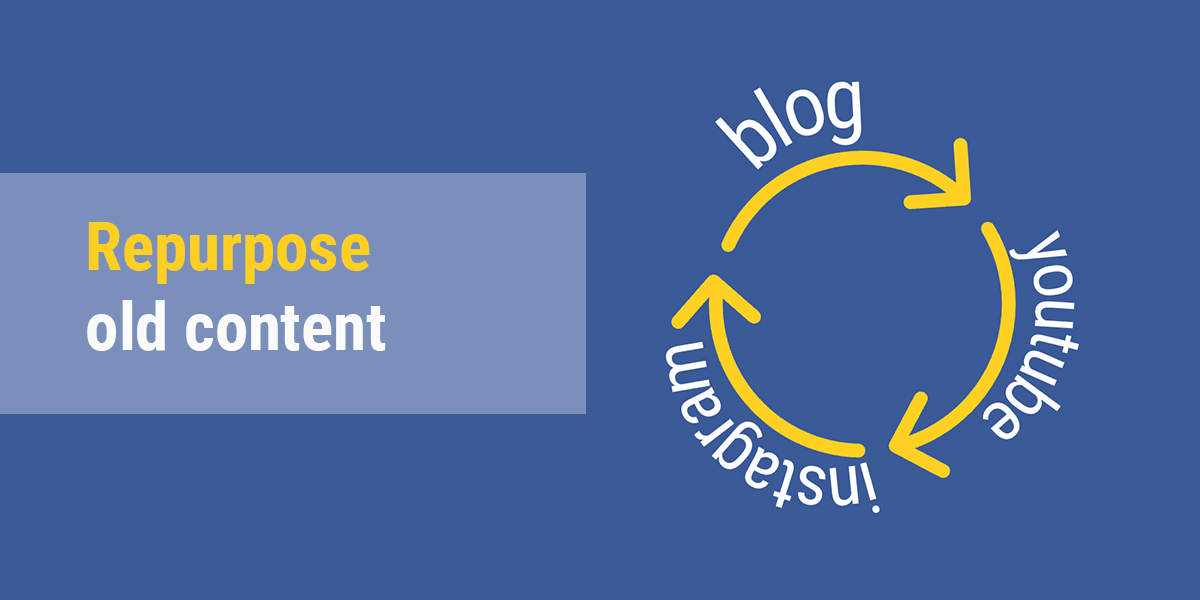 For example, if you have written a blog, take small excerpts from it and design an Instagram post that points people towards the blog. The same goes for YouTube videos, podcasts, and other pieces of content. You can also repost your older Instagram posts.
To make the process easier, you can take the help of a social media management tool like RecurPost, which offers the feature of creating recurring schedules. Look out for alternatives to HootSuite or Buffer, as these giants don't provide the option to create evergreen content libraries.
10. Reviews and testimonials
You got those nice reviews and messages from your customers appreciating your products - so why not show them off? Incorporating reviews and testimonials in your Instagram post strategy will help build credibility for your brand.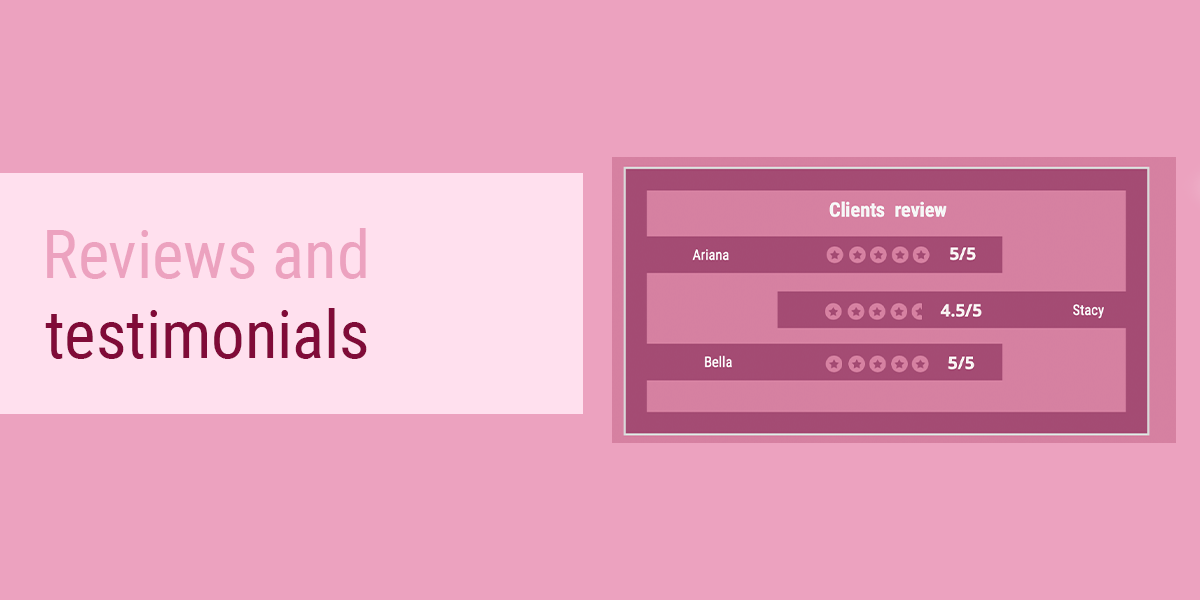 You can take a screenshot of the reviews and create a graphic. Or you can directly repost the image or video that your customers have uploaded on their profile. These kinds of posts legitimize your brand and motivate other people to shop and leave reviews. They make your customers know that their feedback is valued.
11. Ask for opinions/ Run polls
Social media is full of people who love to share their opinions. You can also ask for your followers' opinions and capitalize on that fact. What do they think about your new product launch? Are they interested in signing up for your newsletter? What topics do they want you to write about in your blog posts?
Ask simple questions that don't require much thought. Take this post idea a step further by hosting polls on Instagram. Give two or three options and ask your followers to choose one. Don't just collect their suggestions, work on them and implement them too.
Additionally, encourage your followers to loop in their friends on the conversation and polls. This will make your post reach a maximum number of people and increase engagement.
12. Share tips and tricks
Obviously, you are not going to write an entire blog as a caption for an Instagram post. However, sharing small tips and tricks will help your audience overcome an issue. Think about any hack that saved you or made your tasks easier, and share it with your audience.
Provide your personal life learnings in the form of tips and your followers will really appreciate it. For the post, include a photograph that illustrates the tip well. Carousal posts can be used effectively for sharing tips and tricks on Instagram. They also have a high sharing and engagement rate as compared to single image posts.
13. Give a dose of humor
If you think if you are funny and can crack people up even with one-liners, use that quality to your advantage. Everyone loves good humor. Memes work great on Instagram, especially when they are easily demonstrable in graphic format. They get shared like crazy - a good meme image or video post can get shared thousands of times and make your viral marketing strategy a success.
Just keep in mind to use appropriate humor. Don't post anything that can strike a negative conversation amongst your followers. Stay away from posting anything about political or religious matters, as it can adversely affect your brand image.
14. Don't forget to promote your products
Above all, you are on Instagram to build your online presence as a brand. Sharing high-quality images of your products will drive sales and make your followers aware of what you offer as a business. While taking pictures of your products to put up on Instagram, avoid making them look like ads.
Show your products in a relatable setting where your followers can picture themselves. Along with an interesting picture or video, write an interesting caption too. Discuss the product features and benefits. Work on creating product posts that convey a feeling that you want people to feel when they see your posts.
Follow the 80/20 rule of posting here. 80% of your feed should be dedicated to informative, entertaining, or inspiring content. The rest 20% should be used for product promotion.
15. Share content from other social media accounts
Seen people posting their tweets' screenshots on Instagram stories and feeds? That's what we mean when we say that you should cross-post your content across social media channels. You can also share a small clip from your YouTube video and ask your followers to watch the full video on your channel. These kinds of post ideas actually work very well on Instagram.
Using this strategy, you can kill two birds with one stone - post on Instagram without creating extra content and send your Instagram followers to other social profiles (and vice versa).
The Bottom Line
Instagram is definitely one of the most powerful tools to reach your target audience and build brand awareness in a creative and engaging manner. And as discussed above, from sharing tutorials to tips, from posting behind-the-scenes to funny memes - these Instagram post ideas will provide lots of ways to leverage Instagram for your brand. So grab your laptops and start making your Instagram content calendar today!
---
Loved our thoughts? Alrighty! Now, if you're looking for templates and inspiration, don't forget to check out how to create awesome Instagram Stories for your business with Picmaker's Instagram Story Maker.
Besides, if you're looking to create stories that don't look like a flock of sheep, take a look at our Instagram Post Maker.
More than a billion people use Instagram daily. Here're 7 ways to use Instagram Stories for your business and get more people to notice your brand.
---
This blog was contributed by Sushan Sharma, a Digital marketing strategist at RecurPost, with 7+ years of experience producing advertising for brands and helping leaders showcase their brand to the correct audience. Sushan has been a part of RecurPost for the last 2 years and handles all the activities required to grow our brand's online presence. Having progressive experience in digital marketing aspects like SEO, SMO, SEM, Google analytics, and email marketing; Sushan has successfully created and executed astounding growth campaigns.