[2021] How to master YouTube SEO and rank your YouTube videos Ft. Justin Brown
We interviewed video marketer and YouTube superstar Justin Brown from Primal Video, to understand how he mastered YouTube SEO and climbed the Youtube rankings.
Here are some of our favourite snippets from this interview.
We hope you enjoy this interview and learn about YouTube SEO and video marketing.
If you would prefer to watch the video of this interview, consider your wish fulfilled below.
1
Q. Tell us about yourself.
Justin: Mike is my brother and my business partner at Primal Video. We've had a couple of other startup businesses before starting Primal Video. But it wasn't until I was working on a documentary project, where I had this amazing opportunity to be flown around the world to interview some of the top people in the digital marketing online space, did I get the idea for Primal Video.
These digital marketers were some of the nicest people and they built these massive followings and were having so much impact on their content. It was great to look at them just helping so many people with their knowledge.
I was talking to Mike and I was like "Look, we could probably do this. There are lots of people that need help with video. There are tons of people that don't like their job and what they're doing to bring in income.
So if we could start to help people with YouTube SEO or creating videos for any social media platform and start to share some tips and those sorts of things, it would work out really well".
Primal Video just grew from there, but it was inspired by the idea of was helping other people become really successful. That was kind of the light bulb moment for us.
And that's how Primal Video was born.
Jump back to the start of this blog post by clicking here
2
Q. What's your best lesson from YouTube?
Justin: We've learned a lot of lessons and we're still learning. I wouldn't say that we still have it all figured out on YouTube SEO secrets. It is as there's an amazing algorithm, an amazing beast that is constantly changing. But the biggest reason that we learnt when we started was that creating random videos does not work on YouTube.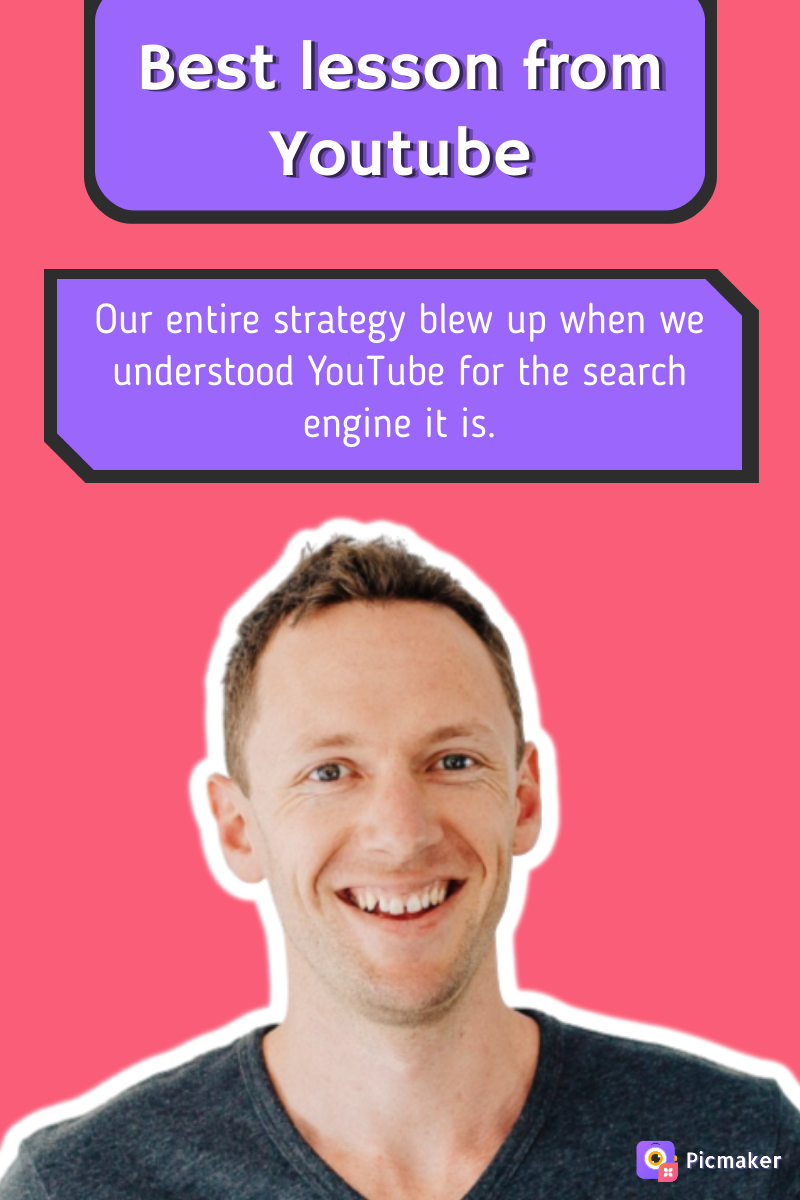 Starting out we were just creating random videos and no one was watching them. We nearly stopped uploading videos because it was a bad business decision for us at that point. We weren't getting that return from the amount of time and effort that we were putting into creating content.
But it all changed for us when we started to look at YouTube more as a search engine. We understood that YouTube is not just a place to throw videos and hope to get views. This is what we were doing, and it's exactly what many people were doing.
We had to work out what can we do inside our videos, how can we optimize our titles, descriptions, tags, and thumbnail images for YouTube SEO. We just didn't want YouTube to put our content in front of the right people, but also wanted people to click on our content and consume it.
It's been this constant journey of trying and testing and figuring stuff out, but I will say that we are strategic with every piece of content that we create now. We're doing proper research upfront to make sure that people actually want the content that we're going to create and they're actually typing that stuff into google or YouTube.
We create videos that people want, so that way I don't have to worry about my video going viral. This way I know that people will want the content because they are searching for it.
We just got to give all the information YouTube needs to put our content before the person searching for it.
Jump back to start of this blog post by clicking here
3
Q. What do you go after - Search traffic or trending topics?
Justin: There are so many different strategies to grow on YouTube and there are so many different types of channels or types of content you could be creating. If your channel revolves around trending topics and stuff that is happening right now, your goal still doesn't change.
You still have to give YouTube enough information, so that when people are typing in or wanting to see a trending topic, your content pops up. If you want your video to load up on that trending section you've still got to let YouTube understand what your content is about. You still have to get the basic YouTube SEO right for your videos.
Even if you're not trying to show up in search results, you're still doing some research to understand what the trending topics are right now. You still have to figure out what people are typing in to find those trending topics.
What this means is that you're lining up your content with what people are typing in, even if it's a trending topic.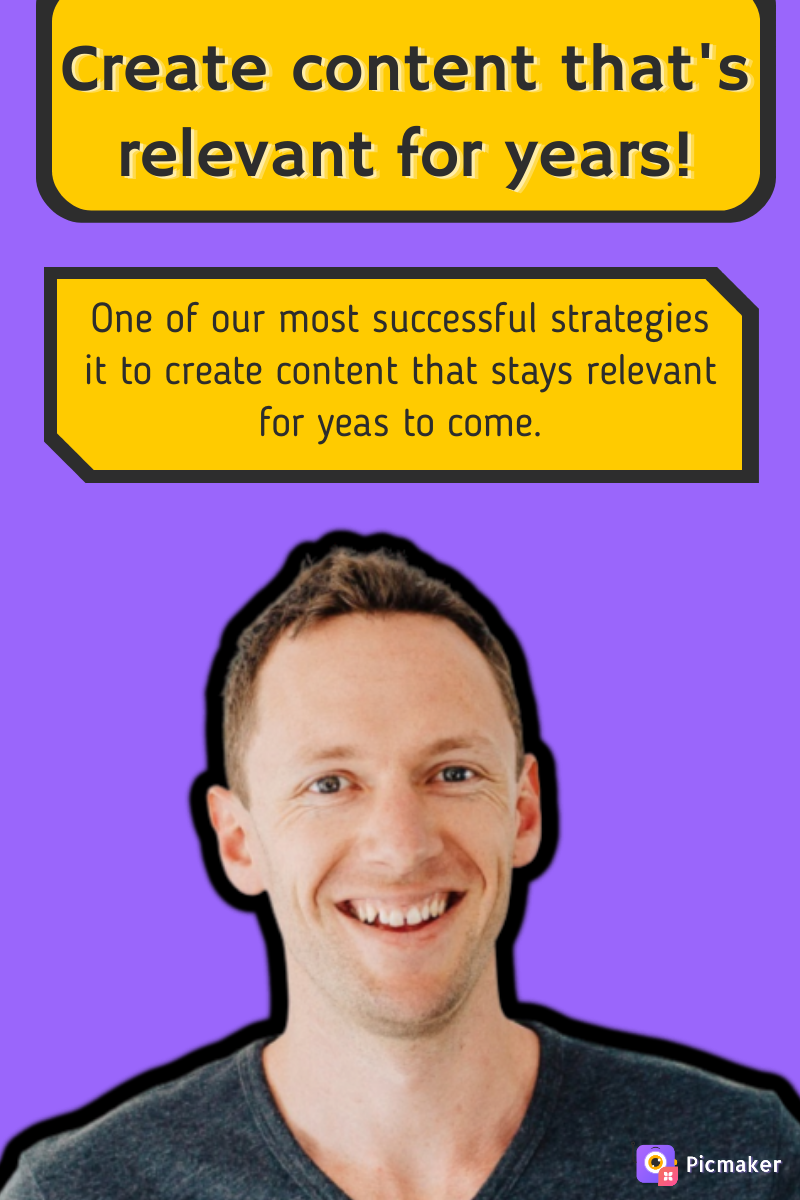 But as you said, it could be that a trending topic might show up for a week or a month and then completely drop off. So that's why for us we've chosen not to do too many videos that are based on trending topics.
I'd much rather create content and have the video stay relevant for years on Youtube. YouTube is our business tool and we are thinking about each piece of content we put out there. We have a ton of videos that are six years old and are still bringing in a ton of views every day, with no extra work from me. That's more of what we'd like to see and that is what makes sense for us in the long term.
Jump back to start of this blog post by clicking here
4
Q. What does Justin Brown do in his spare time?
Justin: I'm very fortunate to live very close to the beach and I also have a small family. I've got two young kids, so my focus is to use YouTube, to have the life that I want.
I want to help other people have the life that they want. So outside of YouTube, we're looking for fun things to do and fun ways to spend our time. That's the same with the team that works with us. We're very specific and we don't want to have a massive team or a massive global business. We want to be able to shift and pivot and travel whenever we want.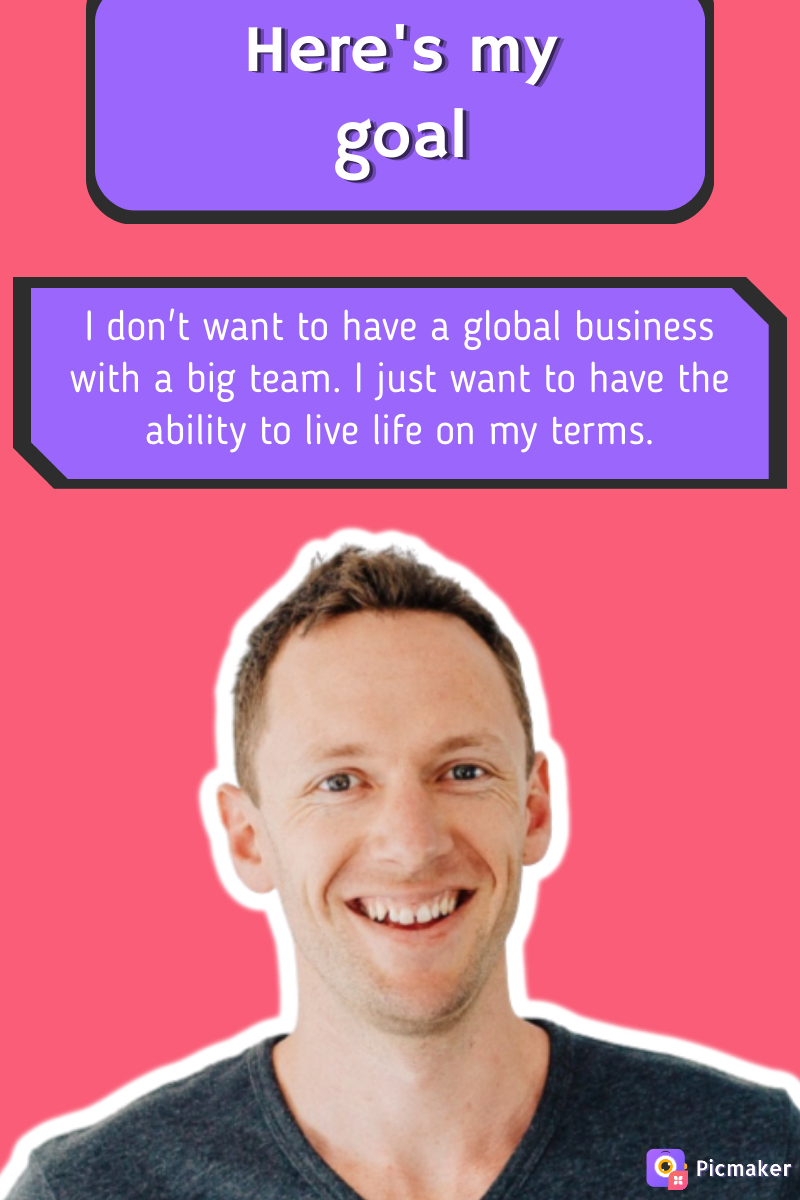 We're looking for the fun stuff and we try to get all of our team to work in the areas where they are pumped to work in. Now, obviously, there are times where we all have to do things that we don't want to do. But yeah my background is in video production and that's where the surfing stuff came into the picture.
I used to film a big wave surfer and used to follow him around the world. I have also got some amazing opportunities to work with some of the biggest brands out there. But I will say that I'm happy just teaching on YouTube instead of going out in crazy massive waves.
My chances of dying at work these days are a lot less than they used to be. I have way too many close calls and near-death experiences working with uh crazy athletes. I'm kind of happy that, that phase of my life is over now.
Jump back to start of this blog post by clicking here
5
Q.Tell us about your near-death experience?
Justin: This guy behind me (points to a picture of a surfer) Mark Visser, the big wave surfer had a documentary. I was working on it as we were shooting him push the boundaries of big wave surfing.
One of our main goals is to find a hundred-foot wave in order to film him surf on it. We were working with US Navy personnel to monitor satellite data and work out where these big waves are.
Sometimes, these waves are in the middle of the ocean and there was no chance to meet these swells if we traveled by boat. So I and my whole team had to learn to skydive to the middle of the ocean. We would skydive with all our camera gear and equipment. Jet skis would also be thrown out of the planes as we airdropped to meet our big swells.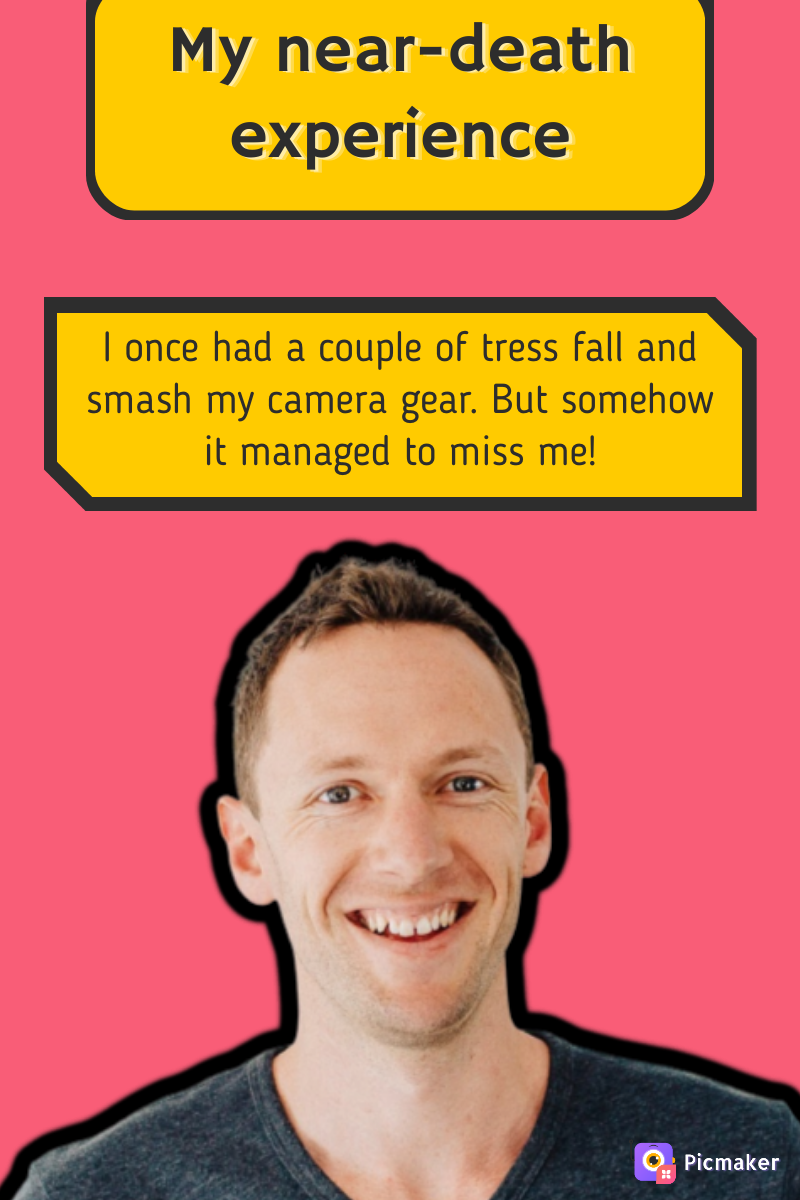 Some of the training stuff from that time was pretty crazy. We had a lot of underwater breath training because when you get held under by a 70-80 foot wave, you're going to under there for a while. I've had of lots of experiences like:
Parachutes not opening on really low jumps,
Being held underwater below big waves
Being stuck in big storms (because that's when these big swells say 'hi')
Once I had a couple of trees fall and take out all my camera gear. But somehow it managed to miss me. So that's the kind of stuff where I'm like, "Just teaching people how to film, how to create amazing videos, how to get views on YouTube and build money and a business around it" is a much safer thing.
It's much safer than being in the wild for days on end.
Jump back to start of this blog post by clicking here
6
Q. What's your biggest mistake on YouTube?
Justin: It would be hard to pick one because I think almost every mistake you could make, we have made on YouTube. That's where all our knowledge to help others comes from.
What we teach is essentially stopping people from making all the mistakes that we made in our journey. Starting with research before I just go and say "Hey, that's a that's a good idea for a video, let's go and shoot that" makes all the difference.
When we started the title and thumbnail came up after we shot the video. But, not planning everything up front, we were holding ourselves back and that's what we teach people now.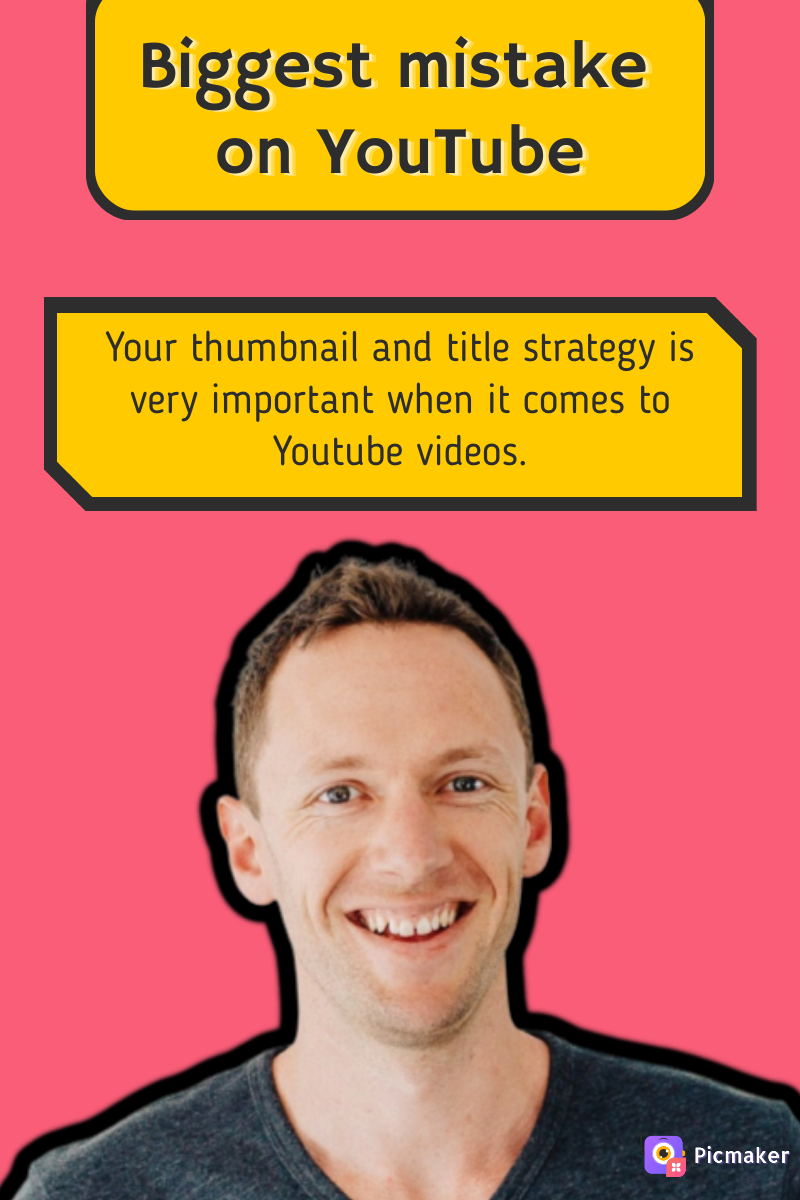 How do you plan upfront to know that your content is in the best shape to succeed on YouTube? That is something people actually want to hear about. Planning and pre-production are still a big question among creators and marketers alike. There are lots like the basics of creating a killer thumbnail, title strategy, and basics of YouTube SEO that we discuss in our channel.
For example, you could have the world's best video, but if no one clicks on it no one's gonna see it. Your thumbnail strategy is important when it comes to all your YouTube videos.
Let's assume you get your videos are showing up on youtube and people actually click on it. But if it's not engaging or if people are not watching until the end of the video, then YouTube won't keep featuring your video. When your video is not getting views, YouTube fails to promote it.
Some people create great thumbnails and titles but fail on the actual content. Set the right expectations with your thumbnails, titles and deliver on them.
Jump back to start of this blog post by clicking here
7
Q. What's your favourite book on marketing?
Justin: I'm an audiobook person and I love listening to stuff at three times the speed, just so I can consume content quicker. The 80/20 principles is a good read, over deliver is a good book and I love the four-hour workweek which is a classic.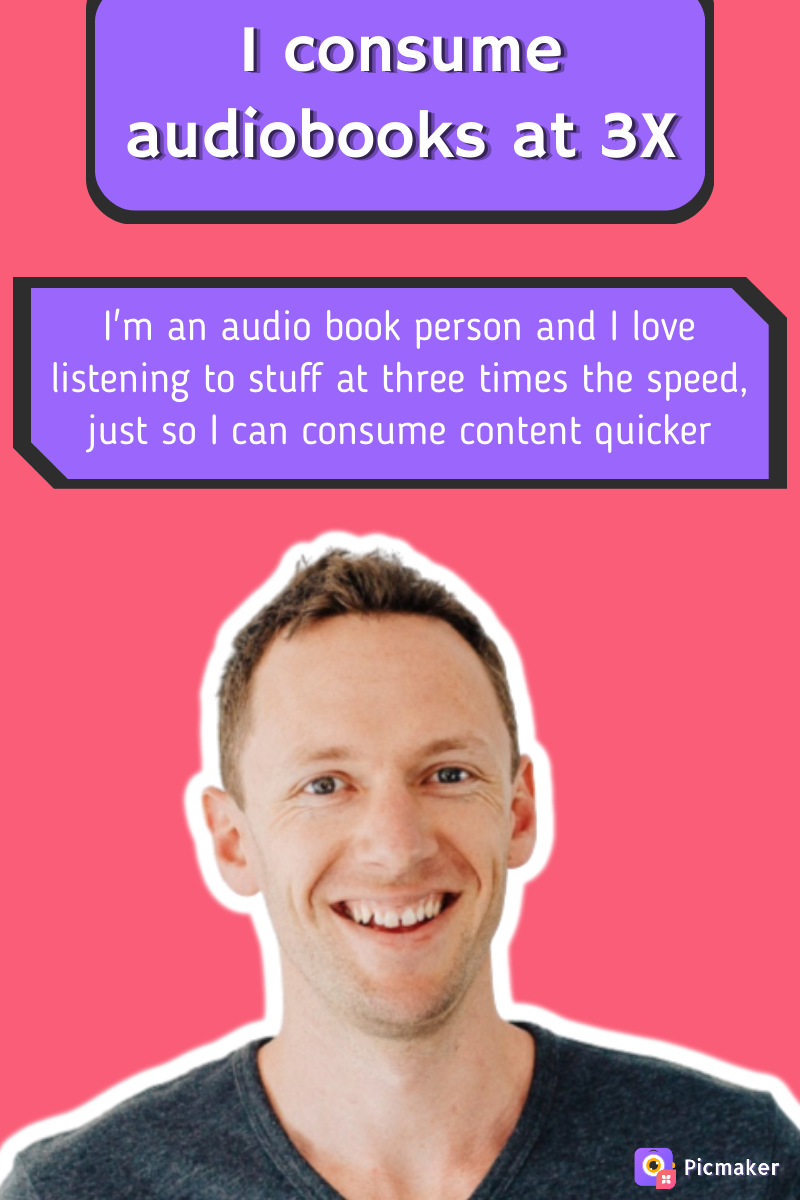 Books mentioned by Justin Brown
1. The 80/20 principle by Richard Koch
2. Overdeliver: Build a business for a lifetime by Brian Kurtz
3. The four hour work-week by Timothy Ferris
The four hour workweek is the goal and dream.
How do I do what I need to do and be so efficient that I don't need to be working 24x7?
That's the ultimate goal right!
We hear "hustle hustle hustle", and I see a lot of people out there that are hustling, but they're hustling on the wrong stuff. So I'd much rather not hustle, but be really specific with my time.
I don't have any real specific examples outside of that, but there's a lot of YouTube content that we watch. There's a lot of mentors in the online digital space that we listen to and it really is about running your own race.
You can be hearing different examples from different people, but don't take any of that as that's the exact path for you. It's all just information you can take in and then you get to choose what to do with it.
You want to choose what content you want to put out, while I also ask you to do the research and see what people are searching for. I'm not saying only create those videos that have search potential, I'm asking you to create videos that are a fit for your channel and something you'll be pumped to create.
In this way you just don't create something just for the sake of an algorithm.
Jump back to start of this blog post by clicking here
8
Q. How do you learn about video marketing?
Justin: I'm a visual learner and I'd much rather jump on places like YouTube to consume content that way. This way you also end up with a good list of bookmarked or favorite videos which you can jump back into. But I'd much rather learn by doing things than learning about it before starting it.
So I'd much rather jump into an editing program and figure it out in places where I get stuck. When I'm stuck, I go on to YouTube or google to search for a solution. That's how I get unstuck from that piece of the problem.
Justin explains the benefit of understanding your target customers and their pain points
That's how our channel stemmed from as well. We are very specific with our content and what we create. We know what people's pain or problem, what editing software should they use, how to make a thumbnail and how to do all these things.
I think we know that these are issues or problems that people want to overcome. I'm no different when I have a problem or an issue or something I want to learn. I'm going to the same place my viewers go to search for their solution. I'm going to YouTube or Google to solve that piece so I can keep moving.
To answer your question, I'm a visual learner and I generally head to YouTube instead of reading a blog or anything like that.
Jump back to start of this blog post by clicking here
9
Q. What business lessons have you learned from YouTube?
Justin: A lot of people think that the only way to make money on YouTube is by YouTube themselves. Their only way to generate revenue is by hitting the 1,000 subscribers and 4,000 watch hours.
They think that it's the only way to make money on YouTube, but fail to realize the many other revenue opportunities at hand. There are thousands of ways to make money on YouTube from day one.
But people still want to hit that thousand subscribers and four thousand hours to be part of YouTube's paid ad program. They're not really making much money at that point anyway, so there's lots of opportunity out there for people to earn money from day one using YouTube SEO. Some ways to earn money are with affiliate marketing where you're paid a commission or a referral fee for helping someone with a buying decision.
Affiliate marketing is a big piece of our business and you also get sponsor or brand deals from them.
Here's a better way to creating content on YouTube
On the flip side, the other thing that holds a lot of people back is that they'll look and see that there are already other people making the content that they want to make. They'll start to look and say "Well, that channel has a million subscribers, who am I to compete with them".
They have these questions on their mind like "How can I compete with that?" or "they're already making all the videos that I want to make"
I think that's where a lot of people stop thinking about YouTube. YouTube isn't too overcrowded and there is still a massive opportunity on YouTube. The biggest really is that YouTube SEO wants and rewards new content on its platform.
People need to understand that there is big merit in creating new content that's recent and relevant content. If there's someone else already making the same videos, you know that people want to watch that kind of video.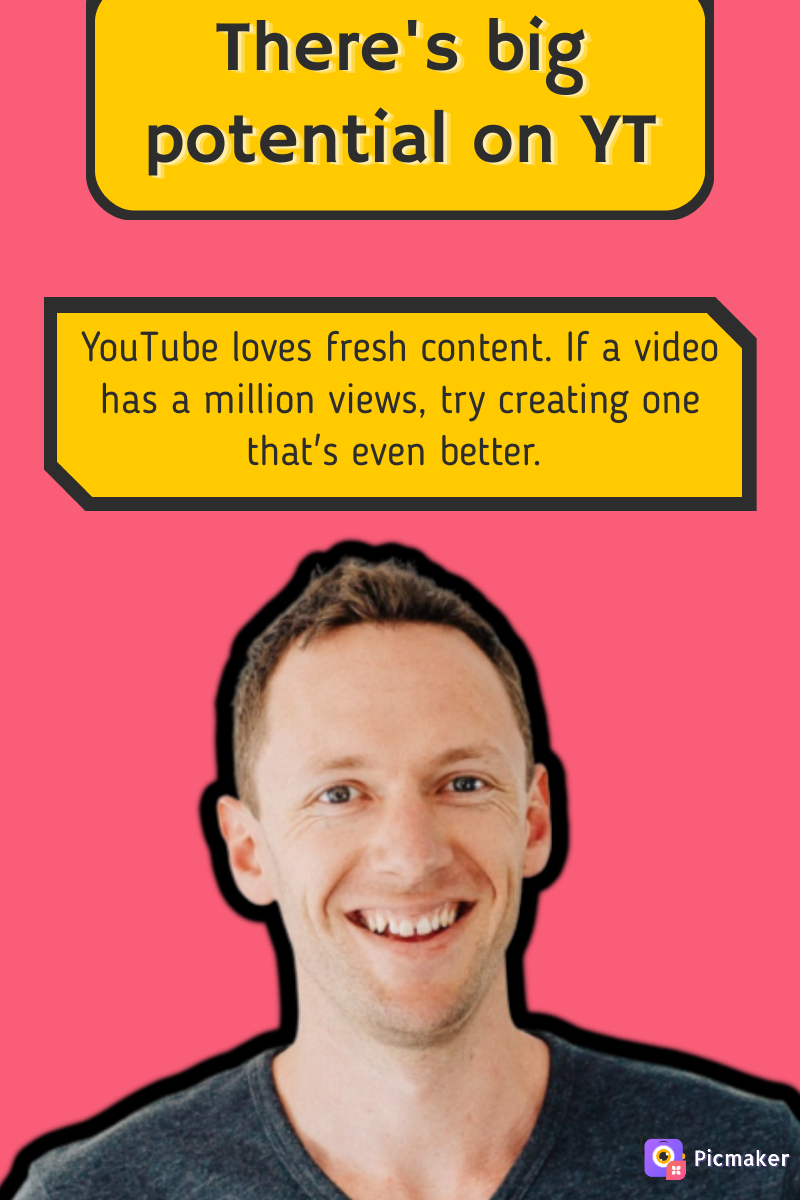 You're not just creating random stuff that people don't want. Take a look at that video that has 4 million views and think about new ways to use the same content. Here's the mindset shift you need to achieve here.
Hey, I'm going to share my thoughts and opinions based on my experience. This is something no one else has because there is no other person like 'you'.
We can talk about this stuff all day, but at the end of the day whatever excuses people have for not starting on YouTube can be solved. It isn't too late or it's not too overcrowded. There is plenty of space for you to share your thoughts and help people with the stuff that you're pumped to talk about.
Jump back to start of this blog post by clicking here
10
Q.Why is your channel named "Justin Brown - Primal Video" and not "Primal Video" instead?
Justin: That's a really good question. Obviously, Primal Video is more than just me. But we looked at enough humans and psychology to understand that we remember a face more than a logo.
It so hard to remember a random brand name like Adidas, Nike, or whatever. We know these things now, but we have to hear them so many times before it's completely etched built into memory.
Whereas you could meet someone in the street and you're much more likely to remember their name with less effort and repetition.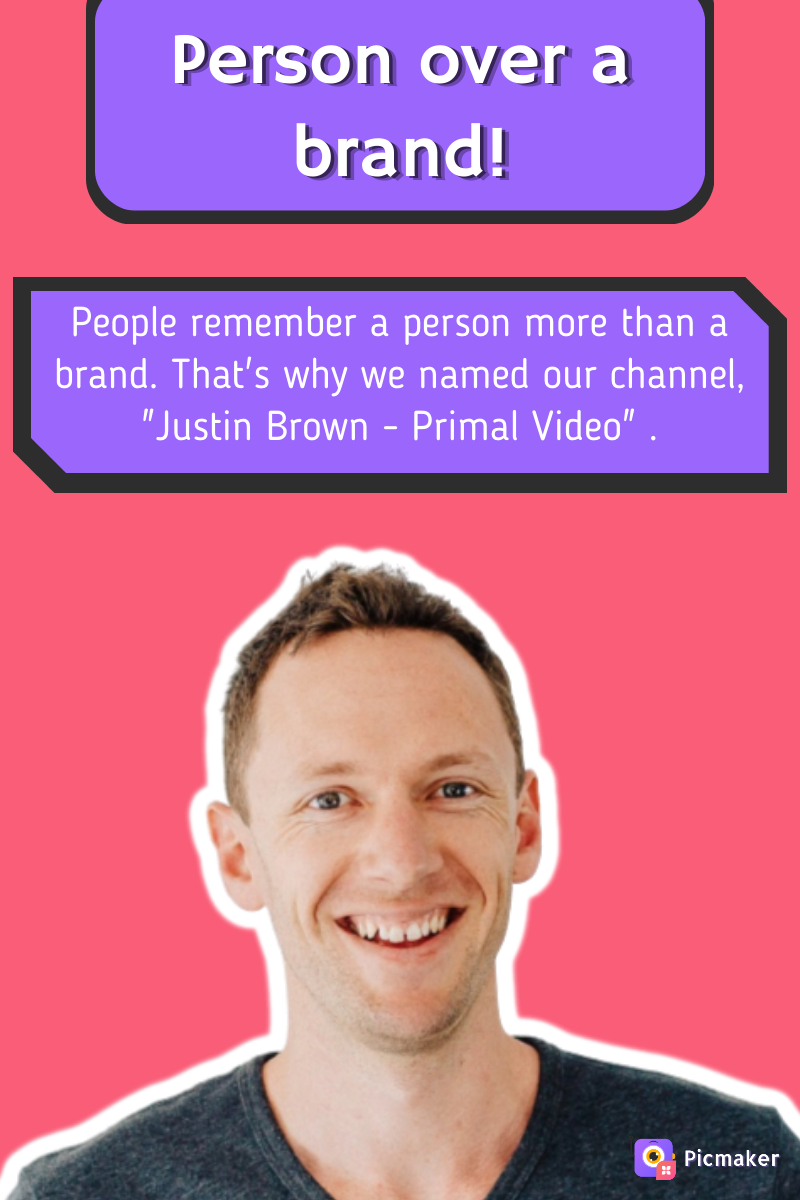 So we went with the hybrid "Justin Brown - Primal Video", so that we could have two attempts for people to remember us.
It's funny because when I run into people they're like, "Oh, you're on YouTube, yeah, what was the name of your channel again?" or others will say "Oh hey, you're the Primal Video guy, what was your name?".
So it's interesting that some people remember the name of our channel and others remember me.
So we wanted to hedge our bets and do both. This way we'll have a higher chance of people remembering us.
Jump back to start of this blog post by clicking here
11
Q. What's your most favorite YouTube hack?
Justin: It's not really a hack, but starting with research and knowing what people are literally typing is a big tip. Questions like "How to make a thumbnail, how to make a thumbnail on iOS, and how to make a thumbnail on Android" are things you discover when you put in the time for research.
It feels like we're cheating a little bit, but when we create those videos, we know that they're going to perform on YouTube or it's going to test them in those top spots.
Knowing what people are literally typing in, word for word is truly a great hack indeed.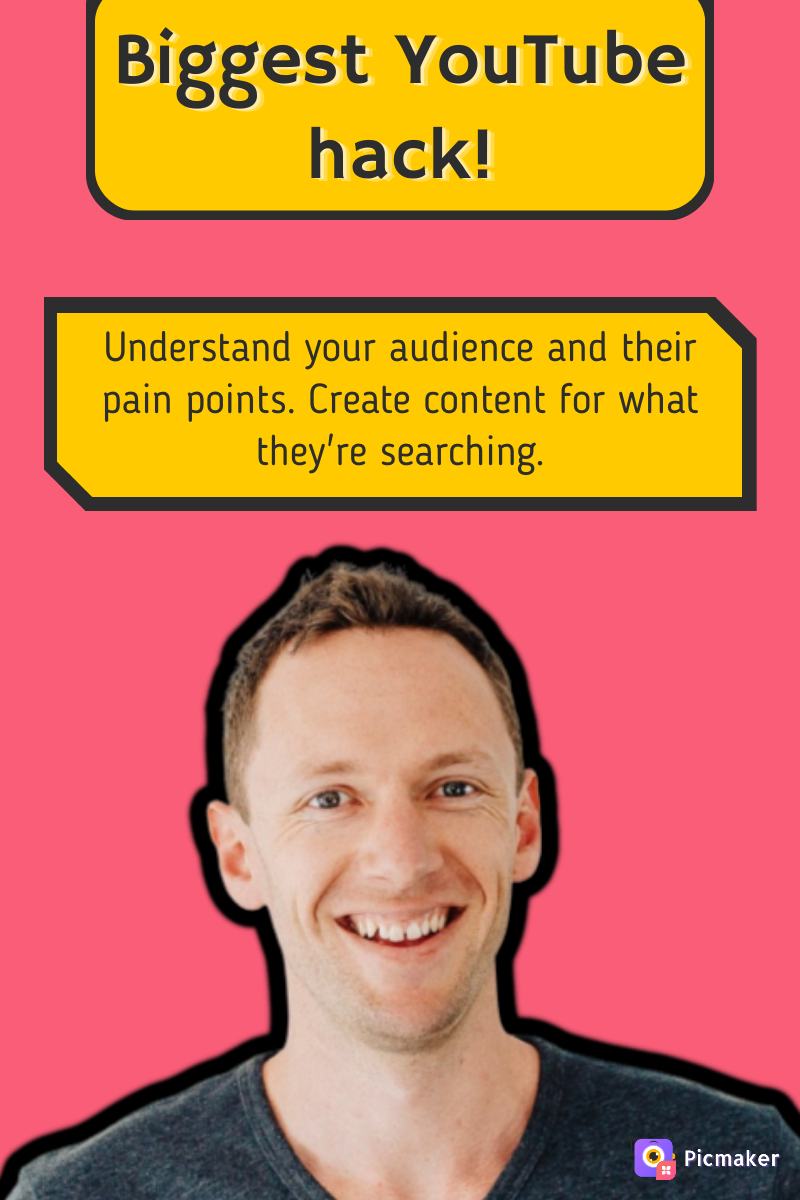 The biggest thing that builds on top of is that I am literally using those keywords in the right order in the first sentence of every video, I'm using a teleprompter so that I don't mix up my keywords and that my squirrel brain doesn't go into overdrive.
If are you looking for editing software, I've got to say it in the right order so that it lines up perfectly with what the user has typed in the search bar. YouTube is primarily looking inside your content and transcribing your speech, it's listening to make sure that what you're saying matches your title, description and tags matches.
What you're saying in the video, should line up word for word what the user is typing in their search bar.
You're keyword research or topic research lines up and it's so much easier to get your content showing up in the search and suggested sections.
knowing that you're creating content that people are actually looking for, makes it easier for YouTube to say "Hey, even if this person didn't search for maybe this piece of content could be a fit"
This is how YouTube shows your result for all related searches.
Jump back to start of this blog post by clicking here
12
Q. What are your steps before creating a video on YouTube?
Justin: Most of our is done before we actually shoot our video. We're spending most of our time preparing upfront so that we know what we're going to shoot for our videos.
By doing my work upfront, I know-how beginner or advanced my video to be created. If someone is typing in something that is advanced then I'm going to talk about an advanced topic. This way it's going to line up with who is typing it into the "search bar" and what they're expecting with that content. This is the perfect way to hit your YouTube SEO on point.
It really comes down to research upfront but after that what happens afterward is we've done all the research I'll go and shoot the videos. At the end of filming videos, I'm getting ready for our thumbnail.
Justin explains the importance of having a good thumbnail in this section
We are intentional about our thumbnail images and use a proven process for it. My process is that I sit still and leave the camera recording. Then I'll be pointing and pulling silly faces in front of the camera. I spend a good 10 minutes feeling like an idiot to get multiple choices for my thumbnails.
It does not matter when you have the world's best video, but no one clicks on it. What's the point of putting in all your hard work, when no one even clicks on your video.
So I'm happy to make a fool of myself, pull silly faces, and point at stuff. We don't just use a random freeze-frame, where I'm in the middle of speaking or maybe I'm half smiling.
But that exactly how we started creating our thumbnail images. Starting out, thumbnails were an afterthought, but now thumbnails are something we are really strategic about.
Nowadays we have our thumbnail images and descriptions all ready before we even start shooting our video. I'm a big advocate for outsourcing your video editing and post-production work.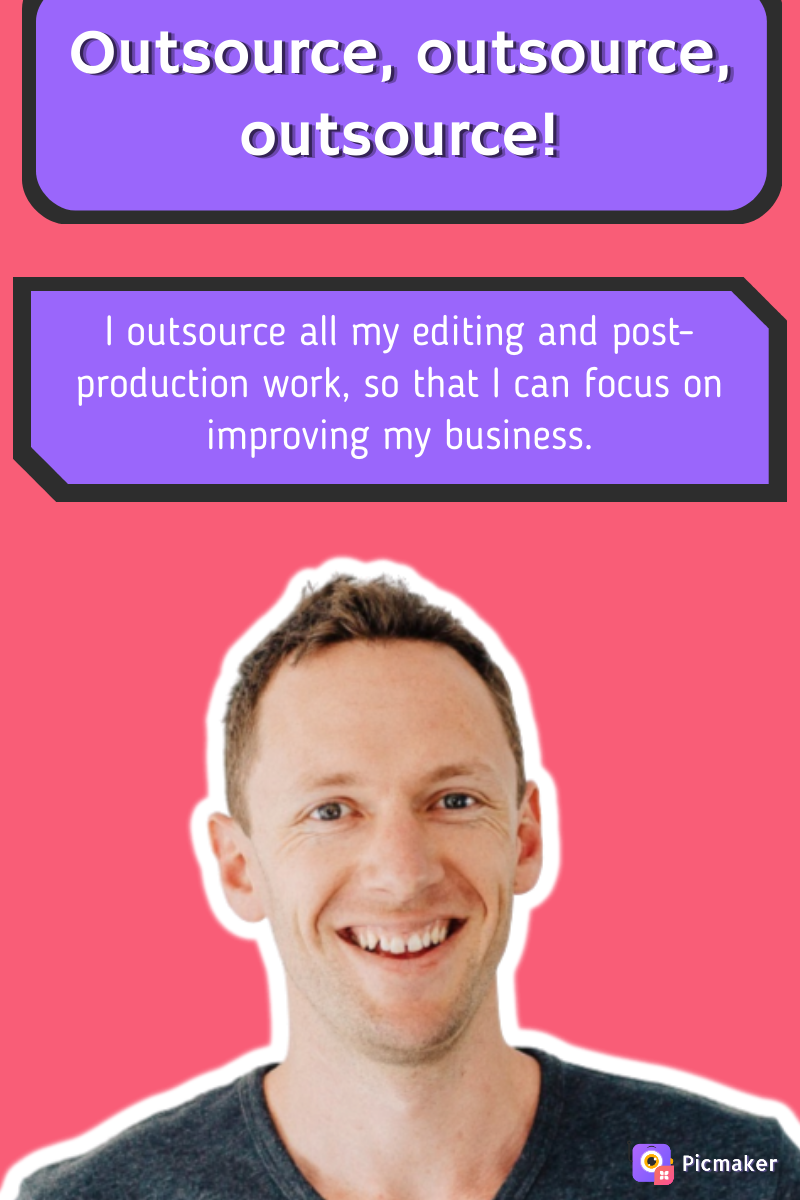 I'm one of those weird people that loves editing videos, but I actually haven't edited one of our YouTube videos in over three years now.
We also teach people how they can outsource their video editing so that they can free up their time. Outsourcing video editing helps them free up a ton of time so that they can work on their core business activities. It gives them the time to build revenue streams and other things instead of just being on a hamster wheel.
Instead of being in the frantic mode of "I need to shoot it, then I need to edit now, and I'm out of time now". So we're doing things in bulk by preparing content for eight videos at a time. I'm going to film eight videos and then send them to our editors and it's kind of a cycle that works that way.
We only release one video a week and so I'm doing eight weeks' worth of content at a time. So that's the level at what we're at now. So that we're never in the position of thinking "Oh, shoot it's Sunday night and we don't have a video ready to go out tonight". That's not a great place to be and I'm sure a lot of people have been there too.
Justin talks about the time he almost closed his YouTube channel
There have been multiple times in my life where I was looking to close down the channel because it became really stressful. Because creating videos is a full-time job and I wasn't doing smart work in it.
At one point in time, I was jumping between different tasks so I'd be researching, editing, and shooting the video.
But I realized that if you're in the headspace for researching or just for coming up with keywords you'll be a lot more efficient. If you're in the headspace for editing, you're going to be way more efficient just editing all your videos in one go.
Justin Brown's advice for anyone feeling stuck, overwhelmed, or unmotivated
So for anyone that is stuck and is feeling overwhelmed, just stop uploading your videos. It's not going to kill your channel it's not going to kill your growth. If you're not uploading for a couple of weeks, you can build up that backlog and research a few videos and shoot them in a bunch.
By doing tasks in bulk, you can be consistent without trying to catch your tail and being on that hamster wheel. You're giving yourself some reprieve and you're building yourself some time to gives a head start.
So I try to do the things that only I can do. For example, If I have to be in the video, which is the case right now, I don't need to be the one that's editing videos.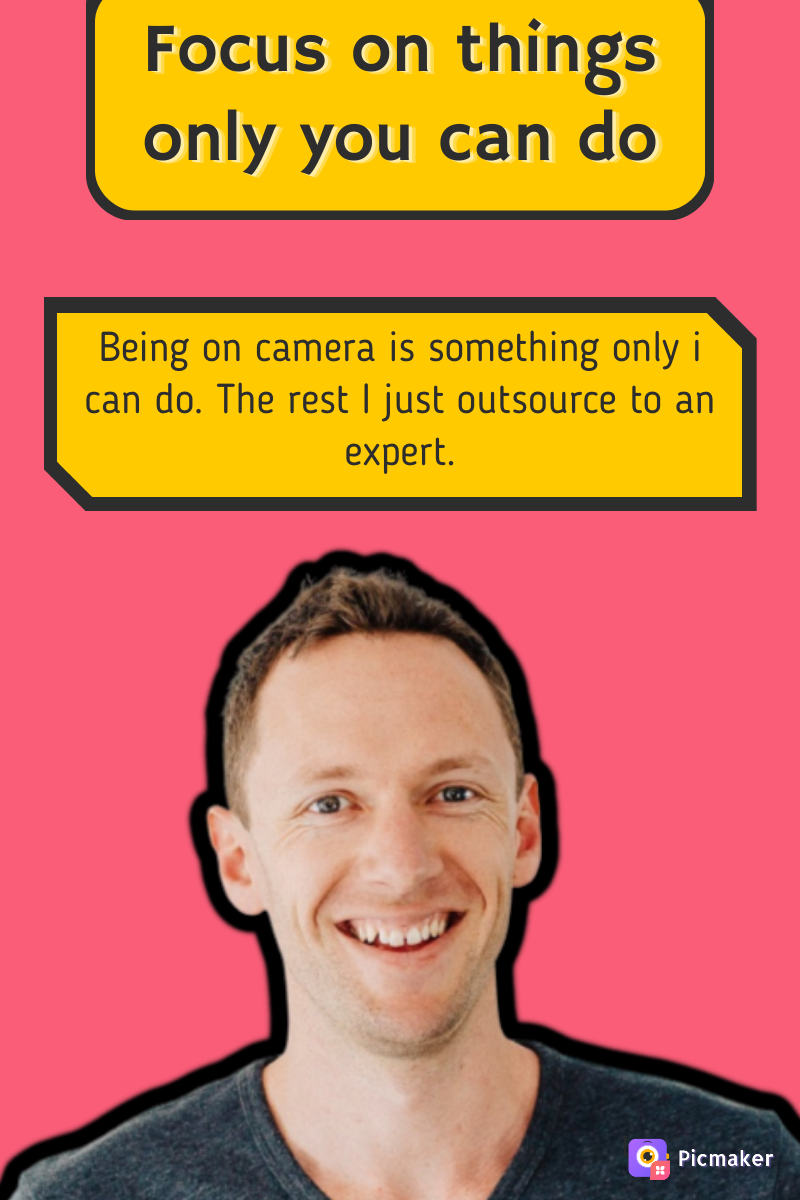 By bringing in an editor, I can free up some time to be really creative and bring a whole different perspective and another level of creativity to the video. It is something I wouldn't have because I'm too close to the video right from script and to the filming and everything. We're bringing in a whole different person that can get creative with it and and make the editing so much more engaging.
Plus, I'm also a perfectionist and I know that we're our very own critic and we don't want to put out anything that makes us look bad.
Me spending 10 hours extra on color grading or color correcting a video is not gonna change the views or YouTube SEO rankings on our videos. Our viewers aren't ever going to say "Hey Justin, you didn't spend 10 hours collaborating on this or you didn't spend 20 hours editing this video.
No one's gonna know and no one has ever called us out for any of that stuff.
You know why?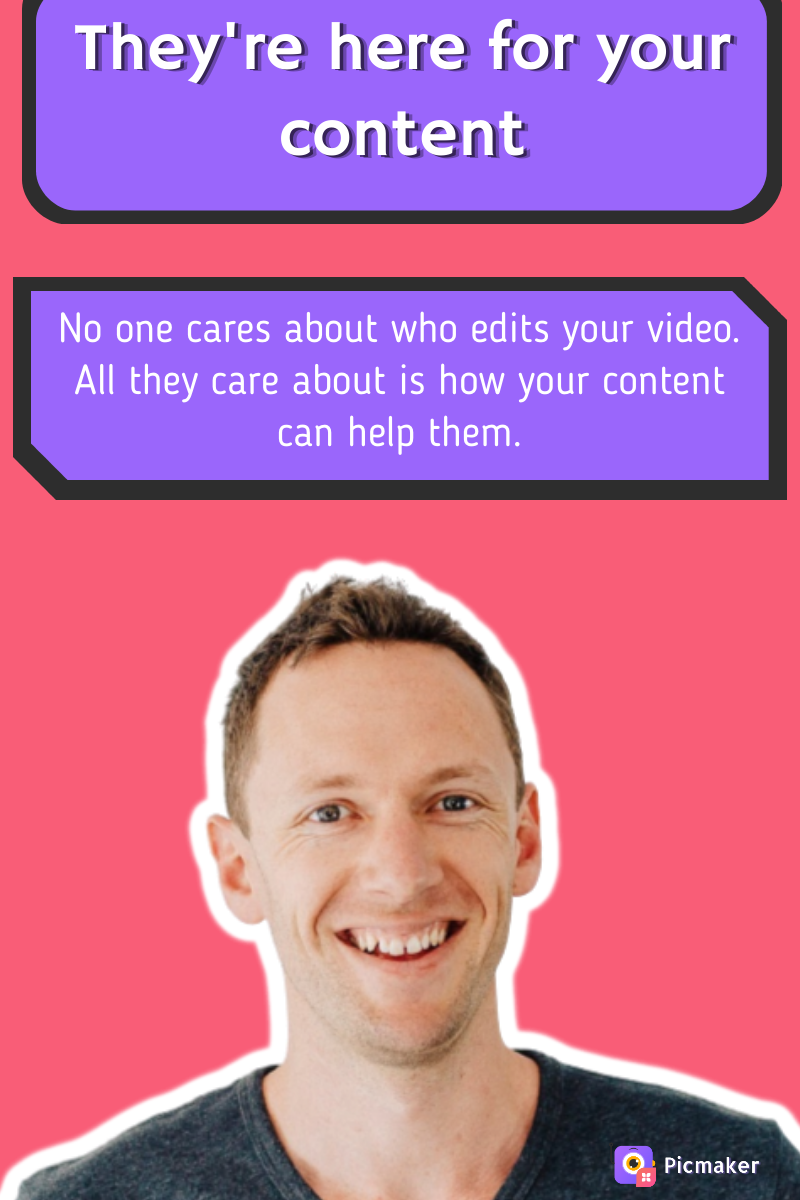 Because they're here for the content and not for my editing skills.
I also started using a teleprompter to film in the most efficient way and speed up things. This allows me to outsource my editing and save me some sanity. This allows me to grow a whole lot faster.
Jump back to start of this blog post by clicking here
13
Q. Why are the first 15 seconds important in every YouTube video?
Justin: The first thing you need to have is an Australian accent and it works wonders to keep people hooked (Justin chuckles).
This is another area where we struggled a lot to increase retention when you start by saying, "Hey it's Justin from Primal Video", you'll just see the views drop because no one cares who you are at the start of your video. All they care if this person is going to talk about an answer or my pain or problem given the title of the video.
Your introduction needs to tell them that the thumbnail they've clicked is for the right video.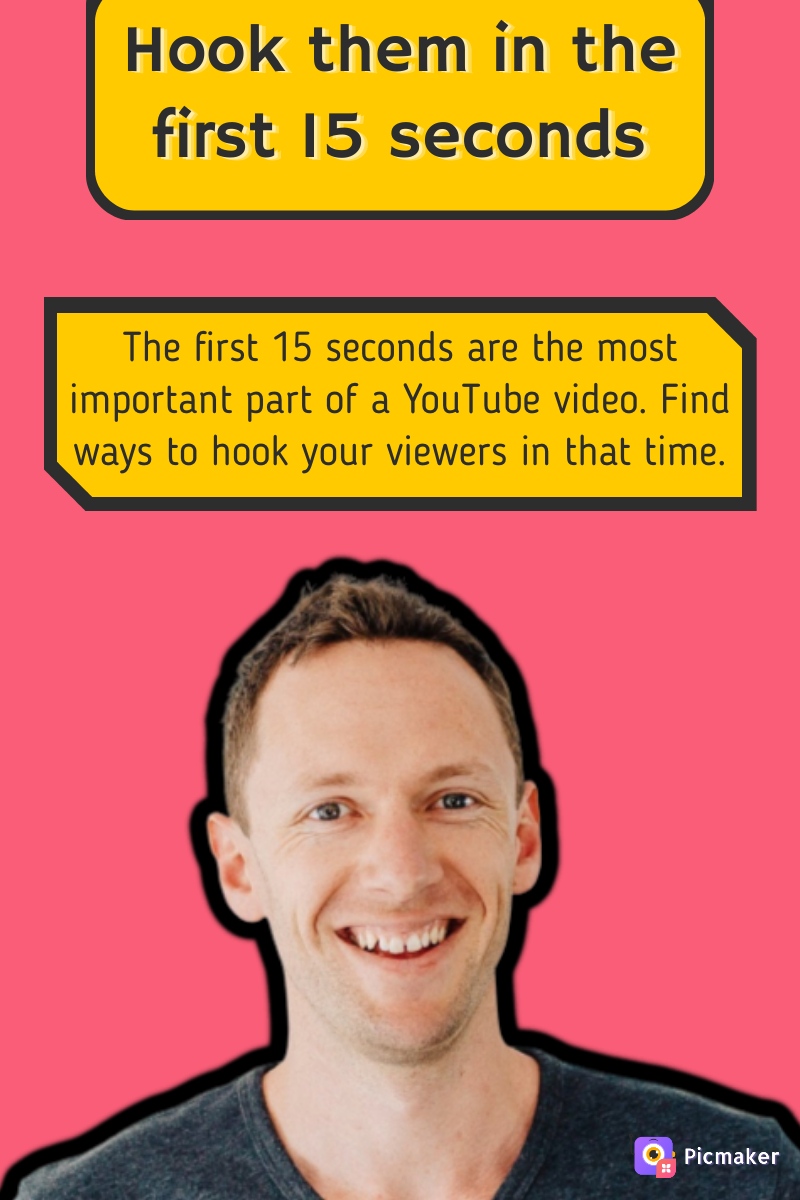 There's always a bit of anxiety for me when it comes to intros because they've clicked your video but they could have clicked a handful of other videos. It's safe to say that they're asking themselves the question, did i click the right one or should I go back and click the other video.
You've got to immediately let them know that they are in the right place and that's where research plays a main part again.
Justin explains his process of creating YouTube video intros
Let's assume that they're here for the best video editing software on Mac, I will say a word for word that "If you are looking for the best video editing software on Mac, in this video, I'm going to help you decide the best one for you."
So I have used their words back to them and when this matches the thumbnail, title, and search query - bingo! This also helps the YouTube SEO algorithm understand what our content is about and it also helps the viewer understand that they are in the right place.
After I've hooked them in, I will say something like "so if you have to search for video editing software on mac there's a lot of options" and they're going, "Yep, there are a lot of options." I get their pain or their frustration because I've gone out, tried, and tested all the top options in this video.
Then I'll say "I'm going to share the top ones to help you decide which is the best one for you", which is perfect because I've just told them what they wanted to hear. After this, I'll say " I'll also be going through the pros, cons, and prices, but make sure you stick around to the end because I'm also going to share with you three video editing tips that will help you edit faster no matter which software you use".
This is exactly why I use a simple scripture for all my videos. This helps me say the right things on screen, in the right order.
You can check out Justin's ultimate video script structure here.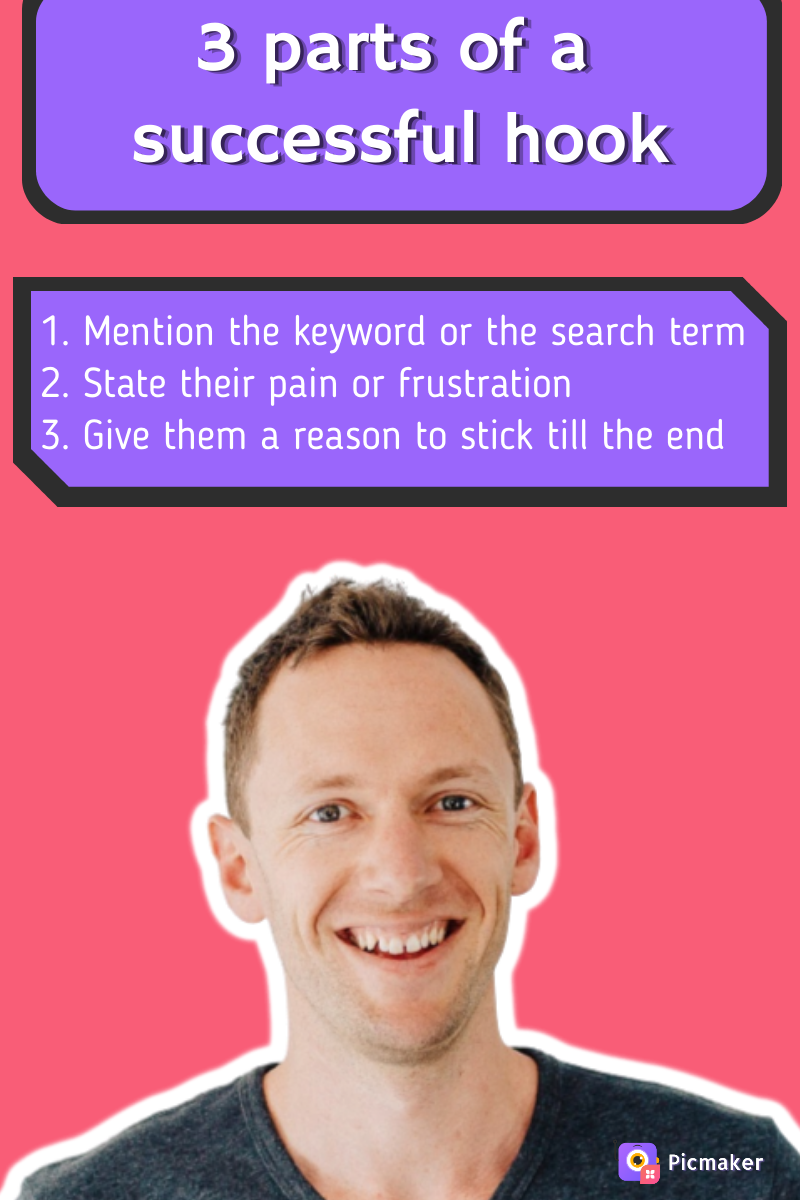 This way we're hooking people to the end of the video. If they were there for the first app suggestion or program suggestion they're more likely to stick around and watch through the others to get those three editing tips.
They'll stick on because no one wants to be slow and waste time, so we'll always try to have something at the end to make sure they stick till the end.
I'll share the biggest mistake that we made.
So how do we tease something that's of value and is based on the topic of the video?
How do we over deliver and give more value to the viewers?
But we had to do it in a way that felt like we're not holding back our number one choice until the end of the video. We don't want to be dragging their best solution till the end of the video.
So we decided to give you something else later on in the video, so they'll stick around and won't feel like we're just dragging the content for the sake of keeping it long.So that's what we're looking to do in every one of our videos.
Jump back to start of this blog post by clicking here
14
Q.What's your important marketing lesson from YouTube?
Justin: I would say that with any social media platform, you should try and own the audience. You should have some way to directly communicate with the audience.
For example, the face of our business is built on our YouTube channel, but the real business behind the scenes is on our email list.
Let's assume that something happened to our YouTube channel or something happened to our Instagram and it got deleted. With our email list, we still have access to our action takers and our core audience who have opted in and joined our email list.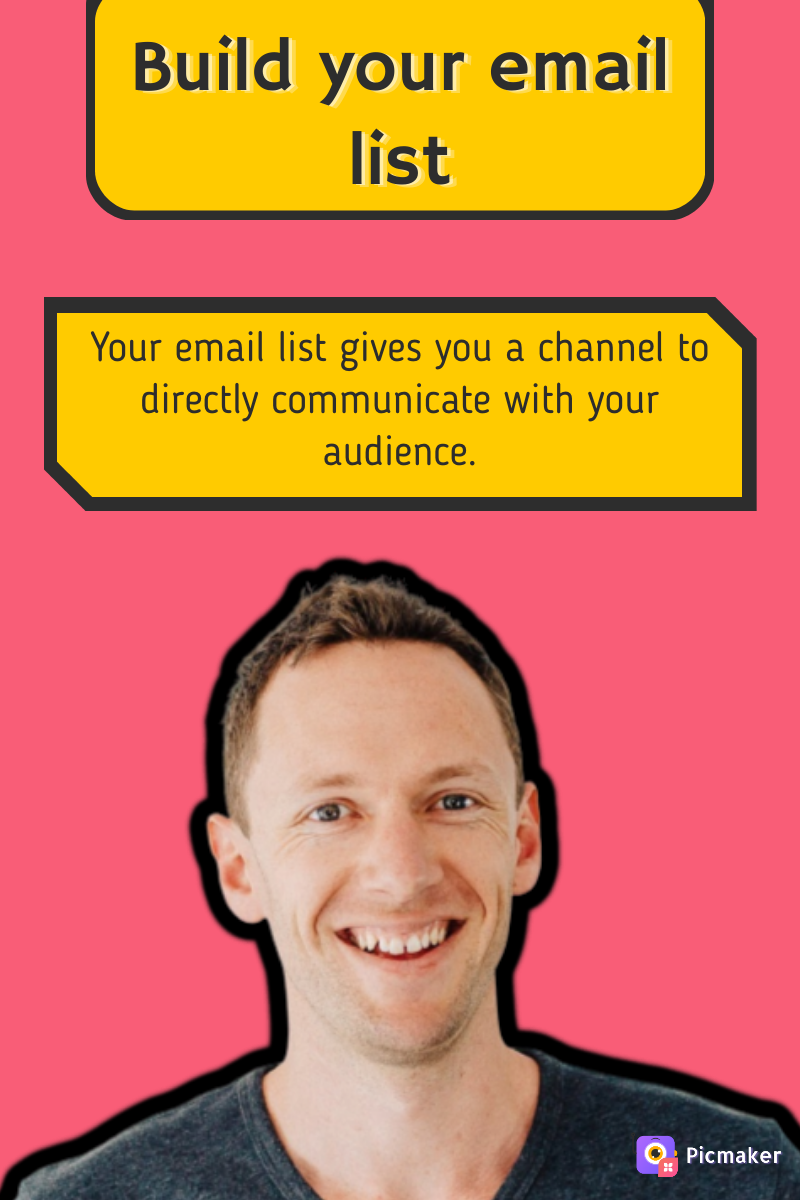 That's why my number one tip across any platform would be to grow an email list. But you don't just tell people to join your newsletter for the sake of joining it.
Give them something that you know that they want so we have. For example, we offer things like editing guides or editing checklists that you can print out and follow along while you're editing. So we're essentially exchanging that for your email address.
Justin Brown explains how an email list can immensely help your business
So the next time we want to promote a new video or a course we have direct communication with them via email. We know that it's not going to be filtered by the platform or we're not gonna rely on a notification bell being selected.
Our email list gives us direct communication with our audience. And that's exactly what I would say to anyone that's looking to grow a business. Think about how do you can own at least one of the communication channels with your audience.
Jump back to start of this blog post by clicking here
15
Q. What's your 'Aha' moment on YouTube?
Justin: Our big one was when we started to figure out the importance of research in our videos. I know that I keep coming back to the same answer for everything, but it really is such a fundamental piece that most people aren't paying attention to.
They just keep saying "Hey, this would be a really good video," and they'll go make it. They don't give any thought to their thumbnail, title, and content strategy. They become disheartened when their video gets 10 views or no views at all.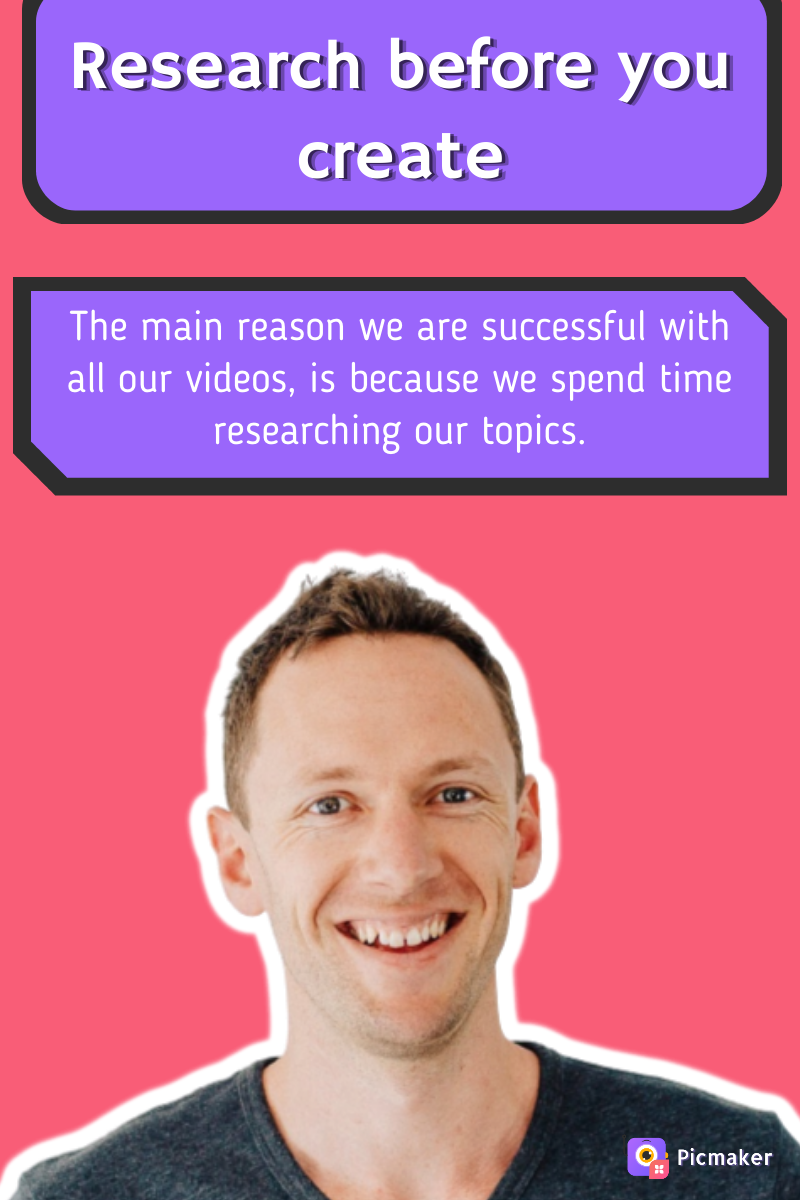 Meanwhile, I give YouTube everything it needs to promote my content. I make sure that I'm actually creating stuff that viewers want to see. I don't want to end up creating that amazing video that no one sees.
So figuring out the importance of research and understanding your audience is probably the biggest 'Aha' moment for me.
The second 'Aha' moment came when I spent more time creating thumbnails that grab people's attention. Something that is going to make them click your video over all the others. So that's another 'Aha' moment for us.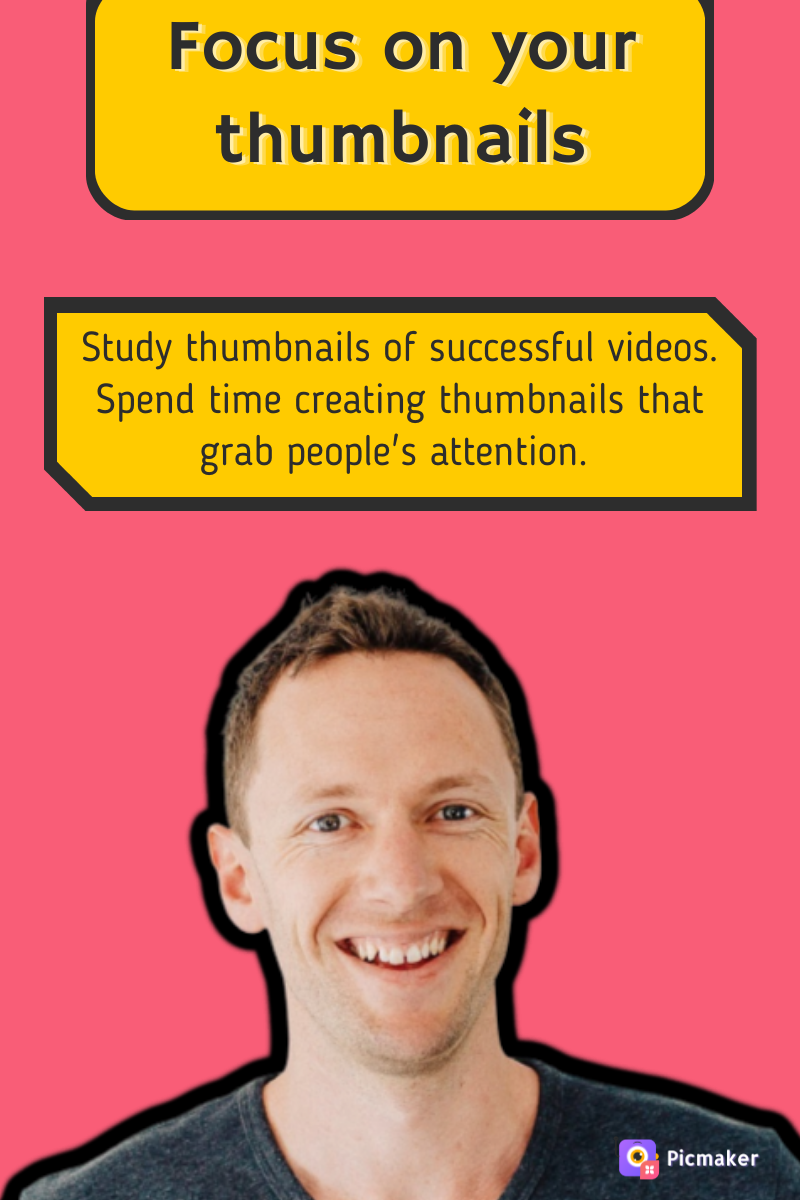 Nowadays we have started A/B testing our thumbnail images to gain the most views. We use TubeBuddy's legend plan to do this super powerful test on our thumbnails.
There's a lot of people in Facebook groups these days uploading different versions of their thumbnail images and they're saying "Which one do you guys think will get more clicks?" We could speculate and could bounce that idea around all day, but the results still wouldn't prove anything.
I've asked big audiences about their preference for two YouTube thumbnails it's always you know 50-50. It's mostly people saying something like "this one because you're smiling" or "this one because you are pointing here". When in reality it doesn't matter. With TubeBuddy, A/B testing the data is going to tell you what you're going to actually see and which one does get more clicks, instead of people just speculating.
So we do spend a lot of time looking at the numbers and trying to optimize so that our video gets clicked over all others. The TubeBuddy app is gonna automatically swap out your thumbnails so that half the people will see one and the other half will see the B version of your thumbnail. It's run over a period of time until it's got enough data, so the result depends on how much traffic you get or how often that video is shown to your audience.
TubeBuddy will tell you that this video gets clicked this percent more than this video. Even if it was as little as a one percent increase that's a one percent increase potentially every single day for the lifetime of that video . And we've got videos that are upwards of six years and still bringing in a ton of views a day. So that one percent can be massive.
Jump back to the start of this blog post by clicking here
16
Q. What's one social media superpower you would love to have?
Having the ability to target the right people on any social media platform is something I'd love to have.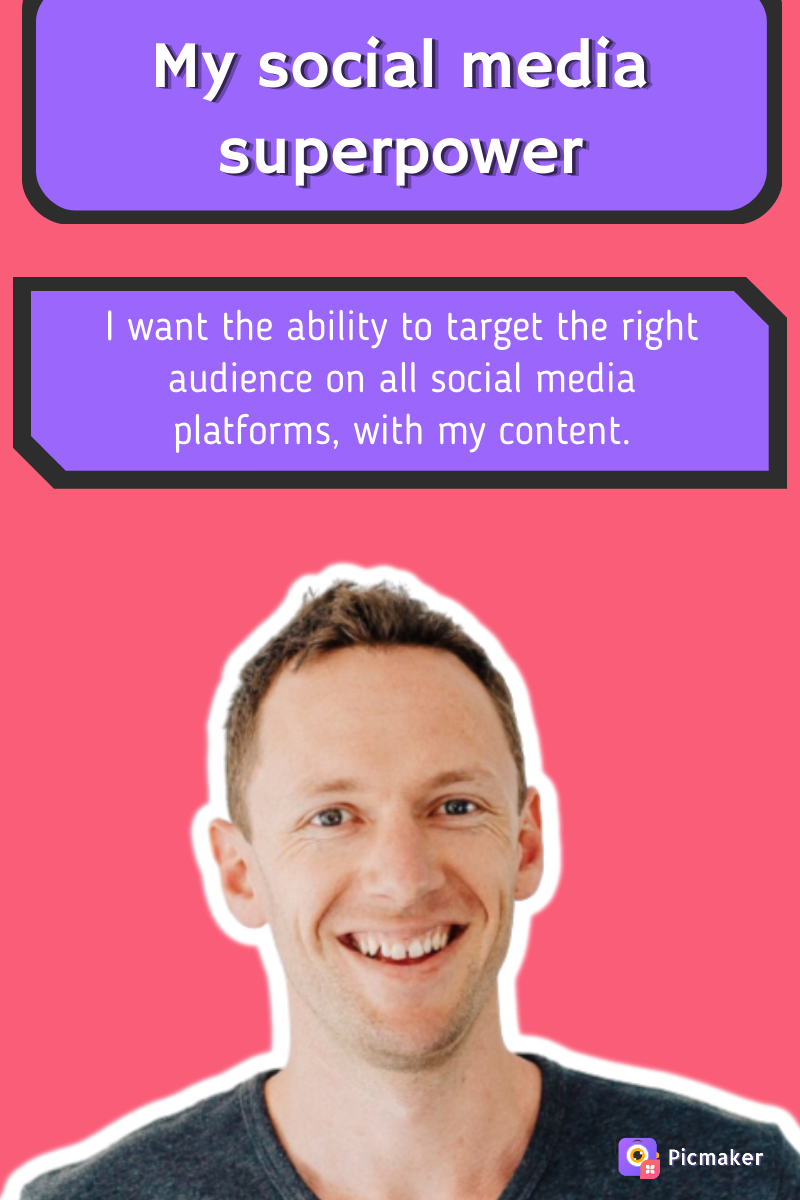 To get views and subscribers you need to make sure that every piece of content reaches a very specific audience. There is no way to make sure that the right people are finding your content on YouTube. Obviously, we can get pretty close on YouTube with the keyword research, but it still isn't a hundred percent on point.
If there was something that you could just do to make sure that your content is for these people and only show it to them, I can have much better results.
But yeah, that's a great question think and the ability to really hone that into a level where the people you're attracting are the right people much much faster is a superpower I would love to have.
We get close to that with keyword research, but there are places like Instagram, Facebook, and other platforms where this takes so much longer. So yeah I think that would be a pretty cool superpower to have.
I'm like "How do we nail it really down so that we are getting the right people to watch our content?" so that we can have the impact that we all want to have with our content. Because it's not about just getting everyone watching your content, you want the right people watching your content and getting impacted by it.
Jump back to start of this blog post by clicking here
17
Q. Is there anything you'd like to tell us?
I want to thank you for the opportunity and the effort that you guys put in to create an amazing blog post.
For anyone that is reading this, you should check out this blog post. You should link to that because it was pulling apart the banner image and when I saw that post I was like "There's been a lot of thought going into this". You guys really looked at the key things that do matter for a YouTube channel banner.
So for anyone that is looking to improve their YouTube banner game, I would definitely say to go and check out this blog post.
But I really appreciate you inviting me on here and I'm glad that we could make it work and then we that we could hang out.
---
If you're looking for an easy way to create thumbnails, then head over to our free YouTube thumbnail maker to access thousands of templates for free.
And, here's our free YouTube banner maker that lets you design stunning banners in minutes!