Importance of Illustrations in Online Graphic Design
Imagine coming across a picture, a regular scenery: red, orange, and yellow sky; brown and grey hills; still and blue water; and a shadow of a person. Now, describe this imagery to anyone near you: a friend, a child, a colleague, or a designer. If you ask their thoughts and share yours, you will realize that (for the most part) they differ. For some, the orange sky might not make sense, whereas others would relate and miss their hometown. Even if we rule out multiple elements such as colors, perception, and so on, and make it simple - say, an image of stars. This image could be considered as a romantic ambiance for one, and a sign of increasing global warming for the other.
For decades, there has been a debate about the importance of artists' intentions behind their designs. Considering the latter example, if an artist reveals that those stars are supposedly fairies, how does this affect the viewers, if at all? Now, there are so many factors to be considered: 1) most of the artists we study and learn from are unavailable, and 2) if we understand the artist's understanding of the matter: their designs, it affects the quality of the designs by limiting the room for interpretation.
READ: 5 Ways professional bloggers can use Picmaker to design brilliant graphics
All in all, an intentionally created design should be known for what it is: intentional. Suppose, if you get to know that a red brush stroke on a painting was simply a random stroke that simply happened to fit, would you still be in awe and wonderment of the same?
After many philosophers, art critics, and artists tried repeatedly to come up with a one-for-all answer, a common ground was discovered: illustrations.
1
The difference between illustrations and other design types
While there are not very rigid definitions of terms such as art and designs, the difference between the two is quite clear. Art is focused on expressing oneself or an aspect of literally anything, design is more about problem-solving. Now, a design could be anything that solves a problem or improves a product: architectural designs, carpentry, product packaging graphics, and so on.
However, the foremost step in solving a problem or improving an existing product or service is communicating the same to concerned groups of people. For instance, if you want to build a better product than your competitors, you will need to convey it to your employees, encourage your customers to give it a try, explain to the investors or shareholders about its importance, and so on. That is the base of an illustration: the key element of all the processes involved in getting a task done, a.k.a. Communication.
On the contrary, all forms of graphic designs - also known as tools of visual communication - supposedly communicate in one way or another. Be that as it may, what makes an illustration different from all the other design types is that while design types - say, concept art - convey an idea, an illustration combines these ideas to convey a story.
Quentin Blake, a legendary illustrator, describes an illustration as 'pictures to read.' That is, by far, the most wholesome definition of illustration.
2
The practical uses of illustrations
The illustration does not only sound like an understandable form of visual communication in terms of theory but also in practical terms as well. In the initial stages, some well-known uses of illustrations may or may not be related to graphic design. For instance, in the 15th century, illustrations became a part of books - where words and illustrations combined to explain the narrative in the best possible way. Moving along, as a kid, you must have come across illustrations in comics and a few sections of newspapers.
While those were also a mode of communication, it is all digitized: communication and illustrations, falling in alignment with graphic design. However, with its early start, and with photographs, paintings, animation, and other design types, are illustrations still applicable in the real world of graphic design and branding? To help you decide on your own, here are some factors to consider.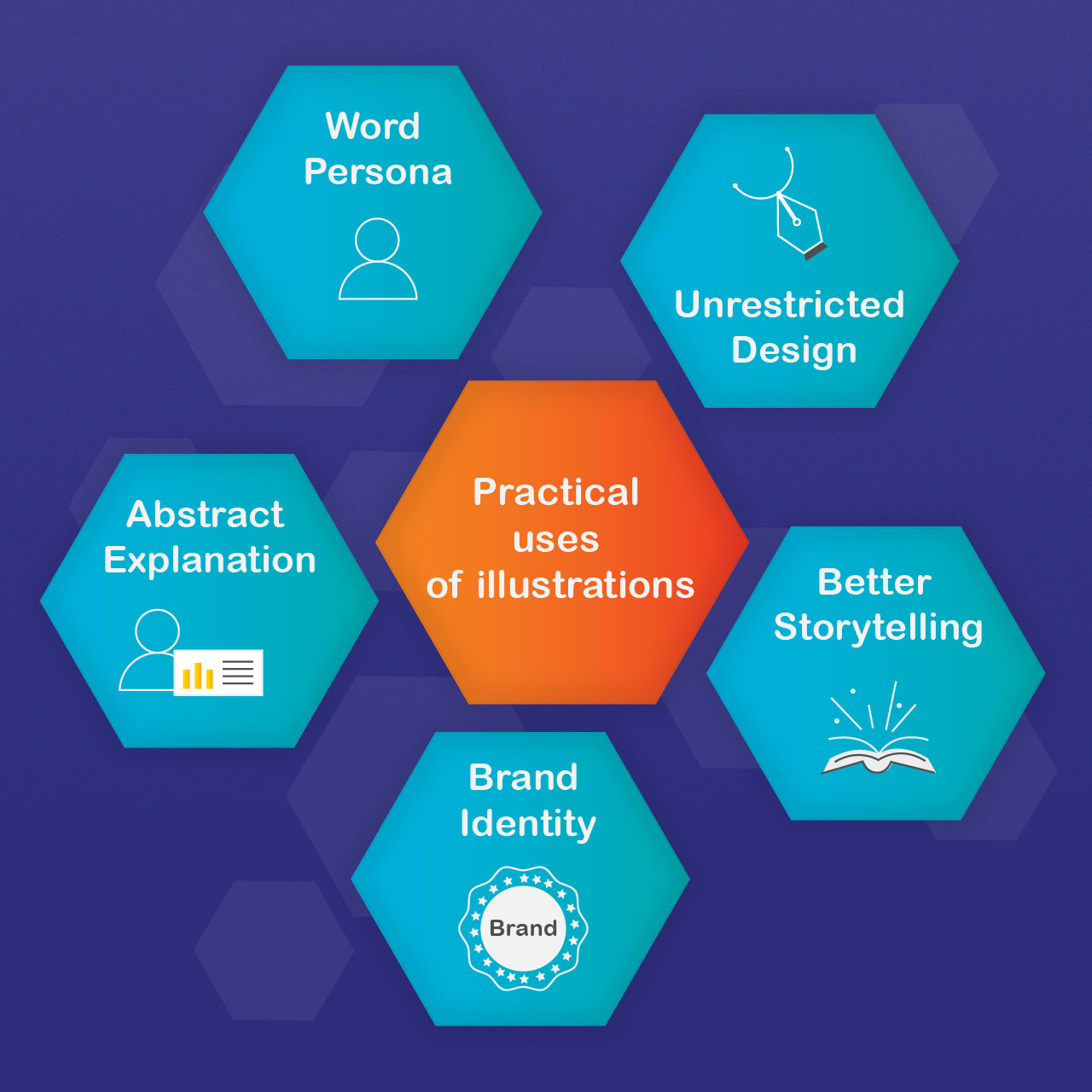 Word persona
For a very long time - in fact, since we came across the word itself - communication has been known to have only one form: words.
Assumably, all species on earth communicate verbally. We, as humans tend to, grew out of it and started scribbling on walls, and built an organized way of verbal and written communication through alphabets. Be that as it may, what we often tend to forget is that one of the earliest forms of communication and writing was mostly pictorial. As we move towards the peak of digital communication, a combination of the two is the most effective way to communicate.
Moreover, many people tend to find illustrations more interesting than reading, mostly because going through a piece of a paragraph would take longer than scanning an illustration. Additionally, with the growth of media, the current and upcoming demographics are increasingly visual learners.
Thus, with illustrations, not only does a brand attract and ease its customers, but also stimulates their minds and, mostly, leaves a more effective impression as compared to words.
Unrestricted design
In today's world, being futuristic is the most important differentiating factor between people who have a growth mindset, and those who limit themselves to live in a box.
With brands focusing on AI, SaaS products, ML, NLP, cryptocurrency, mental health, gaming, etc, finding a suitable photograph for all business, branding, and operational activities is not possible. Under such circumstances, the use of illustrations helps one to create anything they want, for any purpose. The subject could be something that never existed, something from the past with no pictorial evidence, or a futuristic product, it can all be summed up using illustrations.
Better storytelling
Be it for the branding of a multinational company or influencer marketing for a startup, storytelling has been a buzzword, and it is here to stay.
The customers have innumerable options for any product or service that they might want to buy. Therefore, in such a competitive market, it is impractical to expect customers or investors to simply align with a company; they should be able to relate to it, or, at least, believe in the same.
ALSO READ: How to Make Your Own Business Flyer Online (for Free)
Besides this, as an established company, your branding activities will have to revolve around authenticity and storytelling. Be it to introduce employees to the brand's new touchpoints, or to create a smooth customer journey on your website, illustrations have always been a go-to solution for the same.
Brand identity
The importance of creating a brand identity has been often overlooked, let alone maintaining one. More often than not, professionals do not even realize that by putting out an illustration: be it for marketing, an infographic creation for educational purposes, or an announcement, they are creating the tone of their brand, which eventually fits as an element of brand identity.
Through the use of illustrations, you can build and maintain a brand identity. It might take a while to put a finger on the specifics, but with illustrations, you can create a completely unique brand identity - through applying these illustrations in UI design, website design, and so on.
Abstract explanation
With the growing digitization and abundant content consumption, we all have noticed the need for attracting a target audience. More often than not, this is made possible by means of visual tools.
For instance, the concept of thumbnails on YouTube. If you come across an interview of someone, you would mostly see their photograph as the thumbnail of the video or as the banner image of a blog. However, as discussed under the 'unrestricted design' section, photographs have their limitations.
Therefore, when the objective of using a visual tool is clear but the alignment of the same with content is flexible, an illustration is your best bet. For perspective, if you want to design a social media post and want the theme to be innovative, playful, educational, etc, an illustration can certainly be effective in doing the same and portraying abstract brand values of your company.
3
Legendary and latest illustrators (and their work)
Now that we are in the same book - if not on the same page - about the importance of illustrations, here are some of the renowned illustrations which speak more than words.
Illustrations before the introduction of digital design
All forms of art are timeless, and illustrations are no exception. However, with time, similar to everything else, illustrations go through unimaginable changes. Following are the illustrations from a much simpler time:
Winnie The Pooh by E. H. Shepard
With a career of almost 5 decades, this English artist and book illustrator has made our childhoods quite pleasant with his simplistic illustrations, hiding tons of significant lessons behind the same.
The Lion and The Mouse by Jerry Pinkney
The multiple award winner is known for his more than 100 books and including a deep atmosphere into all his work with the use of watercolors (for the most part), a subtle hint of emotions, and heavy research.
Millions of Cats by Wanda Gag
Known for her writing and as a multimedia powerhouse, Wanda Gag designed the above-showing illustration for a picture; the picture book being one of the oldest American picture books, which is in print to this very date.
Where the Wild Things Are by Maurice Sendak
The American illustrator and author of children's books goes with a policy of being honest to kids. His love for illustration emerged through his rough childhood due to losing many family members during Holocaust and was inspired by Walt Disney. With the above-mentioned work being one of his first, he has also tapped into television and theatre productions.
Cautionary Verses Quentin Blake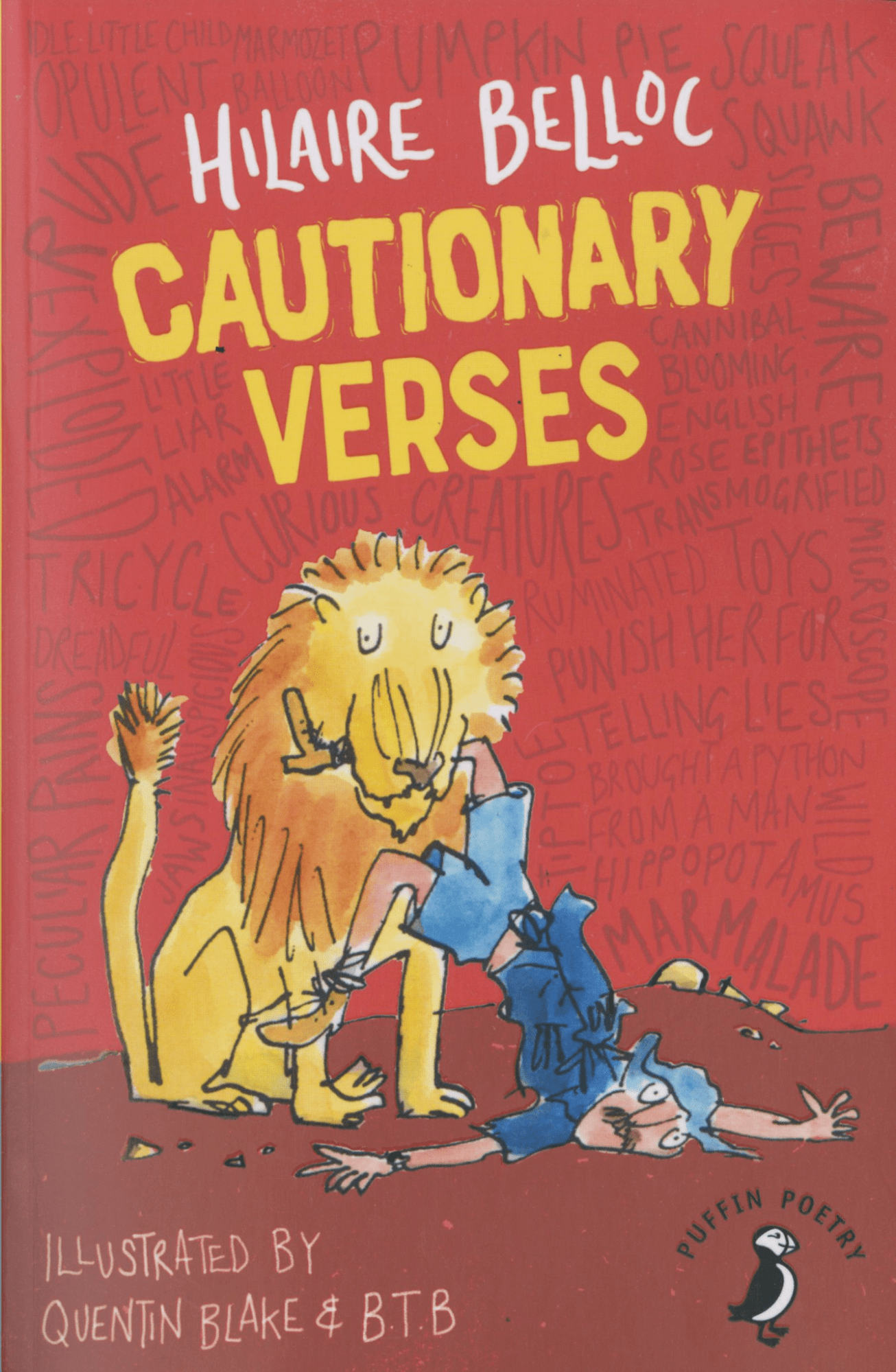 An illustrator of more than 300 books, Blake is an English illustrator who published his first design with the help of his teacher's husband, Alfred Jackson, also a cartoonist. Acknowledged for his work via multiple awards, some of his famous works include 'Waldo and Wanda' and 'The Story of the Dancing Frog.'
4
Illustrations after the introduction of digital design
A change could bring critical approaches, especially in a world where reviewing anybody's work is a matter of minutes (regardless of understanding the same). Amidst such difficult times, the following illustrators have been dominating the illustration landscape.
No Such Thing As Incognito by Matt Chinworth
Working with clients such as Ted and New Yorker, Matt participated in a series by Washington Post about tech privacy. The illustration gives a whole idea of how an individual perceives themselves, and how technology sees them - and it does see, horrifyingly, all the time.
The Flight of Icarus by Gail Armstrong
The British illustrator has made her way all over the world and had her designs published in National Geographic Educational books. What makes her unique is her love for paper designs, and conceptualization - as shown in the above illustrations.
Contagious - Brain Freeze by Lauren Mortimer
Published in The Guardian under the article titled 'why does ice cream give you brain freeze?' as a part of the Neuroscientist Explains series, is one of the examples of Lauren's love for pencil. Some of her works include the book series 'What Was…'
The Tale of Peter Rabbit by Beatrix Potter
She is many things: a writer, an illustrator, and a natural scientist. However, she is most famously known for her self-published book, 'The Tale of Peter Rabbit,' which was inspired by an illustrated letter she wrote to the son of her former governess. Most of her works are known for the countryside depiction brought through the same, which proves that bringing life into one's work can sometimes be inspired by their own life.
It goes without saying, including illustrations into projects and brands is one of the best ways to communicate with your audience. With the above-mentioned illustrators and their designs, you might have picked a thing or two about creating illustrations and finding your own inspiration and creative space. Nevertheless, each illustrator brings their own unique approach to work on the table, and while learning from the best illustrators of the world is one way to go, discovering your own journey is equally as important.
5
The journey to becoming an illustrator
With 68% of digital marketing professionals using visual communication tools for all content creation activities, the requirement for specific and versatile digital designs is higher than ever. Based on the same, the illustration industry is expected to grow in the near future.
This implies that the competition amongst illustrators will be increasing as well. Having said that, the good news is that now is the best time to begin a career as an illustrator; there have never been more resources available, in terms of tools, books, feedback, communities, etc. Also, while there could be a step-by-step guide to becoming an illustrator, it does not apply to each illustrator in the same way.
Therefore, instead of a rulebook, the following aspects are generic factors to consider when starting your career as an illustrator.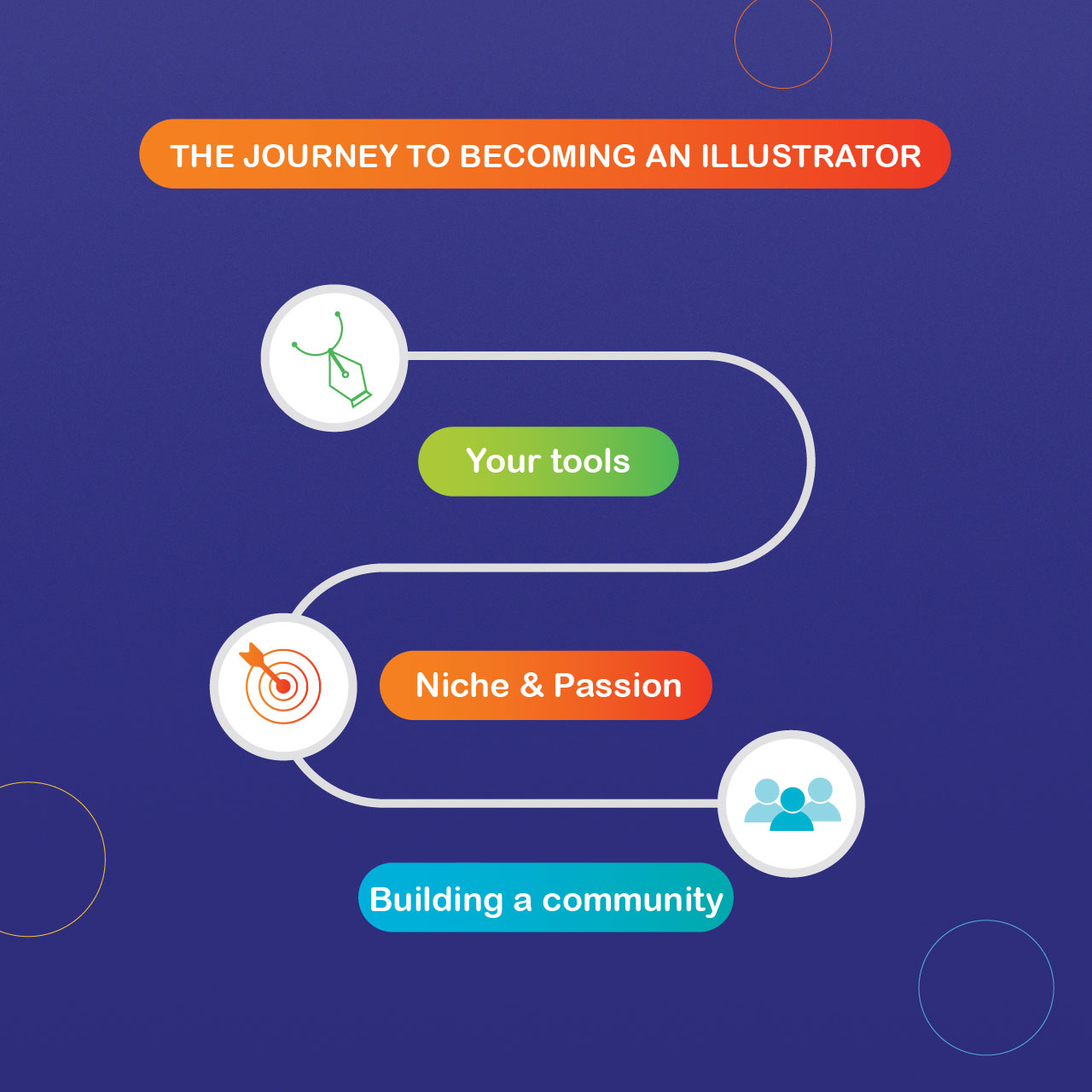 Your tools
As we came across the best illustrators of all time, we realized that every illustrator has their own go-to tool to design their illustrations. While some are all about colors and digitized designs, others prefer a pencil and paper. You name it, and someone must have made a career as an illustrator out of that specific tool. This implies you can select absolutely any tool to get started and see how you like the same. Some of the suggestions are:
Pencils
Papers
Fine Liners
Light Book
Computer
Software: Illustrator, Photoshop, and InDesign
Having said that, it is important to understand that each project or design requires different tools. Therefore, explore your illustration with your tools, follow your heart, and identify which tools work best with that specific illustration.
Besides the practical tools, an artist also needs tools to stir their creative juices and get to work with or without "feeling like doing it" a.k.a. your place of inspiration. Inspiration does not have a specific place where it emerges from, and if it does for some people, it varies from person to person.
RELATED: 7 Simple Graphic Design Tools to Create Engaging Instagram Content
From conventional forms of inspirational things such as books, industry experts, and history, to some of the non-conventional ones like shopping bags, movies, etc. If it works for you, stick to it regardless of how it sounds.
In case you do not have a project in hand, try a therapeutic approach and design an illustration to make sense of what goes on in your life, the problems humanity faces, politics, feel-good tools, and so on. Not only will this help you keep designing regardless of external projects, but will also give you a sense of what you are good at, and where you need to improve. Eventually, helping you create your personal brand.
Niche and passion
When we do something towards which we have the slightest interest and passion, we often forget to understand that many aspects are aligned with it. For instance, if you like to design, you can do anything from architecture and interior design to packaging and catalog design. While from the outside it may seem that these are the specific fields, the ones who are in the industry would know that there is a lot more to it. Therefore, picking a niche - printmaking, textile illustrations, etc. - is more important than some might think.
In addition to picking a niche, aligning it with your passion is equally essential. Instead of pursuing something that is followed by a crowd, following a passion while niching it down can help you break the inevitable monotony that comes with every career.
In fact, you enjoy the repetition. Furthermore, as you build your career as an illustrator based on the aspect that interests you the most, you don't mind learning by making mistakes and following it all the same.
Building a community
As you become better at what you do, and you are ready to share your designs, the next step is to become an association member.
We understand the importance of networking as a professional or a beginner. And as most of us know, there are numerous ways to network. However, it is a bit different with artists. For instance, if an accountant shares their work with a colleague, they receive feedback in terms of what is right and what is wrong. Be that as it may, artistry careers, such as an illustrator, is not a rigid, one-for-all career.
Instead, as an illustrator, more often than not, you need to have a different approach to your work. Therefore, being a member of a community, association, or club helps you network as an illustrator in understanding the trends, finding inspiration, and so on. A great way to tap into the local market is by attending events, illustration fairs, exhibitions, or even a museum near your place.
While the illustration industry is growing in popularity, the most exciting things about it are getting to explore various illustrators, design trends, and the fact that you can begin at the comfort of your home, and build a career out of the same. Start your first illustration design, take up courses, participate in design competitions, do research about what works the best for you.
Author Bio: Manas Chowdhury is a digital marketing enthusiast with PG in Economics and a Specialization in Finance. He is an entrepreneur who has a keen interest in stocks, bullions, gaming, and blockchain technology. While he runs his own startup, he also enjoys writing on a variety of topics. Being a philanthropist, he is also involved in various activities contributing to the betterment of the environment and society. You can connect with Manas on LinkedIn.
Additional reading:
Feature Update: How to Present Your Graphic Design Work to Your Client
10 Logo Design Tips for Anyone Who Wants to Create a Unique Logo
13 Graphic design trends in digital marketing you cannot ignore