How to Make Your Own Business Flyer Online (for Free)
What does it take to create an effective business flyer?
A catchy headline? A focal point for the target audience that drives them in the intended direction? A strong call-to-action (CTA)?
Yes, each of them is an integral part of a flyer whose purpose may be to drive a prospect to take the desired action, to announce a future event or promote a newly-established restaurant.
And in this article, we'll show you how to design business flyers with examples that not only grab the attention of prospective customers but also persuade them to take action while indicating the value proposition.
It was during the Renaissance period in Italy that the earliest version of contemporary flyer first made its appearance.
The process of learning how to design flyers became an art in itself as the years passed. And, soon enough, they became one of the primary tools for advertising products and services, to promote scientific and political ideas, religious beliefs, and more.
ALSO READ: How to Design an Advertising Flyer (With Free Templates)
In today's digital age, flyers are a valuable and cost-effective marketing tool for businesses across industries.
The flyer below is tailor-made for party announcements. It includes the party host, the guests attending the party, the date it's being held on, who can attend, where guests can buy tickets to the party, and so on.
According to data, 79 percent of small-to-medium business owners leverage flyers and brochures to power their marketing efforts.
Though most brands and businesses adopt a digital-first strategy for their flyers, they are a big part of offline advertising, too: we still receive flyers in stores, restaurants and in street corners, and they are no less effective.
After all, flyers give businesses (and others) the opportunity to reach people where they are and deliver the most relevant information at the right time.
READ: Graphic Design Tips for Non-Designers and Beginners
It is not uncommon for business owners, entrepreneurs and marketers to ponder, from time to time, whether flyers are effective in 2021 and if they will continue to be going forward?
The simple answer is yes!
However, they need to be well-designed and must check a few boxes.
In essence, an effective flyer design for your business must:
Grab attention: It needs to hook in people and make them want to read and understand what's in it for them
Provide direction: On seeing and consuming the information on a flyer, people must know what is being advertised and where and how they can know more
Be targeted: The flyer must speak directly to the target audience
Convince the audience: The flyer must convince people to take the desired action
RELATED: How to Design a Flyer in 2021?
Here is one of the business flyer examples that serves as an advert for an architect specialising in landscape apartments and villas. The elegant home decor and setup grab attention immediately.
The essential details - such as the name of the architect, their specialisation, where they are located, et cetera - are clear and targeted. It comes with a clear call-to-action, too, informing the prospect what they must do next.
Whether it is a business flyer or one that's being created for a different purpose and audience, each flyer must have the following elements.
This is a flyer for dancing schools to promote themselves and attract interested dancers to join their dance classes. Some of the most popular types of dance being taught are mentioned on the flyer along with contact information and website details to encourage prospective joinees to reach out to and find out more about the dance school.
A focal point: This is a non-negotiable when it comes to any flyer. Whether you're a business owner, an advertiser or a marketer, you must ensure you don't cram too much information into a single flyer. That will end up diluting the message and leave the audience with no direction about what they must do next. While it goes without saying, the less you convey in your flyer, the easier it will be to communicate your message and, ultimately, drive the audience to take action.
Design consistency: The company's logo, brand fonts and colour palette must be clearly defined and used consistently in flyers to ensure the audience can recognize your brand easily.
Clarity: A design that attracts and converts contemporary business owners might not make an impact on travel-hungry retirees, new parents, and others. It is important to define the audience you're trying to reach, and appeal to, before designing a flyer.
A clear CTA: Whether you want your target audience to sign up for a webinar or avail a free consultation, the flyer must drive the necessary action with the help of a CTA, the acronym for call-to-action. A clear CTA in a flyer will yield the desired result.
Flyers can take different sizes and dimensions, depending on the content that goes on them and where and how they are being distributed, but a standard flyer is typically the size of a computer paper.
8.5 x 11 inches (or 215.9 x 279.4 millimetres) - this is the size of a standard flyer.
When it comes to documents such as restaurant menu cards that need to be folded, a large flyer might be essential. Its dimensions are 11 x 17 inches (279.4 x 431.8 mm).
It is half the size of a large flyer - 5.5 x 8.5 inches (139.7 x 215.9 mm).
We have understood the need for a flyer, why flyers remain a prominent marketing and advertising tool, the key elements of a flyer, and the different dimensions.
Let's now use Picmaker, a DIY design platform, to design a business flyer.
We'll take you through a step-by-step process, starting with template selection up to downloading the flyer.
Picmaker has tens of thousands of flyer templates catering to businesses across sectors.
Start by Signing up to Picmaker with your account.
Once you sign up or log in, your Picmaker dashboard will look like this.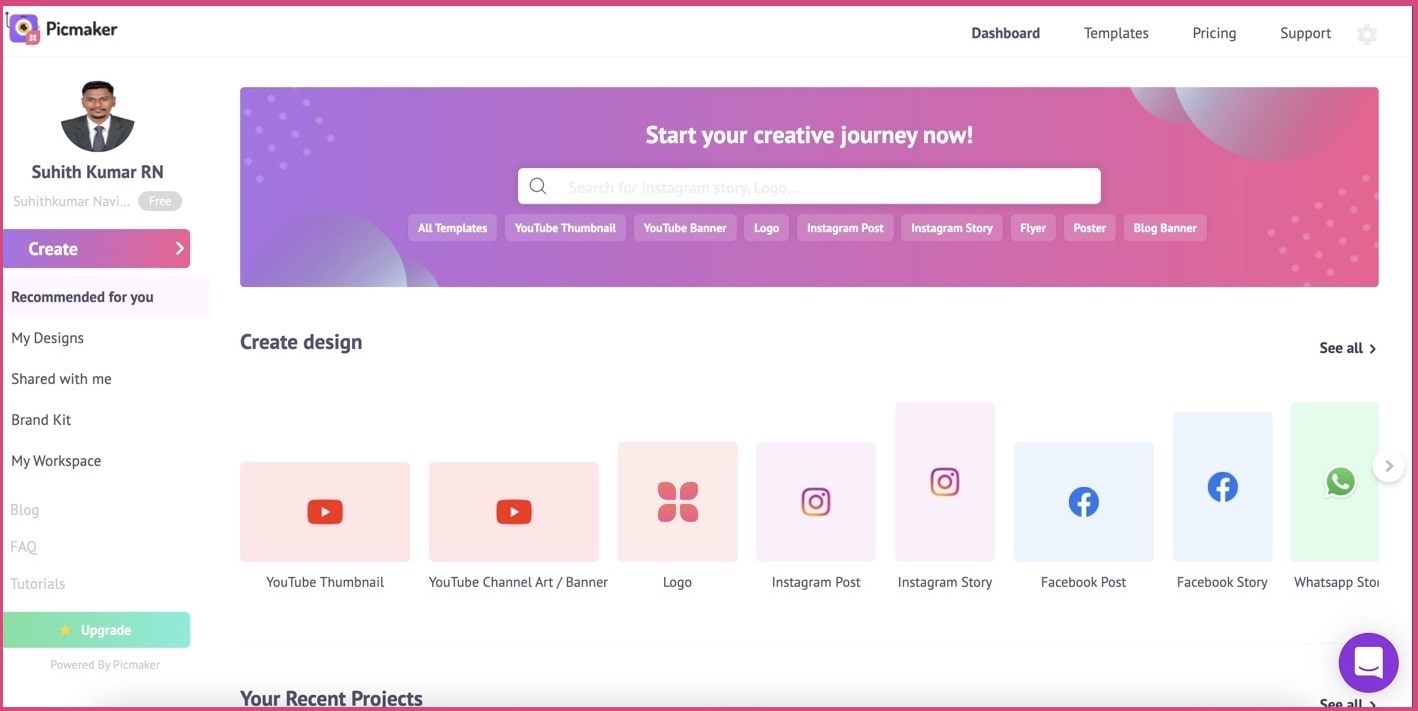 You can then either click on the 'Flyer' tag under the search bar or type in the word 'flyer' onto the search bar.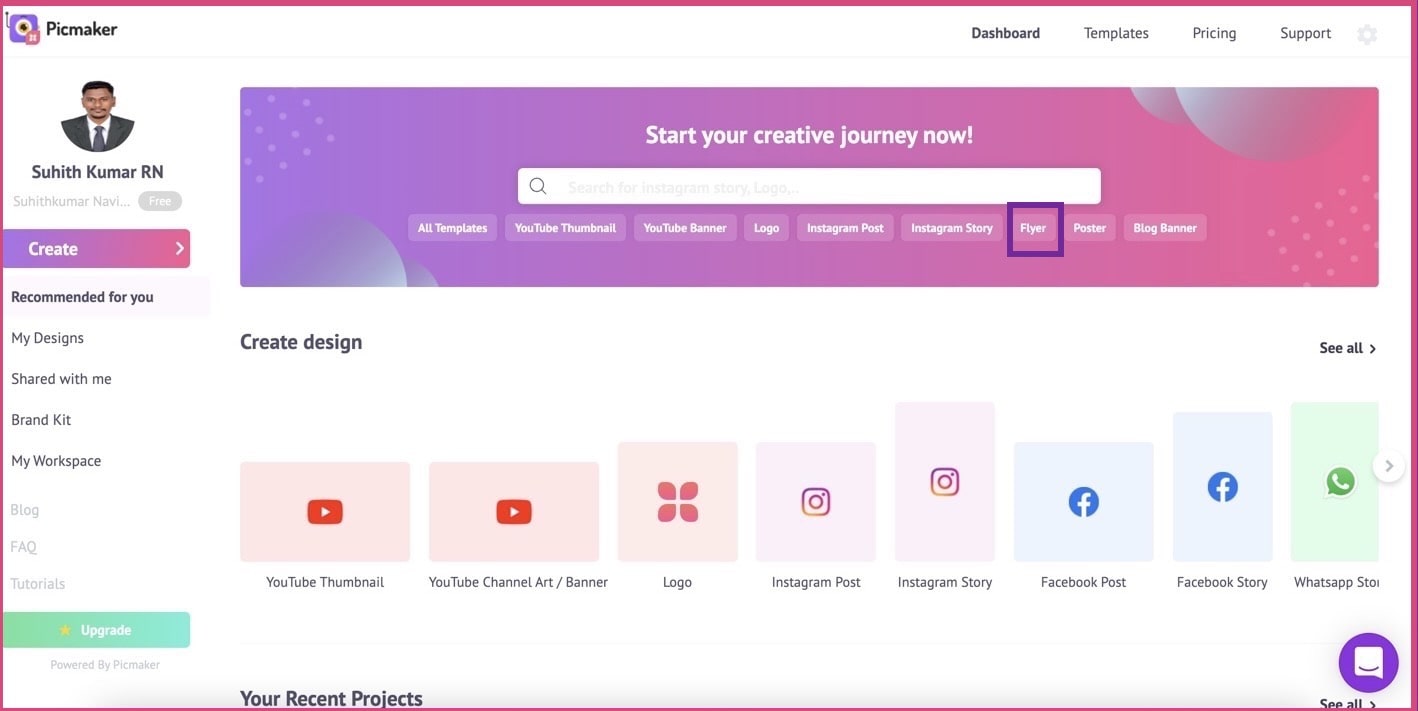 We have chosen to go with this one for our illustration.
We have chosen the flyer template. Now it's about customising the flyer with all the essential information, using text placeholders, adding a logo and creating a CTA.
We can start by choosing a brand logo.
Picmaker allows you to upload your own brand logo and use it on a chosen template.
You may also choose a logo from the many available on Picmaker. To choose one, click on objects and type in the term "brand logo".
RELATED: The Uncomplicated Guide on How to Design a Logo
We have chosen to place the logo on the top-left corner of the flyer, although it could also move to the top-right or top-centre.
We have also changed the font styles and typography to make the text elements easier to read. You can choose a font for your flyer by selecting one from the dropdown.
We have chosen Josefin Sans Bold for the headline and PT Serif Regular as the secondary font. Lato Bold is the tertiary font, which we have used for website URL and address, on the foot of the flyer.
Let's now add a CTA to encourage potential buyers to take action.
Create a CTA that is easily visible, converts a potential customer and is not intrusive either.
For this flyer, we have chosen to place the CTA button on the bottom-right corner, though it could also be moved elsewhere depending on the template layout.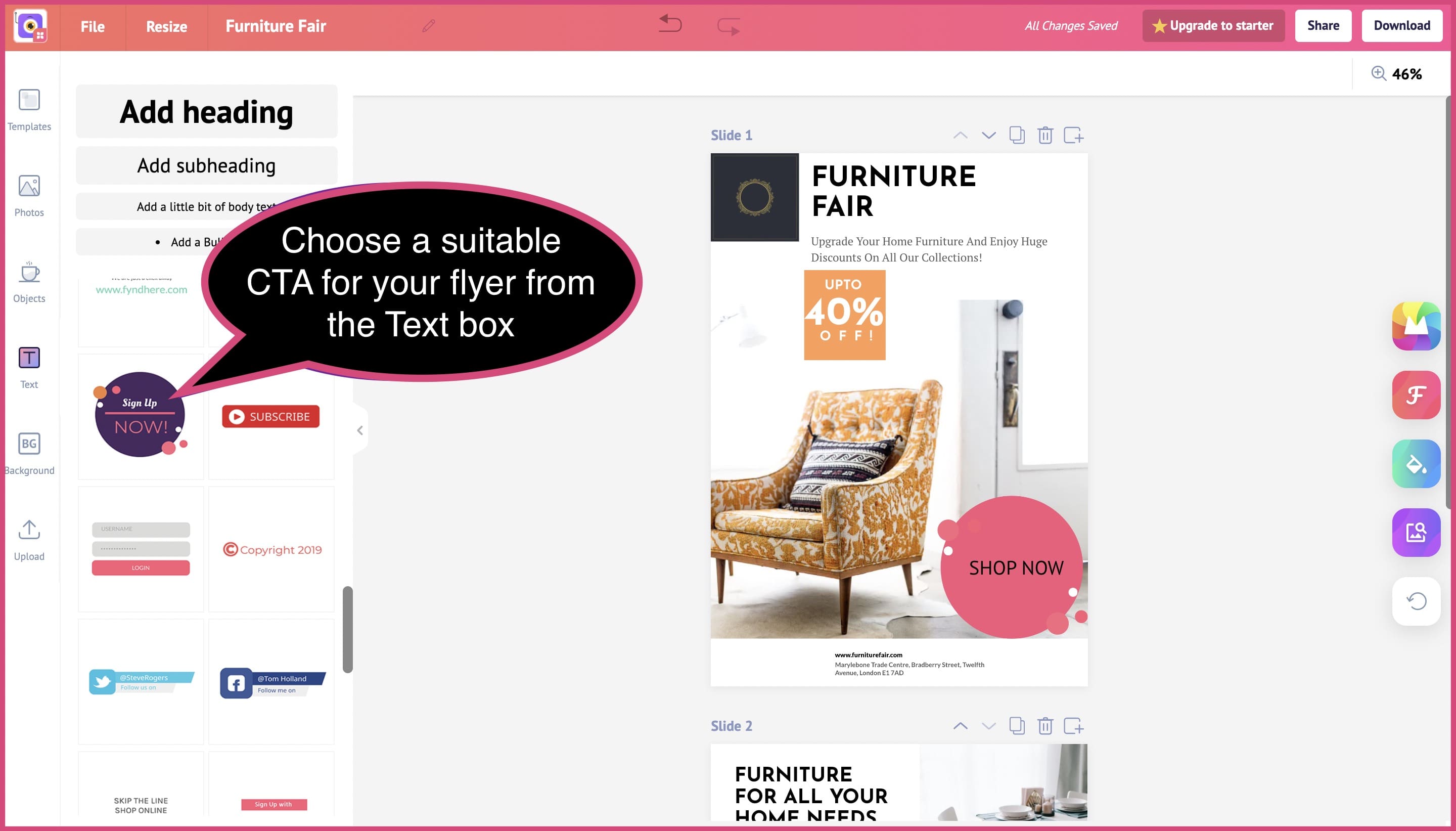 A general rule of thumb is to place your CTA button "above the fold".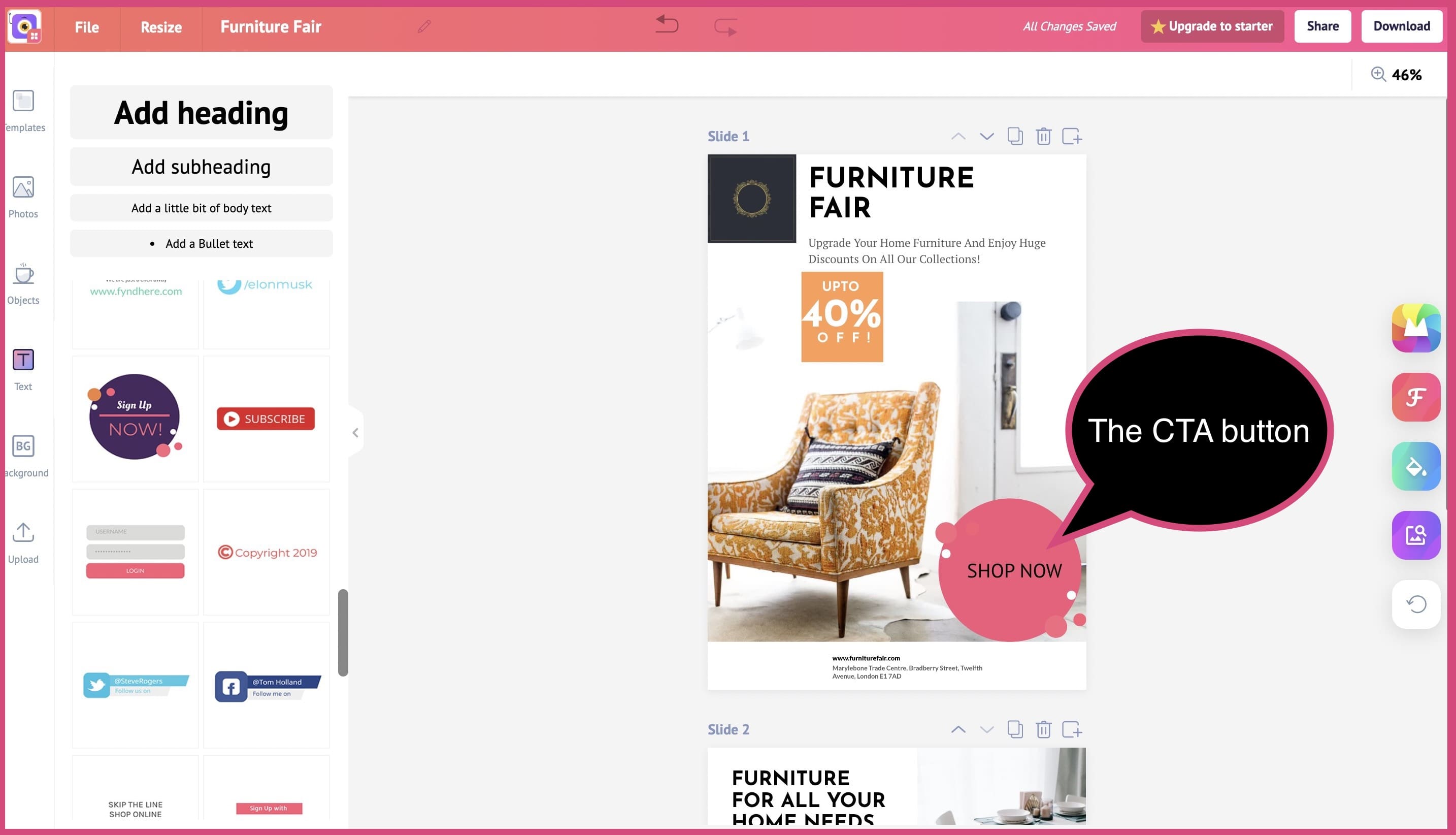 The flyer template has been customised, but we still need to ensure the text is well-aligned and the flyer is free of grammatical and spelling errors.
Revisiting the customised flyer could help make the copy more precise and to the point, while eliminating the fluff.
MAD Button is an innovative, AI-based feature on Picmaker that helps you customise fonts, colours and all other elements of your chosen flyer just with a single click.
All you have to do is: choose a flyer, make any changes you deem necessary and, once you're sure you've designed the flyer, click the MAD ALL Button.
It alters the look and feel of all the elements (including the logo) on your flyer, turning it into a masterpiece.
Alternatively, if you want to just tweak your flyer colours or image elements, you may click the respective buttons.
Clicking the revert button would allow you to restore the flyer design as it were earlier.
We're almost done with designing the business flyer!
It is now ready for download. You can download it in either PNG, PDF or JPEG format for use. You can also share the flyer on any social media channel.
That is how you design a business flyer (or any other type of flyer, for that matter) on a DIY design platform such as Picmaker.
Flyer for Racing Events
Need to advertise an upcoming mountain bike racing event in your town/city? This is the flyer template you need.
You have the flexibility to customise the copy - which includes the headline, event date and venue - based on your needs, but you can also add the event website address, ticket details (if any) and more.
Flyer to Promote Eyewear
This is a tailor-made flyer template to advertise trendy eyewear and glasses for people of all ages. The template comes with all the essential details such as the store location and address, the offer that can be availed, and an email address for potential buyers to use if they need answers to any queries.
Flyer for Restaurants and Fast Food Outlets
This flyer is self-explanatory and should whet the appetite of any food lover. The restaurant address and percentage of offer on food prices (if any) might be the only customisations required with this template.
Business Flyer Example for Workshops and Trade Fairs
This is a flyer template that toy manufacturers and craftsmen can use to let people know about upcoming workshops, trade fairs and exhibition events. Depending on the type of advertising, the flyer image might need to be changed. The date, time and venue details would also need to be customised.
Flyer for Conferences
Conducting a conference to make a company announcement or holding a webinar to promote a product? This is the flyer template for you. Depending on whether the event is virtual or is open to in-person attendance, the flyer must include the venue details, along with entry pass, eligibility, target audience and more.
Flyer for Holidays and Hotel Packages
The summer is not far away and tourists are itching to pack their bags and set off for their summer vacations. This flyer template is for hotels and resorts to announce holiday packages along with any offers that may interest tourists.
Flyer for Furniture Shops
Furniture marts and shopkeepers can use this flyer template to promote their newest collection of furniture. The template might not need extensive customisation as only the website URL, shop address and selling prices would have to be modified.
Flyer for Bakery, Confectionery and Pastry Shops
This flyer template is ideal for bakeries, confectionery and pastry shops promoting an updated food menu or a weekend offer on select dishes and food items. Brand name, logo and the address of the outlet need to be customised before finalising the design.
Business Flyer
This is a flyer that businesses of all sizes can use to advertise their services and mention the perks of hiring them. The template comes with all the essentials of a business flyer, which therefore requires limited customisation before use.
Flyer for Travel Agencies
Travel agencies can use this flyer to advertise holiday packages. The template already has the fundamentals of a travel flyer such as the destination, package costs and more. The contact details, agency address and website URL need to be customised before use.
Business Flyer for Digital Marketing Agency
This is a tailor-made flyer template for marketing agencies to advertise their service offerings such as SEO, SEM, brand management and more. The template would need to be updated with the brand logo, business tagline and contact and address information before use.
Flyer for Environmental Health
This is a flyer template that can be used to advertise workshops or conferences pertaining to environment conservation and raising awareness. The colour palette and other elements of the template make this an ideal flyer for events about climate change, nature, and so on. It is easily customisable and can be widely used.
Flyer for Music Concert/Festival
This flyer can be used by event organisers and entertainers to advertise an upcoming music concert/fest taking place locally or internationally. It has all the essentials such as the venue, dates, event name and more, and therefore, needs less customisation.
Salon Flyer
The flyer template is tailored for salons advertising vacancies for hairstylists, masseurs and other professionals. The template oozes elegance and requires less customisation before use. Just tweak the salon address, the timings and dates, and you're good to go.
Flyer for Fitness and Gym Centres
This is a flyer template custom-made for advertisers from the fitness industry. It comes with a neat tagline "Release Your Mind", while the background and image require little to no customisation. The name of the fitness centre and website details need to be changed.
Flyer for Wedding Planners
This is a flyer template that can be used by wedding planners to advertise their services and the benefits of hiring them to plan and execute an important event such as a wedding. The template comes with a clearly defined CTA, while the contact and website details need to be customised.
Business Flyer for Start-ups
This is a flyer template that start-ups across industries can use to advertise their service and product offerings. The logo, objects and text elements need to be customised to drive the target audience to take the desired action.
Flyer for Daycare Centres
Daycare centres can use this flyer to create awareness among parents and increase admissions. The template can be easily customised to include the curriculum and relevant services to convince parents to enrol their children.
Business Flyer
Businesses of all sizes and from across sectors can use this flyer to advertise their service and product offerings, and how they can benefit potential clients. The template comes with a tagline at the top while the layout is well-organised, which makes it easier to customise.
Flyer for Music Festival
This is a flyer template that event organisers and performers can use to announce their upcoming events and performances locally or internationally. The template includes the band name and other essential details such as website URL, address information and more, therefore requiring less customisation.
Restaurant Flyer
This template serves as a food menu for restaurants to showcase their specialties and favourites among customers. The layout and flyer elements are well-organised, so the flyer requires less customisation.
Flyer for Summer Camp
Schools and event organisers can use this flyer to advertise an upcoming summer camp. The template includes key details about the nature of the summer camp, the dates when it's being held and the website URL for potential attendees to visit to gather more information or register their interest.
Flyer for Spas and Salons
Spas and salons announcing services at discount rates and packages for customers to avail can use this flyer template. The colour palette, objects and social buttons are well-organised and the template requires less customisation before use.
Flyer for Fashion Event
This flyer template is ideal for event organisers about to announce an upcoming fashion event. The design is simple yet the flyer includes all the essential information about the event, such as the dates, time, organisers and more.
25. Flyer for School Events
The template is ideal to advertise and announce upcoming school and college events, such as symposium, culturals, prom and more. The event details such as the name of the institution, the people in charge and website URL need to be customised.
Earlier, we covered what a flyer should have and the essential attributes of a well-designed flyer.
Now, we'll provide you with a few key tips that will help your flyer stand out from the many being churned out.
Break down copy into digestible sections
Ensure the flyer does not have long paragraphs of text that overwhelm readers and prove counterproductive. Break down the content into smaller blocks with subheadings that can be skimmed by readers to understand the purpose of the flyer.
2. Use colours that suit your message
Colour psychology is nothing new in the domain of marketing and advertising as it affects people's perceptions and behaviours. The colour palette must be pertinent to the message that you, as a brand, are trying to convey and elicit an action from the audience.
READ: How to Create Engaging Visuals for Social Media Posts?
3. Don't go overboard with font choices
Using many fonts can lead to flyers becoming visually cluttered. A maximum of two or three typefaces is ideal for flyers. Designers must also ensure the fonts are easy to read and visible even from a distance.
4. Use only high-res photos
Blurry and pixelated images not only put off a reader, but they also fail to attract and hold their attention. What's more, readers may attribute low-quality images to a lack of professionalism and attention to detail. While it goes without saying, ensure you use only high-resolution, clear images on your flyers.
5. Consider bleed and trim when designing
Ensure the key information does not occupy the edges or less visible parts of a flyer. To avoid this, choose a template whose layout is best suited for the information you want to print.
Designing a business flyer that grabs the attention of people, keeps them hooked and drives them with a solid call-to-action doesn't have to be hard. With the help of Picmaker and its collection of beautiful, easy-to-customise templates, your business flyer will help you achieve anything you need it to.
Flyers, which emerged during the Renaissance period in Italy, are an effective marketing tool for online and offline businesses
Whatever the purpose of a flyer, its design and copy must combine to draw the attention of a reader, pique their interest and provide a strong value proposition to convert them
A flyer must have a focal point, be consistent in design, provide clarity to the target audience and have a clear call-to-action
Picmaker's library of templates can help you create flyers for business announcements, product offers, sports events, music fests, job adverts, marketing projects, and what not!
MAD Button, the acronym for Mad About Design, helps you strike the right balance between color, font and design for your flyer with a single click. Picmaker users can upload their own brand fonts, typography and colour palette to create trademark designs
Need to create a flyer to announce an upcoming event in your locality? Head over to Picmaker's flyer templates page, choose the one that best fits your needs, sign up or log in, customise the design and copy as required, download the final design for use. Sounds simple? Trust us, it is!
Ensure you follow our tips to create an effective flyer
What flyer have you created using Picmaker and how would you rate your design on a scale of 1-10? Share with us in the comments, we're eager to know :)
ADDITIONAL READING: A Step-by-Step Guide to Design an Advertising Flyer (Includes Free Templates)