How to Design a Stunning Logo in 5 Minutes With a Free Gaming Logo Maker? (Includes 10 Templates)
If you're looking for a gaming logo maker, congratulations, you've landed in the right place. 🙌
Playing a video game is like telling yourself, "I'll just play for an hour or so." But, before you know it is already dawn! 🥱
But, who cares!? If you're good at something, just do it!
And we know when you've decided to go, no holds barred, we don't want you to hold back either. That's why our gaming logo maker allows you to launch your YouTube gaming channel in minutes.
In this blog, we will show you different logo templates that you can pick and run.
Here's the first logo from our gaming logo maker arsenal.
The first logo in our library is a simple logo for gamers that lets you customize endlessly. (Scroll down to know how to design a gaming logo.)
It has a black and white color contrast, which can be changed to suit your needs
The letter 'O' in the word 'Code' has a
It uses the 'Staatliches' font to good effect
This logo template allows you to use a tagline for your logo
For example, we changed this logo to different a purple background, and this is how it looks.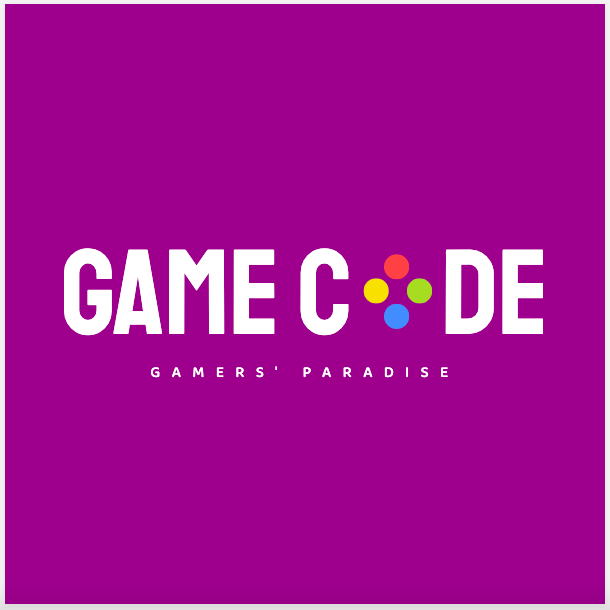 Or, you could even use a gradient background if you're a fan of gradients like us. We tried out a bluish gradient and we liked what we have. It retains the central colors in the middle of the logo while allowing the background to shine through.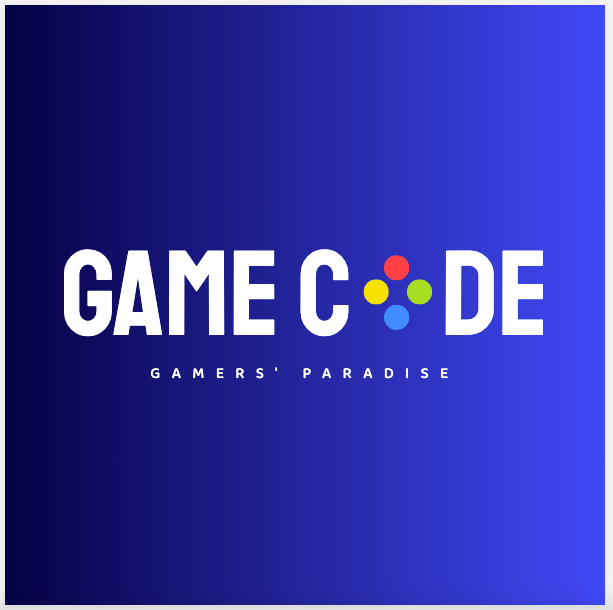 The next template in our collection is a favorite amongst our users. :)
It has a red gradient to it, which is ideal for its theme (devilish)
The devil makes it appear quite sinister, although it is far from it
Its tail gives it an artistic touch
It allows you to have your short name displayed on it
We changed it to a yellowish theme without disturbing the devil in the foreground, and we were not disappointed with our choice. A yellow background makes the devil more friendly :)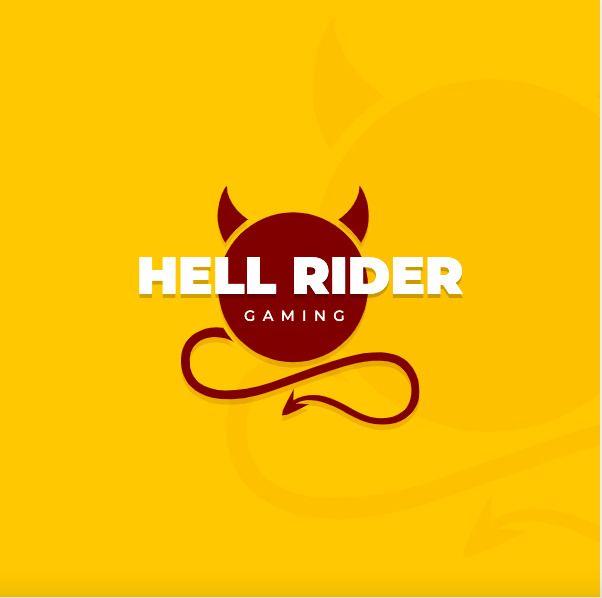 The next template in our gamer logo series is a convention logo that conveys your occupation. With a joystick symbol and a greenish theme to it, this logo template easily blends into your digital assets.
The colors are contrasting
The icons clearly indicate that they belong to a gaming organization (it could even be an individual)
It has the name of the YouTube channel which features its gaming videos
A viewer can look up videos under this logo by searching for the name "GamerPeter"
It is ideal for all kinds of social media channels, websites, etc.
The next free logo template in our series is an eSports logo. This is for all those motorsports fans out there who love the adrenalin rush. It has:
A chequered flag attached with the word 'Moto'
Words that are commonly associated with motorsports such as 'Throttle'
A red, white, and black color combination that symbolize racetrack colors
Pale white background that blends nicely with the logo in the foreground
Font typography belonging to the Montserrat Black family, which is ideal for bold logos
Besides, we think the colors are appropriate, you may not need to change it, unless need different options.
This logo is suitable for all those chess buffs. With so many chess gamers online, we felt it was only appropriate that we had a logo for them. This logo template has:
A name that incorporates the pieces on a chessboard
Montserrat Black family as the main font
A white-colored font that blends well against a green background
While we have a tagline as well underneath, you're free to customize it to your needs.
How to make a gaming logo for free using templates?
Now, let us see how to make a gaming logo for free using free templates in minutes.
Step 1 - Setting up on Picmaker
The first step is to head over to Picmaker's logo maker, and sign up on the design tool with your email id.
Or, simply click here to log in to Picmaker.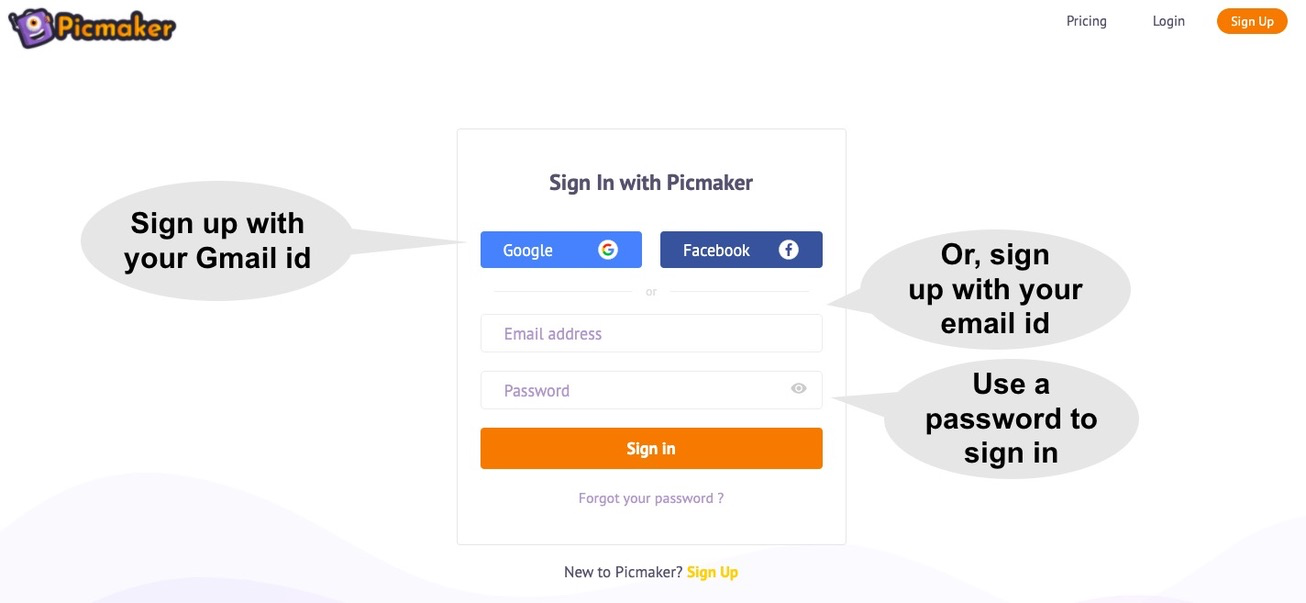 Step 2 - Choosing a logo template
The next step is to choose a gaming logo template from the numerous options available. Our gaming logos are mixed with other logo categories.
Click on any gaming logo of your choice, and you will be taken to our logo maker's editor page.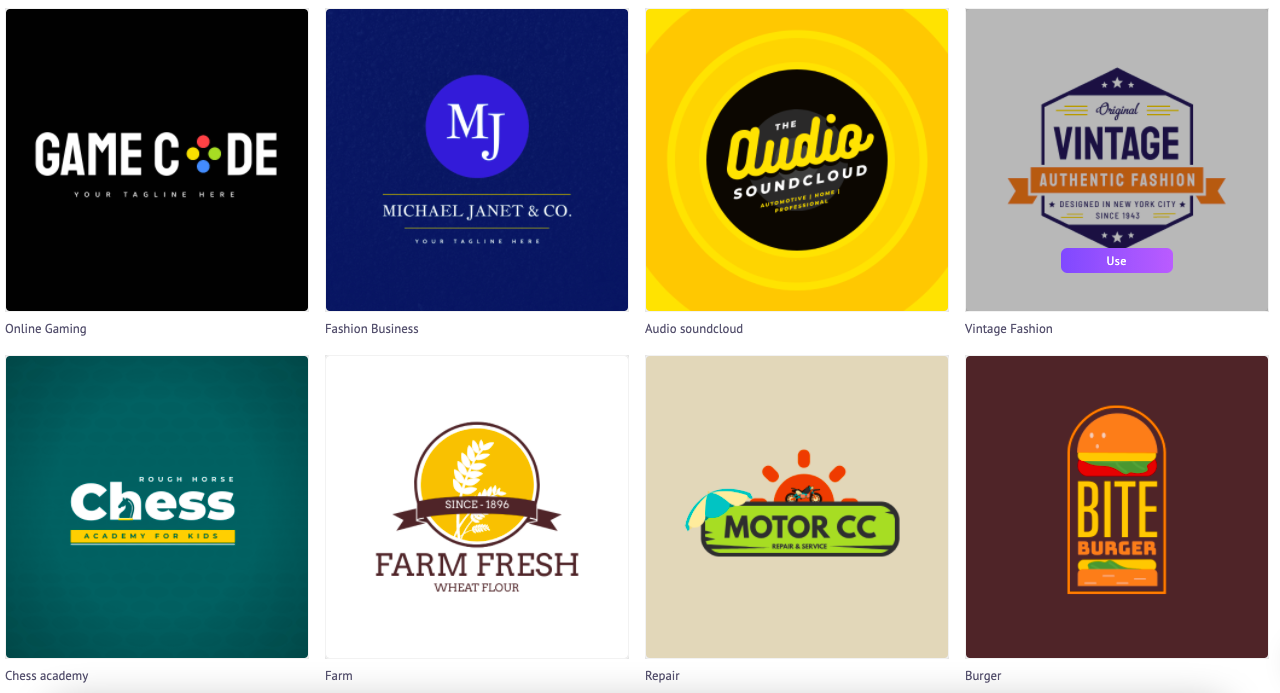 Step 3 - Customizing a gaming logo template
In this step, we will customize a gaming logo to suit our requirements. First up, we will change the colors in our gaming logo.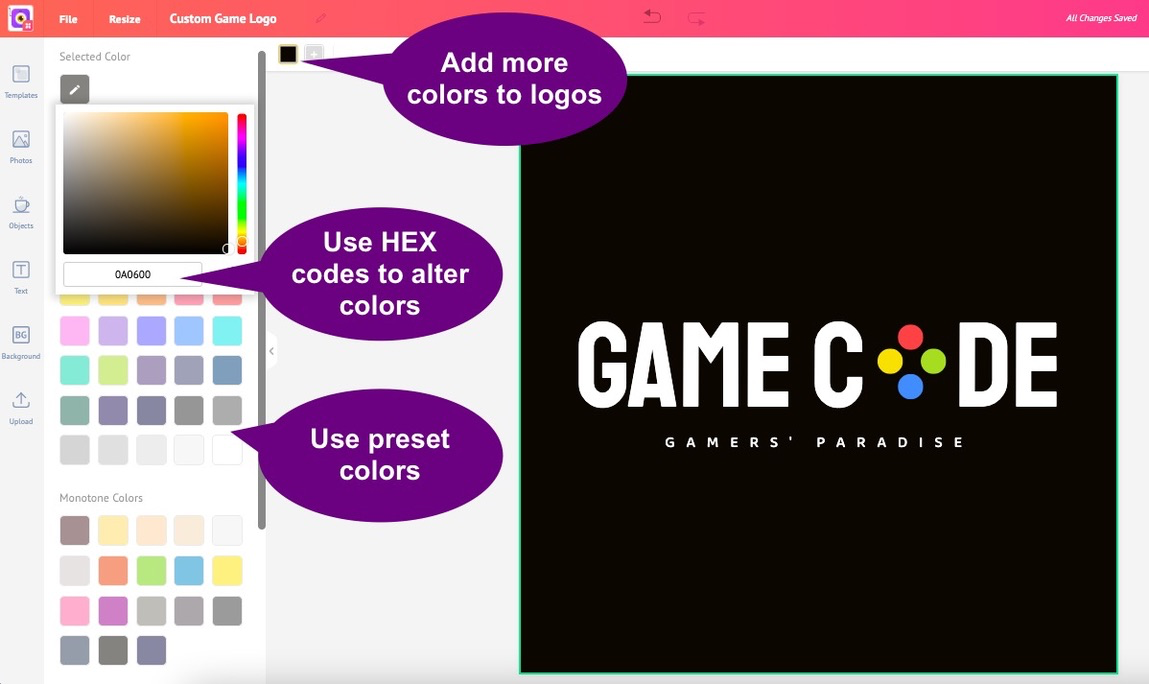 You can even alter the typography and fonts on this gaming logo. For example, in the below logo, we have changed the font from Staatliches to Bungee Shade.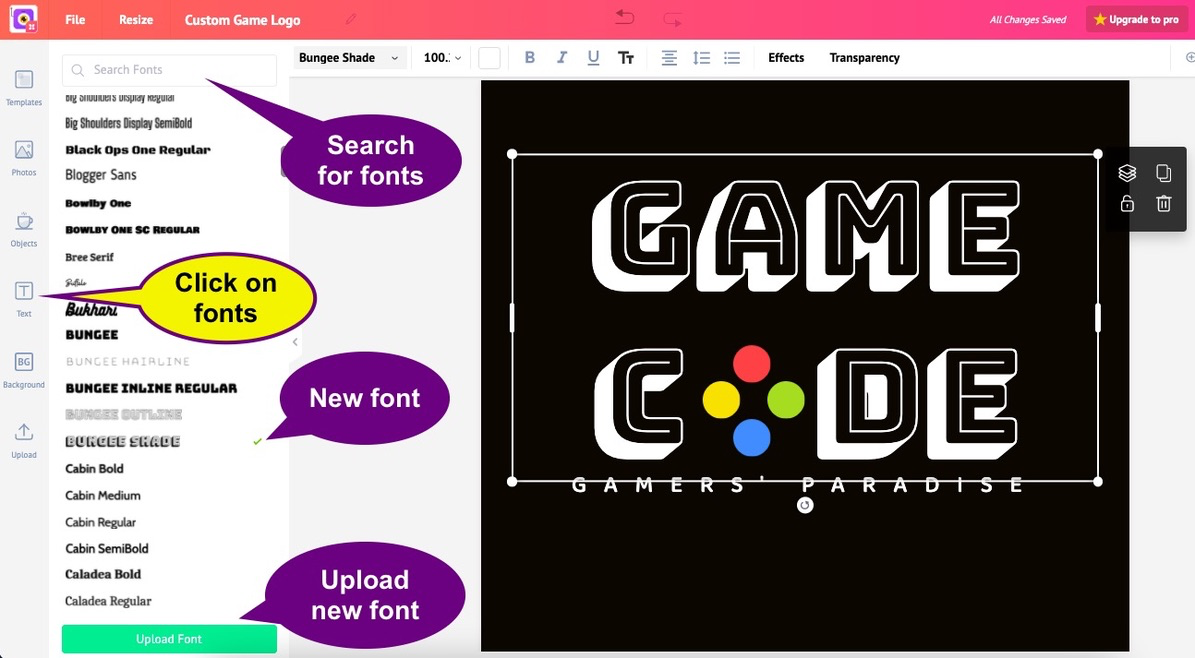 Or, you could add special effects to your logo fonts and typography too.
How do we do that?
Click on the font, and notice 'Effects' on the top menu bar. Now, click on it and see the Font Effects window open on the left. It gives you several options to add extra effects to your fonts.
In the image below, we have added a 'hollow' effect to our logo fonts, and the output is fabulous.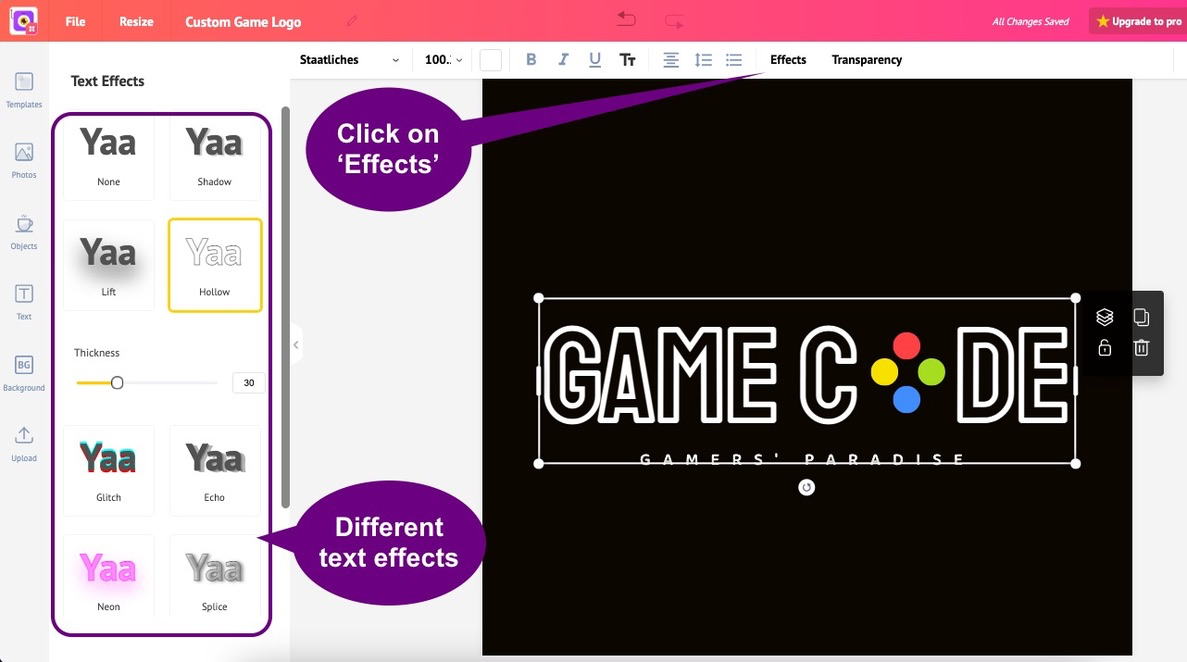 We also tried a glow effect to our logo fonts, and what we saw was awesome.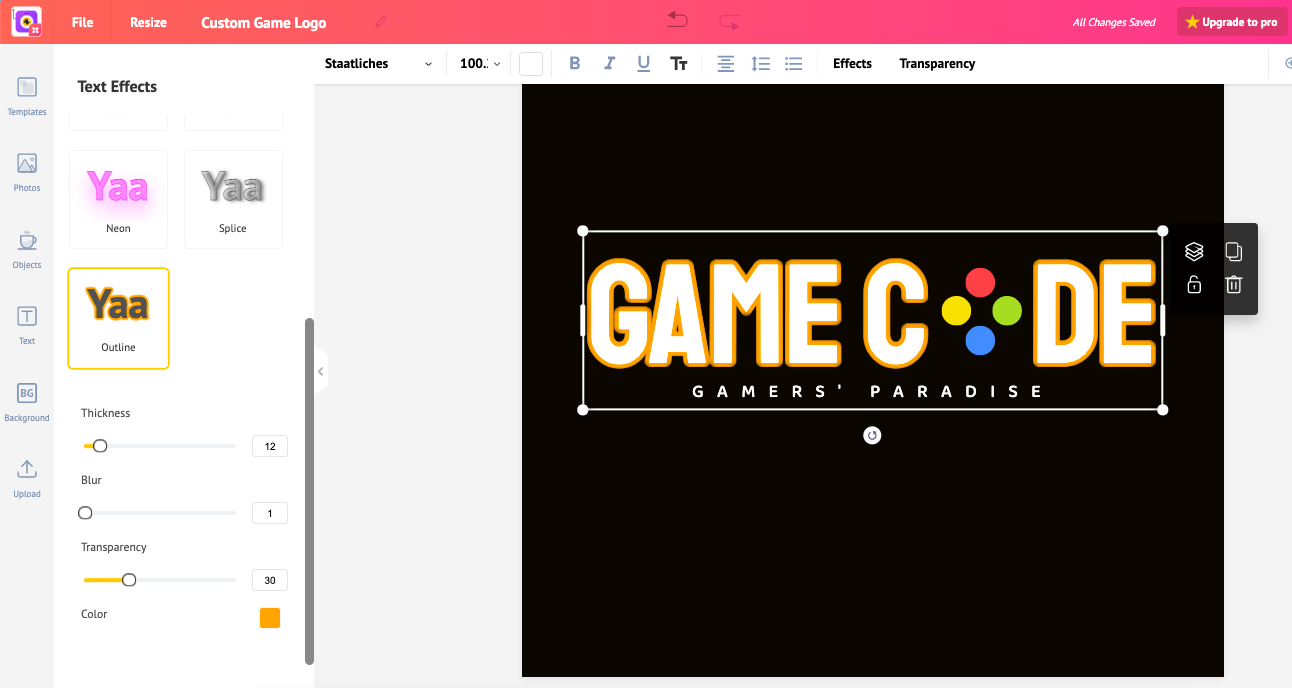 Moreover, if you'd like to add special objects to your logo, then click on 'Objects' on the left-hand menu bar, and search for the term 'game.'
We tried and we found a dice that suits our logo. And, we used it on our game logo. Here's how our new logo looks.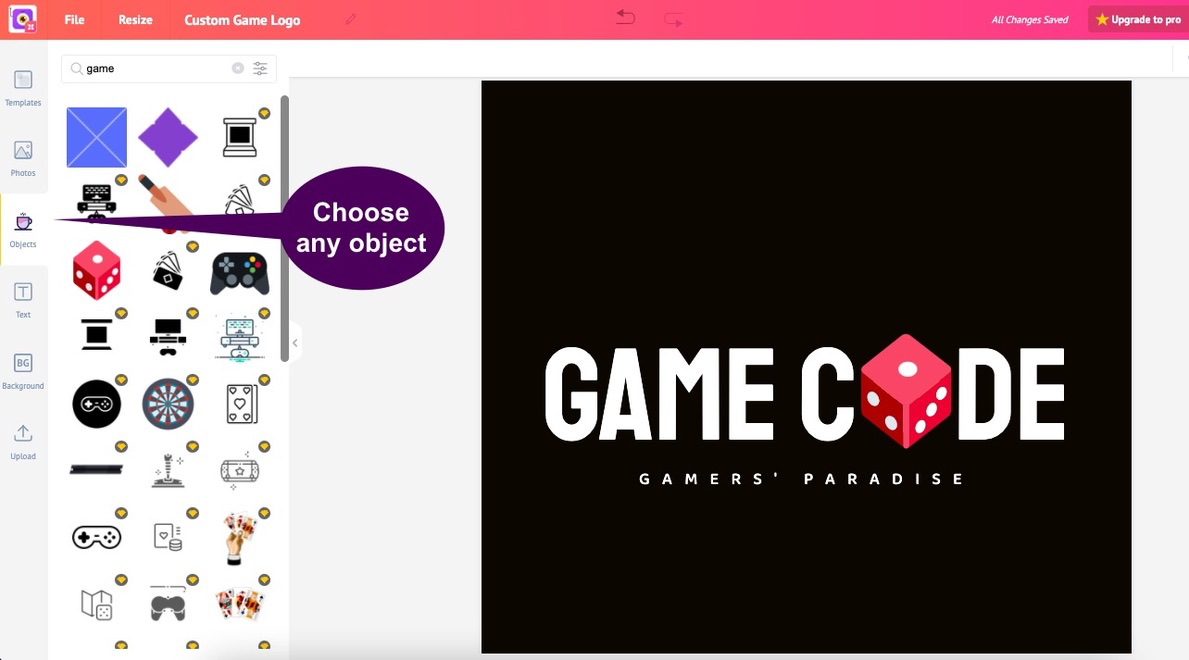 Furthermore, at any point, to go back and change your logo, click on 'Templates' on the left-hand menu bar at the top, and change your logo.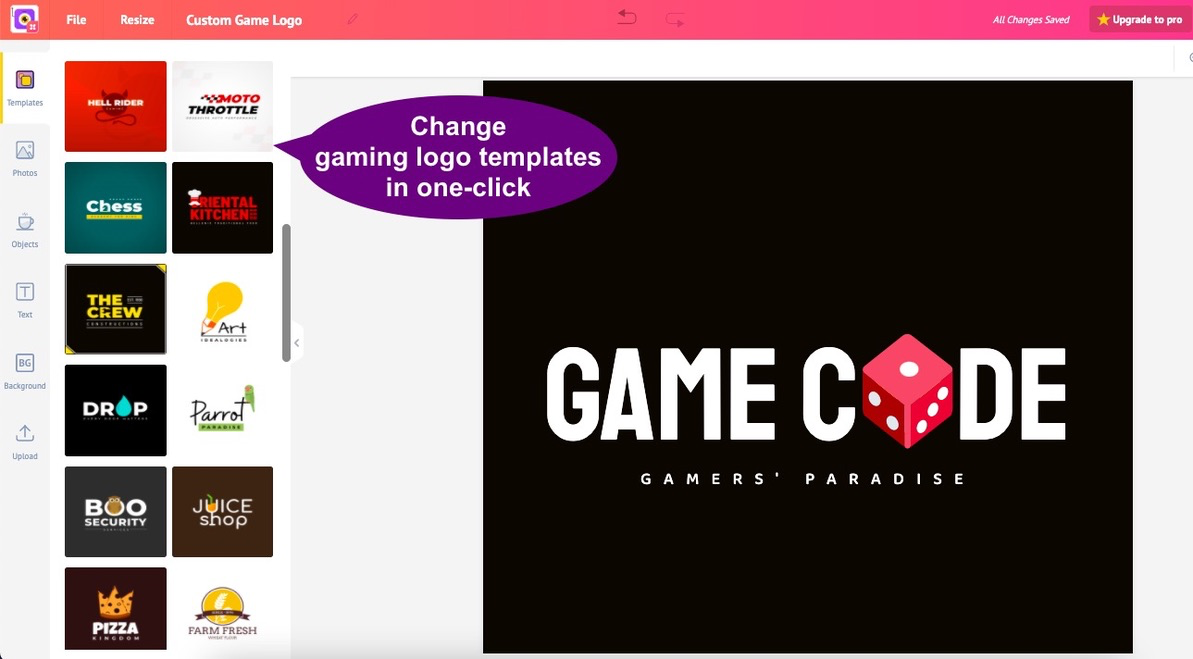 That's it. When you're done, click on 'Download' at the top-right corner of your screen, and get it in the format that you prefer - PNG, JPEG, PDF etc.
Ta da! That is how you get a gaming logo maker for yourself. Your gaming logo is ready to greet the world!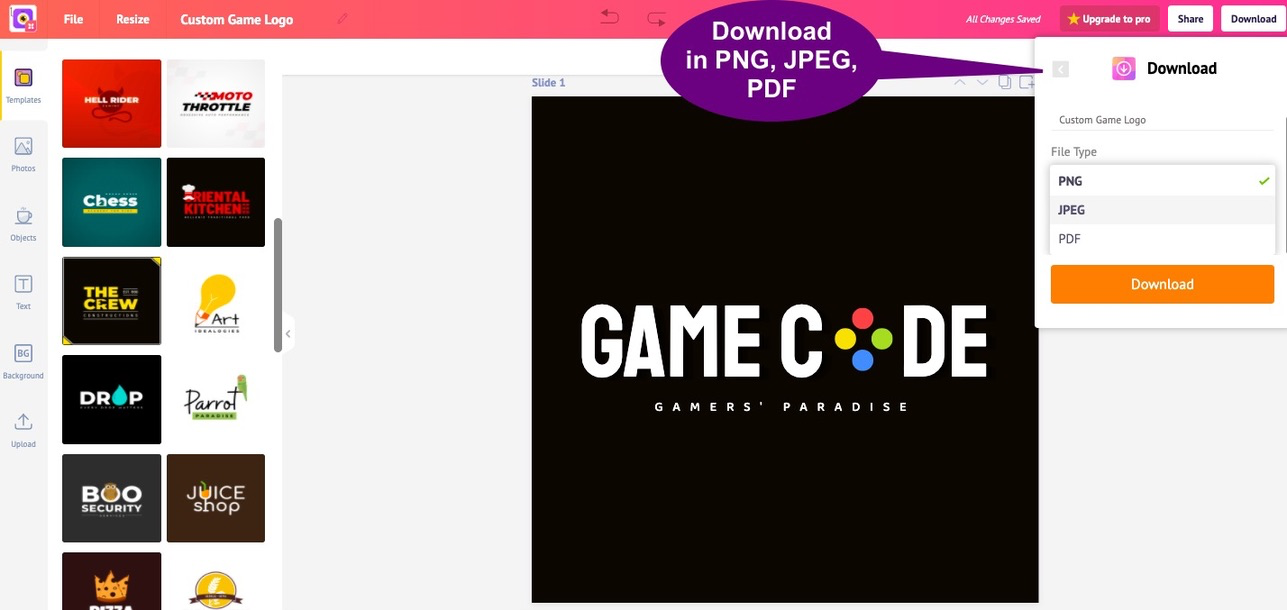 Summary
Let us recapitulate what we learned in this blog.
A gaming logo maker is a must-have for your YouTube channel, website, etc.
It is easy to make using templates with Picmaker's logo maker
A gaming logo can be customized in umpteen ways to get the right one that suits your needs
---
Additional Reading
If you're looking to design a logo for yourself, don't forget to read our detailed guide on how to get it done in 5 minutes.
And, if you want to design a poster for your business, this comprehensive guide to making a poster will get you started in minutes.