9 YouTube Marketing Tips to Gain More Subscribers in 2022
Let's admit it - YouTube is the only video platform on the web that people use the most. It is also the largest search engine after Google.
Business owners consider YouTube as an excellent place where they can promote their business. And this is for a good reason.
YouTube brings different types of business into the fold. Anyone can create a channel and push a business into the masses growing the number of subscribers.
Therefore, wouldn't it be fair to ask - how to gain more subscribers?
In this guide, we will explore nine marketing tips that will help you with growing your channel subscribers on YouTube. Plus, don't forget to read our three vital tips to grow the number of views at the end of this blog.
On another note, if you're looking to create your very own YouTube banner, check out this video.
1
Cover Only Those Topics Your Potential Customers Are Interested In
First of all, if nobody watches your video content, you won't get any subscribers. It leads to us to conclude that "getting more views" is the first step to growing subscribers on your channel.
Consequently, your top priority is to cover topics that would be interesting to your target audience. Now, you can ask - how to know which topics resonate with our target audience?
You can use a free YouTube Keyword tool from Ahrefs that will help you out. It is a simple SEO tool that helps you narrow down keywords in your niche. All you need to do is to enter any topic --> click on the "Matching terms" report --> switch to the "Phrase match" tab.

Notice in the above screenshot, this report suggests a list of keywords with its search volume metric. This metric shows the estimated number of searches monthly.
By taking into account these keyword suggestions you know what topic ideas to plan for in your videos. Besides, by using these topics, you can become an expert or a thought leader in your chosen business area.
Now, let's move on to the next marketing tip.
2
Stay Focused on Niche Topics Related to Your Business
YouTube beginners often make a frequent mistake - they cover topics that are not related to their niche. Unfortunately, it leads to one of the following:
People start to unsubscribe
User engagement begins to drop (you get more dislikes, shorter watch times, negative comments etc.)
A low level of user engagement has a bad impact on YouTube rankings. Your videos stop being suggested in a sidebar.
That's why YouTube experts just focus on one niche and keep hammering away at it.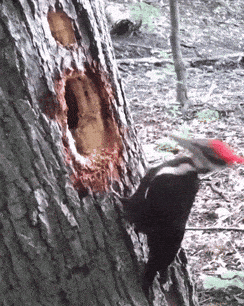 For example, if you look at Dude Perfect's YouTube channel, you'll notice that it is a bunch of five dudes competing in weird games, such as Ping Pong trick shots, water bottle flip, etc.
Every game that they choose is off the beaten track - so it makes them specialists in uncommon games. Games that do not have much fanfare and not many people play. Their primary aim is to entertain their audience by doing things that are a fantasy for many.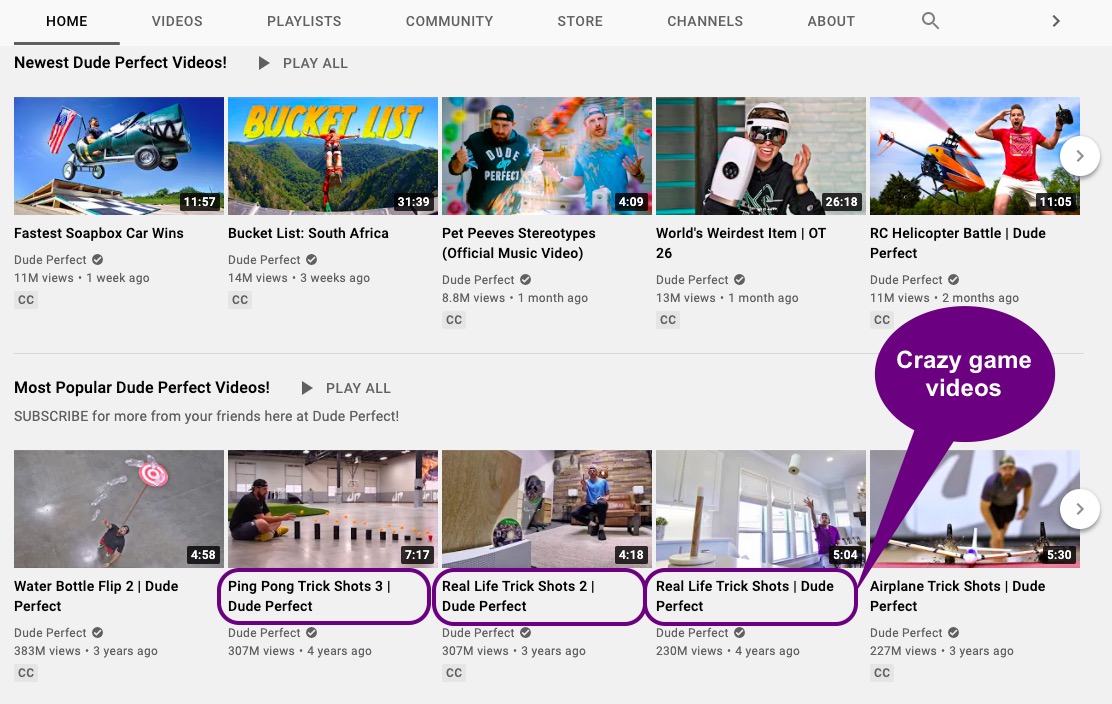 3
Analyze What Users Want to Find on Your YouTube Channel
Whilst working out keywords is important, it is even more important to learn what your viewers want to view on YouTube. For instance, if you've created a video "Sega Dreamcast VS. Sega Genesis" and your video starts with information about Sony PlayStation, then you're asking for trouble.
Why?
Because users will be confused because they wanted to review the video content about Sega specifically. They didn't get what they wanted and eventually, they'll stop watching your video. YouTube's algorithm will pick this up and push your content down.
But, how do you ensure that people will watch your videos from A to Z?
Suggest those videos that would go in line with what people want to watch. To put it simply, if your video is "How to find an email address", it must show people how they can find email addresses. Nothing more. also, you Integrate Your Email List With Your Websites and Funnels with systeme.io.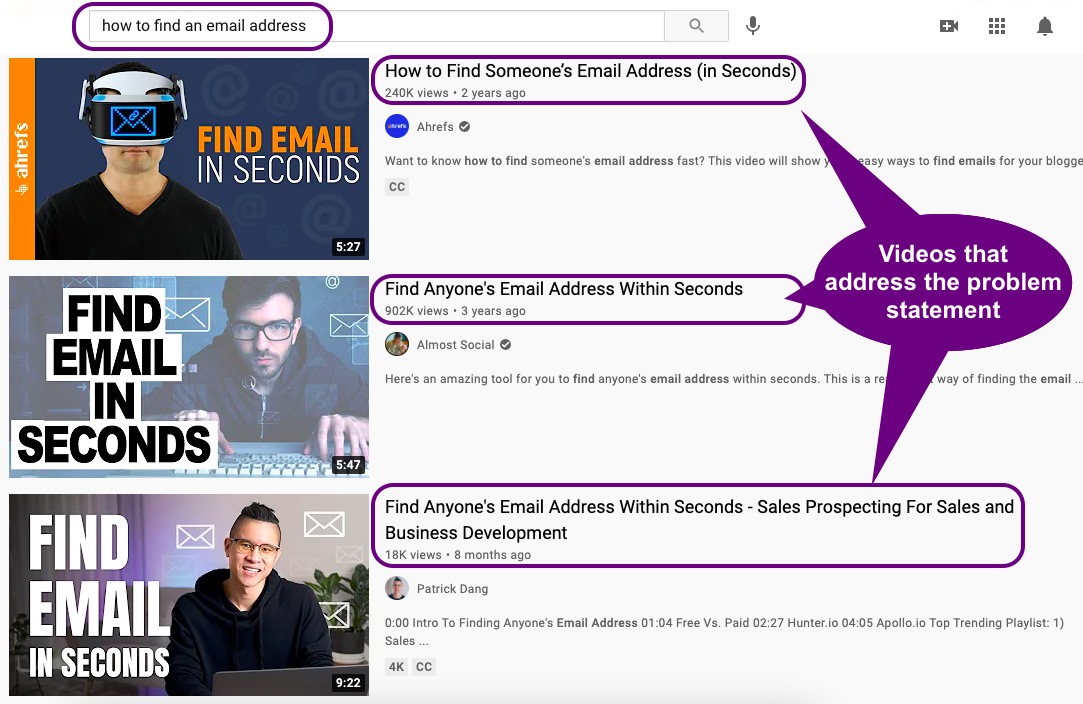 However, some topics can have a few different directions of user intent on YouTube. Let's say, you want to upload a video that covers "Bass guitar jazz."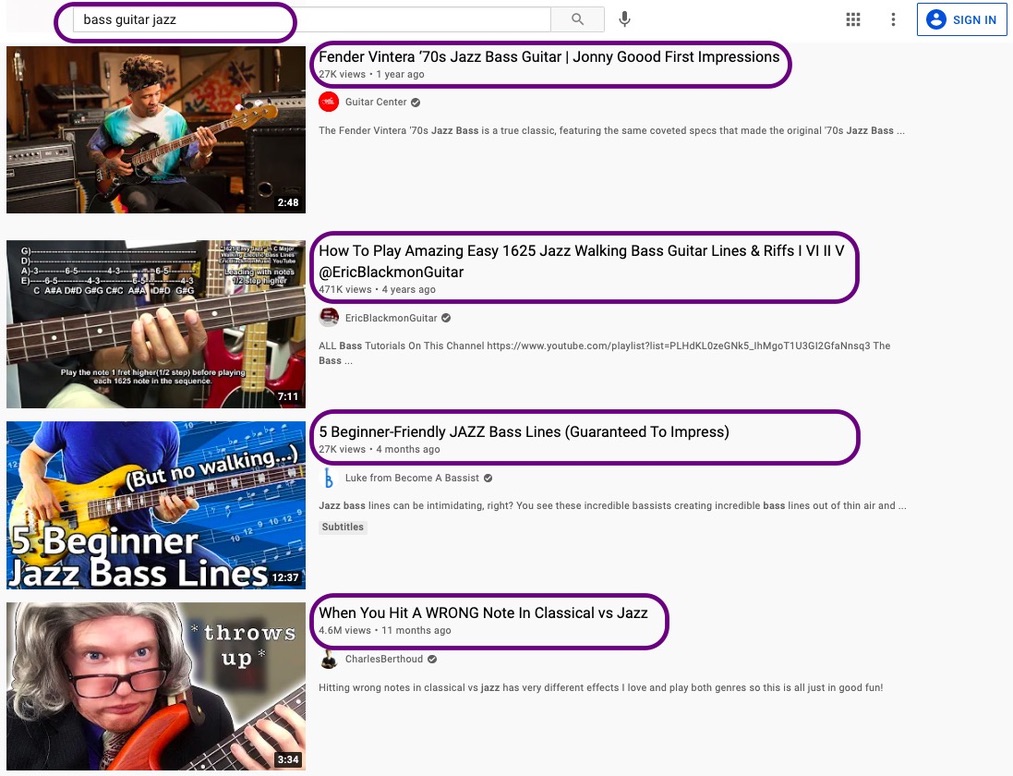 What is the intent behind this video query?
As you can see here, YouTube suggests completely different results for this request. There is a masterclass on 'How to play amazing guitar lines and riffs, 'jazz bass lines for beginners,' and a sound comparison of 'hitting a wrong note in classic and jazz music.'
Each of these three results are designed to match a user's potential search intent. It's like YouTube suggesting a viewer, "Would you like to watch A, B, or C?" When the user picks his/her choice, YouTube will show more videos in that category subsequently.
To sum up, your goal is to feel what people want from you and to satisfy their needs.
4
Stick to Your Main Video Format
"Nothing ventured, nothing gained," goes an old saying.
It is quite true for startups, businesses, and for life in general. Unless we experiment with something new, we will not uncover newer dimensions
But, that is not always true with YouTube. YouTube prefers that you stick to one theme, chisel it to perfection, before testing other themes.
Take the example of Pat Flynn, an entrepreneur, podcaster, and a famous internet marketer. Pat's main focus is to speak about financial freedom, earning a passive income, how to deal with competition in business etc. Some of his videos have get about 1 million views. 
For example, his video about "How to earn a passive income online (3 legit models from $5 million entrepreneur)" has earned him more than a million views.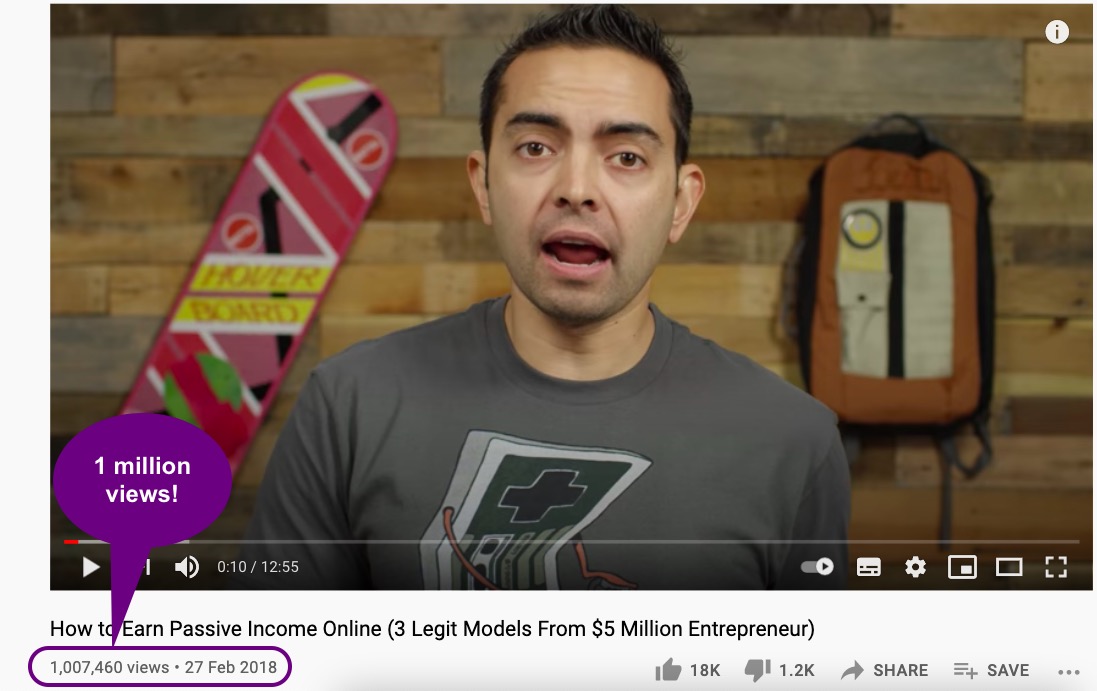 However, Pat Flynn uploaded a video that tells about his campaign in Africa to build a school in Ghana. That video garnered only about 8k views.
Now, don't get us wrong - we don't say that you shouldn't do charity or that Pat's approach was wrong. But, it is YouTube's way of telling us that it prefers you to stick to a theme before experimenting.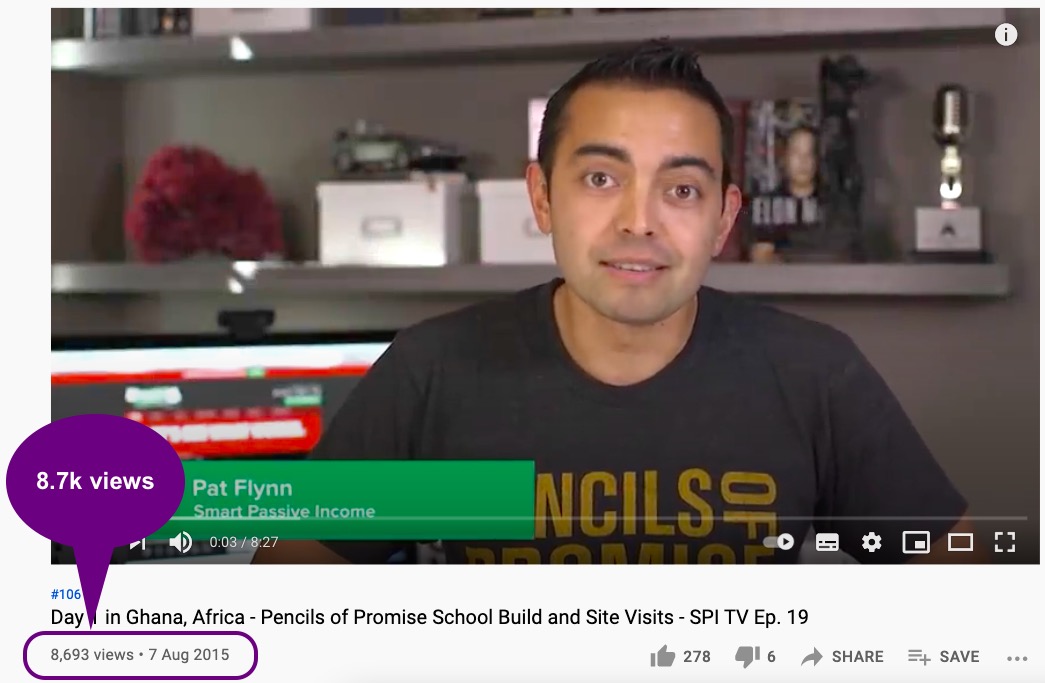 Lesson?
By sticking to the main focus of your YouTube channel, you will be able to generate even more views, just like this french guitarist with his dedication to music.
5
Stick to a Video Content Posting Schedule
If you think that there is a specific video posting schedule to follow, you are wrong. It is completely up to you. The more videos you publish, the more views you will get. Eventually, the list of subscribers will grow.
But it doesn't mean that you can publish a few videos per month. No, it won't work. Instead, if your channel is a fresh one, you should publish a few videos per week. Gradually, as you scale the number of videos, and as you gain more subscribers, you can start having your personal video posting schedule and follow it.
6
Create Playlists for Your Videos
A lot of beginners leave their videos as they are on YouTube. But, that resembles an unkept book shelf in a library - you don't know what to look for where.
Instead, upload your videos to different playlists topically. If you look at Pat Flynn's video schedule, you'll notice that he's posted tons of videos. But, he cares about his channel - and that's why he has categorized them across different genre.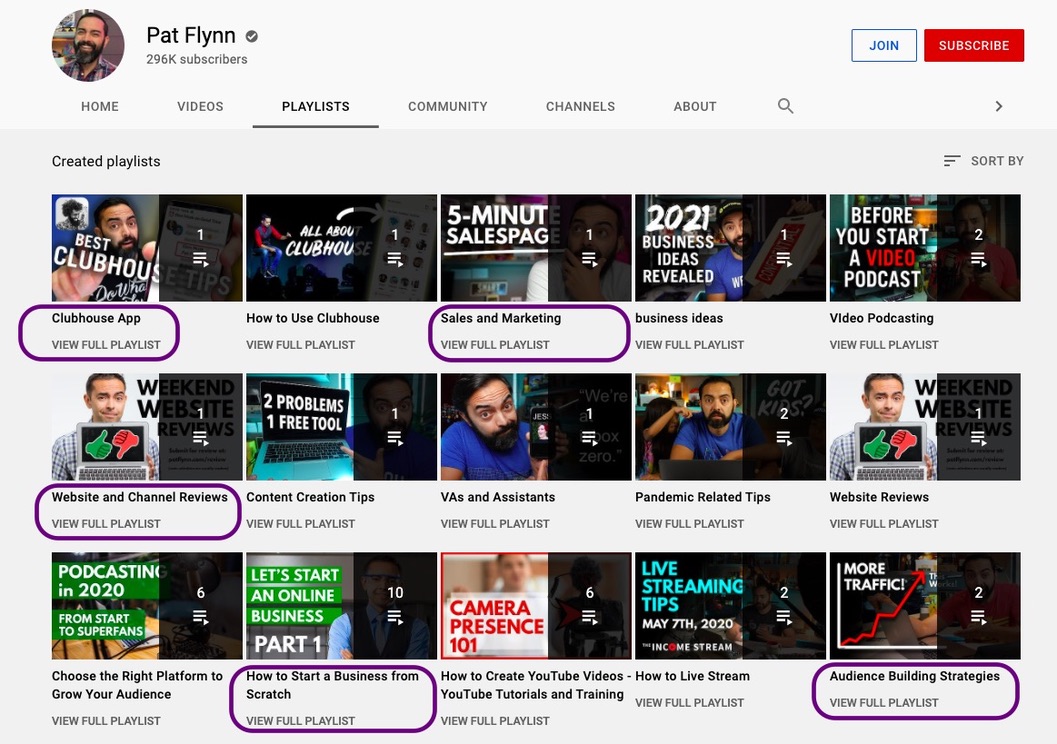 When users start watching some of your videos, they might want to watch more browsing the same playlist. As a result, you will get more views and subscribers.
Let's assume that your company creates tools that help make online content visually appealing. Your goal is to build more conversions with the help of your YouTube channel. Thus, it makes sense to show your toolkit in practice, educate your audience on how to design content, and share design tips.
Therefore, your task is to create three playlists - Content Design Tools, Educate Yourself, and Content Design Tips. For example, if you've launched a new map maker tool, then it should be represented in all these three playlists.
By following this simple YouTube marketing strategy you will be able to promote your service/product better and gain new customers.
7
Make References to Your YouTube Channel on Other Resources
Let more people know about your YouTube channel by referring to it on external resources. Simply said, link back to your video content across social channels, your blog, tutorials, FAQs, press releases, etc.
Moz is a famous SEO company that creates tools for content and digital marketers. They follow this strategy quite well.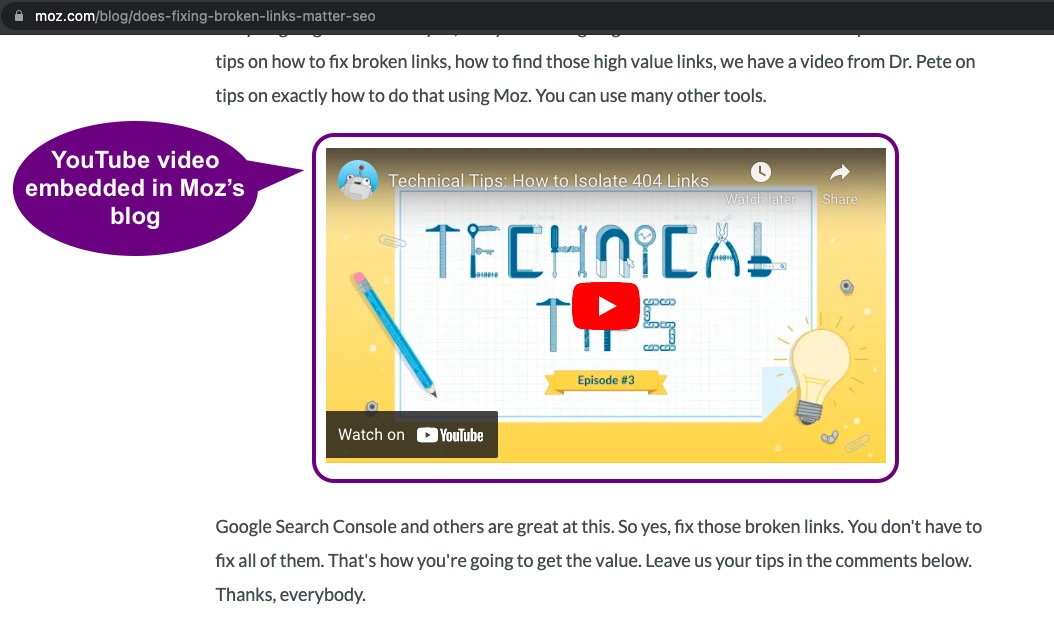 Moreover, you can even refer to your YouTube videos across guest blogs (create blog graphics using a blog graphic maker), where you contribute to. Plus, when you create a social media marketing plan, don't forget to include this video content promotion as one of the "to-do" things.
8
Apply Additional Interactive YouTube Features
YouTube is not just a platform where you can upload video content. It allows you to customize your videos to make them more eye-catchy and bring new subscribers.
For instance, you can apply the 'watermark' feature in all your videos. In the screenshot below, notice how Alex Hefner has embedded his signature at the bottom right of the video. When you hover over it, it prompts you to subscribe to his YouTube channel.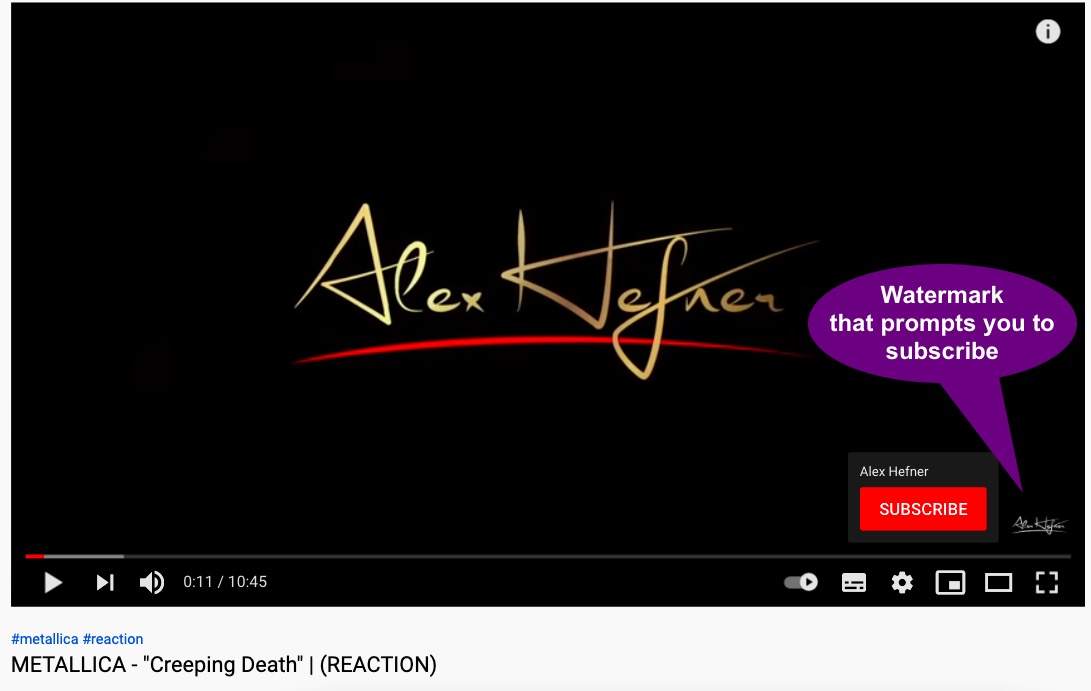 You can even add this subscription button right at the end of the video.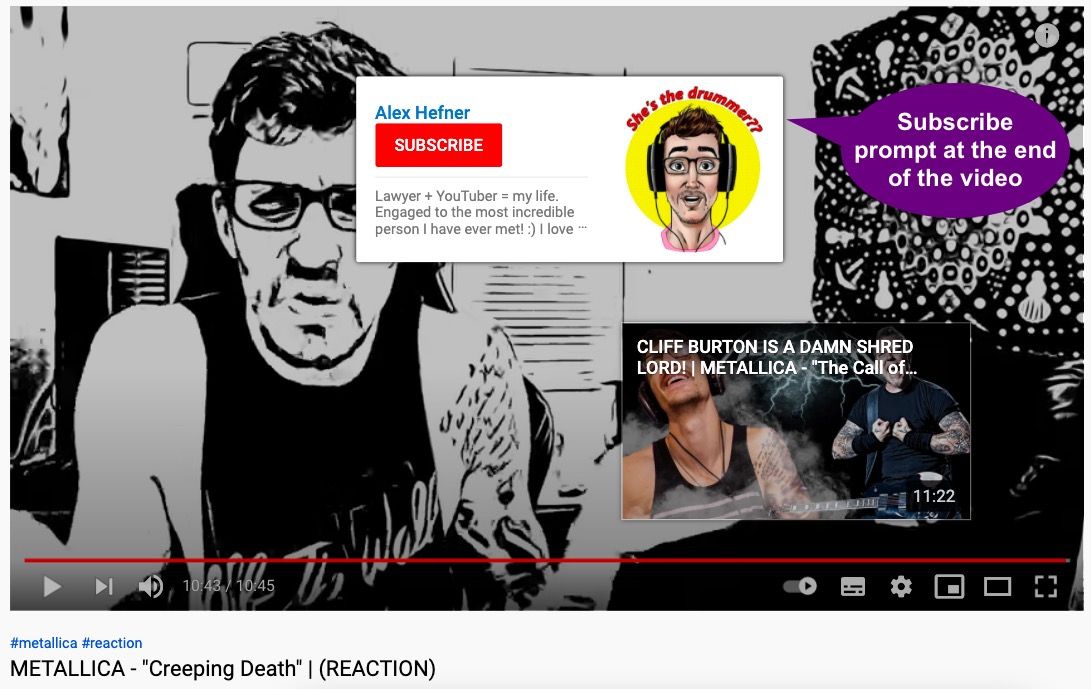 Improve user engagement by applying these features in practice.
9
Encourage Users to Subscribe to Your YouTube Channel
YouTube's policy does not forbid you from asking viewers to subscribe to your channel. Especially, if your channel has been recently launched, we encourage you to go for it.
Does it mean you should ask them verbally?
Yes, you should reach out to people who watch your videos and encourage them to subscribe. You can do it either at the beginning of the video, or right after the introduction. Or. you can ask them at the end. It is up to you.
Use a friendly welcoming tone and say something like "Don't forget to subscribe to the channel if you want to" or "Hit a subscribe button at the right down corner of the video".
Nothing super-hard. But it works! We know that there is a correlation between "views" and "subscriptions". So, if you don't have enough views, you won't grow your number of subscribers.
---
Until now, we focused about how to market your YouTube channel. But, in this section, we'll explore how to get more views to your YouTube channel.
3 Tips That Will Help You Get More Video Views on YouTube
Paid views don't generate the growth of subscribers. They discourage users by telling them that the video is worth watching. Besides, YouTube has algorithms that take into consideration user behavior, but not the number of views.
You should rather strive to get organic views that will lead to the growth of subscribers.
Here are three YouTube marketing tips that you use right away:
1. Rank on Google with your optimized content on YouTube
You might have noticed that when you search on Google, it suggests YouTube video as the first result based on your search request.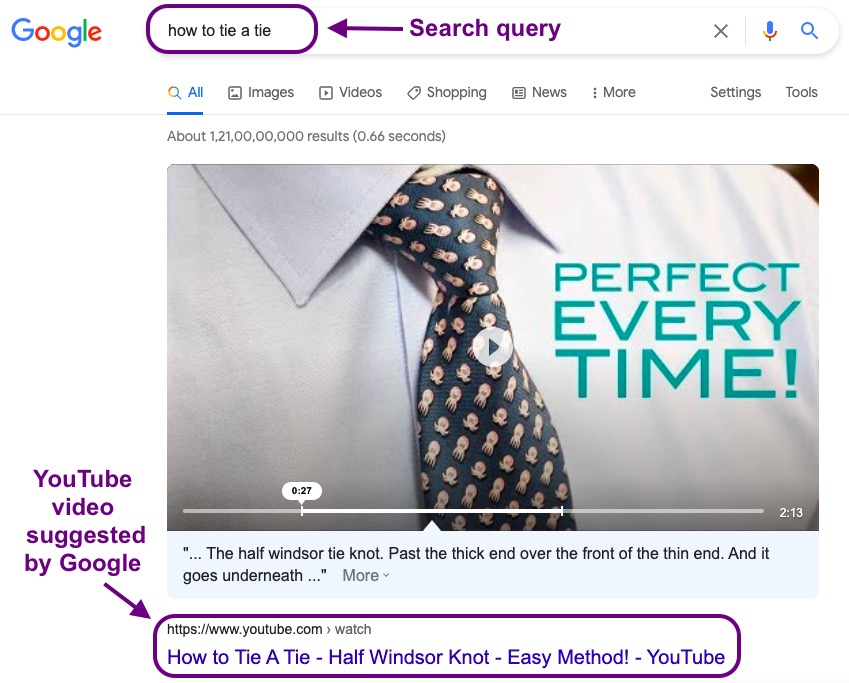 The first search result is a video tutorial on how to tie a tie in a 'Half Windsor knot.'
You might wonder how to create videos that would rank on Google?
Analyze your competitors' videos that already rank and drive traffic. If you're using Ahrefs, hop over to its Content Explorer tool for this purpose. Type this Google search operator command - site:youtube.com inurl:watch title:topic.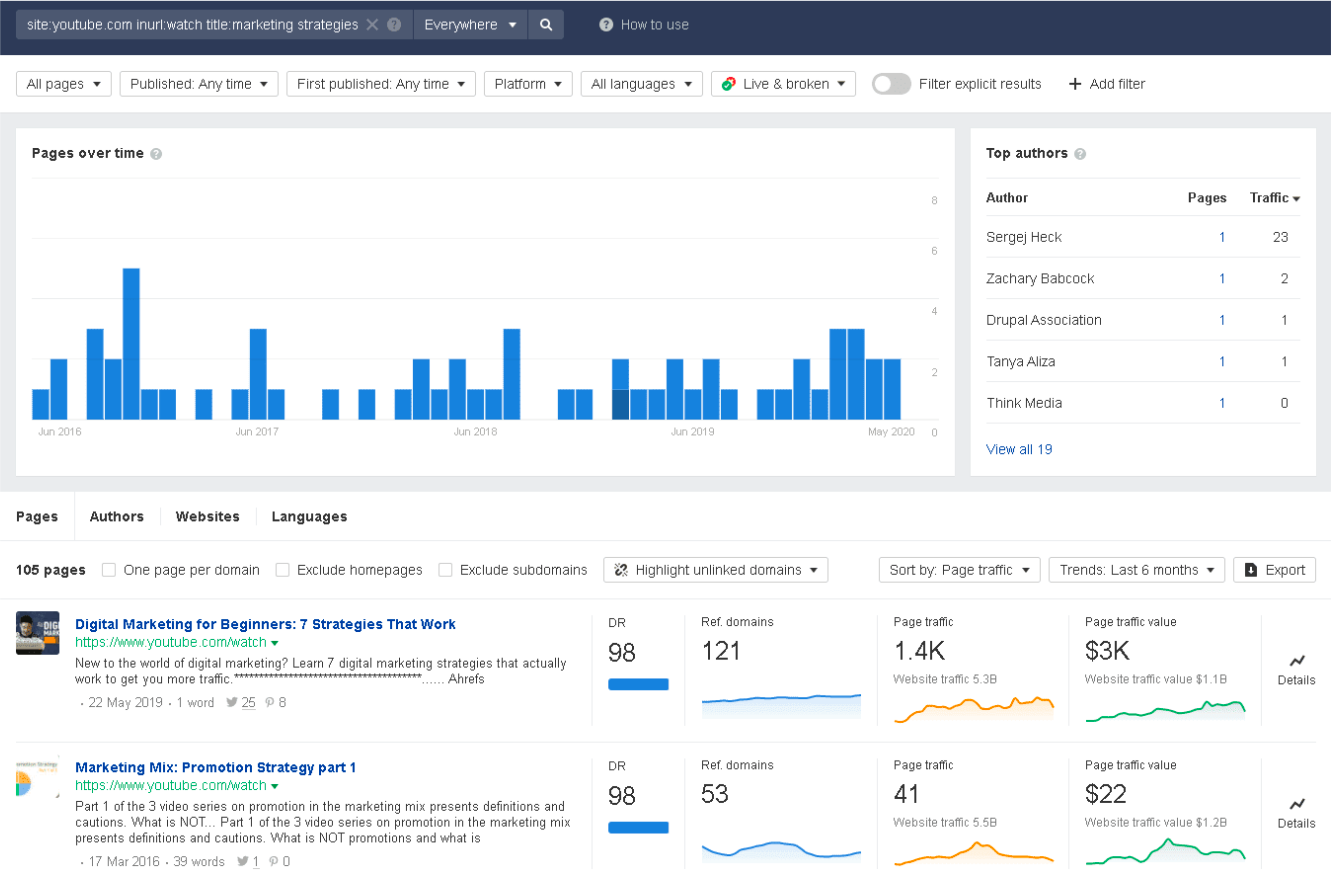 Filter down the results with "Page traffic" and rip the benefits. Now you know what topics your competitors cover in their videos and which ones Google ranks them in its search. Using this data, you know what topics to cover in your videos, and what to optimize it for.
2. Optimize the video description
When users can find out what your video is about, they are more likely to watch it. Video descriptions improves CTR drastically.

Unfortunately, it is not enough to get people engaged with your video. If you write a comprehensive description in the section below the video, it sends signals to YouTube about what your video is about.
Here's a screenshot from one of Neil Patel's YouTube videos.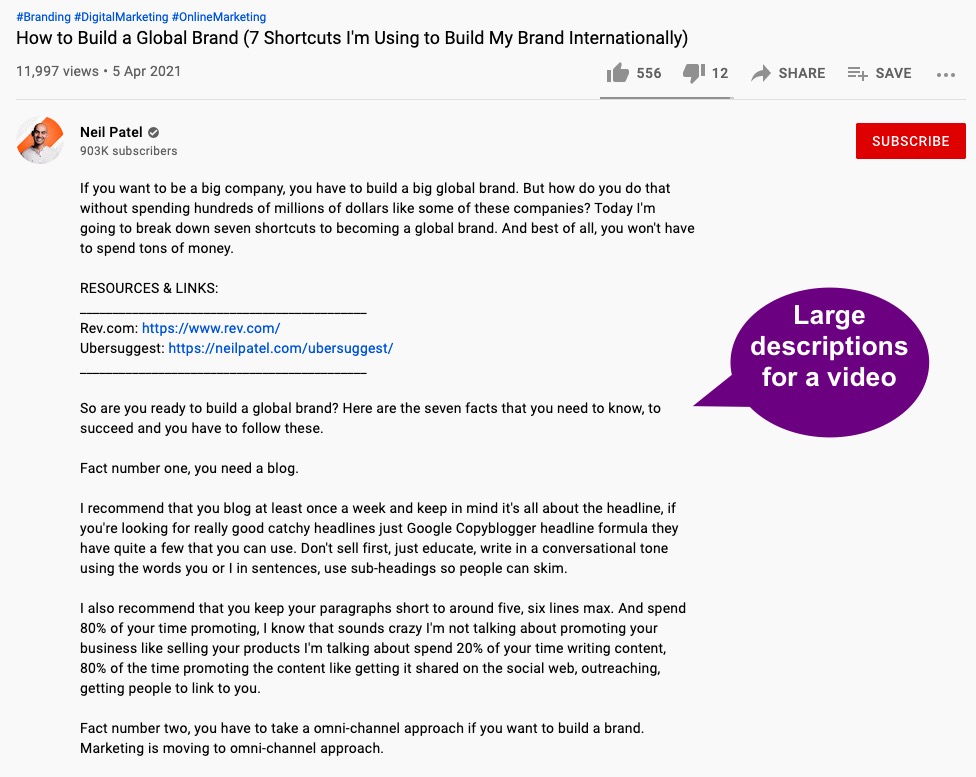 What do we learn from the example above?
First of all, the author of the video prefers writing long-form descriptions because a short one doesn't nudge people to click the video. Secondly, there are a few links - subscription, social channel, and blog.
All these elements help improve the number of views and gain more subscribers.
3. Choose a catchy thumbnail for your video
Think about it - when you explore videos on YouTube, you don't watch every video that is suggested. Right? You choose only those videos that have a catchy thumbnail.
Take a look at the screenshot below. What does you make out of it?
Would it be fair to say that this YouTube knows how to design cool YouTube thumbnails. We think so!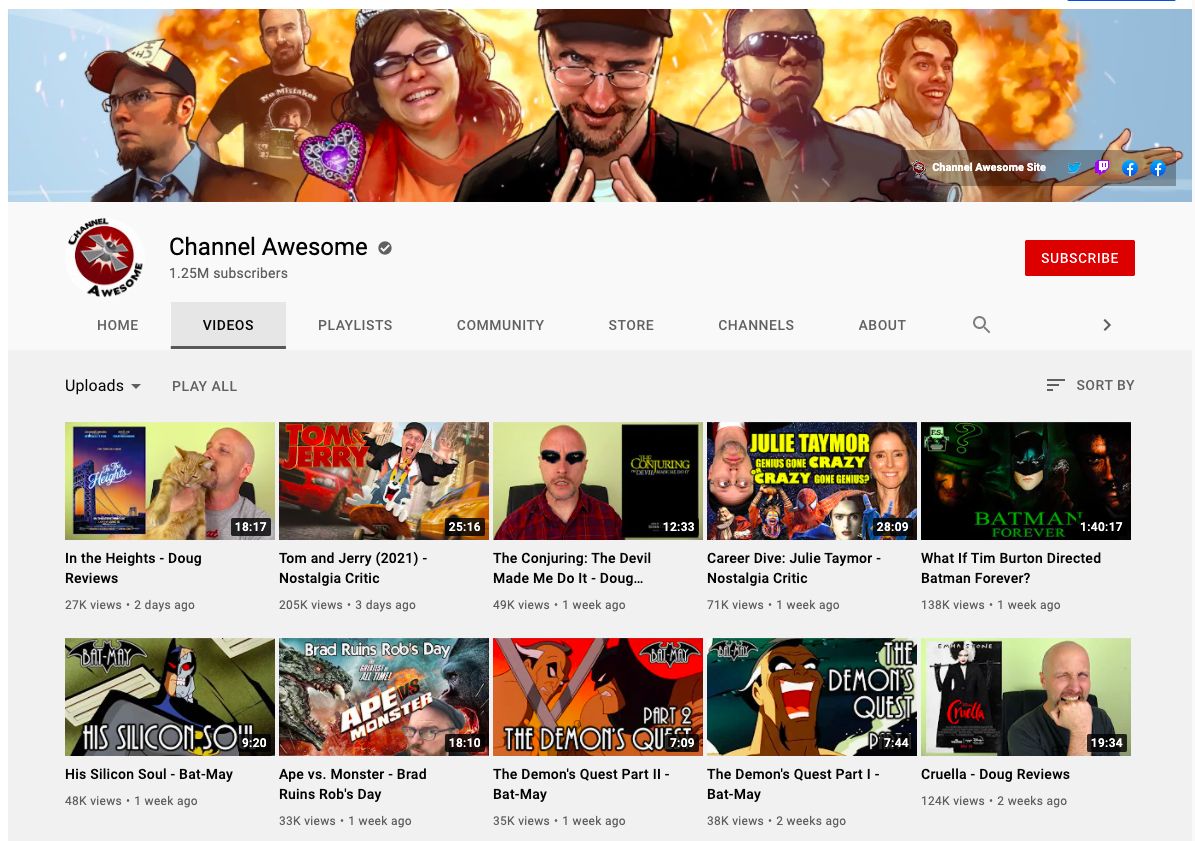 So, what makes these YouTube thumbnails exciting?
They have a unique and interesting design. The uniqueness of design helps your YouTube thumbnails catch more eyeballs and nudge users to click your video.
A YouTube thumbnail should reflect what the video is about. If your video describes how to play guitar, the thumbnail's image must have a guitar and a guitarist imitating the process of playing it. It could be a collage which can be created using an online collage maker, it could also be an image of the face and more.
Add descriptive text. If the video covers "Email Marketing Strategies", the thumbnail should include these words. But, be careful not to pump in too much text in it. There's very little space in a thumbnail that gets displayed - so you don't want to insert all that you want to write. Instead, leave some for the imagination of the viewer.
Create colorful thumbnails that do not blend with YouTube's chosen three main brand colors - red, grey, and white. Choose a thumbnail array in bright colors that have distinct and contrasting colors.
Follow these YouTube marketing tips that will help you get more video views and subscribers.
YouTube Marketing Tips - Summary
Lots of people across the globe manage channels on YouTube and make money producing video content. It is not as difficult as it may seem. YouTube loves it when you devote time, effort, and patience to creating original content.
If you haven't created a YouTube channel for your business, you should hurry up! Otherwise, your competitors won't wait. Keep in mind that YouTube is the second largest search engine after Google. You can't miss an opportunity to drive conversions with the help of this platform.
Now you're armed with marketing tips that work for a hundred percent. Apply them in practice and you'll succeed.
Don't hesitate to share this post across your social channels and leave your thoughts in the comment section.
---
This blog was contributed by Mariya Koracheva, an SEO consultant who loves to write attention-grabbing content. When not writing, you can find her playing her guitar.
---
Now, that you've learnt how to market your YouTube channel, learn how you could design brilliant YouTube banners for free.