Best Time to Post on Pinterest in 2023
In recent years, the social authority has become increasingly important in shaping brand authority. This is because social media and online platforms have given individuals and groups the power to amplify their voices and influence public opinion.
For example, when social media influencers endorse a brand or product, their followers are likely to view that brand as more trustworthy and credible. Similarly, when customers leave positive reviews and comments about a brand on social media, it can increase the brand's perceived authority and credibility.

As a result, brands and consumers have adapted to a new routine of social authority to connect with their audiences. With over 478 million active users worldwide, Pinterest has become one such influential social tool for businesses to connect with their audience and drive traffic to their websites. In recent years, the platform has seen a growing number of businesses using it to showcase their products and services, increase brand awareness, and generate leads.
So right now you would know how important can be marketing on Pinterest for your business.
However, staying up-to-date with the latest marketing practices on Pinterest and consistently generating Pins can pose a challenge. But keeping post engagements at scale so that it yields the maximum output is even more challenging.
So knowing when your audience is around is really important, that's where the magic trick named "Best Time To Post On Pinterest" comes in place.
1
Does it really matter When is the best time to post on Pinterest?
Unlike other social media platforms, the best time to post on Pinterest differs significantly because Pinterest started out with a chronological feed. This means that Pins were displayed in the order in which they were Pinned, making the timing of those Pins really important.
According to a recent survey by Coschedule, examined data from numerous social media marketing companies using Pinterest and found that the overall best time to post on the social media network is between 8 p.m. and 11 p.m., with 9 p.m. being the peak hour.
However, here we are going to dig deeper into the analytics.
2
What is the best day to post on Pinterest in 2023?
According to a survey by Coschedule Sunday, Monday and Tuesday are the best days to post on Pinterest. And Thursday, Friday and Saturday are the worst days to post on Pinterest as they yield low engagement metrics for the Pinterest Pins.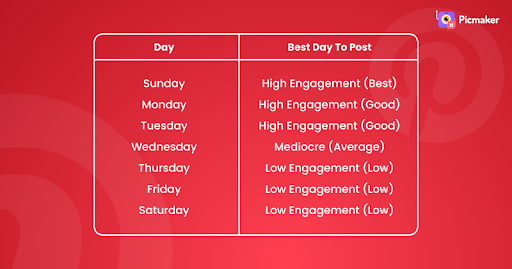 You should also keep this in mind that this is generic information, and it's essential to analyze your Pinterest analytics to determine the most effective posting times and days for your specific audience.
3
Best Time To Post On Pinterest - Day Wise
Let's get deeper and find the best time to post on Pinterest by day-wise to get maximum engagements. The following table summarizes the best time to post on Pinterest based on days.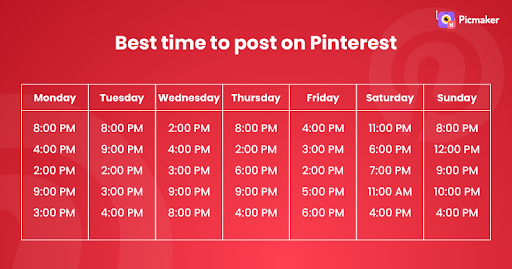 4
Does it matter when and how often you pin on Pinterest?
To get maximum engagement from Pinterest you can try posting 4-10 times per day. In 2019 Pinterest changed its algorithm to prioritize fresh content published on Pinterest.
So it's better to post 4-10 posts per day to get maximum engagement from Pinterest.
If you can't keep publishing 10 Pinterest Pins per day, feel free to use a Pinterest Scheduler to take care of your publishing needs, which will allow you to schedule Pinterest Posts ahead of time.
5
How to find the best times to post on Pinterest and Schedule using Picmaker?
There are several social media scheduling tools available that support Pinterest Scheduling in advance which helps you to save time and streamline your social media marketing efforts, allowing you to focus on other aspects of your business.
Picmaker is the best Pinterest Pin Maker as well as the best application for scheduling Pinterest Pins in advance. Picmaker also offers tons of pre-built Pinterest templates to assist you in designing your needs.

Follow these steps to schedule your Pinterest Pins in advance:
Step 1
Login to Picmaker
Step 2
Select Social Scheduler

Step 3
Click on Create post / (+) Icon in the social calendar.

Step 4
Select Pinterest in the profile section

Step 5
Add own media, choose from your existing files, or design your own Pinterest Post from scratch or use our pre-designed Pinterest Pin templates


Step 6
Add the necessary details like captions, title, url, Pinterest boards, hashtags etc.

Step 7
Choose the date and time and click on schedule. If you are confused about the time, use the smart time option to suggest the best times to post on Pinterest.

Step 8
And that's it! Your post will be added to the calendar/timeline. Based on the times selected your posts will be published. Watch the engagement boom on your Pinterest pins.


6
Best Times to Post On Pinterest by Industry Wise
Based on data provided by Pinterest, certain topics or niches tend to perform better on specific days of the week.
Here is a list of categories and their corresponding ideal days for posting: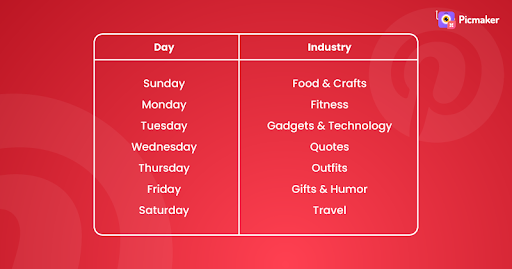 7
How To boost your engagements on Pinterest? - 7 Strategies
If you want to increase engagement on Pinterest, follow the below 7 tips to boost your presence on the platform, fast!
Optimize your profile: Ensure that your profile is complete, with a clear profile picture, an engaging bio, and a link to your website.
Create high-quality, visually appealing pins: Use high-quality images, clear and legible text, and an eye-catching design that reflects your brand and captures your audience's attention.
Pin consistently: Regularly add fresh, new content to your boards to keep your audience engaged and interested in your content.
Utilize keywords and hashtags: Use relevant keywords and hashtags in your pins and boards to increase visibility and make it easier for users to discover your content.
Engage with your audience: Respond to comments and messages promptly, follow other users in your niche, and share other users' content that aligns with your brand values.
Utilize Pinterest Analytics: Use Pinterest's analytics tool to analyze your pins' performance and identify your audience's interests and behaviours, allowing you to adjust your strategy accordingly.
Join Pinterest Group Boards: Joining relevant group boards can help you reach a wider audience, increase engagement, and build relationships with other users in your niche.
Timing is an important factor for all your social media strategy, Pinterest is no such difference. So it's important to understand your audience's habits and preferences.
By implementing these strategies, you can increase engagement on Pinterest and reach a wider audience, ultimately leading to increased brand awareness, website traffic, and sales.