How to create a professional business flyer with ready-made templates
You've finally decided to promote your brand with a business flyer. Congratulations on taking the big step towards reinvesting into your business.
But, there's a small hiccup - you have no clue about designing a professional business flyer.
If that's you, you're in the right place. We've created this blog post just for you.
Yes, we read your mind and created this 11-step guide to help you create a professional business flyer with a ready-made template.
Let's dive into it right away.

1
What is a business flyer?
A business flyer is a sheet of paper designed to advertise your business. The only goal of your flyer is to advertise your products and services to your customers. It contains information about the product/ service, its benefits, and your relevant offer.
2
A small history lesson about flyers
Flyers have been popular from the time Gutenberg invented the printing press. However, flyers really picked up steam after the 18th century when printing became an essential function in our ecosystem.
By early 2010, anyone with a computer, an internet connection, and a printer could print their own flyers at home. The birth of the internet age paved the way for digital flyers. Nowadays anyone can make their own flyers with the help of a free online graphic design software.
3
Types of business flyers
Before we talk about creating a business flyer, we need to understand the different types of flyers. They are:
Tri-fold brochures
Bi-fold brochures
Gate-fold brochures
Leaflets
Pamphlets
Door handle flyer
And many more...
4
Steps to design a business flyer
This guide has 11 steps to help you design a business flyer from scratch. If you follow all the steps, you will be able to create a stunning business flyer in no time.
RELATED: 25 Business Flyer Examples + Design Tips for Your Next Flyer
Step 1:Write down your primary goal
Let's assume that you run a startup that lets your users order food from an online application.
You're looking to create a business flyer for advertising your online food delivery business. Your goal is to inform people about your new services in the market. You also want to increase the brand awareness of your business, while increasing sales with a discount code.
So here's a small recap of our assumptions:
Business - Food delivery application
Goal - Increase awareness and sales to your business
Let's consider this example and use Picmaker's free flyer maker app to design it.
Step 2: Select a flyer template
If you want to look at more choices for your flyer templates, feel free to visit this section.
Once you have your primary goal in place, log onto Picmaker and sign in to your dashboard.
Once you have logged onto your dashboard, type 'flyer' in the search bar. You will have access to tons of free flyer templates. You can use any of these free flyer templates to create your own business flyer.
Scroll through the list and find a business flyer template that suits your current goals. For this guide, we will use a flyer template as shown in the screenshot below.
Once you click on your preferred flyer template, you will land on your workspace. This is where you can edit and create your business flyer.
Step 3: Add your contents and create your business flyer
Let's assume the name of your food startup as 'Zwiggy'. Let's also assume that we're giving a 40% discount for anyone who orders food using our online application.
However there's a catch. They can only avail this discount code if they order food before a certain date.
Here is how the flyer looks before making our custom changes.
Here is how it looks after adding our own content in the text placeholders.
We have changed everything from text to your organization's custom logo. I'll explain what I've added in the steps that follow.

Step 4: Add or replace photos on your business flyer
Picmaker has more than 8 million stock photos to use on your business flyers. If you don't like the picture on this flyer, you can always use another stock image from our ever-growing library. All you need to do is click on the 'photos' tab and type your query in the search bar.
For example, since we are a food startup, we will type 'food' in the search bar.
You can choose from any of these photos and add them to your flyer. This gives you the ability to make your flyer truly one of a kind.
For example, we chose this picture and added it onto our flyer.
Let's take a look at the results.
Looks even better now, doesn't it?.
This way, you can choose from 100 million pictures in our photo library and add them to your business flyer for free. You can also add filters and adjustments to the pictures on the business flyer.
Here is a screenshot of all the filters you can add to your picture. Read our detailed FAQ to know how to use our filters on your pictures.
Here is a screenshot of all the adjustments available on your dashboard.
You can use all these features to geek out the pictures on your business flyers. All these features make it a breeze to create your business flyer.
Step 5: Add graphic elements onto your business flyer
The next thing you need to do is add graphic elements to your business flyer. To add them, just click on the 'objects' tab and enter your query.
For starters, there are four different graphic elements in the business flyer template that we are using right now. I'll highlight all the graphic elements we are currently using in our business flyer.
Step 6: Add a background to your business flyer
If adding pictures are too mainstream for you, try adding backgrounds to your business flyer. We have a dedicated tab for adding backgrounds to your business flyers. Just click on the 'background' tab and select a background that suits your flyer.
Step 7: Bonus (remove outline and Stickerify it)
If you feel like adding your pictures or portraits to your business flyer, you can do it with Picmaker. The first step is to upload your pictures to the dashboard. You can then remove their backgrounds and Stickerify it, to make them pop.
To explain this concept, we will add a picture and stickerify (also called adding an outline) it.
We'll add this picture to this flyer, after removing the background. Let us add this picture to our workspace and remove its background. The screenshot below shows you all the steps to remove a background from a picture.
After removing the background, you need to place your picture in the optimal position on your business flyer.
But still, the picture looks weird and out of place. However, you can make this picture pop by using the 'Stickerify' feature.
The screenshot below shows all the necessary steps you need to follow to Stickerify your image.
Once you have followed the steps, you will be able to convert your picture into a sticker like this one.
Furthermore, if you use the right colours and position, the opportunities will be endless for you.
The free Background Remover + Stickerify tools can be a deadly combo when used in the right situation.
P.S. Do note that 'Adding an Outline,' otherwise known as 'Stickerify' is a paid feature in Picmaker. Check out all the awesome stuff that you get for as little as $10 a month.
But for now, we will remove this picture from our business flyer.
Step 8: Use the brand kit to customize your business flyer
Every flyer must follow your brand guidelines just like you do in the invoice templates. The best way to make sure that they're brand-compliant is by using a brand kit. We offer you the ability to add your brand kit to your canvas.
Once on your brand kit, tab you can add your logo, brand colors, fonts, and custom templates. After updating it, you can be consistent with all your business flyers and designs.
1. Add your brand colours
You can add all your brand colors to your brand kit. Click on the 'Brand color' tab and update your colors there. You can have more than one color palette on your brand kit.
All your colour palettes will appear on your colour selection bar.
You can use these colour palettes to stay consistent with your brand colours. All you need to do is select a graphic element and click on this colour palette to keep it consistent. This will help you create a business flyer that is always on-brand.
2. Add your Logo
You can add multiple variations of your logo to your brand kit. Once added, they will be displayed under 'Objects' on the left-hand menu bar in your workspace as a separate category named "Brand Logo".
Once added, these logos will appear under your 'Objects' tab as we've mentioned above.
3. Add your brand fonts
The final and most important way to stay consistent is with your fonts. You can also upload your font choices in the media kit. You can add them under the "Brand Font" section in your brand kit.
All your font choices will be displayed in the 'Text' tab.
Once you have updated your brand kit, you can make sure that all components of your business flyer is consistent with your brand.

Step 9: Proofread your business flyer
We are so close to downloading your business flyer. But we have two more important steps before we hit that 'Download' button. The first step is to proofread your content and rid it of any grammatical or spelling errors.
Here is a spelling error that could have missed the common eye. Without taking the time to proofread, we would have printed this business flyer with a typo in it. This could have been embarrassing when your customers read it.
As the old saying goes "We are judged by the smallest of our mistakes." So make sure that you always proofread your copy before downloading your business flyer.
A round of proofreading also proves that this sentence could have been shorter. We are only able to realise this by taking the time to proofread our business flyer.
Here is the flyer after the shortened sentence and corrected spelling mistake.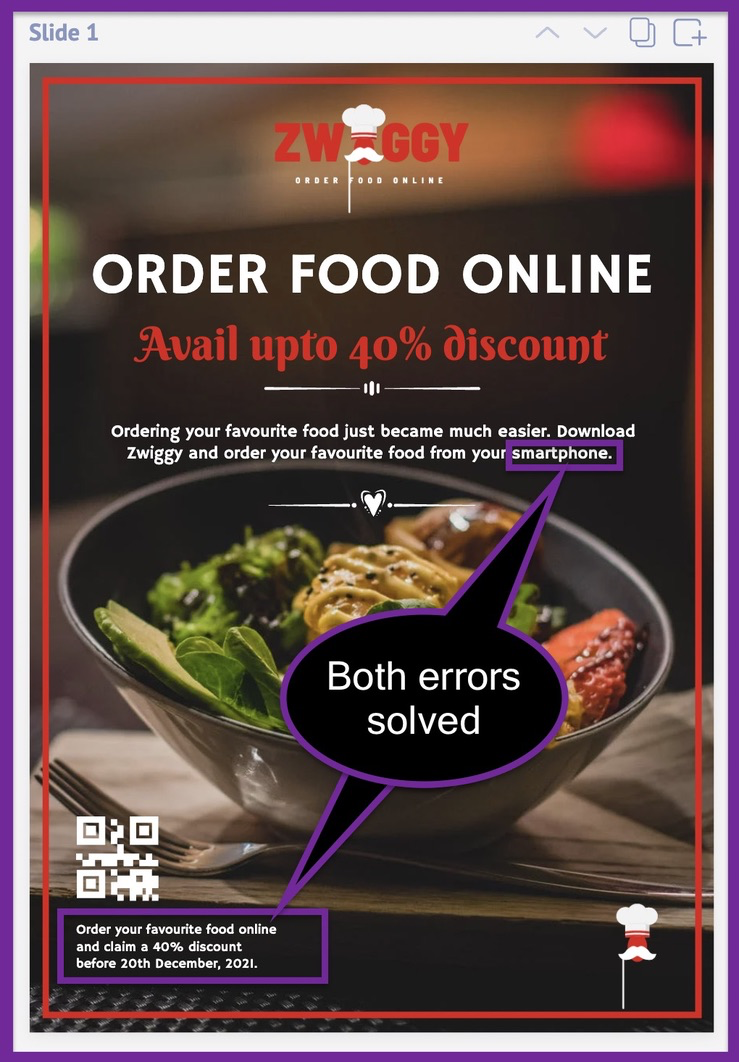 Step 10: Check for spacing issues
One final step is to make sure that all your content and graphics are spaced appropriately. Try moving your text and rearranging your graphics to see if something works better than the other. You can also try different sizes of text and graphic elements to see which of them works the best.
Step 11: Download your business flyer
Now that you have made all the changes and perfected your business flyer, go ahead and download it. Hit the 'Download' button at the top-right corner of your computer screen.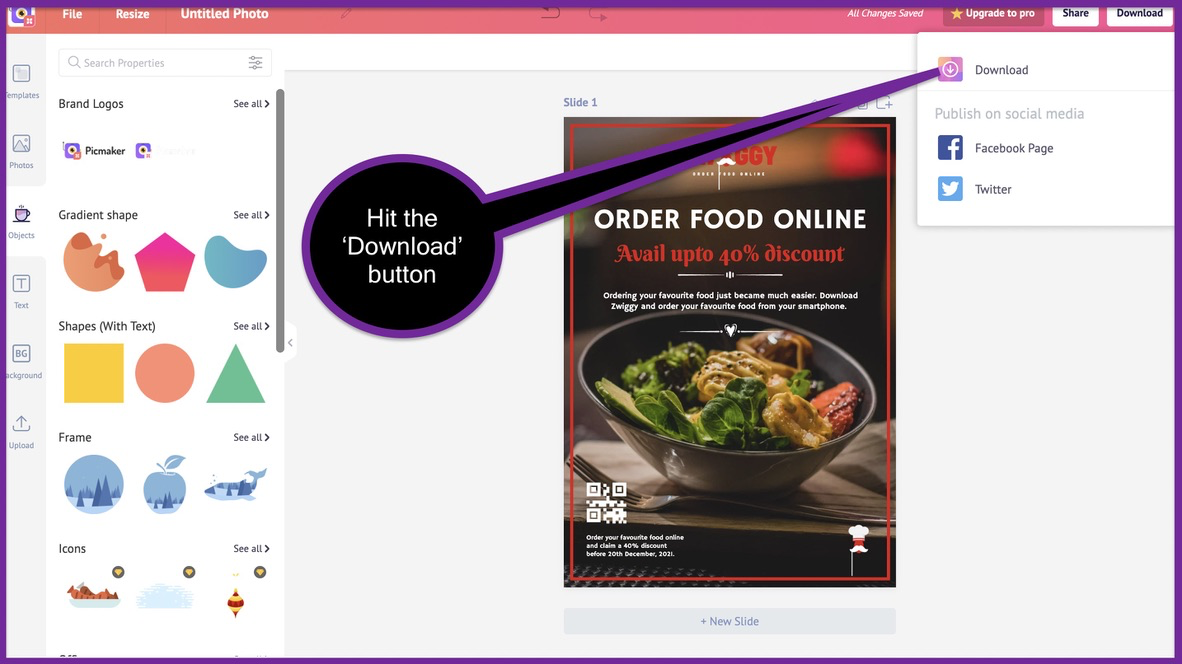 Once you hit the download button, you can also choose to share your business flyer to your Facebook or Twitter accounts.
If you hit the 'Download' option one more time, you will be able to download your business flyer in multiple formats like PNG, JPEG, and PDF.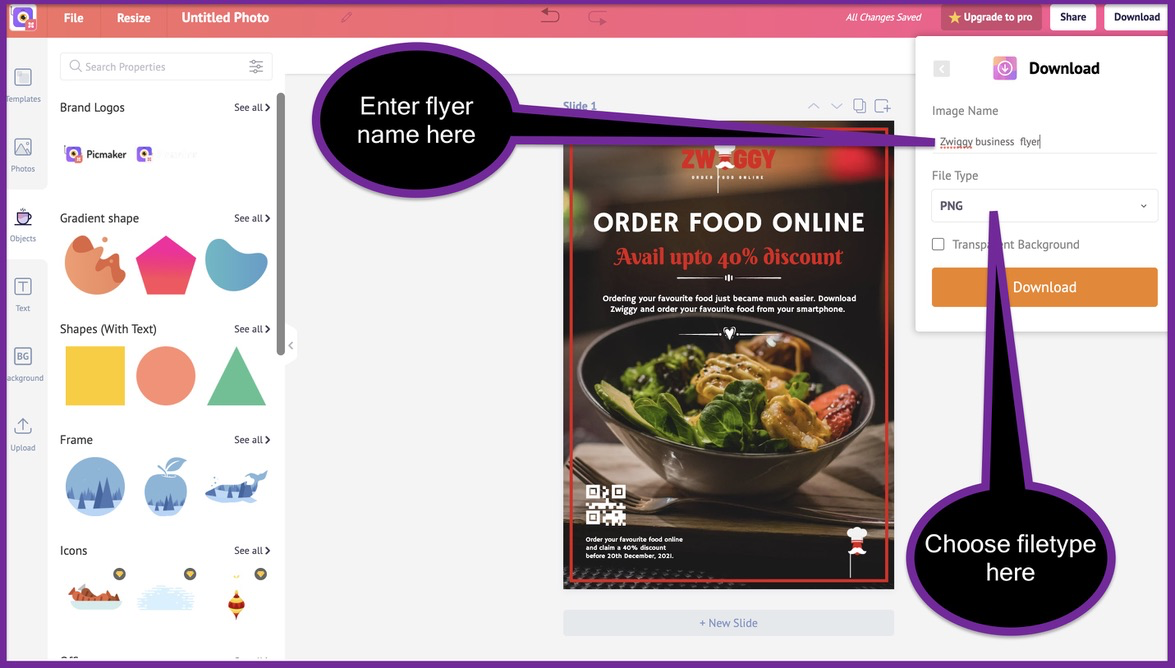 Here's the final copy of your business flyer for your food delivery business.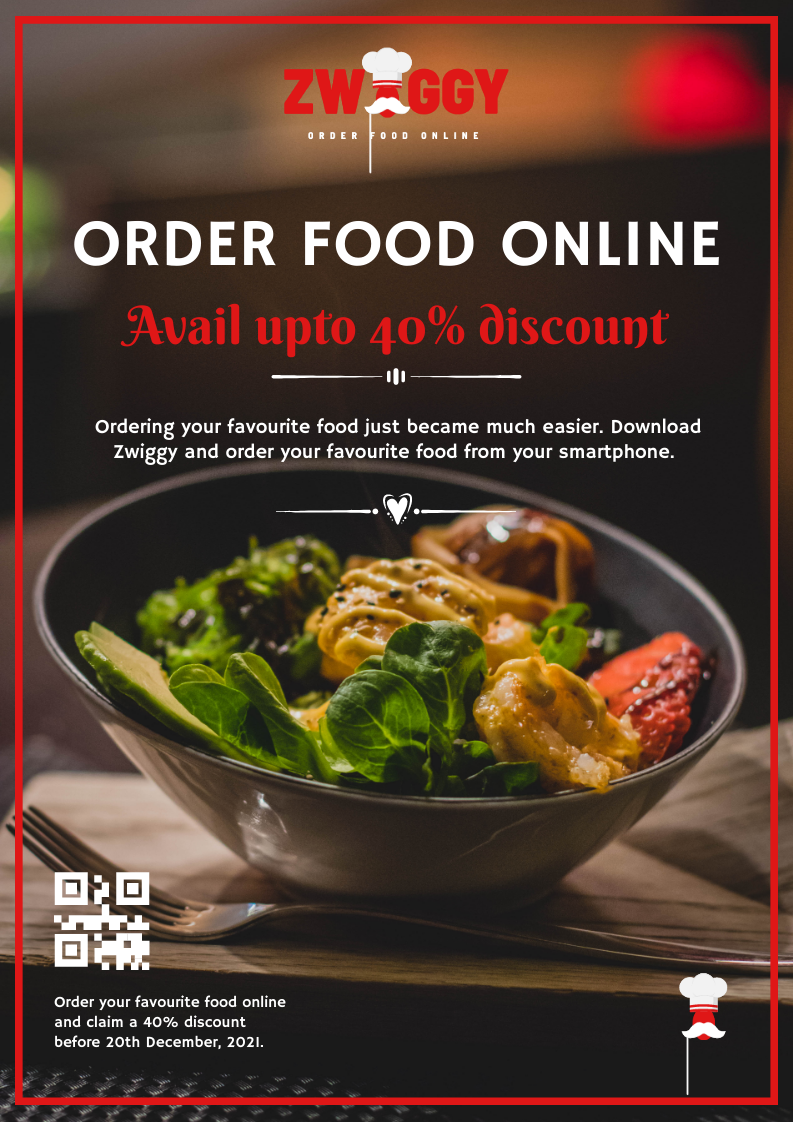 We are finally done with our business flyer. But wouldn't it be cool to have more choices to design your flyer. That's exactly why we've featured our top 10 business templates and ideas in the next feature.
5
Top 10 business flyer examples and ideas
Business flyer example/ idea 1
This flyer can be used to advertise a startup and its services. All you need to do is swap out the logo, change the messaging and brand colours. Your business flyer will be good to go.
Here's the best part, you can also repurpose this flyer into a social media post with our resize tool.
Business flyer example/ idea 2
This flyer is perfect for service-based businesses and agencies. You've got the perfect place to put your core message on the orange backdrop. You also have tons of text placeholders to explain your services to your ideal customers.
Business flyer example/ idea 3
This flyer can be used to advertise the offers and discounts going on in your business. Change the three pictures to something that's relevant to your business and you will be good to go.
Business flyer example/ idea 4
This flyer is a perfect match for service-based businesses and we'll tell you why. The yellow banner is a great way to put out your core message or services at the top. You also have 3 text placeholders to display your services and their benefits.
Business flyer example/ idea 5
This flyer is perfect for agencies and consultants out there. You can swap out the stock photo with your own photo. You can also swap out the default tagline to insert your brand's tagline. The vibrant colours and design elements make it stand out from the rest of the boring flyers out there.
Business flyer idea/ example 6
This blue and white flyer is best suited for business owners looking to be descriptive with their details. All these text placeholders give you the ability to add a ton of information about your products/ services. If you want your business flyer to convey a lot of information, this is your best choice.
Business flyer idea/ example 7
This can be a great flyer for advertising your offers, discounts, and new product releases. Just swap out the image of the car with something that's relevant to your business. Replace the "need a car" text with your custom message and you're good to go.
However, this flyer only works if you're message can be conveyed in no more than 8 words.
Business flyer idea/ example 8
This business flyer can be a great choice for consultants and service professionals. It's also a great choice for individual contractors looking to advertise their services.
You can swap out the picture of the sofa with one that relatess to your profession. You can also replace the "Sergio Pascal" text with your name or the name of your organization.
Business flyer idea/ example 9
This flyer is a great choice for restaurants or any food-related business. Just replace the photo with one of your food items and you're basically good to go.
Business flyer idea/ example 10
This flyer is suitable for fast-food chains and small restaurants. The best part is that you can also advertise your offers along with your food items. You can also display your top 3 food items in the black footer below.
These are just 10 examples from our ever-expanding list of flyer templates. If needed you can always visit our free online flyer maker to choose from 97+ free templates.

We hope that you were able to create your professional business flyer with the help of this blog post.
Please do leave your questions in the comments and we'll get back to them ASAP.
Until next time, happy designing.
---