A guide to becoming a kickass affiliate with Picmaker
Affiliate Marketing is an effective way to tell the world what you like and actually earn money for it.
We have designed Picmaker's affiliate marketing program to be one of the best in the world. With high commissions, dedicated dashboards, and desirable tracking, we want to make sure that you get more benefits to spread the word about your love for Picmaker.
This guide has been created to help you succeed with Picmaker's affiliate marketing program.
Let's dive in….
1
How to register for Picmaker's affiliate program?
Go to Picmaker's affiliate marketing page and click on the 'Sign Up' button or the 'Become a Picmaker affiliate today' button to open the registration form in a new tab.
Fill up the form with your name, details of your company, website URL, and a short gist of how you plan to promote Picmaker.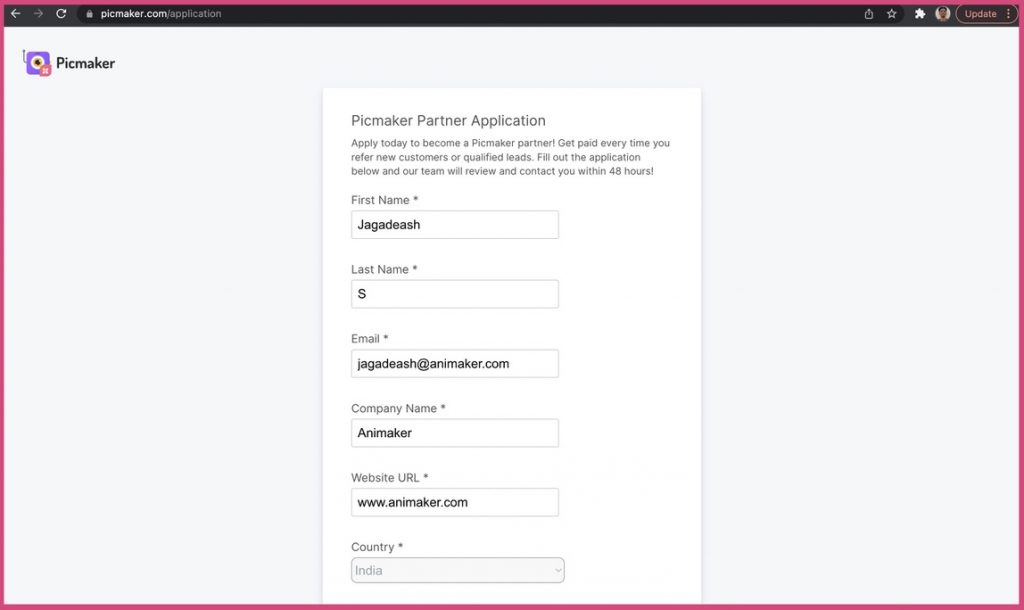 Finally, don't forget to select the 'Picmaker Affiliates' as the group and click on 'Join'.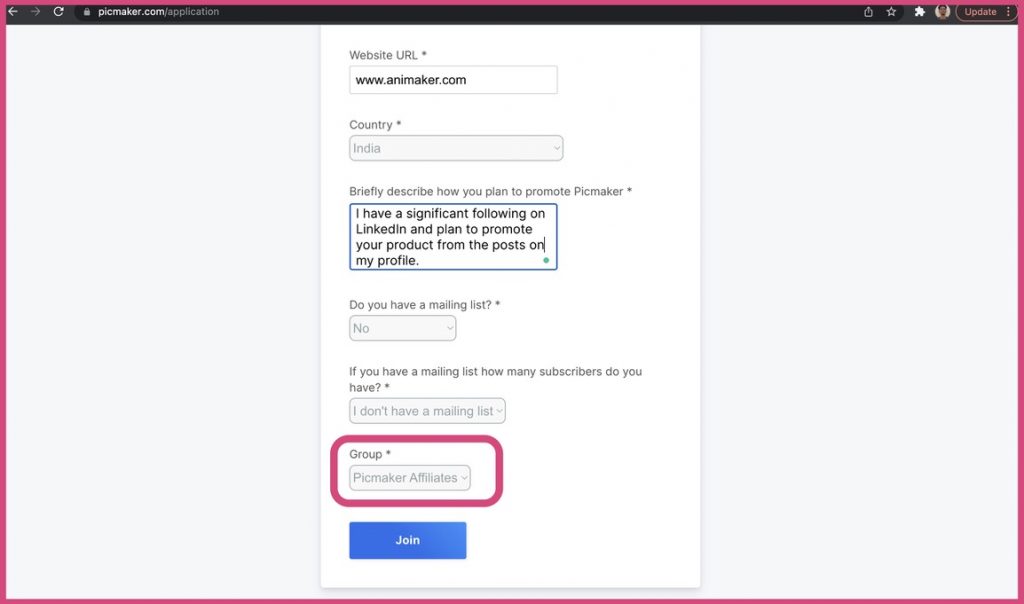 Now you'll receive an email asking you to verify your email address. You would have received this email from the 'hello@partnerstackmail.com' email ID. Click on the link to verify your profile and complete your registration.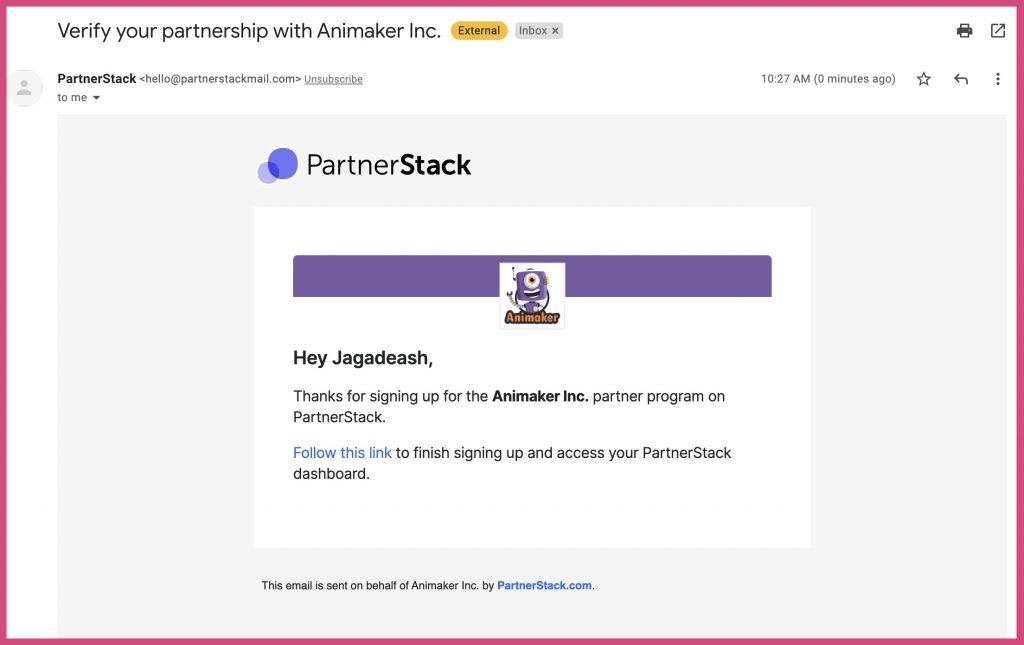 You'll be taken to a new page where you have to enter your name and password. Feel free to also go through the Partnerstack Terms and Services before agreeing to it. Once you've gone through the terms and conditions and created a password, click on 'Continue'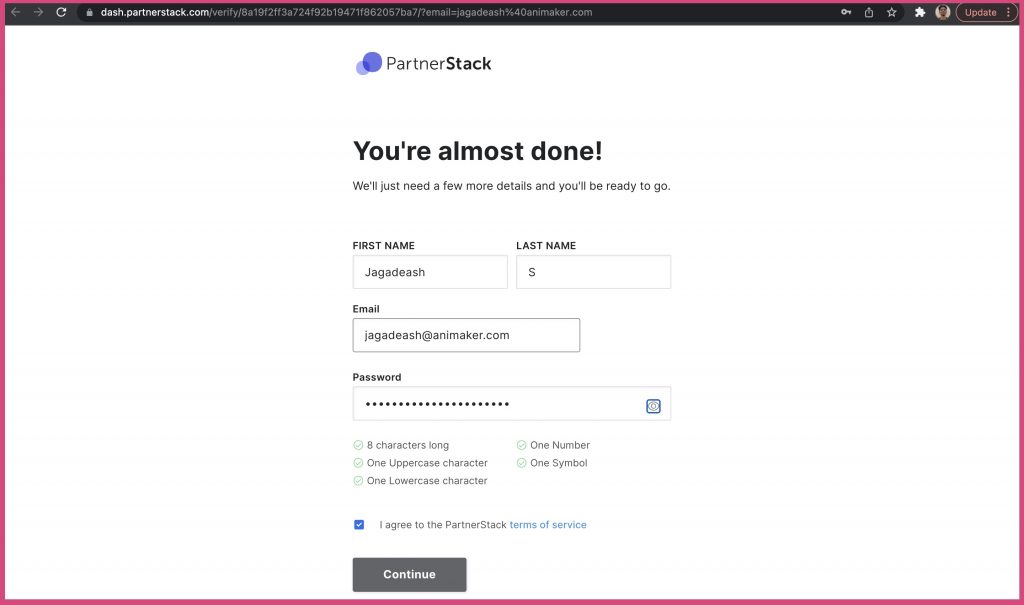 You'll also be asked to enter the name of your company. This can also be the name of your website, blog, or something else. If you'll be using your personal brand, you can also enter that in the name of your company.
In the next step, you can invite team members using a custom link or by entering their email addresses inside the text box.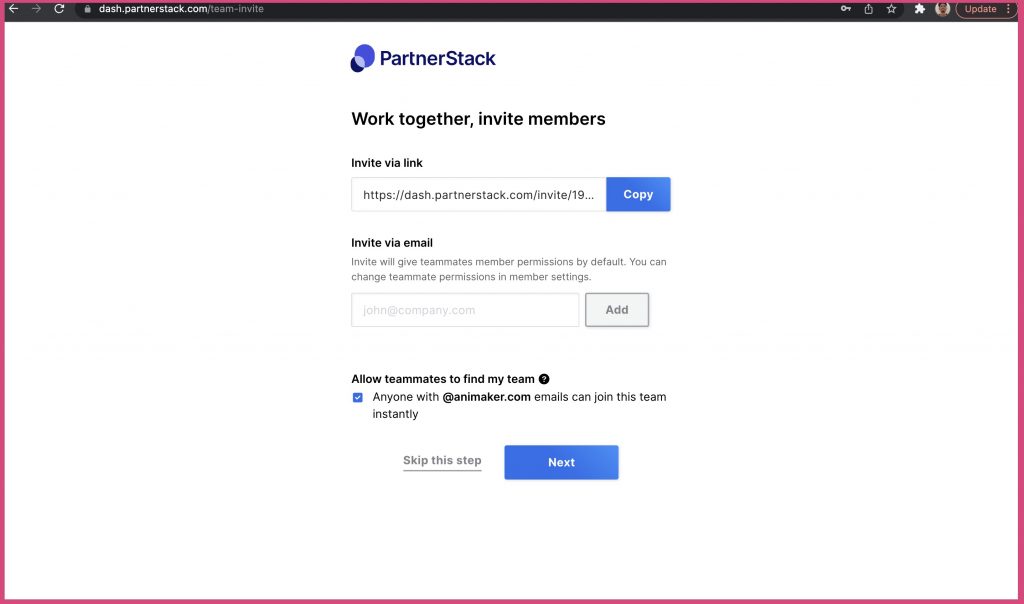 The final step is all about describing your target audience and your plan to reach them.
Now you will be taken to Picmaker's affiliate tracking dashboard. Do check out this guide to understand how you can navigate the different parts of your affiliate dashboard.
You can also use this section to understand how you will be paid with Picmaker's affiliate program.
2
What is the commission structure and how will payouts be handled?
The commission structure for Picmaker's affiliate program is quite simple.
You will earn a one-time commission of
35% for selling a subscription to any of our yearly plans.
20% for selling a subscription to any of our monthly plans
Payouts will also be handled on a monthly basis after it is verified by our team.
Feel free to check this guide for more details on getting paid
3
Are there any criteria to be eligible for Picmaker's affiliate program?
We don't have any pre defined criteria for our affiliates. But it would still be helpful if you could check some of the following conditions listed below.
NOTE: Our goal is to help you earn well with Picmaker's affiliate program. Some of the conditions mentioned below will help us do that for you, better. But we want to mention again that none of these conditions are mandatory.
1. A strong social media presence:
Our users are very diverse and our use cases follow suit. Since we operate in an extremely competitive market, it might be hard to convince others about Picmaker if you don't have authority in your industry.
Having a solid social media presence allows you to leverage that trust and help others become better designers with Picmaker. At the end of the day, we want you to have a great time with Picmaker's affiliate program. If you find it hard to convince people to use Picmaker, you'll have a hard time selling it and that's terrible news for us.
We don't require you to have followers in the millions like a celebrity. We're looking for affiliates who are respected in their industry however small their following is.
The keyword here is a strong social media presence and not a large social media presence.
2. You teach anything related to online design, social media or something related
We have hundreds of teachers, courses creators, content creators using Picmaker to create awesome designs. They use Picmaker to improve their design skills and to create kickass designs.
Naturally, these creators and teachers talk about our product to their followers/students. This translates to a lot of sales and revenue without them even having to sell Picmaker.
Our goal is to help everyone become an incredible designer with Picmaker. If you think your existing audience will benefit from Picmaker, go ahead and tell them about it.
3. You own a blog or a newsletter
Most of the successful affiliates have a predictable and repeatable way of finding more people and helping. A blog or a newsletter is one of those channels. Consistent blogging has proven to bring forth exponential results for a ton of affiliate marketers.
If you own a successful blog or a newsletter, feel free to sign up for our affiliate program right now.
Yet again we don't measure things by just numbers. It's perfectly alright if you're just starting out or have a small audience. Your audience's engagement, the share of voice, and authority of your blog/ newsletter is also equally important.
4. You run a freelancer or run a service business
Agency owners/ freelancers who help their clients with content, design, or branding usually find Picmaker incredibly useful. It's a natural fit if you're from the service industry that caters to anything content or design-related.
You can also recommend Picmaker to your clients or in your communities. Since you operate in the industry and have first-hand knowledge of all the trends, it becomes easier to earn with Picmaker's affiliate program.
Who is ideal for Picmaker's affiliate program?
We certainly don't play favorites with the people who sign up to our affiliate program. But if we had to look at historical data, people who fit these categories have found the most success with Picmaker. We have listed some examples below
1. Designers (Hell Yeah!):
Creating great designs is hard.
That's exactly why we created Picmaker - to solve a problem for every non-designer in the world. But that does not mean that designers don't or shouldn't use Picmaker. We have many professional designers who find our app and our templates incredibly useful.
If you're a designer, feel free to sign up for our affiliate program. You can earn by talking about Picmaker in your communities or also spread the word by recommending t to people who struggle with design.
The options are endless.
2. Freelancers
Freelancers also make up a chunk of our customers. They use Picmaker to create graphics for their marketing and for their clients.
As a freelancer, you can recommend Picmaker to your clients and earn affiliate revenue from it. You can also use your marketing channels and earn a ton of commissions through that.
If you're a full-time or a part-time freelancer, definitely sign up for our affiliate program today.
3. Small Business Owners
We have several Small Business owners who are active users of Picmaker. They typically interact with a lot of consumers and other business owners on a regular basis. This is a perfect opportunity for them to talk about Picmaker and earn handsome commissions by promoting it.
If you're a small business owner who actively talks with others business owners or even consumers who might benefit from Picmaker, sign up for our affiliate program now.
4. Agency Owners
Just like freelancers, agency owners also have multiple opportunities where they are in direct contact with other business owners. Their clients come to them because they trust their offerings and their knowledge in the field. That is a perfect scenario where they can recommend Picmaker as a DIY design solution to their clients.
This also applies to employees and consultants who work in an agency setup. If you have access to a client base who trusts you, feel free to recommend Picmaker and start earning solid commissions.
NOTE: If you're an employee, please check with your employer before promoting your affiliate link to your clients
5. Marketers inside an organization
If you run a marketing team or are part of a team, you're a great fit for our affiliate program. Feel free to reach out to your peers and introduce them to Picmaker. If you find it incredibly useful, you can also reach out to your managers to try and get a subscription to Picmaker for your team (with your unique link).
The opportunities are just endless when you work in a marketing team.
6. Social Media experts
If you're good at any social media channel and have a strong following, this is your perfect chance to talk about your favorite products to your followers. If you genuinely love Picmaker and are already talking about it with your friends and followers, might as well use our affiliate link to earn some money with it!
4
What are some features you can promote to your audience?
Picmaker has hundreds of awesome features and resources. But you cannot go to potential buyers and talk about everything. So we went ahead and asked our users for their favorite features in Picmaker. Surprisingly we found them giving us a few common features. We have compiled all of our customer favorites in this list below.
1. MAD button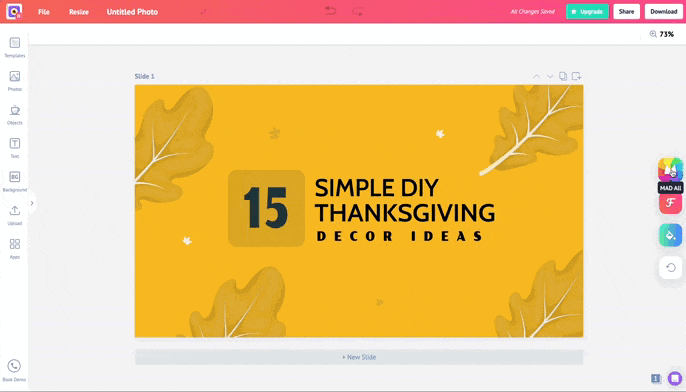 What does it do?
Our MAD button gives design suggestions when you click on it. It randomizes the colors, fonts, and pictures to make sure you get randomized designs with each click of the button.
Why do our users love it?
Our goal is to help non-designers and beginners create kickass designs with Picmaker. And our MAD button is a direct testament to that goal.
Since our users are non-designer folks, they struggle with finding the right colors, fonts, and pictures for each design. So they end up using our MAD button to get tons of design suggestions.
2. Background Remover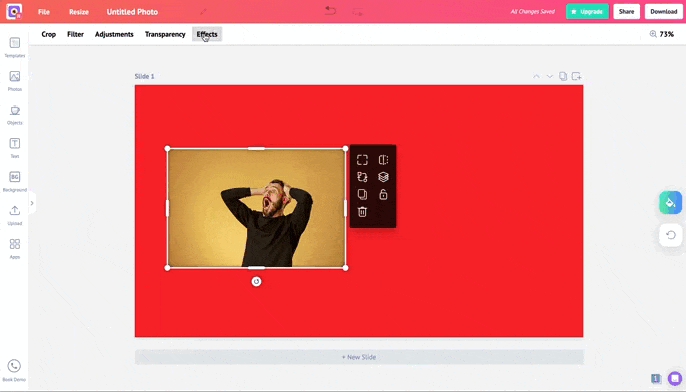 What does it do?
It helps you remove the background from your pictures. Pretty self-explanatory.
Why do our users love it?
A lot of our users feel the need to remove the background from their pictures. They generally remove the background and use it on their YouTube thumbnails, flyers, posters, presentations, etc.
3. Magic Resize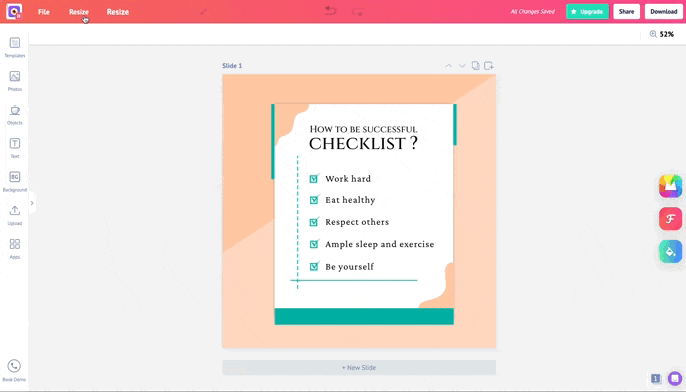 What does it do?
It helps you resize your design into multiple dimensions. For example, you can create a YouTube thumbnail and then resize it to a flyer with our magic resize button.
Why do our users love it?
We found that some users create one design and use it on multiple platforms. For example, we had this user who created an Instagram post and resizes it for other platforms like Pinterest, Twitter, and as a poster.
4. Version History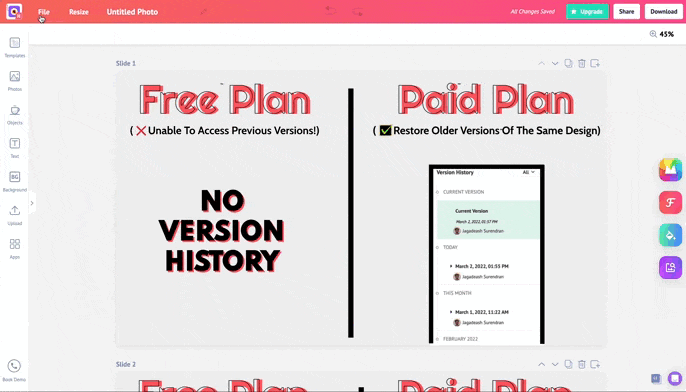 What does it do?
Allows you to view the changes made to a certain design in the past. If needed you can also click on 'restore version' to undo some of the changes made in the past.
Why do our users love it?
Some users bring in team members who work together on projects. Sometimes they might like a certain change made by a team member. Or the team may decide that a sample in the past was better than what they have now.
In any of these cases, they can easily click on 'Restore Version' and jump back to the old version of a design.
5. Brand Kit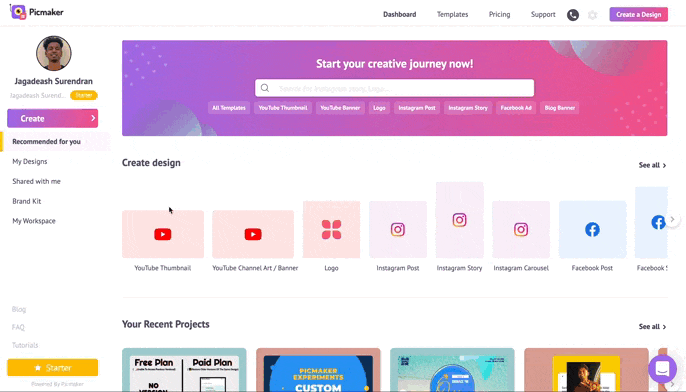 What does it do?
Brand Kit allows you to save your brand fonts, colors, logo, and templates inside a single dashboard.
Why do our users love it?
Staying on brand is hard. Making sure you have the right brand colors and fonts on every design is easier said than done. A slight change in color makes your design look way off-brand. We have also had instances where a user ended up using an older logo on one of their designs. They only realized it after they had downloaded the design and taken it to their manager.
Hence most of our users save their brand fonts, colors, logos, and templates in our brand kit. It helps them stay on-brand with just the click of a button.
6. Templates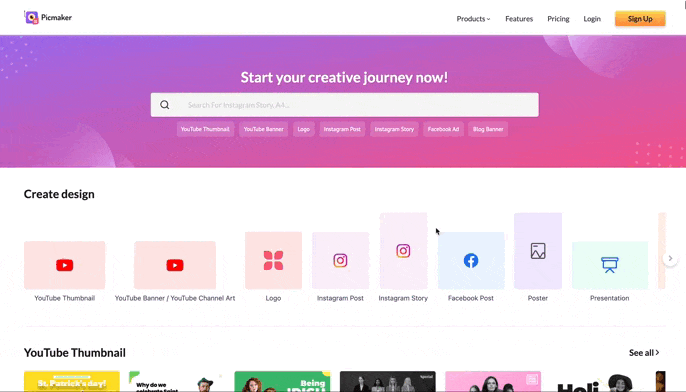 What does it do?
We have premade templates for everything from YouTube banners to full-size posters. These templates allow our users to get done with their designs in no time.
Why do our users love it?
We want to help non-designers and beginners create great designers with Picmaker. One of the best ways to do that is by giving them awesome software and tons of templates. Our users follow suit and use these templates to design anything they want.
We have templates for everything from YouTube thumbnails to presentations. Our template gallery is also growing at an exponential pace as we hire more people to create these templates.
7. Stock Pictures (100 Million+)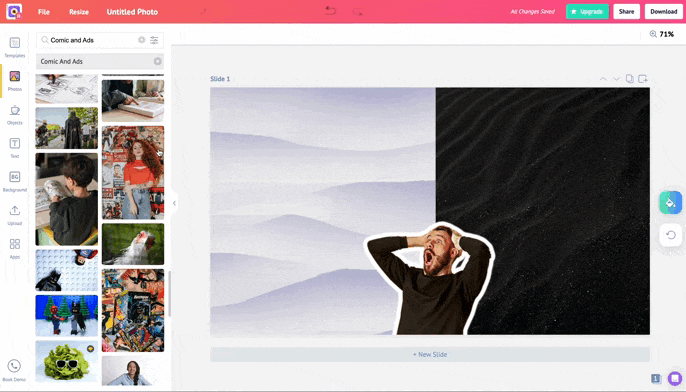 Why do our users love it?
Great designs require stunning pictures. While some design platforms would require the user to upload their own pictures, we made sure that wasn't the case with Picmaker. We made sure our users have more than enough free and paid stock pictures for all their designs.
Here are some categories that our users love
Aerial Shoots
Minimalistic Images
Food and drinks
Sports and games
Business
People
Healthcare
Etc…
8. More Premium Icons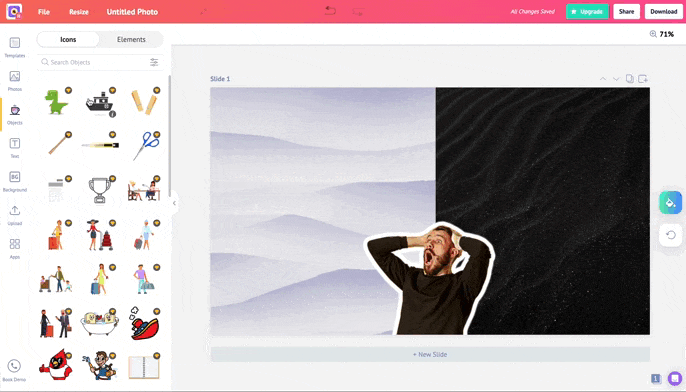 We have hundreds and thousands of premium-made icons which can be used by our users. These icons serve as a way to add some extra meaning or improve the aesthetic of the current design.
Why do our users love it?
Our users find themselves needing a lot of icons, illustrations, and objects in their designs. Just like pictures, we made sure that they needn't scour the internet to find these. By creating and curating icons on Picmaker, users find it incredibly useful to create great designs at less than half the time.
Others
We have so many more features that our users would find helpful. Feel free to check out this video or schedule a free DEMO to understand the other things our users generally find helpful in Picmaker.
5
How to promote Picmaker's affiliate program?
There are infinite ways to promote your unique affiliate link. We have tried to consolidate the top and the most common ways below.
1. YouTube:
YouTube is one of the biggest channels to promote your affiliate program. Since it's the world's second-largest search engine, it makes a great choice to promote your affiliate link.
Creating videos on a certain use case is a great way to get started there. You can then paste your affiliate links in your video descriptions, channel description & more.
If you don't have an active YouTube channel, you can also partner with other YouTubers on the platform. Some affiliates then leverage the YouTuber's traffic to earn commission and split it between themselves.
2. Your Website or Blog
Your website is one of the best places to start with affiliate marketing. It is one of the places on the internet which you actually own. Consider your website as a small piece of land on the never-ending world of the internet.
You can write a blog about Picmaker and link it back with your affiliate link. You can link your affiliate link in other places of your website wherever it's relevant. Some bloggers also create individual landing pages to mention their favorite tools and link them with their affiliate links.
The opportunities are definitely endless with a blog/ website.
3. Instagram
We don't need to tell you about the impact of Instagram or the # of users on it. It is simply one of the biggest social media platforms on the planet (after Facebook of course). Due to the high number of active users on the platform, it makes a great place to promote your affiliate links.
Affiliates usually add the link to their bio or to their stories. They then focus on creating fresh content like posts, reels, and full-length videos over time.
You can also partner with existing influencers to promote your affiliate links.
4. Facebook Groups
Facebook is the biggest social media platform on earth and has people from nearly every corner of the world. But Facebook has seen a negative decline in the reach of posts over the years.
But fret not because some of the groups inside Facebook are still active with hundreds and thousands of users. Facebook groups are a goldmine to promote your affiliate links or even talk about new products in a specific niche.
For starters, you can approach the members and admins of some niche Facebook groups and tell them about Picmaker. You can also conduct events or LIVE sessions to explain how they could benefit from Picmaker.
If you find relevant posts, you can also leave your affiliate link as a helpful comment. If that seems like overkill, you can write a blog post reviewing the product and leave a link to it in the comments section. Some people might read the review, find it helpful and end up buying a subscription.
There are so many ways to earn solid commissions from Facebook. Creativity is the only limit to increasing your affiliate earning potential with Facebook.
5. Social Media Posts
Social media channels like Twitter, Pinterest, Reddit, etc are also great places to talk about Picmaker and introduce your affiliate link. But make sure to look into their terms and conditions as some of these platforms might be against affiliate links.
A better way is to just find influencers in a certain niche and partner with them. Start with influencers who are very small but have an engaged set of followers on a certain platform. Conduct LIVE sessions and webinars to tap into their existing audience. You can also cross-post on their profile and talk about Picmaker, how it can be helpful to their audience.
6. Courses
A brilliant way to introduce your affiliate links is in courses. If you don't already have a course, you can create one that helps a specific group of people become better deigns with Picmaker. You can host your courses on tons of partners like Udemy, Skillshare, etc.
You can then introduce Picmaker in the course and use it to demonstrate all your ideas. Wherever needed you can also add in your affiliate links so that your students can buy a subscription.
If you don't already have a course, you can contact other course creators and partner up with them. You can contribute to one of their courses or conduct LIVE sessions/ Webinars with them.̧
7. Other groups & Communities
Just like Facebook groups, there are also hyperactive communities on other platforms like Slack, Discord & more. These communities consist of people with a common interest working together.
You can always approach the moderators of the group and build a relationship with them. You can then share your educational content with affiliate links in these groups. You can also go ahead and conduct events, webinars, and LIVE sessions to become an active contributing member of these communities. Once you're active, the members will trust you enough to take action based on your recommendations.
8. Through Individual conversations
You can also talk about Picmaker with a friend or colleague over an individual conversation. But don't talk to people with the motive of getting them to buy Picmaker with your affiliate link. Talk to people for the sake of helping them out. If you think they might benefit from a tool like Picmaker, that's exactly when you give them your affiliate link and ask them to try it out.
9. On podcasts
Finally, you can also go to niche podcasts and attend them as a guest speaker. The end goal should be all about giving intense value to the host and their listeners. Wherever relevant you can try and talk about Picmaker. If it's more contextual, you can also point them to your affiliate links or any additional resources.
But that's not all
Creativity is the game when it comes to earning with Picmaker's affiliate marketing program. Find new ways to promote your affiliate link to people who'd find it incredibly helpful. The end goal is to be helpful and build trust. Once people trust you and find you helpful, they will choose your recommendations over others without a single question.
Be helpful
Be creative
And be a better affiliate
We are always here to help you achieve the most with Picmaker's affiliate program. Feel free to reach out to us if you have any questions or queries.
1. Do I need to be a user of Picmaker to join this program?
We don't require our affiliates to be our users. But being a user helps you understand the tool better than other affiliates and gives you a competitive advantage. Moreover, affiliates who use their tools bring in 2x - 3X higher amounts of revenue than their peers.
2. Is there a limit to how much I can earn?
No, there is no limit to how much you can earn as a Picmaker affiliate.
3. Who can apply for this program?
Anyone who has a considerable following or a repeatable method to market Picmaker can apply for this program.
If you have any more questions about our affiliate program, feel free to reach out to our partner relations manager at karthiks@animaker.com
Alternatively, you can also schedule a 1:1 DEMO call with our team here.
Thanks for reading!
We are here to help you win as a Picmaker affiliate 💪🏻